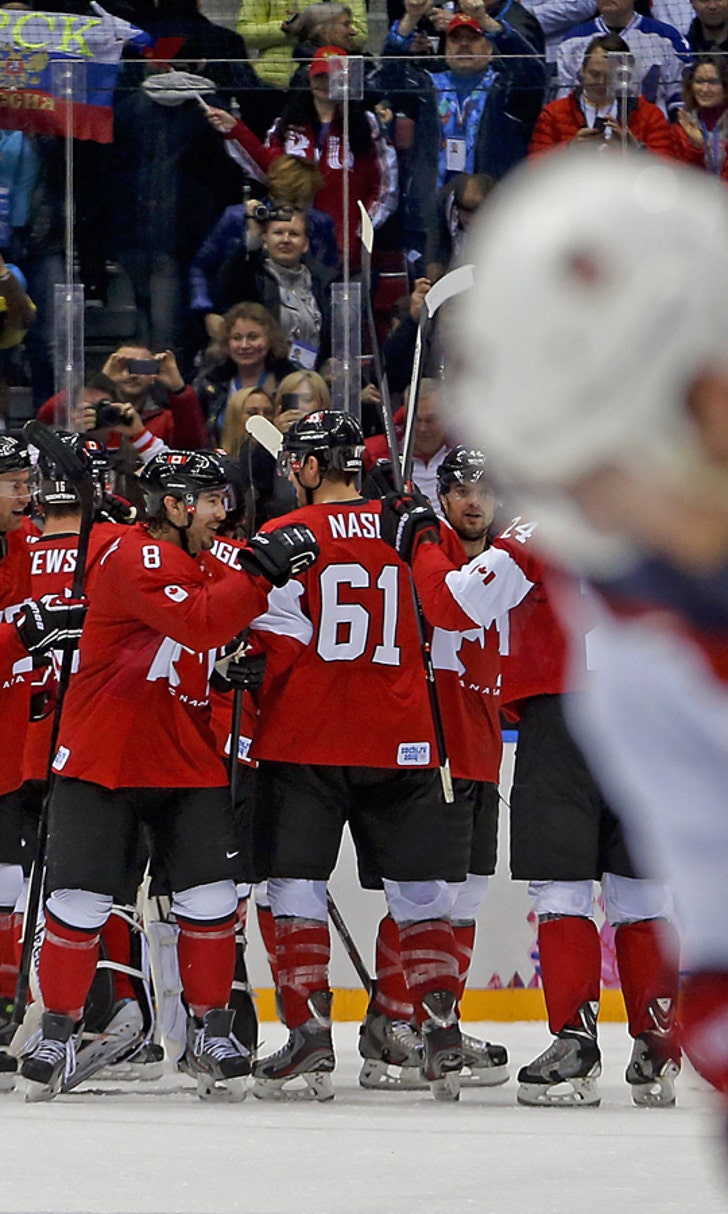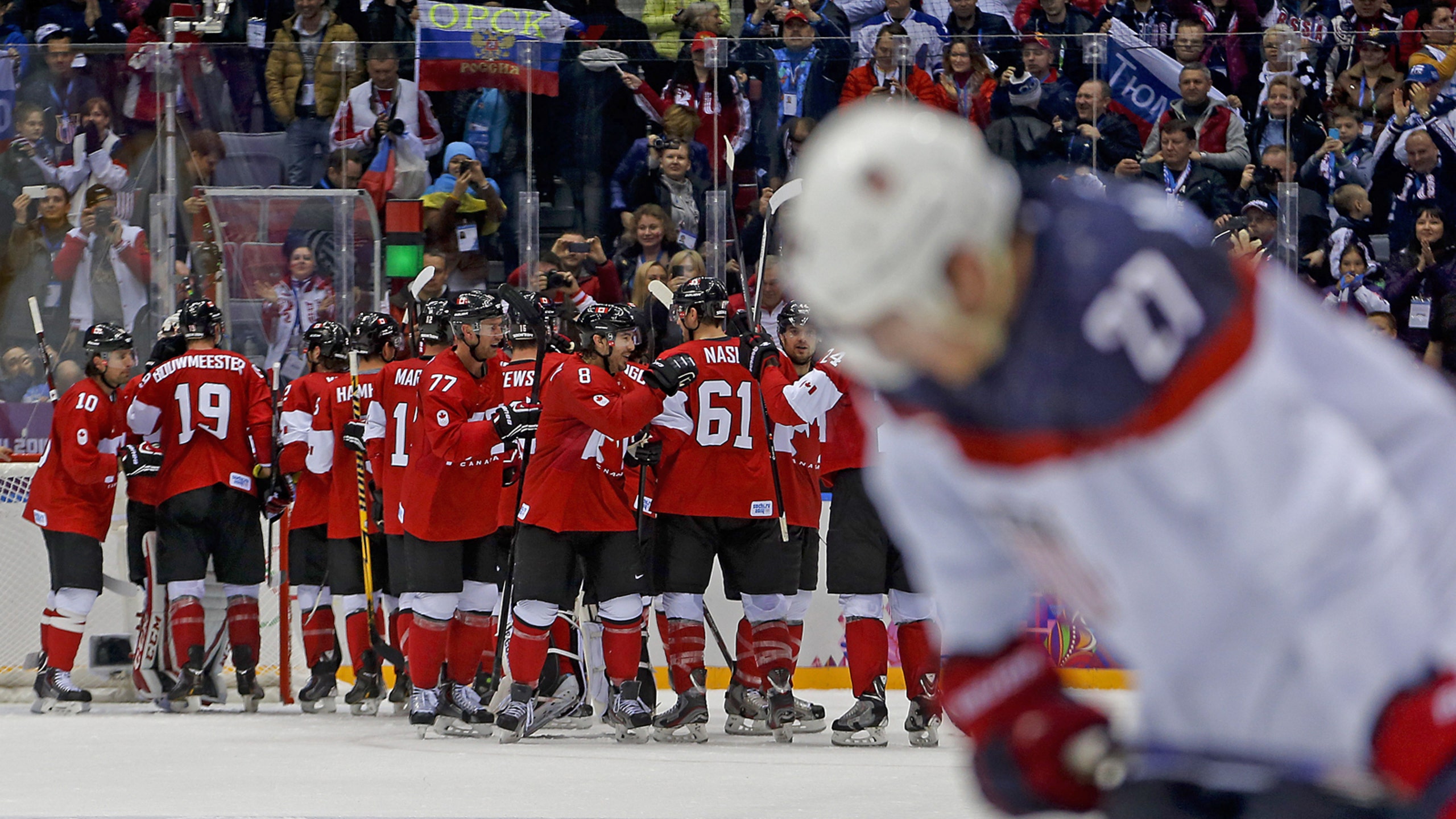 Canada beats US 1-0 to reach gold-medal men's hockey game
BY foxsports • February 21, 2014
SOCHI, Russia -- The men's hockey showdown between Canada and the United States didn't pack the punch that most were hoping for when the game began.
Many viewed these two teams as the best in the tournament and fully expected a wild, heart-pounder similar to the gold medal game between the USA and Canada women the previous night.
Instead, the Canadians dominated from start to finish with a cold, ruthless performance to win 1-0 and advance to Sunday's gold-medal match against Sweden, which beat Finland 2-1 in the earlier semifinal at Bolshoy Ice Dome. 
This win had none of the flair of Sidney Crosby's overtime goal to beat the U.S. four years ago, and the Canadians didn't care.
"We didn't score a lot of goals, but we didn't have to," Canada forward Jonathan Toews said. "The next game will follow that work ethic. We can check, we can work our tails off, and we can make things real tough for the other team."
Canada put the Americans in a vise and wouldn't let them breathe, limiting their scoring chances and suffocating their offensive attack. Canada goalie Carey Price got the shutout, but he was rarely challenged. Jamie Benn got the only goal for Canada in a game that lacked many scoring chances for either side.
The Canadians are on the brink of their third gold medal in four Olympics, and are guaranteed their first medals outside North America in 20 years.
After its first loss in Sochi, the U.S. will face Finland for bronze on Saturday. The Americans were hoping for redemption from their gut-wrenching defeat in 2010, but they only got a businesslike reminder of Canada's clout.
"We didn't show up to play," U.S. defenseman Ryan Suter said. "It's too bad. ... We sat back. We were passive. You can't play scared. I thought we sat on our heels and just didn't take it to them at all."
Indeed, the defending Olympic champions left little doubt about their North American hockey dominance in a rematch of the finale of the Vancouver Games. Although the Canadians had no signature moments and never pulled away, they also never appeared seriously threatened.
From faceoff to final buzzer, Canada was in control thanks to Price, Benn and defenseman Jay Bouwmeester, whose pass created Benn's goal. All three players weren't on the Canadian team in Vancouver, but they're a win away from earning their own gold medals.
"Obviously we knew it was going to be a tight match going in," Benn said. "We found a way to get one, our team played great team defense, and our goalie shut the door."
The Canadians haven't even trailed in the Sochi Olympics, and they coolly maintained border supremacy on the U.S. by defending their blue line with authority.
Their stifling defense has allowed just three goals in five games, and they clamped down on an American offense that had scored 19 goals in Sochi for every minute of a slightly anti-climactic evening.
"We didn't really create much offense," U.S. forward Patrick Kane said. "It's a little disappointing. ... I think everyone expected a tight-checking game, but to say we would have gotten shut out, I don't think anyone would have thought that."
Jonathan Quick stopped 36 shots in a strong performance for the Americans, who had trailed for just 7:19 in Sochi before Benn's goal put them in a hole they never escaped.
Canada scored early in the second period during a shift by Benn and Anaheim Ducks teammates Corey Perry and Ryan Getzlaf. Benn got the puck outside to Bouwmeester, who threaded a pass into the slot for Benn's deflection past Quick, whose aggression sometimes makes him vulnerable to such shots.
Benn, the Dallas Stars captain, didn't get an invitation to Canada's summer Olympic orientation camp and was one of the last players added to the roster. But he's had a great tournament and his goal was all the offense needed by Price, the Montreal goalie who easily handled the Americans' few good chances, including their clunky power plays.
Crosby still has no goals through five games in Sochi, but the Canadian captain had his best overall game as Canada beat the Americans for the fourth time in five Olympic meetings since the NHL players joined the party in 1998. The showdown might have been the last Olympic meeting of these nations' best players for a long while if the NHL keeps players out of the 2018 Pyeongchang Games, forcing the rivalry to move to a World Cup or world championship.
The Americans still haven't won Olympic gold since the Miracle on Ice in a drought that will be at 38 years by the next Olympics, no matter who's wearing the U.S. uniform there.
"I think it was maybe a little too perimeter and not much traffic in front of their net," U.S. forward David Backes said. "Kudos to them for keeping us to the outside, but we've got to find ways to get to the inside and make things happens."
For all the talent and high stakes on the ice, the Bolshoy wasn't exactly rocking for the game, with the predominantly Russian crowd apparently struggling to decide whom to root against.
The scoreless first period was still fast and exciting, with Quick stopping 16 Canadian shots. Crosby shook off his early-tournament struggles and played at a breakneck pace, while the American forwards generated numerous chances on pure speed.
---