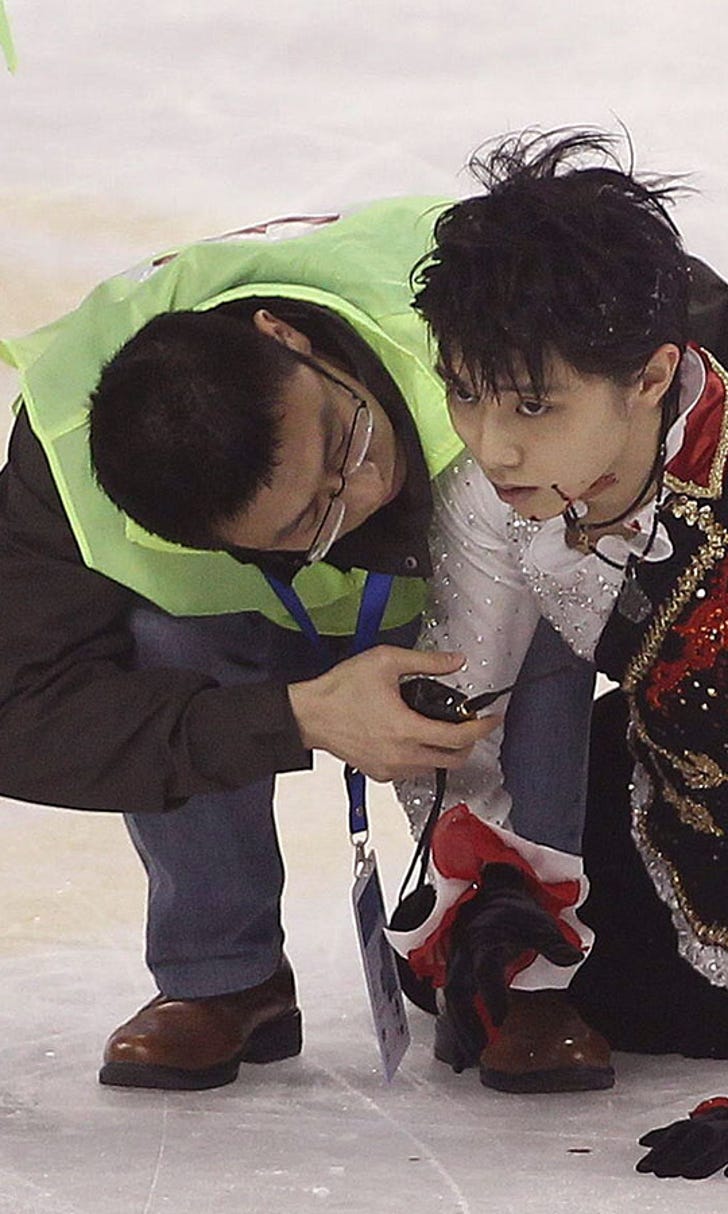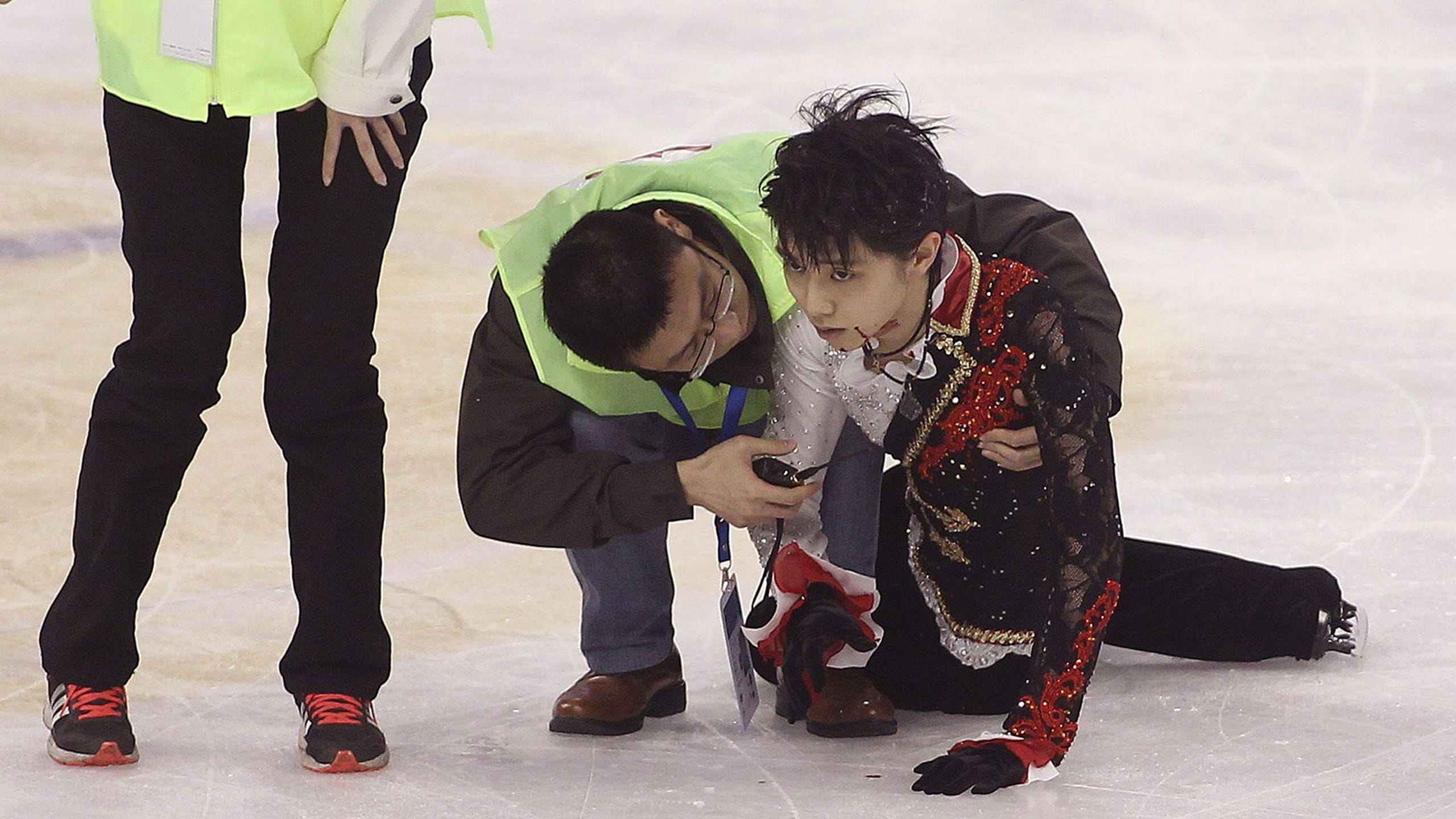 After crash, Olympic champ Hanyu aims to repeat Grand Prix gold
BY foxsports • December 10, 2014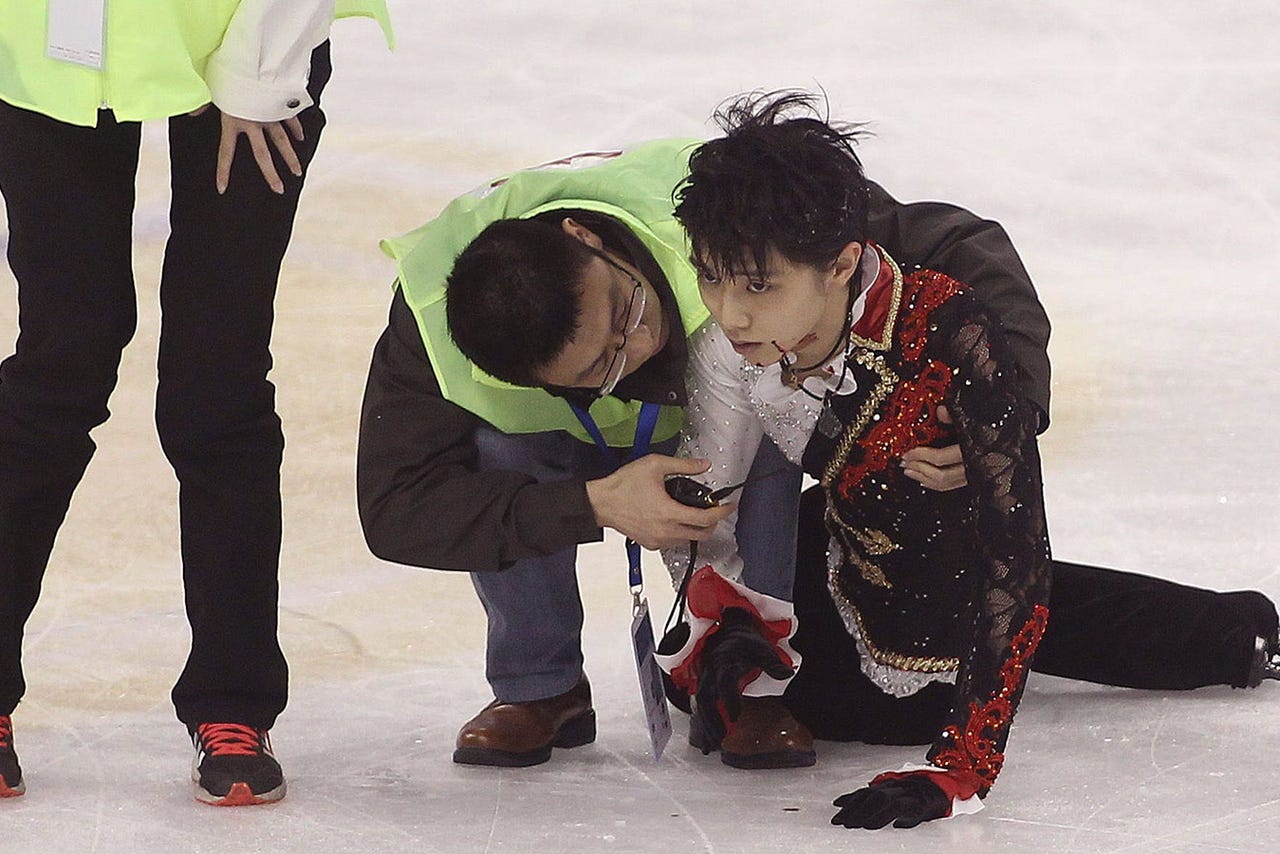 BARCELONA, Spain -- Olympic champion Yuzuru Hanyu enters the Grand Prix Final hoping to defend his title and recover his winning form after a scary on-ice accident.
Hanyu won last year's final at home in Japan. He then started the year by claiming gold at the Sochi Games in February, and a month later he won the world title to become the first man to complete the Olympic-world double in the same year since Alexei Yagudin in 2002.
But Hanyu, who turned 20 on Sunday, barely qualified for this week's Grand Prix Final after he was injured in a collision with another skater during warm-ups at the Cup of China in early November, receiving bruises on his head and hurting his left high.
Three weeks later, he could only manage a fourth-place finish at the last of six qualifying events in Tokyo. That result, however, was just good enough for him to join the other five finalists and keep alive his bid to repeat.
"I'll be going to the final as a challenger," Hanyu said. "It doesn't matter if you are Olympic champion, people know they can beat the Olympic champion. I'll be starting from scratch and aiming to get to the top by any means."
Hanyu will be up against Japanese teammates Tatsuki Machida and Takahito Mura, Russian rivals Maxim Kovtun and Sergei Voronov, and Spanish skater Javier Fernandez.
Fernandez, the European champion, trains in Canada with former Olympic silver medalist Brian Orser. Orser also coaches Hanyu.
Fernandez said he was eager to get the chance to show his countrymen how far he has come since starting staking at an undersized rink in Madrid, which he said was so small it has since been turned into a restaurant.
"It's going to be something new for me. It is going to be a lot pressure, because I don't want a bad skate," Fernandez said. "But it will also help because I want to show what I can do."
Four Russian teenagers will look for a possible medal sweep in the women's final against Ashley Wagner of the United States and Rika Hongo of Japan. Hongo qualified after American skater Gracie Gold withdrew because of a broken foot.
The Russian contingent includes two-time junior world champion Elena Radionova (15), European champion and world silver medalist Julia Lipnitskaia (16), Anna Pogorilaya (16) and Elizaveta Tuktamysheva (17).
Wagner, at 23, is five years older than Hongo. Still, she wants to be at the 2018 Olympics, and she said she was coming to Spain to take on the "one big chunk of Russian girl skating."
"I feel I am going to be a late bloomer," Wagner said. "So anybody who looks down on some old gal going for her dreams, I have many things to say to them, but I will just say, `Watch me do it.'"
In pairs, Olympic silver medalists Ksenia Stolbova and Fedor Klimov will skate against Russian teammates Yuko Kavaguti and Alexander Smirnov, Meagan Duhamel and Eric Radford of Canada and three Chinese duos, Four Continents winners Wenjing Sui and Cong Han, Cheng Peng and Hao Zhang, and Xiaoyu Yu and Yang Jin.
In ice dance, American pairs Madison Chock and Evan Bates, and siblings Maia Shibutani and Alex Shibutani will compete against Canadian rivals Kaitlyn Weaver and Andrew Poje, and Piper Gilles and Paul Poirier. Gabriella Papadakis and Guillaume Cizeron of France and Elena Ilinykh and Ruslan Zhiganshin of Russia are also in the mix. 
---