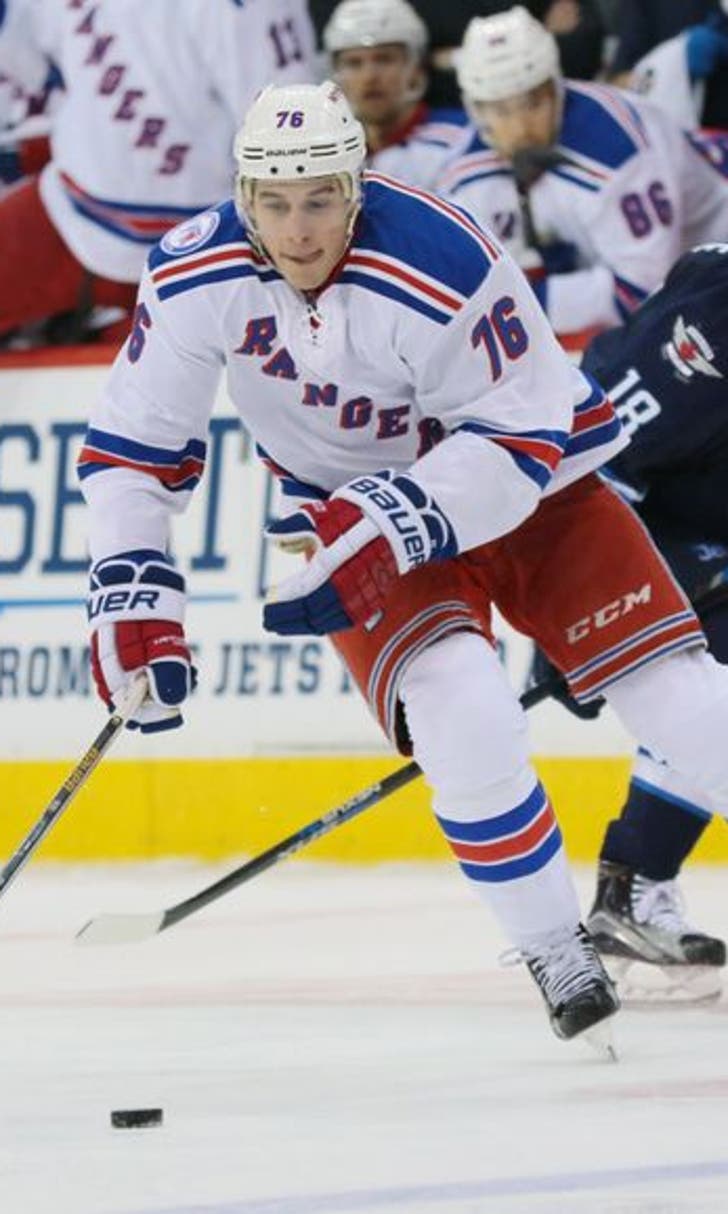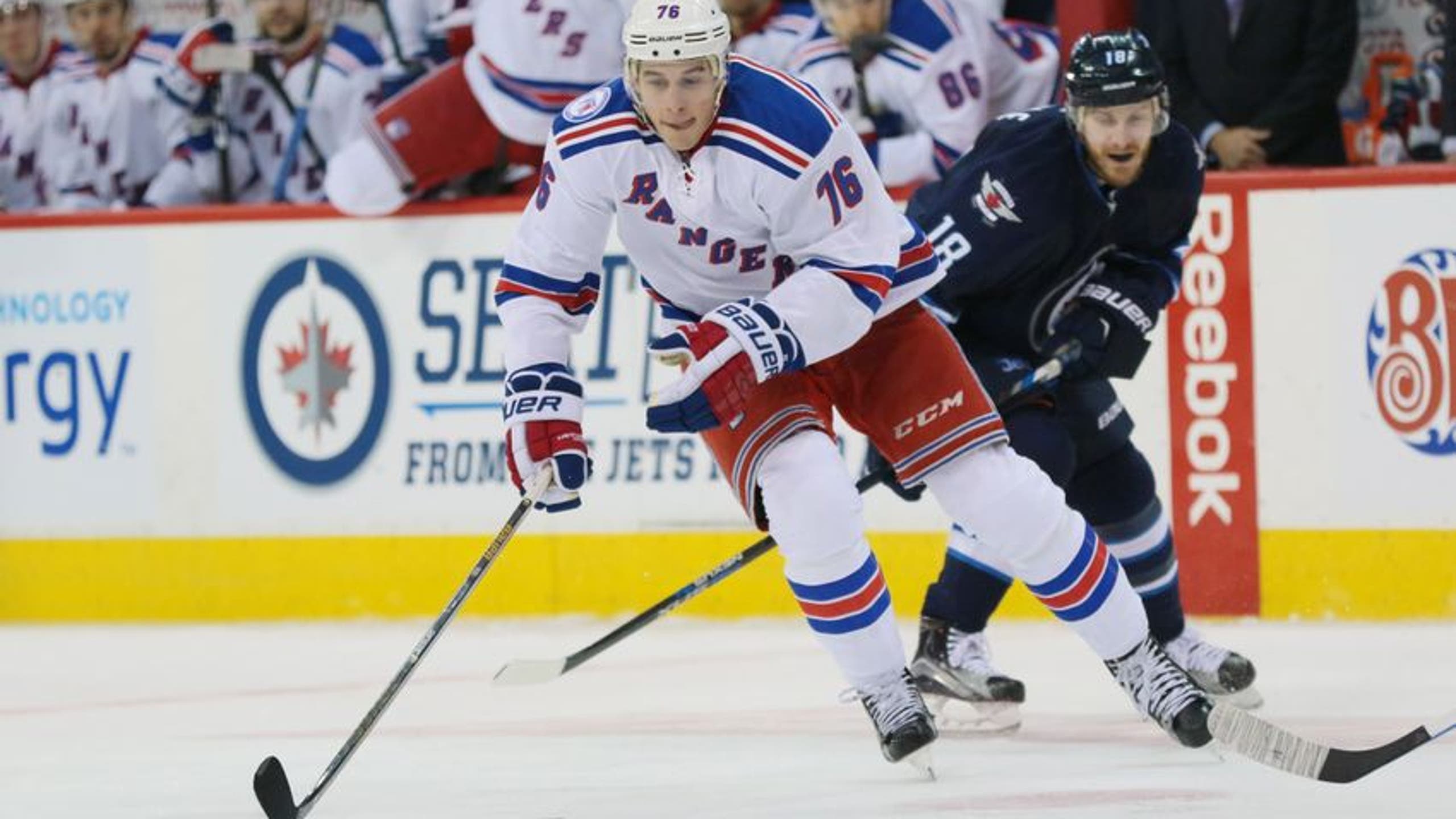 New York Rangers Report Cards Part 3: The Defense
BY Fansided and Garrett Gartino/FanSided via Blue Line Station • December 17, 2016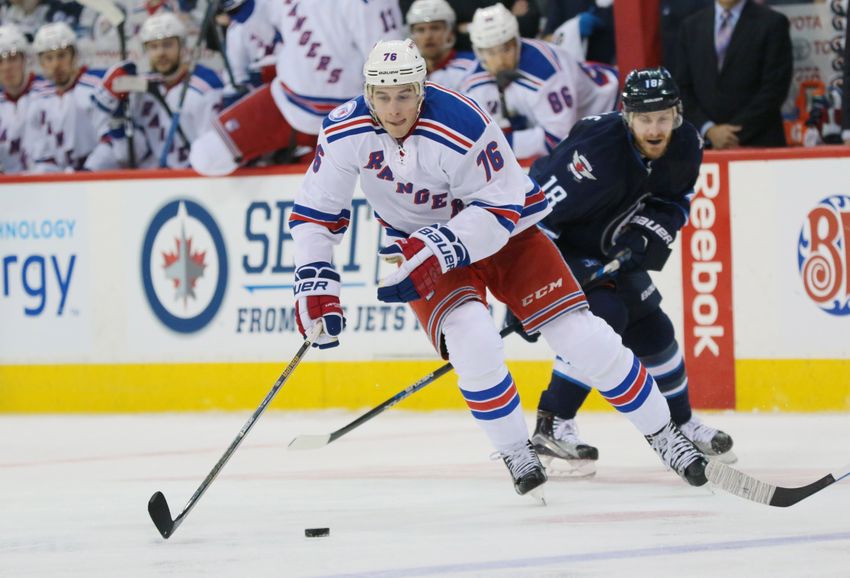 Over the next week, we will be releasing a series of report cards for the New York Rangers here at the Blue Line Station. In this edition, we will review the members of the Rangers defensive group.
In 2015-16 the Rangers were limited by the shortcomings of a weak defensive corps. Fast forward to the 2016-17 season and the Rangers group was looking weaker after losing Keith Yandle for two draft picks to the Florida Panthers.
Ryan McDonagh continues to lead the defense as the Rangers' captain and Jeff Gorton did his best to patch together a group that would allow the team to contend. The addition of Nick Holden from Colorado and the regular inclusion of Brady Skjei for his first full NHL season highlight his moves.
This group continues to settle for middling results from their veteran players, a factor that threatens the Rangers playoff longevity. However, the addition of a top-pairing right-handed defenseman is looming at the deadline.
Oct 17, 2016; New York, NY, USA; New York Rangers defenseman Adam Clendening (4) looks to pass the puck against the San Jose Sharks during the first period at Madison Square Garden. Mandatory Credit: Adam Hunger-USA TODAY Sports
Adam Clendening
Grade: C
Clendening has become a spectacle of sorts for the New York Rangers this season. With defensive struggles continuing from their aging defenseman, the calling for Clendening has grown louder. He has taken on the role played by Dylan McIlrath last season.
However, much like McIlrath last year, Alain Vigneault has refused to make changes when necessary. Adam Clendening has appeared in 8 games this season, even after the Rangers' head coach had proclaimed regular rest would be necessary for Dan Girardi throughout the year.
Although Clendening has done little to prove he will be an answer to the Rangers defensive woes, the potential for an improved group with his presence is ever looming. His advanced statistics suggest he has a positive impact on the team's possession (59.8CF%). Clendening's ability to move the puck efficiently needs to be seen more in the Rangers lineup.
Apr 4, 2016; Columbus, OH, USA; New York Rangers defenseman Dan Girardi (5) against the Columbus Blue Jackets at Nationwide Arena. The Rangers won 4-2. Mandatory Credit: Aaron Doster-USA TODAY Sports
Dan Girardi
Grade: D
Girardi came into this season as the whipping boy of the Rangers weak defensive corps. However, Alain Vigneault has committed to his alternate captain and continues to give him top-pairing responsibilities. His placement alongside Ryan McDonagh has been a detriment to the Rangers best defensive asset.
Girardi's possession woes have also continued this season, he has the lowest CF% (42.8%) out of all of the New York Rangers regulars. He has 3 goals through 28 games this season, a stat only mentionable because Girardi has averaged 4 goals a year since scoring 10 times in his first full season in the NHL.
Girardi's glaring contract can not be masked, but his aging knees can be by a demotion in responsibility. If and when the Rangers find a solution to their need for a right-handed defenseman it will allow Girardi a change of role. Until that time, his spot in the lineup will be questioned on a nightly basis.
Dec 3, 2016; New York, NY, USA; New York Rangers defenseman Nick Holden (22) controls the puck against the Carolina Hurricanes during the third period at Madison Square Garden. Mandatory Credit: Adam Hunger-USA TODAY Sports
Nick Holden
Grade: B
When the Rangers turned a 2017 fourth-round pick into Nick Holden, there was confusion around what his role would be. Unfortunately for Holden, his head coach did not put him in a position to succeed out of the gates. Instead, Alain Vigneault opted to play Holden on the team's top pairing and on his off-side.
While many pointed to his plus/minus as an indicator of success, it was clear that a role adjustment was in order for Holden. Since being shifted away from those top assignments in mid-November, Holden has been one of the few consistent players for the Rangers defense.
While he has been one of the most effective at limiting scoring chances for the Rangers, he has also been an unexpected source of offense (4G, 10A). Holden has played the second most minutes out of the Rangers defenseman (19:53 ATOI), and is on pace to fall a few points shy of his first 40-point season. With the Rangers needing dependability, Holden seems capable of handling top-4 minutes.
Dec 13, 2016; New York, NY, USA; New York Rangers defenseman Kevin Klein (8) prior to taking on the Chicago Blackhawks at Madison Square Garden. Mandatory Credit: Adam Hunger-USA TODAY Sports
Kevin Klein
Grade: C-
Kevin Klein has fit in well through his first 4 years in New York, performing as a tough-to-play-against defenseman that has a knack for scoring big goals. This season Klein came in with an opportunity to take the reins as the Rangers' top right-handed defenseman. Unfortunately, he has seen his play take a step backward thus far.
Klein has struggled through his first 28 games this season, amassing 8 points, all assists. His ability to move the puck out of the defensive zone has regressed, and his awareness around the goal crease has disappeared for large stretches.
Klein is in a similar position as teammate Dan Girardi, but with a better contract. Given the state of the Rangers defense Klein can only be hidden from the opponent's top competition so often. His contract makes him a moveable asset, perhaps in a package for the top-pairing defenseman the Rangers need.
Feb 27, 2016; Dallas, TX, USA; New York Rangers defenseman Ryan McDonagh (27) skates against the Dallas Stars at the American Airlines Center. The Rangers defeat the Stars 3-2. Mandatory Credit: Jerome Miron-USA TODAY Sports
Ryan McDonagh
Grade: A
The Captain of the New York Rangers continues to be the shining star of the defensive corps. His play is heads above his fellow teammates and he is continuing to see growth in his game at the age of 27 years old.
Through 31 games Ryan McDonagh has 17 points (1G, 16A) while playing over 24 minutes a night, both numbers the most of the Rangers defensive group. He also ranks first on the team in expected plus/minus at +4, all while facing the opponent's top competition.
McDonagh's smooth skating and offensive awareness have been suppressed to this point this season. His constant saddle alongside Dan Girardi has limited his abilities, yet he continues to be one of the Rangers' biggest stars. When Jeff Gorton finds a way to give him a partner, McDonagh will be in a position to contend for the Norris trophy annually.
Dec 8, 2016; Winnipeg, Manitoba, CAN; New York Rangers defenseman Brady Skjei (76) controls the puck past Winnipeg Jets center Bryan Little (18) during the third period at MTS Centre. Rangers win 2-1. Mandatory Credit: Bruce Fedyck-USA TODAY Sports
Brady Skjei
Grade: B+
The Rangers top defensive prospect in recent years, Brady Skjei has found a home in New York. After appearing in 7 games in the 2015-16 season, Skjei has played in all 32 of the Rangers games so far this year. He is also second on the Rangers defense in points with 14 (1G, 13A).
Skjei has still been sheltered by Alain Vigneault. He plays the least minutes of the Rangers defensive group at 16:32 a night. However, he has spent time in the top-4 and has played a role on the Rangers second power play unit. His 13 assists rank him second among NHL rookies, alongside Calder candidate Mitch Marner.
His physical tools and puck-moving abilities are an example of the way the NHL is trending for defenseman.  Because Skjei is a 2nd year NHL player he is automatically exempt from the upcoming expansion draft. His development is important to the future of the Rangers and the outlook is promising.
Dec 8, 2016; Winnipeg, Manitoba, CAN; New York Rangers defenseman Marc Staal (18) warms up prior to the game against the Winnipeg Jets at MTS Centre. Mandatory Credit: Bruce Fedyck-USA TODAY Sports
Marc Staal
Grade: C+
Marc Staal was the second member of the Rangers lackluster veteran defenseman last season. His results in the 2015-16 were troubling for the Rangers, leaving them wondering if he could ever move past his traumatic 2013 eye injury.
The 2016 season has been better for Marc Staal thus far. He has picked up his play to an acceptable level on a regular basis through 30 games this year. Staal currently has 3 goals and 3 assists on the season. He has also reemerged as an option for the Rangers on the penalty kill, a place he flourished before the injury.
Staal's contract continues to be a sore spot for the Rangers, but if he can continue his upward trend and find ways to contribute he can be an asset for the team. Time will tell if Staal can reestablish himself as one of the team's top defensive players.
More from Blue Line Station
This article originally appeared on
---
---