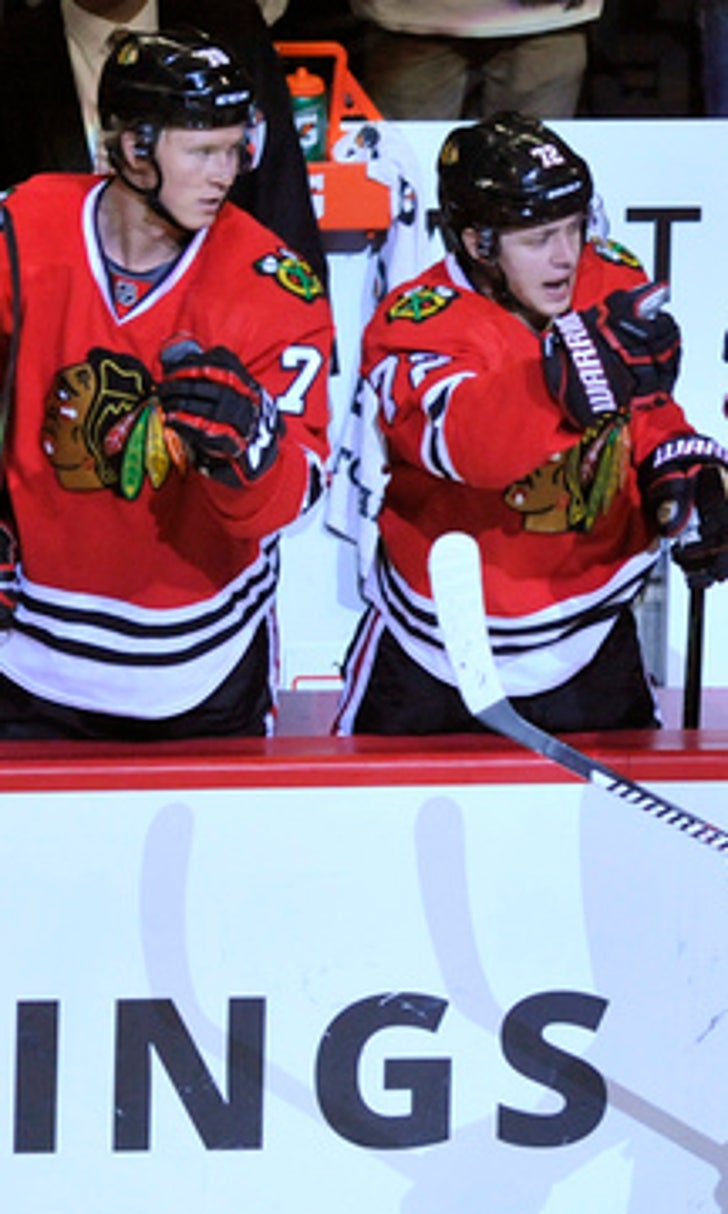 Hossa, Anisimov and Panarin lead Blackhawks over Stars (Dec 11, 2016)
BY AP • December 11, 2016
CHICAGO (AP) Scott Darling is getting into a groove. The banged-up Chicago Blackhawks are playing smart and tight in front of him.
On Sunday night, it all worked perfectly.
Marian Hossa, Artem Anisimov and Artemi Panarin scored to lead the Central Division-leading Blackhawks over the Dallas Stars 3-1.
Darling made 23 saves in his fifth straight start while No. 1 goalie Corey Crawford recovers from an appendectomy. Darling has permitted just seven goals during the stretch, but the Blackhawks have scored only nine while going 2-2-1.
''You get into a rhythm,'' Darling said. ''You feel more comfortable. And the guys have been playing great defense the last four games.''
Coach Joel Quenneville appreciated what he saw from the net on out.
''Overall, our whole team game, I really liked tonight,'' Quenneville said. ''We managed the puck a little bit better and scored some timely goals as well.''
Blackhawks captain Jonathan Toews missed his ninth game and defenseman Brent Seabrook his second with upper-body injuries. That means the Blackhawks don't have as much firepower to throw around - even if the 37-year-old Hossa scored his team-leading 15th goal and has three in three games.
''It was definitely a good test of what we can do without key players,'' Hossa said. ''It's hard to replace guys like that.''
Devin Shore scored for Dallas, which lost its second straight and third in four. The Stars struggled to generate much offensive pressure against the Blackhawks on the heels of a 4-2 loss at Philadelphia on Saturday.
''I think our guys feel a lot of pressure right now with our scoring being down,'' coach Lindy Ruff said. ''Last year we could wash some of our mistakes under the carpet. This year, the big mistakes are really standing out.''
Dallas' Kari Lehtonen blocked 24 shots while making his fifth straight start. The scuffling Stars are in sixth place in the Central and 11th in the Western Conference.
''We put ourselves in a tough spot, but there's no reason we can't turn this around,'' forward Jamie Benn said. ''The way we're losing is unacceptable.''
Both Toews and Seabrook took part in the team's morning skate on Sunday, with Toews getting back on the ice for the first time in a week. The center, reportedly dealing with a back injury, said he never has experienced his current condition before.
''You almost have to sit around and wait for it to heal and get better,'' Toews said. ''Sometimes you feel good and all of a sudden you do some little movements here or there that seem to just fire everything up.''
Dallas defenseman Jamie Oleksiak sat out the first game of a two-game suspension for an illegal check to the head of Flyers forward Chris VandeVelde in the third period of the Stars' 4-2 loss at Philadelphia on Saturday.
Defenseman Johnny Oduya returned to the Stars' lineup after missing 10 games with a lower-body injury and took Oleksiak's place.
The teams played a scoreless first with only a handful of chances. Darling made a quick right pad save on Curtis McKenzie's point-blank deflection with 6:30 left in the period.
Shore opened the scoring at 1:25 of the second, batting in a loose puck to cap an odd-man break and flurry around Chicago's net. After McKenzie deflected Shore's feed wide, John Klingberg shoveled the puck in front to Shore, who connected from the doorstep.
Hossa tied it at 1 just 52 seconds later on a drive from left wing that trickled under Lehtonen's blocker.
Anisimov knocked in a rebound of Ryan Hartman's point-blank attempt with 7:30 left in the second for his 12th goal to put Chicago ahead 2-1. After leaving the penalty box and taking a long feed from Trevor van Riemsdyk, Hartman beat defenseman Stephen Johns and cut in alone. Lehtonen stopped Hartman's low shot, but Anisimov swept in and scored before Johns could recover.
Panarin's power-play goal midway through the third made it 3-1. Positioned low in the left circle, Panarin ripped in his 11th goal from a sharp angle - and just inside the left post - after taking a perfect feed from Duncan Keith.
NOTES: Dallas and former Blackhawks F Patrick Sharp sat out his fifth game with concussion-like symptoms. Ruff said the 34-year-old Sharp is going ''full bore'' skating and working out on his own, but there's no timetable for his return. ... Stars D Dan Hamhuis played his 900th game. ... Dallas' healthy scratches were D Patrik Nemeth and F Lauri Korpikoski. Chicago's was D Michal Kempny.
UP NEXT:
Stars: Host Anaheim on Tuesday to start a five-game homestand. Dallas plays eight of its next nine at home.
Blackhawks: Head to New York to play the Rangers on Tuesday and Islanders on Thursday. Chicago's three-game road trip concludes at St. Louis on Saturday.
---
---