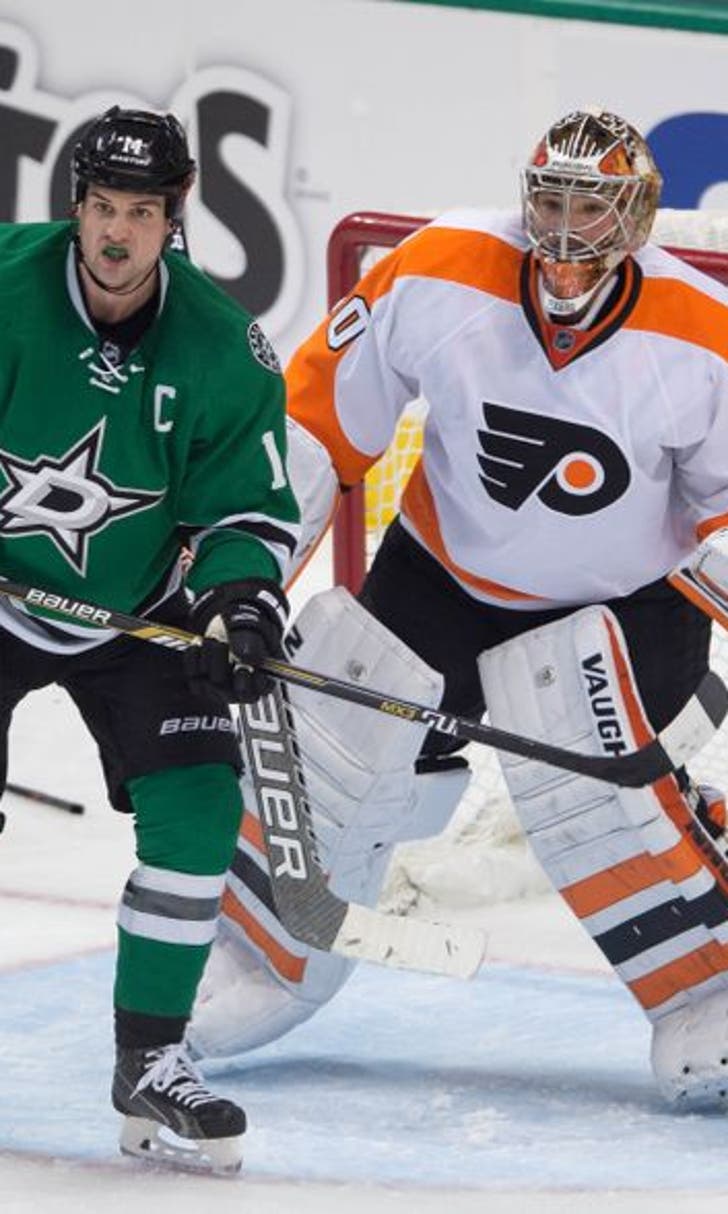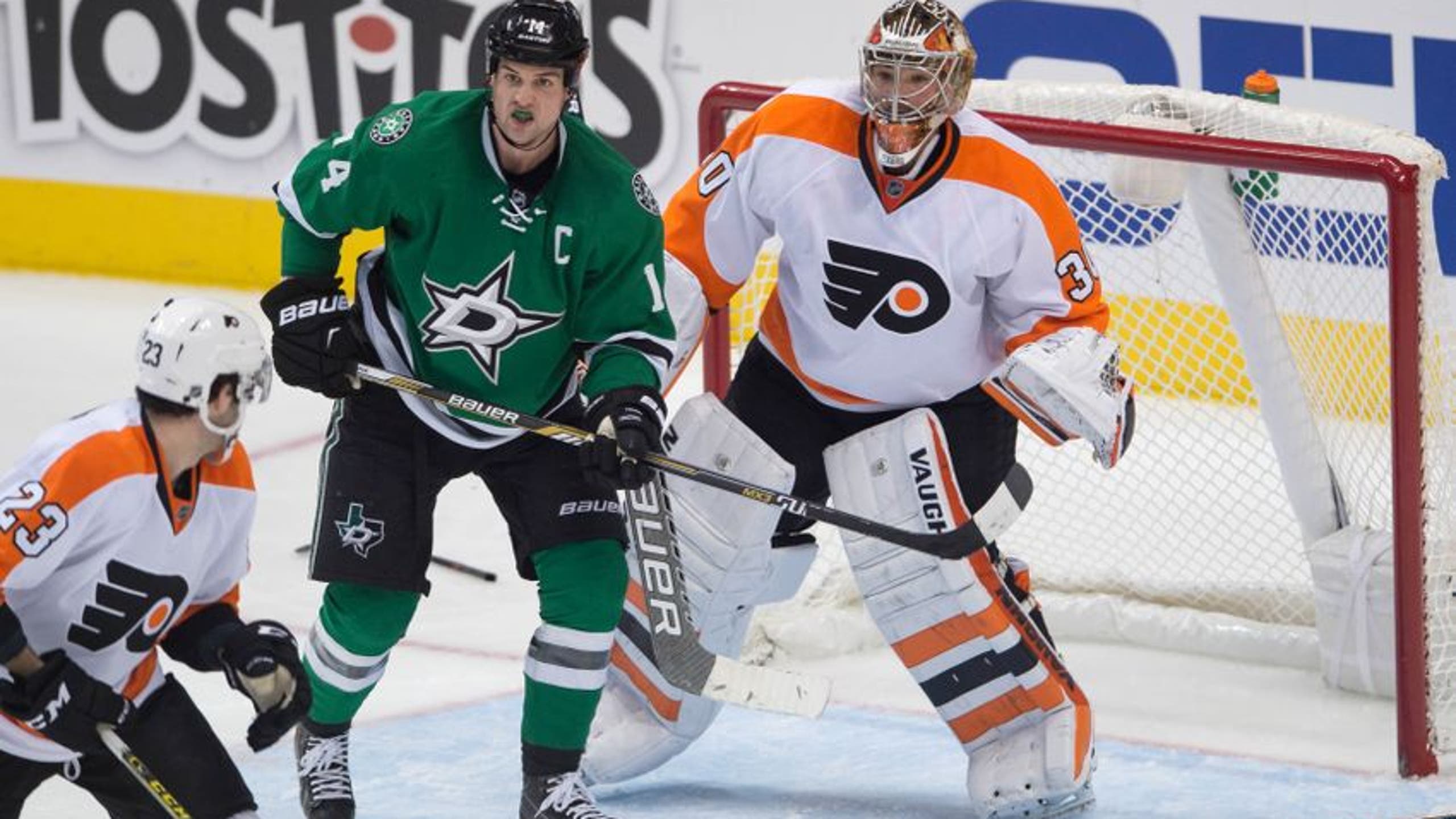 Dallas Stars Need Offensive Burst To Propel Them Past Flyers
BY Fansided and Micaela Hamid/FanSided via Blackout Dallas • December 17, 2016
The Dallas Stars will start over their hunt for consecutive wins as they take on the Philadelphia Flyers in game 3 of their homestand.
With one win and one loss so far at home, the Stars will face the Flyers at 1 pm. CT. And with Fox Sports Southwest Plus (FSSW+), and 1310 AM/ 96.7FM The Ticket, you won't have to miss a moment of it.
Records and Scores
The Dallas Stars are 12-14-6 coming off a shutout loss to the Rangers. In the game prior to this, the Stars dismantled the Anaheim Ducks in a 6-2 win. It's been a while since Dallas was able to achieve consecutive wins, with a 1-8-3 record when following a win this year.
The Philadelphia Flyers are on a ten-game win streak, with a 19-10-3 record and tied for fifth in their Conference. The franchise record is 13 wins in a row. Their last loss, coincidentally, was at the hands of the Rangers back at the end of November. However, with another win tonight, the Flyers could conclude a perfect three-game roadtrip.
stars
Puck Prose 19hDallas Stars Forward Cody Eakin Suspended 4 Games
More headlines around FanSided:
1 d - Dallas Stars' Silly Mistakes Are Costing Them Dearly1 d - Dallas Stars Get Everything Except Two Points Out Of Loss To Rangers1 d - Dallas Stars' Niemi Shines in Shutout Loss to Rangers1 d - New York Rangers win Despite Lundqvist Injury Scare2d - Dallas Stars Aim to Maintain Momentum Against RangersMore News at Blackout Dallas

Storylines
The struggle is real
While the Stars are hoping to be out of the woods when it comes to injuries, they can't quite escape losing players in other ways. Cody Eakin was suspended 4 games for his hit on Lundqvist in the Stars' tilt against the Rangers.
This was one of the penalties responsible for creating the 5-on-3 that the Stars were able to deftly kill off. Even though they dealt with it well, the Stars should watch out for avoidable penalties tonight in order to keep the Flyers' power play chances low and their own momentum high.
Flip, flop
Last season, the Stars were a force to be reckoned with against the Eastern Conference. Perhaps it had to do, in part, with the fact that the Stars faced so many Western Conference opponents early on and assumed a level of play to fit that style. However, this season is a different story. The Stars are 0-5-2 against Eastern Conference teams. Yet to win a single game against them.
Is it that the Eastern Conference has really stepped up its game and left the Stars in the dust, or is it just that the Stars have had some pretty crummy luck this season and are having difficulties bouncing back? I think this game will be very telling, as roles seem to be reversed with these two teams from what they were last season.
VIPs
Currently, Jakub Voracek leads the Flyers in scoring, and is also tied for third in the league with 33 points. For Dallas, Tyler Seguin is at the top with 31 points. This puts him tied for sixth in the league. Also racking up points for the Flyers are Claude Giroux, and Wayne Simmonds.
The Stars seemed to have broken through their scoring troubles against Anaheim, with goals from Dan Hamhuis, Adam Cracknell, Jamie Benn, Stephen Johns, Patrick Eaves, and Radek Faksa.
The defense has been instrumental in the scoring arena, and the foundational forwards are starting to step back up to their roles. Hopefully tonight will see the same offensive dedication and will help the Stars snap the Flyers' streak in the same way they snapped Anaheim's three game one.
A potential weak link
It's no secret that the Stars have struggled with power plays, yet remained pretty competent in the field of penalty kills. While the Flyers seem to have a good thing going and may seem unbreakable, they have a point of weakness that the Stars would do well to try and exploit.
The Flyers are currently first in the league in terms of shorthanded goals allowed, with seven. Although the Stars are right behind them with six, they should turn some special attention and energy into having their penalty kill do double duty. With the Stars' scoring currently so low, they should take all the opportunities they can get to put the puck in the net.
Injury Report
The Dallas Stars have narrowed down their injured list to Patrick Sharp (concussion-like symptoms), Mattias Janmark (knee), and Ales Hemsky (hip), who are all on IR.
The Philadelphia Flyers will make do tonight without Mark Streit (shoulder), Sean Couturier (lower body), Michal Neuvirth (knee), and Matt Read (abdomen), who are all also on injured reserve.
Projected Lines
Dallas Stars
Jamie Benn – Tyler Seguin – Patrick Eaves
Lauri Korpikoski – Jason Spezza – Jiri Hudler
Antoine Roussel – Radek Faksa – Brett Ritchie
Curtis McKenzie – Devin Shore – Adam Cracknell
Dan Hamhuis – Stephen Johns
Philadelphia Flyers
Michael Raffl – Claude Giroux – Jakub Voracek
Travis Konecny – Brayden Schenn – Wayne Simmonds
Taylor Leier – Nick Cousins – Dale Weise
Chris VandeVelde – Pierre-Edouard Bellemare – Roman Lyubimov
Brandon Manning – Shayne Gostisbehere
Andrew MacDonald – Ivan Provorov
Radko Gudas – Michael Del Zotto
Predictions
This game could go two ways. First off, if we have the Stars that come out guns blazing and reading to put the puck in the net (aka, vs. Ducks version), then the Stars could easily score first and notch this one as a win with a multiple goal lead.
But, if the Stars come out unsure of themselves or let the Flyers score first, it could be a very different, flip-flopped story.
I'm going to put some faith in the Stars, go all in, and say that they'll find that on again, off again scoring inspiration this afternoon and let it propel them past the Flyers in a 4-2 decision.
More from Blackout Dallas
This article originally appeared on
---
---