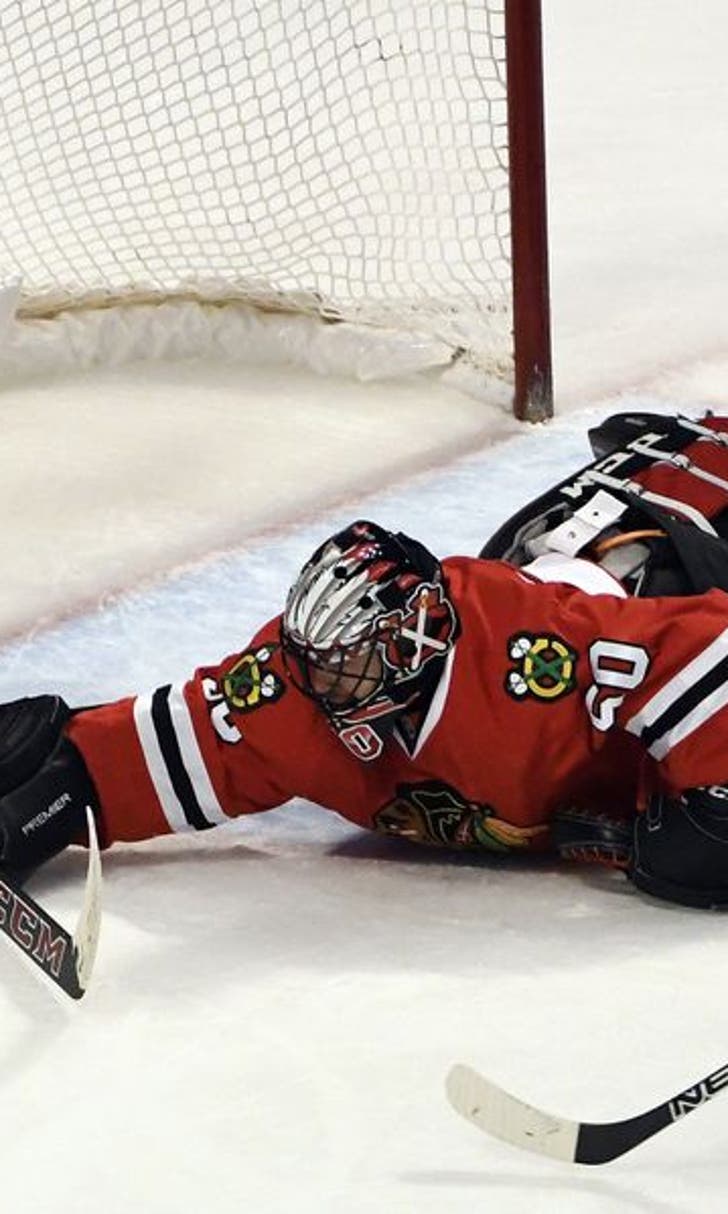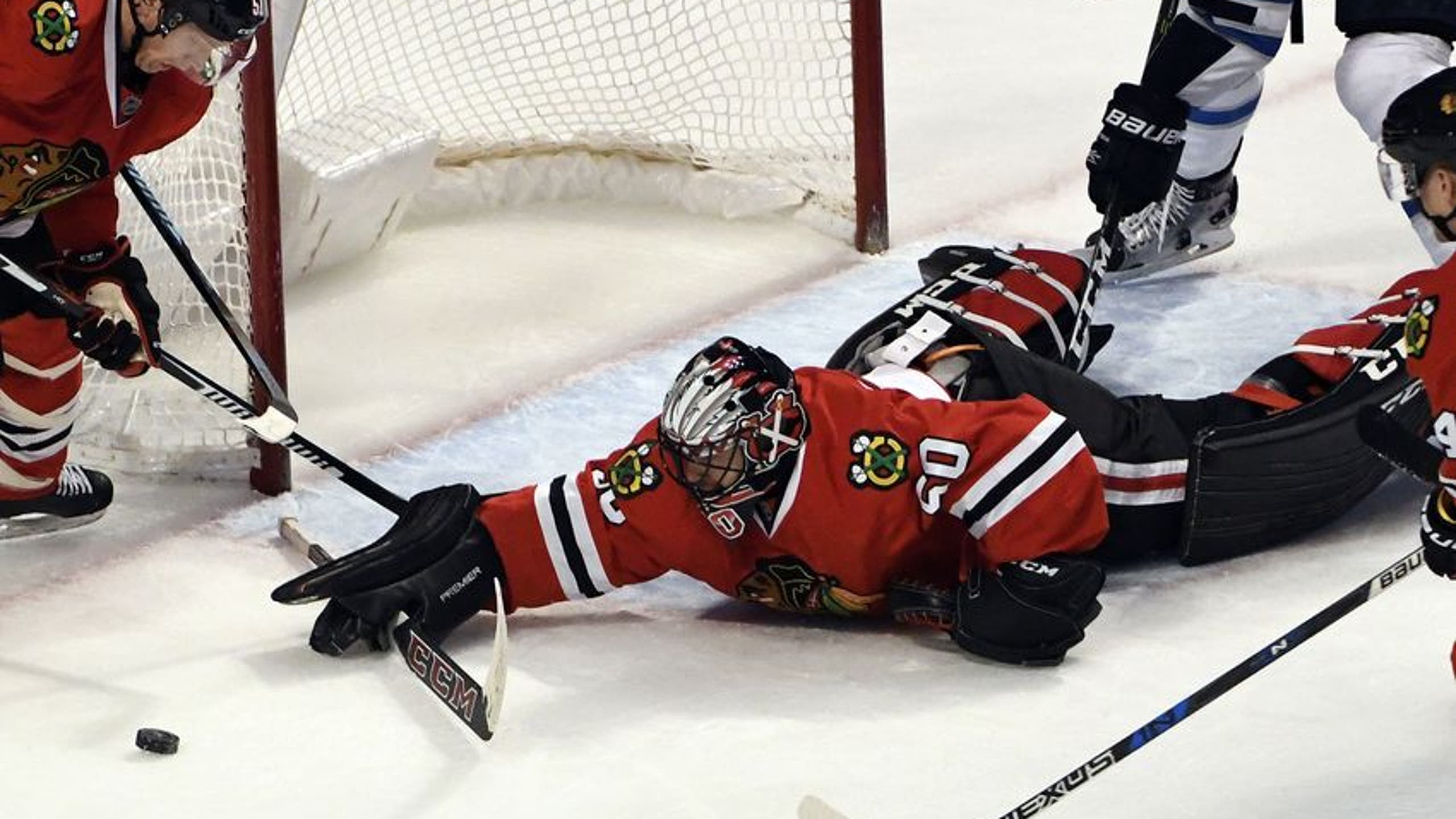 Chicago Blackhawks' 3 Observations From Another Loss To Winnipeg
BY Fansided and Colin Likas/FanSided via Blackhawk Up • December 28, 2016
Last season it was the Minnesota Wild, and this season it's the Winnipeg Jets taking the Chicago Blackhawks' lunch money
For some reason, there has been a different Central Division every season over the last few that tips up the Chicago Blackhawks. The Colorado Avalanche gave the Blackhawks major problems in the past. The Minnesota Wild rolled Chicago last season. And this year, it's the Winnipeg Jets.
The Jets picked up their third win in three tries this season on Tuesday with a convincing 3-1 result at the United Center. Connor Hellebuyck has the Blackhawks' number, making 34 saves to snag his third win in net against Chicago this season.
Think about that. The guy has three starts against the Blackhawks this season and hasn't lost. He hasn't really come close to losing, either. Look at these stats: 86 saves on 88 shot attempts, .977 save percentage, 0.67 goals-allowed average, one shutout.
Then you look at his regular-season stats as a whole: 13-11-1, .913, 2.62, two shutouts. This guy just loves playing the Blackhawks, plain and simple.
Of course, the Blackhawks did plenty to hurt their cause last night as well. It wasn't all terrible from the men in the Indian Head, but they clearly weren't the better team. Here are three of my thoughts from watching the game.
3. Fourth line was actually useful
The Blackhawks rolled a fourth line of Tyler Motte, Tanner Kero and Andrew Desjardins for this game. And I thought it worked really well.
Did the line receive favorable shifts? Certainly. The trio saw a lot of Adam Lowry, Drew Stafford, Marko Dano, Shawn Matthias, Joel Armia and Nic Petan. AKA, not the top two lines. And that's OK if it works.
And I thought it did. That trio got the puck to the net for extended scoring opportunities way more than any fourth line featuring Jordin Tootoo has. The only reason the puck ever gets to the net with Tootoo on the ice is if he's taking it himself, and opposing defenses allow him to do it because they know he won't score and they know it'll be a one-and-done bid.
Motte, Kero and Desjardins were getting the puck on the net a nice amount, with seven shots among them. And they all finished with solid possession figures: Desjardins 50.0 Corsi-for, Kero 70.59 and Motte 62.50.
They did this in very limited ice time — Motte's 8:22 was tops for the trio — but it's way better than anything we've seen from a fourth line that includes the anchor known as Tootoo.
Today's morning skate saw Tootoo back on the fourth line, though Motte was pushed up to Jonathan Toews' right wing. So that's interesting. I would say Motte definitely had the best game of that fourth-line trio, and I'm glad coach Joel Quenneville seems to see that.
blackhawks
Blackhawk Up 13wChicago Blackhawks' Hockey Is Back, In Multiple Forms
More headlines around FanSided:
14w - Chicago Blackhawks Morning Links: Go Team North America14w - Chicago Blackhawks Ex-Forward Brandon Saad Has "No Regrets"14w - World Cup Of Hockey Early Reactions: Team USA In Trouble14w - Chicago Blackhawks' Early World Cup Experiences Mixed14w - World Cup Of Hockey Predictions: Winners, Crawford And MoreMore News at Blackhawk Up

2. Can't break the defense
As was previously mentioned, Hellebuyck was really good again last night. He had to make a few really clutch saves. But just a few. The Blackhawks did plenty to ensure a number of their 35 shots on net weren't of high quality.
A main reason for this was the Blackhawks doing nothing to adjust to Winnipeg's desired defensive style. Whenever a Jets offensive possession would end, the forwards would very quickly drop back into the neutral zone and back toward their own blue line. The Blackhawks repeatedly tried to skate through these big-bodied forwards, with little luck.
The Blackhawks did nothing to press the issue on this. The one time they did so, they actually scored. If you go back and watch Artem Anisimov's goal, the Blackhawks are pushing the play and essentially have a 3-on-2 going into the offensive zone. That was one of the few times they actually tried to push the play up ice, and lo and behold, it worked.
Most of the rest of the time, the Blackhawks sat back and tried to set up plays. And the Jets were scouting it time and again. It resulted in weak shots from the side boards and the blue line with no traffic in front (Pat Foley hammered the latter point home throughout the broadcast).
Sure, Hellebuyck needed to make a few saves to keep the game from being closer, but Corey Crawford was saved by a trio of posts in the same game. It's a two-way street. (Side note: I thought Crow was once again really good in this game. He got little help from those in front of him.)
1. Chicago's powerplay sucks
Probably the easiest way to put it. The Blackhawks somehow have the 15th-ranked powerplay in the league at 18.3 percent conversion. I have no idea how.
The lack of desire to move the puck made the top unit a sitting duck against a Winnipeg penalty kill that was more than glad to directly attack Blackhawks players. I can remember one good opportunity for the powerplay the entire game out of their three man-advantages, and it was off a flukely scrum in front of the net.
Foley said after every penalty by the Jets the Blackhawks were getting a "much-needed powerplay." He probably didn't think they'd score; he was probably more so glad the Jets would hopefully stop handing the Blackhawks their ass while down a man.
But they just stuffed Chicago again and again, because the Blackhawks refused to move the puck in any meaningful way. With the big bodies Winnipeg has, they were well aware if they just pressured Chicago players directly, the Blackhawks probably weren't going to be able to do much.
Also, this wasn't a product of some amazing penalty-kill unit. The Jets' PK percentage is 77.3, good for 28th in the league. And the Blackhawks' powerplay looked drunk still.
Not a great outing for the Blackhawks overall, as they have two more games left in the calendar year. Trips to Nashville (Thursday) and Carolina (Friday) close out 2016. Let's hope the Blackhawks bring more of their A-game in those affairs.
More from Blackhawk Up
This article originally appeared on
---
---