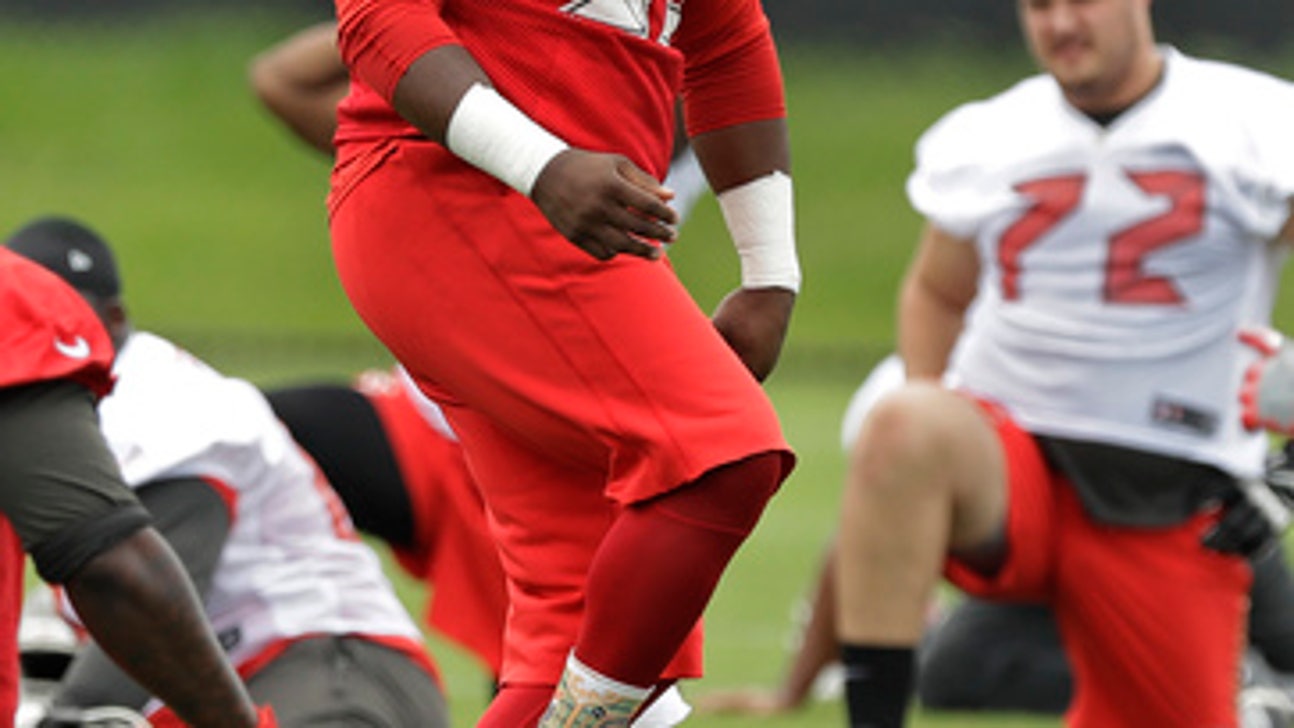 WR Mike Evans eager to help Buccaneers end playoff drought
Updated
Mar. 4, 2020 12:30 p.m. ET

TAMPA, Fla. (AP) Mike Evans wants to do anything he can to help transform the Tampa Bay Buccaneers into a playoff team.
The fourth-year pro is Jameis Winston's favorite target and has established himself as one of the NFL's top receivers over the past three seasons. He also is a terrific blocker who contributes even when he's not catching passes or scoring touchdowns.
And, with the Bucs coming off their first winning record in six years but still chasing their first postseason berth since 2007, Evans is eager to take on more responsibility.
That includes an expanded role as a leader - on and off the field - following the departure of veteran receiver Vincent Jackson, a mentor since Evans entered the league as a first-round draft pick in 2014.
Evans, who had a career-high 96 receptions for 1,321 yards and 12 touchdowns last season, said it won't be that big of an adjustment.
In fact, the arrival of speedy free agent DeSean Jackson, the team's biggest offseason acquisition, figures to take some of the burden off the 23-year-old, who's been Winston's primary target the past two seasons.
At age 30, Jackson is still one of the fastest players, and his presence on the other side of field should make it more difficult for opponents to double-team the 6-foot-5, 231-pound Evans.
''It's pretty much the same. I've been a leader since I've been here along with `V-Jax' and then `V-Jax' got hurt earlier in the season last year,'' said Evans, who has topped 1,000 yards receiving in each of his three pro seasons.
''I was able to lead the guys. They're older than me, but I've got more experience,'' the receiver added. ''We've got a lot of capable guys, and it's been fun with `D-Jax' as well. He's an experienced player, and he brings a lot of swag. He's fun to be around, too.''
If Evans surpasses 1,000 yards receiving again in 2017, he'll join A.J. Green and Randy Moss as the only receivers to begin their NFL career with four consecutive 1,000-yard seasons.
Coach Dirk Koetter and offensive coordinator/wide receivers coach Todd Monken like what they've seen from Evans during the team's offseason program, which includes a three-day mandatory minicamp that began Tuesday.
''He's had a great offseason,'' Monken said, adding that Evans is a ''very smart, very competitive'' player who's continues to improve.
''I'm not sure from a numbers standpoint, but Mike's confidence is at an all-time high,'' Koetter said.
''Two years ago, I didn't think he and Jameis had great chemistry between them. I'm not talking about as people, just on the field - and that's come so far,'' Koetter added. ''But I think with Mike, like a lot of our guys, the main goal is to win, not create stats. The goal is to win games.''
In addition to signing DeSean Jackson, the Bucs drafted tight end O.J. Howard as well as another speedy receiver, Chris Godwin, with the potential to become dynamic playmakers.
Evans is optimistic about how things are coming together.
''In OTAs it's hard to tell if there's a bunch of improvement and things like that, but guys are playing with a lot more swagger and having a lot more fun out there,'' Evans said.
''We're used to Dirk now. This is my third year with him, and so there's a good feel,'' he added. ''And you know having a guy like `D-Jax,' he brings a lot of swag and is fun to be around, too.''
---
For more NFL coverage: http://www.pro32.ap.org and http://www.twitter.com/AP-NFL
---
---