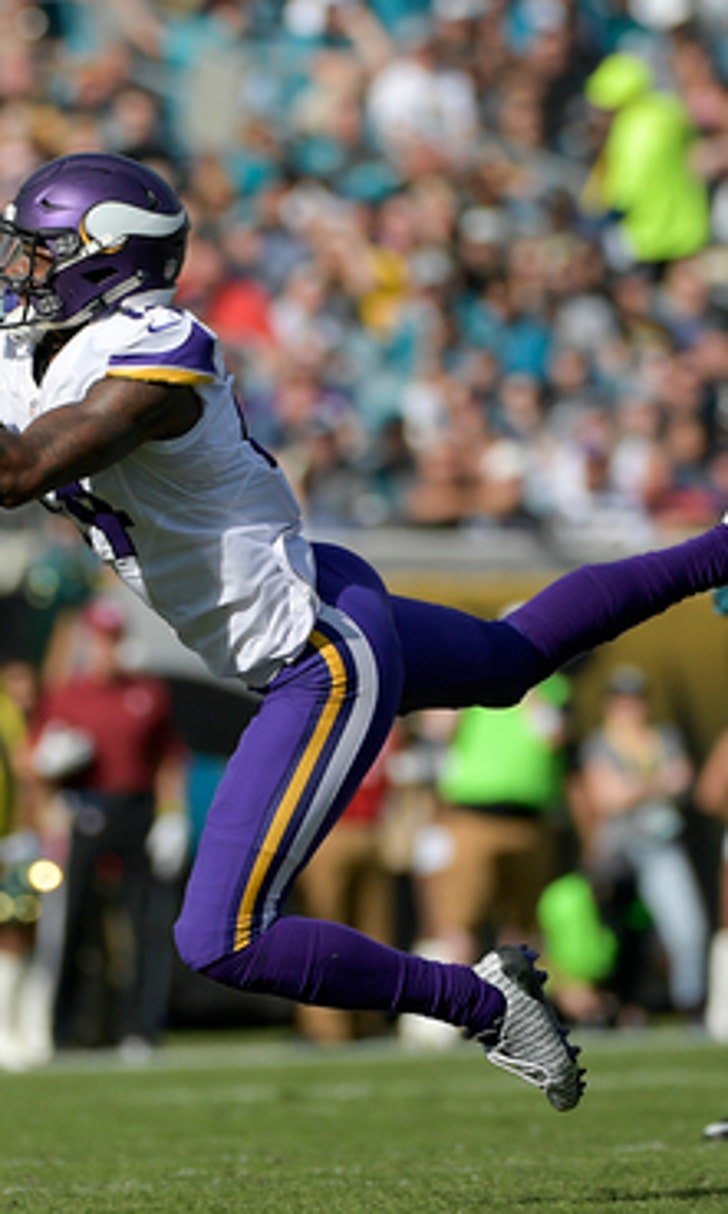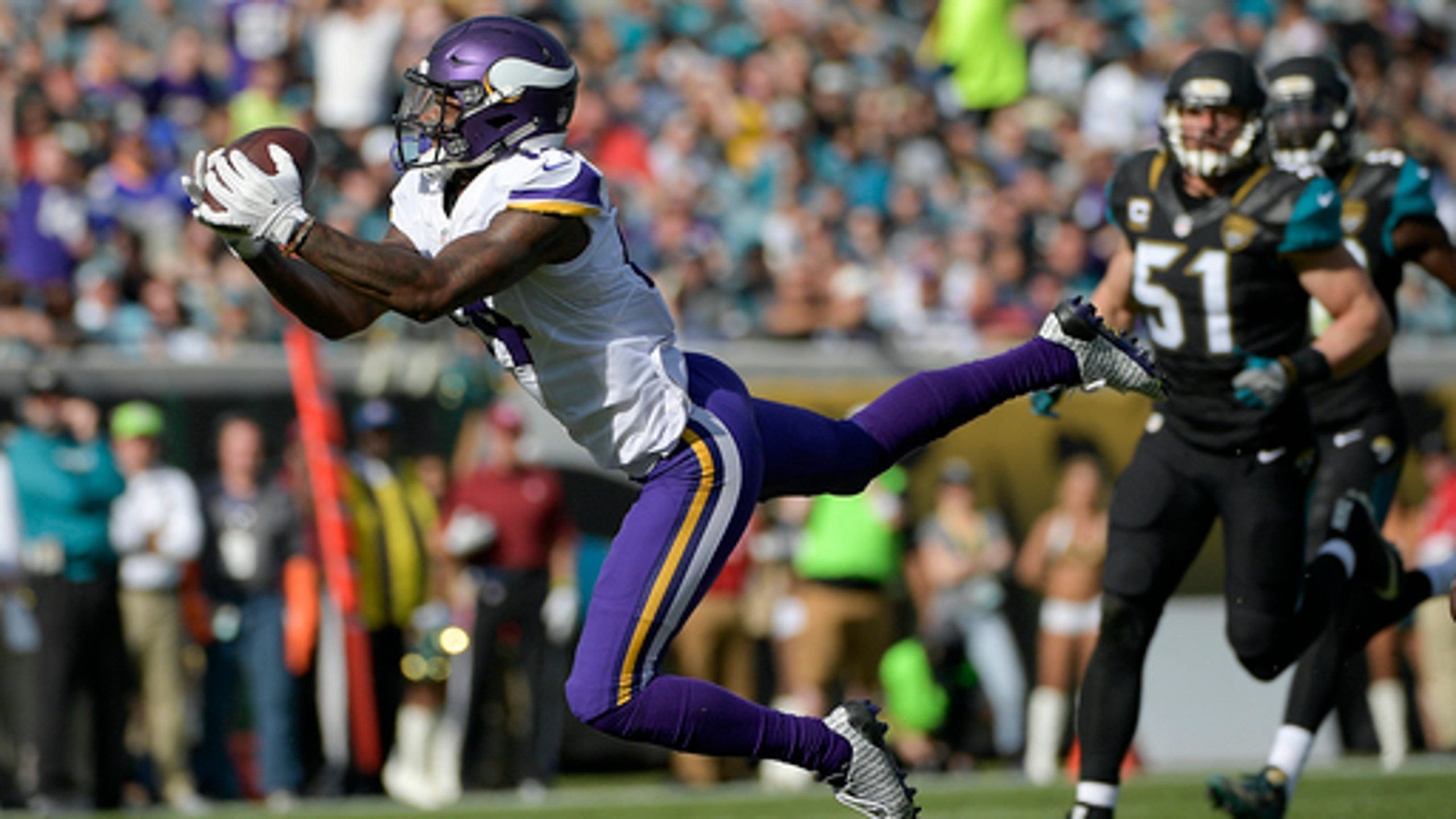 Vikings beat Jaguars 25-16 for 1st road win since September (Dec 11, 2016)
BY AP • December 11, 2016
JACKSONVILLE, Fla. (AP) Just about everything that could have gone wrong for Minnesota did.
The Vikings lost the turnover battle, failed to score twice inside the 1-yard line and allowed a fourth-down conversion on a fake punt. Those kinds of mistakes normally would doom a team. Not against the hapless Jacksonville Jaguars.
Matt Asiata scored on a short touchdown run , Kai Forbath kicked four field goals and the Vikings beat the Jacksonville Jaguars 25-16 on Sunday, winning for just the second time in nine weeks.
''This was huge to win today,'' tight end Kyle Rudolph said. ''The situation we put ourselves in, we feel we have to win out. You can't win out until you win the first one.''
Asiata had a chance to score three times, but he was stopped on a fourth-and-goal run in the second quarter and fumbled at the goal line in the fourth. Those turned out to be mere speedbumps against Jacksonville (2-11), which dropped its record-tying eighth consecutive game and fell to 0-6 at EverBank Field this season.
Minnesota (7-6) hadn't won on the road since Sept. 25 at Carolina and needed a victory to keep pace in the NFC playoff picture.
''We know what lies ahead for us and we felt we needed to win this one to get us going,'' running back Jerick McKinnon said.
Sam Bradford completed 24 of 34 passes for 292 yards and a touchdown. He wasn't sacked and scrambled four times for 17 yards. His 3-yard TD toss to Rudolph with 2:13 remaining sealed the victory.
''It was big for us just to get back on a winning track in general,'' Rudolph said. ''We know we're going to have to win our last four games, so we needed this one to get us started.''
The Vikings finish the season against Indianapolis, Green Bay and Chicago.
The Jaguars, meanwhile, will try to avoid setting a franchise record by losing their ninth in a row next week at Houston.
''It's tough anytime you lose,'' quarterback Blake Bortles said. ''I know for me personally, I can't wait to play on Sunday the following week and get another opportunity and hopefully to try to erase some of this stuff that's going on and maybe wake up from this nightmare.
''With these last three weeks left and then having to live six months until you get another opportunity, I think is more fearful than counting down the days until it's over. I don't want to have to go through those six months.''
DEEP SHOTS
Known more for short passes than deep shots, the Vikings changed things up against the Jaguars. Bradford connected with Rudolph for 44 yards on the first play from scrimmage and then found Adam Thielen for a 41-yard gain on Minnesota's second possession. Both set up field goals. He also found Stefon Diggs for a diving, 45-yarder down the middle in the first half.
Before Sunday, the Jaguars had allowed just two pass plays longer than 40 yards all season. They gave up three in the first half against Minnesota.
''We created some explosive plays, and anytime you do that, it just makes it easier for the offense,'' Bradford said.
ZIMMER RETURNS
Vikings coach Mike Zimmer returned after a one-game absence and was on the sideline. Zimmer missed last week's game against Dallas because of a detached retina and was unsure earlier in the week whether he would be on the field or in an upstairs box.
Zimmer, who needed a doctor's clearance to fly to Jacksonville , was wearing a patch over his right eye. He also had protective glasses on beforehand, but ditched those when the game started.
Zimmer said he had few limitations.
''I couldn't see to my right, but other than that, not really,'' he said.
INJURIES
The Vikings lost receiver Laquon Treadwell (ankle), cornerback Trae Waynes (concussion protocol) and guard Brandon Fusco (concussion protocol). Jaguars left tackle Kelvin Beachum (knee) and receiver Marqise Lee (ankle) left the game but later returned.
JIMMY SMITH HONORED
Retired Jaguars receiver Jimmy Smith was inducted into the franchise's ring of honor at halftime. Smith cried as his name and jersey number (82) were unveiled inside the stadium.
Smith joined offensive tackle Tony Boselli (2006), former owners Wayne and Delores Weaver (2012), running back Fred Taylor (2012) and quarterback Mark Brunell (2013) in the Pride of the Jaguars.
Smith, whose life has been defined as much by drug addiction as football production, said his message these days is to ''be an All-Pro at getting back up because you're going to get knocked down.''
UP NEXT
Minnesota stays in the AFC South and hosts Indianapolis.
Jacksonville travels to Houston, which has won five in a row in the series.
---
For more NFL coverage: http://www.pro32.ap.org and http://www.twitter.com/AP-NFL
---
---