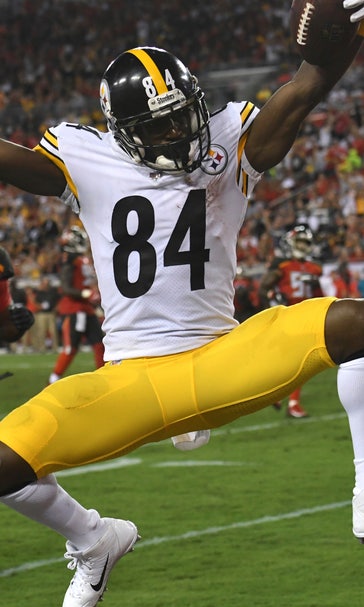 Steelers hope win over Bucs sign of things to come
September 25, 2018
PITTSBURGH (AP) — Vance McDonald insists he wasn't sending some sort of message when the Pittsburgh Steelers tight end extended his right arm toward Tampa Bay's Chris Conte and jammed the Buccaneers defensive back into the turf on Monday night.
It was a show of force that sprung McDonald for a 75-yard touchdown reception and seemed to snap the two-time defending AFC North champions out of an early funk that threatened to swallow their season whole.
"Just playing big," McDonald said after Pittsburgh held on for a 30-27 victory. "It was frustrating. I was (injured) in training camp, so this was kind of just a 'Welcome Back' almost.'"
McDonald was talking about himself. He might as well have been talking about the Steelers, too.
While there remains plenty of issues — particularly when it comes to penalties and pass defense — Pittsburgh (1-1-1) played with a sense of urgency it lacked at times during a maddening opening two weeks in which the Steelers frittered away a 14-point fourth-quarter lead in Cleveland before getting overwhelmed by Kansas City.
McDonald's highly "GIF-able" swat of Conte provided a desperately needed spark. The defense put a sudden if brief halt to Tampa Bay quarterback Ryan Fitzpatrick's hot streak by forcing a turnover on four consecutive possessions.
Ben Roethlisberger did the rest while throwing for 353 yards and three scores.
"That was a total team win, all the phases, and that's what Steeler football is about," Roethlisberger said.
Even if anything close to a "clean" game remains elusive. Pittsburgh was flagged 13 times for 155 yards, the defense gave up 411 yards passing and kicker Chris Boswell missed two more kicks.
Throw in some anxious moments in the fourth quarter after the Buccaneers trimmed a 20-point deficit to three and the Steelers understand they're far from a finished product heading into a Sunday night visit by Baltimore (2-1).
Still, considering all the off-the-field issues surrounding the team in recent weeks — from wide receiver Antonio Brown's erratic behavior to running back Le'Veon Bell's extended absence while waiting to sign his franchise tag — they will take it.
"It was big," cornerback Joe Haden said. "We haven't started the season (anywhere) like we expected to, but we just wanted to start getting our first win, get that thing rolling."
Pittsburgh created just two turnovers over the first two weeks, but produced four against the Buccaneers thanks to three interceptions — including a pick-6 by linebacker Bud Dupree — and a fumble recovery.
They're the kind of "splash" plays coach Mike Tomlin covets, though he's still concerned about the massive amounts of yardage his team continues to give up.
Four different Buccaneers had at least one reception of 20 yards or more, and Fitzpatrick became the first player in NFL history to top 400 yards three consecutive weeks.
While Haden's return from a hamstring issue that kept him out against Kansas City settled one cornerback spot, the other remains a problem. Artie Burns, Coty Sensabaugh and Cam Sutton all saw playing time opposite Haden, and all three struggled.
"We're going to continue to play a number of people until someone distinguishes themselves," Tomlin said Tuesday.
The new-look Ravens figure to continue to test Pittsburgh's revamped secondary when they visit Heinz Field.
Tomlin understands his team can't make every play. What he'd like to see, however, is the Steelers stop beating themselves.
Pittsburgh's 37 penalties are easily tops in the NFL, nine more than Buffalo. Though Tomlin attributed some of the mistakes to the emotions of playing a pivotal game so early in the year, he allowed "we've got to play cleaner, got to play smarter."
Tomlin declined to take a shot at the officiating, pointing out that in each of Pittsburgh's three games both teams were highly penalized.
He admitted the number of flags — the Steelers and Buccaneers combined for 22 on Monday night — might be "worrisome" to those watching at home because the penalties make it difficult for the game to develop any sense of rhythm.
"It probably wasn't a fun game to watch," Tomlin said.
That doesn't mean it wasn't a fun game to win, if only because it turned the attention back to football and not everything else.
"We always say winning cures a lot of things, but I still think the biggest issue, if you will, was outside the locker room, people perceiving different things," Roethlisberger said.
"Not saying we don't have issues, all teams have issues and there's different things going on, but I think it was a little bigger than it really is."
Then the 15-year veteran paused ever so briefly before adding, "was."
NOTES: Tomlin said there's a chance RG David DeCastro (hand), RT Marcus Gilbert (hamstring) and S Morgan Burnett (groin) — all of whom sat out against the Buccaneers — could play against Baltimore. ... Tomlin declined to address reports the team is listening to trade offers for Bell. "I'm not talking Le'Veon," Tomlin said. "I'm just not. There's nothing new to add."
---
---