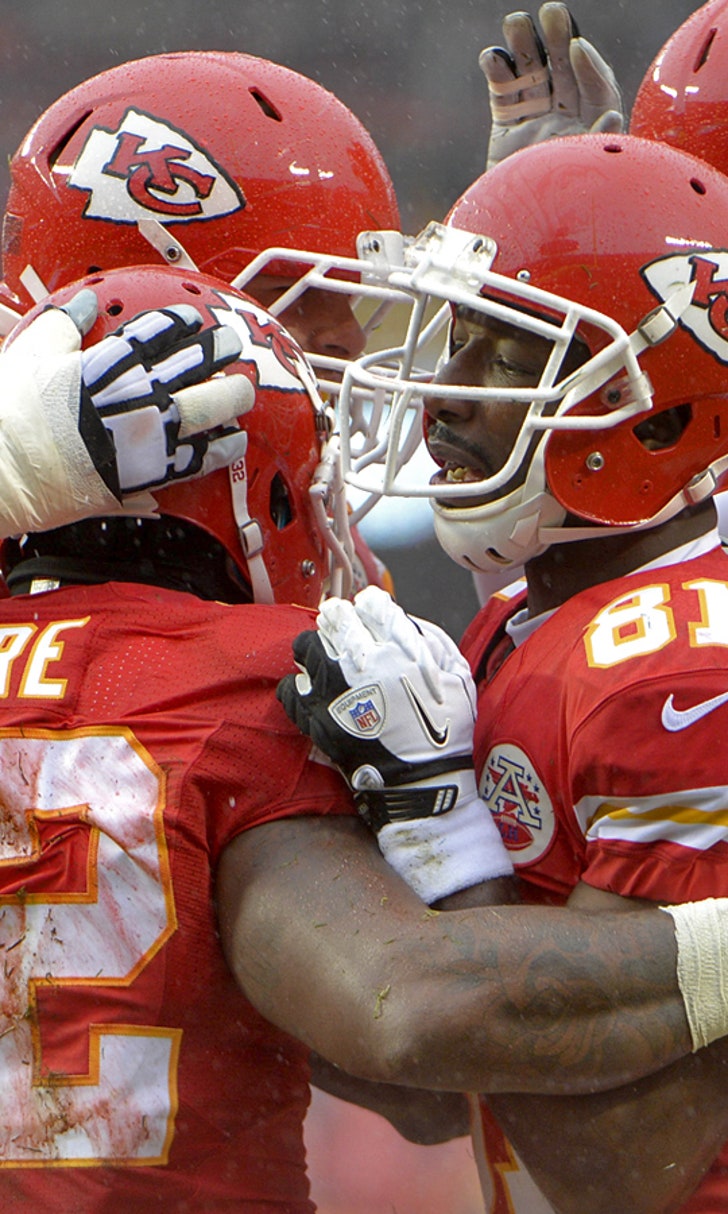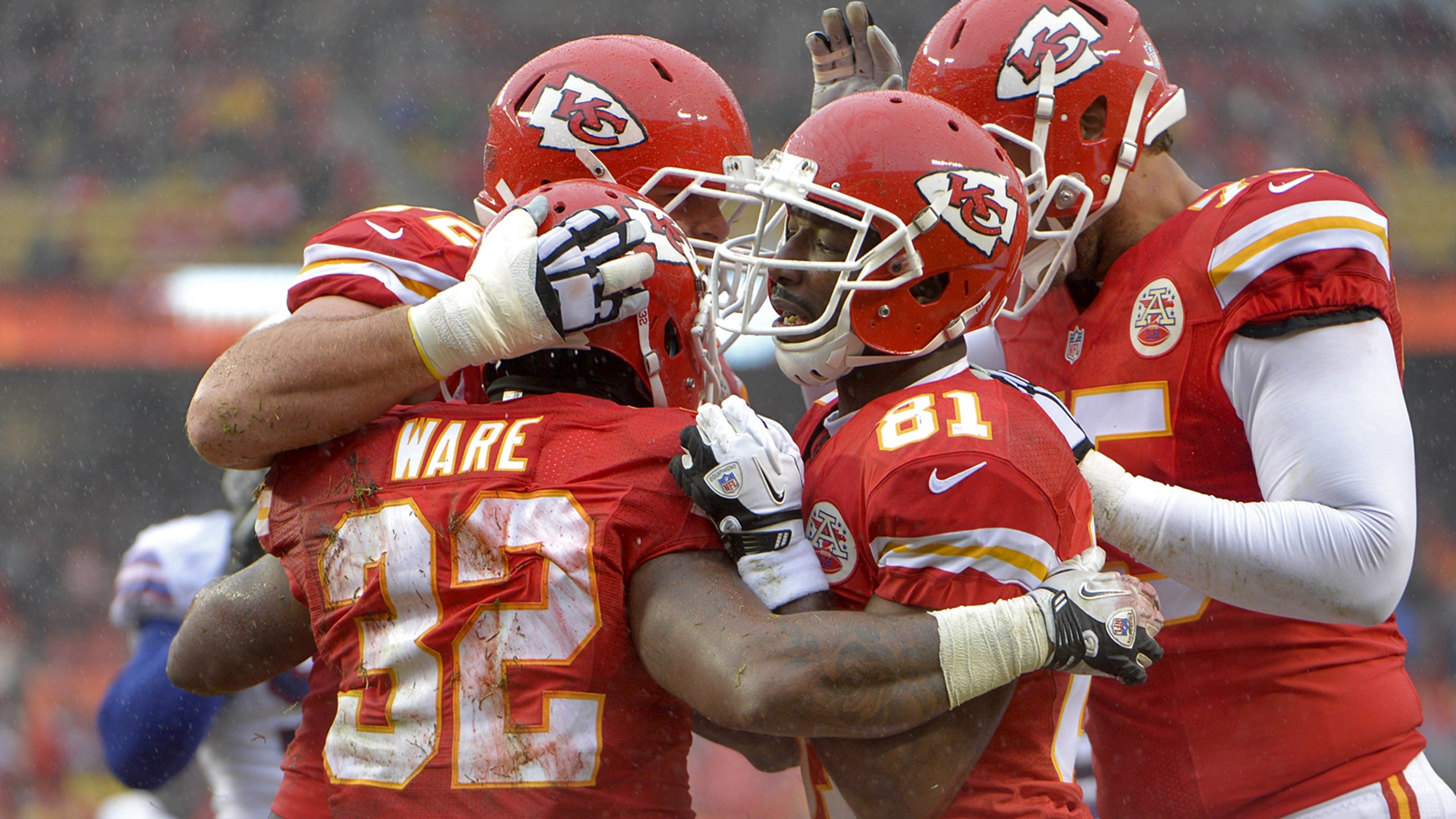 Six Points for Week 12: Chiefs are excelling without Jamaal Charles
BY Mike Garafolo • November 30, 2015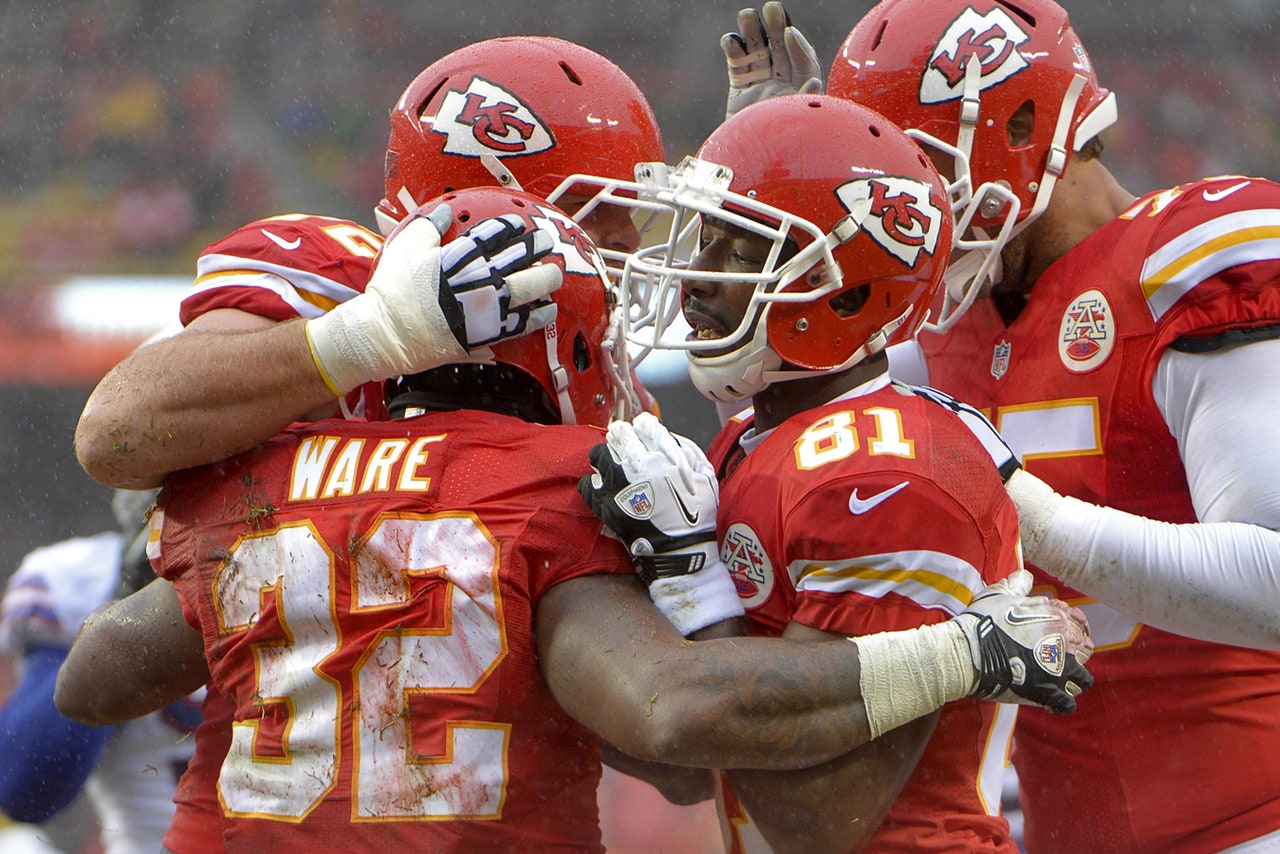 They can say it now -- that they were distraught and confused when Jamaal Charles went down with a torn ACL and that they didn't recover for another two weeks, when they beat the Ben Roethlisberger-less Pittsburgh Steelers at home.
They can say it even though they said all the right things at the time about the next guy stepping up and plowing through the adversity.
That wasn't really the case for the Kansas City Chiefs. Even though Charles is only one guy, when he went down during a Week 5 loss to the Chicago Bears, his teammates were staggered.
"Without a doubt. You look at how much we've used Jamaal Charles, and he's the focal point of this offense, it kind of left us with our palms up like, 'Where do we go from here?'" tight end Travis Kelce told FOX Sports by phone Sunday after the 30-22 victory over the Buffalo Bills -- Kansas City's fifth straight win. "But Charcandrick (West) has done an amazing job and Spencer Ware's done a phenomenal job stepping in for both of them. It's fun, it's exciting when you see a guy step up into the shoes of Jamaal Charles. It just makes it that much more fun when you have success and win."
Where do they go from Charles' injury? Maybe to the playoffs.
The Chiefs, at 6-5, are sitting in the fifth spot in the AFC. There are five teams within one game of them, though, so this isn't a story of a team that's completely gotten over the hump. There are five weeks to go, and it will surely take all five of them to sort out the AFC playoff picture.
But even controlling their own destiny right now is major progress for the Chiefs. On Oct. 11, Charles' injury took the life out of their sideline and caused them to blow a 14-point halftime lead. One week later, they lost 16-10 to the Minnesota Vikings in a game where they had 51 yards in the first half and didn't wake up until late. After that defeat, coach Andy Reid was clearly frustrated but explained to the media his team in the fourth quarter "functioned the way I know we can function."
There was a calm confidence in Reid's voice and it translated to the locker room as well.
"Big Red, he seems to have everything under control, whether it's offense, defense or special teams or even the distractions outside the facility, which is arguably the hardest thing you try to control as the head coach," Kelce said. "You have all these young men that are just now seeing big lump sums of money and they have a lot of distractions off the field. Andy Reid makes sure there's an accountability for every single player, that we act like gentlemen and businessmen."
Kelce also noted there's now a greater trust from the players toward Reid that he's making the right play calls. Same with defensive coordinator Bob Sutton.
Clearly, that wavered in the wake of Charles' injury. Again, that's something they can say now that they've worked their way out of the slump. The first week-plus sans Charles, the offense needed to adjust to life without a guy who can create something out of nothing.
"Knowing that Jamaal isn't back there, you start to concentrate a little more knowing you don't have a guy as special and things like that," Kelce said. "Not saying you don't block your tail off for Jamaal, but there's that consciousness in the back of your head that, 'OK, if someone goes down, we have to make something out of it.' "
They have. West (412 total yards and four touchdowns in the first three games of the winning streak before suffering a hamstring injury) and Ware (210 rushing yards and three touchdowns over the last two weeks) have produced results better than many anticipated.
Ware's physical style seemed to have concerned the Bills on Sunday. They focused on stopping things up front, which allowed the Chiefs' passing game to find some big plays downfield, including one from Alex Smith to Jeremy Maclin for 37 yards in the second quarter.
"That was huge for us to get into the red zone on a play like that," Kelce said. "It's momentum and it can completely change a game."
Ware ran a touchdown in from 3 yards out on the next play.
"He's probably not going to be a great interview," Reid warned the media. "He's quiet, but he's dirty tough and you've seen that."
Maybe, just maybe, the Chiefs are better off without Charles.
That's not to take anything away from Charles, who has been a phenomenal playmaker for years. It's rather an assessment of a power running game that's emerged out of necessity and, as Kelce noted, a commitment from the entire offense to make up for the loss of their top weapon.
Smith's 112.5 passer rating Sunday was his highest since Week 1 and he's averaged 9.2 yards per attempt over the past two weeks. He hit Maclin for a 41-yard touchdown -- "He was due," Reid said of the player he coached with the Eagles -- to pull the Chiefs within two points before halftime and then found Kelce for a 15-yard touchdown early in the third quarter to give Kansas City the lead for good.
"Last week, I didn't come up with a catch in the end zone I felt I should have had," Kelce said, "so I locked in on the football and made a play for my brothers."
There is a brotherhood in that locker room right now. That's what winning can do. And so can overcoming adversity, whether it be a series of losses, an injury or even something more serious.
"We just keep fighting," said safety Eric Berry, who returned to the field this season after battling lymphoma. "A lot of us have been through a lot of different things, on and off the field, and we just bring those experiences to the field and just keep pushing on and something is going to crack."
EVERYTHING'S COMING UP ROSEMAN?
Since Chip Kelly sought and received control of the Philadelphia Eagles' personnel department back in January, executive VP of football operations Howie Roseman hasn't said a word publicly. 
Right now, the Eagles' season and Kelly's declining popularity in Philly are saying plenty.
It's fair to wonder whether the Eagles are worse off as an organization now that Kelly has final say on personnel. From the Sam Bradford trade to the signing of DeMarco Murray and Byron Maxwell, many of Kelly's moves have flopped. And considering the team was in much better standing when Roseman was in charge, that only makes the former GM look better.
And not just inside the Eagles' building. There's talk around the league Roseman could draw interest elsewhere, depending on which positions open. That's because, from the outside, other owners are seeing the mess Kelly is overseeing right now and realizing Roseman was doing a fine job as GM. And let's not forget how many teams wanted a shot at Kelly for a few years but that Roseman and owner Jeff Lurie were able to nab him.
Sure, it backfired for Roseman because Kelly staged a coup after only two years, but he was one of the biggest coaching hires in recent history. It even took patience and some finesse because Kelly initially balked, perhaps in part because he wouldn't have full control over personnel. (Not yet, anyway.)
Depending on how the Eagles' final month-plus plays out, this could be a delicate situation for Lurie. Since he bought the team in 1994, there have been a number of front-office shuffles that resulted in veteran decision-makers getting fired. Yet, Roseman survived, albeit in a marginalized role. There's a reason for that -- Lurie has a tremendous relationship with Roseman and wanted him as a safety net in case Kelly the GM failed.
If other clubs come calling for Roseman, Lurie might have to decide whether to stay patient with Kelly or make a quick move so he doesn't lose Roseman.
It's a fascinating dynamic and it could be very interesting to watch.
TEXANS TURNED UP
The Houston Texans rolled through November, winning all four of their games in the month while allowing 6, 6, 17 and 6 points. They're on a roll right now in a weak AFC South (they're tied with the Indianapolis Colts, though Indy has the head-to-head tiebreaker for now).
However, next month could prove to be much more of a test for Houston. After playing three of four at home in November, they'll play three of their four December games on the road.
It all starts Sunday in Buffalo against what should be a charged-up Bills team playing at Ralph Wilson Stadium for the first time in almost a month. The Texans also have divisional road games in Indianapolis (perhaps with Andrew Luck back) and at Tennessee on Dec. 27. Their lone home game in December is against the New England Patriots.
It's not an impossibly difficult schedule by any means, but it will determine whether the Texans' defense can continue the kind of play that kept Drew Brees and Andy Dalton out of the end zone recently and held New Orleans without a touchdown for the first time since Dec. 24, 2005.
"That's a long time," J.J. Watt noted.
UNDERRATED SIGNING OF THE SEASON
Washington Redskins coach Jay Gruden admitted the team had no clue what it would be getting in veteran cornerback Will Blackmon when it signed him in Week 2.
"We didn't really know what to expect," Gruden said recently. "We hadn't seen him play. He hadn't played in a while."
A fourth-round pick of the Green Bay Packers in 2006, Blackmon suffered an ACL injury that required two surgeries to fix -- one while with Green Bay and another while with the New York Giants in 2010. Blackmon returned to the Giants as a member of the Super Bowl-winning team a year later.
After going unsigned in 2012, Blackmon joined the Seattle Seahawks, then headed to the Jacksonville Jaguars after getting released by Seattle. He played 23 games in two seasons with the Jags, only to be released this past offseason. He rejoined the Seahawks but then was released again in camp. The Redskins signed him, hoping they'd get some leadership in the deal.
They've gotten a lot more than that. Blackmon has appeared in 10 games and started five and has been the team's most consistent cornerback. With Chris Culliver out with a torn ACL suffered in practice last week, Washington needed Blackmon to come up big on Sunday against the Giants.
He did just that by intercepting Eli Manning on a pass that initially deflected off Blackmon's hands and then came back into his grasp. Blackmon also had another pass defensed in the game. He was in coverage on Odell Beckham's touchdown catch, but that was a ridiculous diving grab that no one could have defended.
In short, the 31-year-old Blackmon is starting at corner for a first-place team after a circuitous route to this point in his career. And whether it was luck, insight or a combination of both that led Redskins GM Scot McCloughan to sign Blackmon, it was one of the underrated moves of the season.
"It feels good just to still have a chance to make it into the postseason," Blackmon told FOX Sports on Sunday night. "It's very difficult to finish the season knowing you are going to pack your bags after Week 17. We are still alive and we control our own destiny."
Yes, they do. What a wacky year in the NFC East, where each of the four teams has had at least a share of first place at one point this season.
IT'S NOT EASY BEING A FAN
Each week, you watch players on the field make spectacular plays under pressure (Beckham's diving touchdown on Sunday comes to mind) and think, "How do these guys do it?"
Well, truth be told, some of them are in awe of you.
"It's hard watching games," Oakland Raiders defensive end Justin Tuck tweeted. "I don't see how you fans deal with this."
Tuck, who is out for the season following surgery to repair a torn pectoral muscle, was watching from home as the Raiders were playing a weird, wet and close game against the Tennessee Titans. Tuck has tweeted his angst while watching his beloved Notre Dame, but watching his own team from home was a new experience for him.
"Man, if this continues, I know what I'm buying myself for Christmas," he wrote in a text to FOX Sports while the Raiders were trailing Tennessee late in the game. "A new TV."
The TV survived, as did the Raiders. Derek Carr hit Seth Roberts for a 12-yard touchdown after a holding penalty negated a failed fourth down.
"Thank you God," Tuck tweeted.
KUDOS TO BIG BEN
The Pittsburgh Steelers made a point of letting the public know Ben Roethlisberger self-reported his concussion on Sunday late in the fourth quarter. Good for them. And good for him.
Roethlisberger has battled through knee and foot injuries this season, so another medical evaluation was surely the last thing he wanted to go through. But he recognized toughing out a brain injury is much different than dealing with pain elsewhere in the body.
What's unclear is how long Roethlisberger was experiencing symptoms. He took a hit earlier in the fourth quarter. He didn't address the media after the game, as per the NFL policy on concussed players. If he knew he was injured earlier and waited until the game was out of reach to report it, that's obviously less commendable. But entering the concussion protocol, period, puts him in jeopardy for next week's game. Keeping any symptoms to himself might have been a quicker way back onto the field.
But it would've been a potentially dangerous one. Give Roethlisberger credit for recognizing that.
---
---