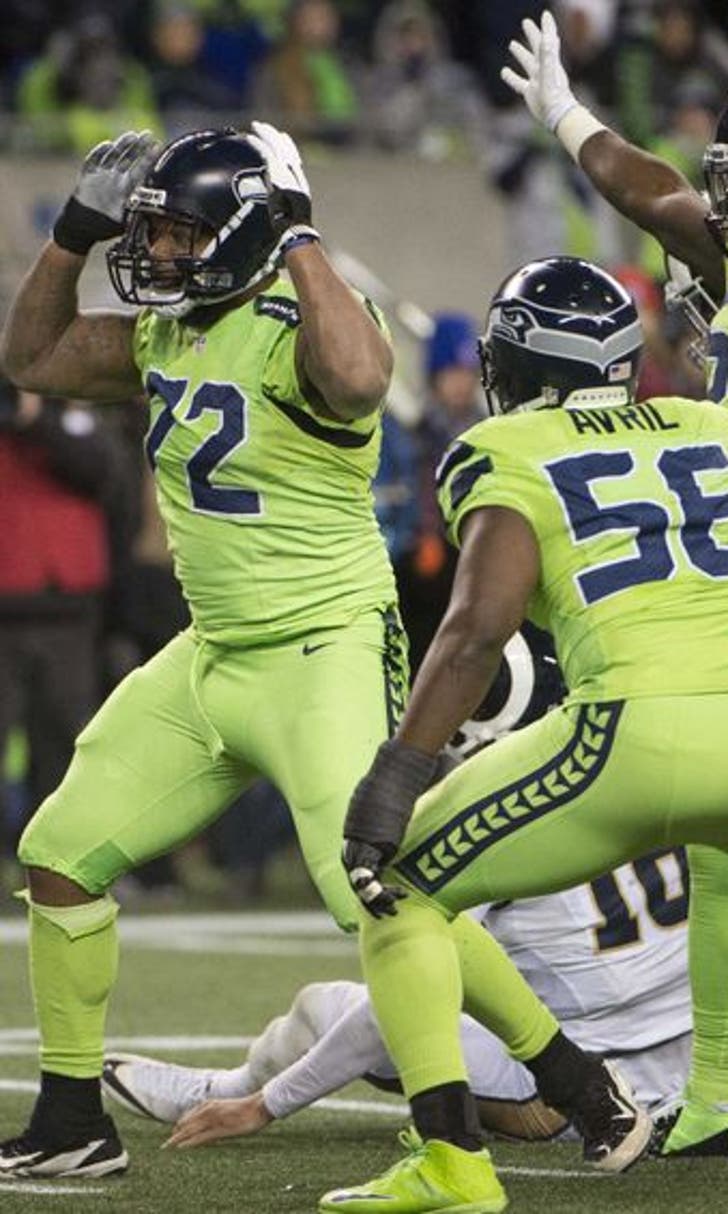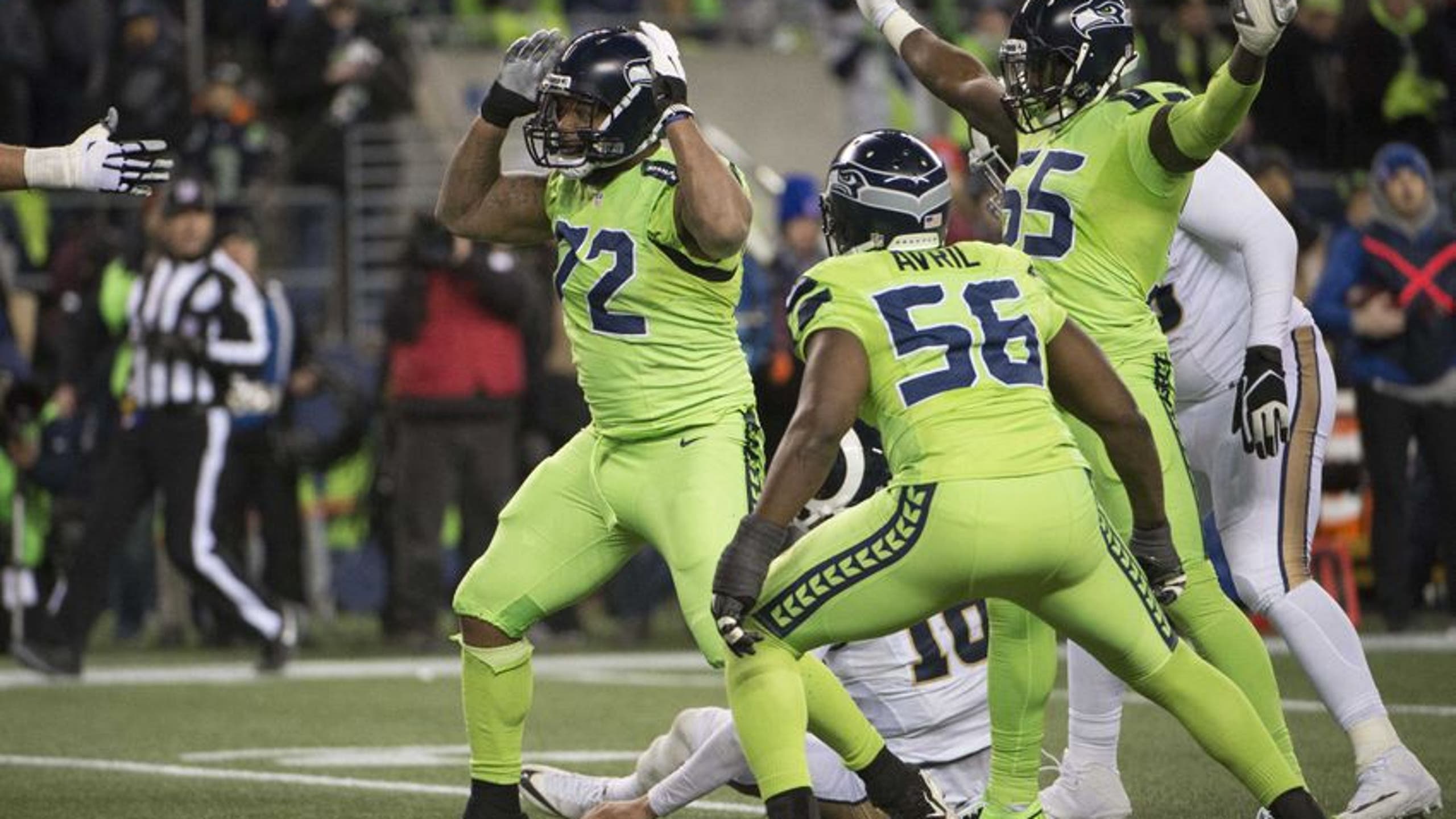 Seahawks: 5 takeaways from a division-clinching win
BY Fansided and Keith Myers/FanSided via 12th Man Rising • December 16, 2016
The Seattle Seahawks clinched the NFC West title with a win over the Los Angeles Rams, but it was an uglier win than they'd hoped for.
The Seattle Seahawks took care of business tonight. It wasn't always pretty, but they defeated the LA Rams 24-3 in a game that punched their ticket to the playoffs.
Speaking of "not pretty," it's a good thing that the Seahawks only wear those color rush uniforms once a year. My retinas may never forgive them for wearing those things tonight. I don't even care if not one agrees with me, those things are ugly.
Let's jump straight to my takeaways from tonight's win:
1. We're still waiting on the line to improve, but it isn't going to
Seattle's first drive stalled after a pair of false start penalties. The second drive had to overcome multiple unblocked free defenders in the backfield in order to generate points. On drive 3 the problem was the 2 linemen that both thought they were supposed to go to the 2nd level and neither blocked at the line of scrimmage…
The issues were constant all game long.
Sacks… check.
Penalties… check.
Guys with no idea who there were supposed to block… yes, check that off the list too.
That unit isn't just bad, it is poorly coached.
It is one thing for the lineman to fail because of a lack of talent. Bradley Sowell is terrible, but he is what he is. We can argue about if he's the right guy to be out there on the field, but that doesn't mean we should ever expect him to be good.
It is another thing that the linemen are completely undisciplined and clueless. Tom Cable and his fans can make all the excuses they want, but it is obvious that he is a big part of the problem for Seattle's offense.
Dec 15, 2016; Seattle, WA, USA; Seattle Seahawks defensive end Michael Bennett (72) celebrates after sacking Los Angeles Rams quarterback Jared Goff (16) at CenturyLink Field. The Seahawks won 24-3. Mandatory Credit: Troy Wayrynen-USA TODAY Sports
2. The defense picked on the unprepared rookie
One look at Jared Goff's stats and you'll know why the Seattle defenders were all smiles after the game. Goff look like an unprepared rookie throughout the game, which is exactly what he is.
Goff completed just 13 of his 25 passes. His 135 yards through the air means that he managed only 5.4 yards per pass. That isn't going to get the job done in the NFL.
It didn't get any better once Case Keenum came in either Keenum was 5 of 9 for 32 hards. The math here is pretty clear, his 3.5 yards per pass attempt was even worse.
Both QBs, but especially Goff, were often confused by Seattle's defense. He seemed to never know where the pressure was going to come from on any given play. A couple of times it appeared that he checked into a play that had no chance of success.
Middlekauff is correct in that tweet, but that shouldn't take anything away from Seattle's defense. They did what needed to be done and gave up only three points.
Dec 15, 2016; Seattle, WA, USA; Seattle Seahawks running back Thomas Rawls (34) rushes against the Los Angeles Rams during the fourth quarter at CenturyLink Field. Seattle defeated Los Angeles, 24-3. Mandatory Credit: Joe Nicholson-USA TODAY Sports
3. Seattle's running game is dead
Thomas Rawls led the entire NFL with 5.6 yards per carry last season. This season, he was averaging only 4.1 yards per carry before tonight, and that numbers is about to plummet.
Tonight was even worse than it looked for Seattle's ground game. Rawls finished with 21 carries for only 34 yards, which is an average of only 1.6 yard per carry. That's fairly pedestrian against the 18th ranked rush defense.
The thing is, that isn't a slight on Rawls. He is still running hard and fighting for every possible yard. There just aren't a lot of yards for him to get.
Every time he got the ball he was dodging guys in the backfield. Sometimes he made them miss and got back to the line of scrimmage. Sometimes he didn't have that chance.
Like it or not, the Seahawks no longer have a viable running game. As a team, they'll go only as far as Russell Wilson will carry them.
Dec 15, 2016; Seattle, WA, USA; Seattle Seahawks quarterback Russell Wilson (3) carries the ball in the third quarter against the Los Angeles Rams during a NFL football game at CenturyLink Field. Mandatory Credit: Kirby Lee-USA TODAY Sports
4. Russell Wilson shook off last week's nightmare
Russell Wilson had the worst game of his career a week ago in Green Bay. He threw 5 interceptions, completed only 56% of his passes, and was generally off-target all game.
With game-time temperatures right at freezing tonight, there was some concern that Wilson might struggle again. That concern turned out not to be warranted.
Wilson played well. He completed 19 of 26 passes for 226 yards and 3 touchdowns. More importantly, Wilson didn't throw any picks until after the outcome of the game had already been decided.
Wilson continually delivered despite constant pressure from the Rams' front 7. He came up biggest on third downs, helping the Seahawks to an uncharacteristically good 45% conversion rate.
Wilson also made thing happen with his legs. The Seahawks avoided designed run for Wilson, but he still ended with 12 yards on scrambles, though more importantly he picked up a pair important first downs with his legs.
Dec 15, 2016; Seattle, WA, USA; Seattle Seahawks punter Jon Ryan (9) carries the ball on a 26-yard run on a fake punt in the fourth quarter against the Los Angeles Rams during a NFL football game at CenturyLink Field. The Seahawks defeated the Rams 24-3. Mandatory Credit: Kirby Lee-USA TODAY Sports
5. Seahawks finally clinch the NFC West
Let's face it, the NFC West is fairly terrible this season. The Rams are bad, and the 49ers are even worse. Even the Arizona Cardinals aren't likely to end up above .500 this year.
The Seahawks dragged this out much longer than they should have, but they did finally wrap up another division title. This will be the 6th time the Seahawks will make the playoffs in Pete Carroll 7 seasons in Seattle.
Winning the division gives the Seahawks a home game in the playoffs. That's important, since the Seahawks have been a far better team at home than they have been on the road this season.
They still have a lot to play for though. They came into this week a half-game behind Detroit for the No. 2 seed in the NFC. A loss by the Lions in the final 3 weeks of the season, and the Seahawks can end up with a first round bye.
A week off, followed by a home game with a spot in the NFC Championship Game on the line makes for a much easier path to the Super Bowl. To make it back last season, they would have had to win three road games.
The Seahawks took care of business tonight by beating an inferior team. Now they have 10 days to prepare for Arizona Cardinals. Seattle should be rested an healthy for their final home game of the season.
More from 12th Man Rising
This article originally appeared on
---
---