Richard Sherman
Richard Sherman
Richard Sherman not happy about severity of Brady punishment
Published
Aug. 19, 2015 11:08 p.m. ET

Richard Sherman is no longer talking trash to New England Patriots quarterback Tom Brady on the field. Instead, his anger is directed at the NFL.
The Seattle Seahawks cornerback is upset with the penalties given to Brady for his alleged involvement in the Deflategate saga.
"You're fining players more than you're fining organizations? That should bring up some red flags," Sherman told USA Today Sports' Jarrett Bell on Wednesday. "But nobody's talking about that."
Sherman was comparing Brady's penalties with what the Patriots received, which he sees as a double standard. Sherman brought up how Colts owner Jim Irsay, who pleaded guilty to a misdemeanor DUI charge, was fined nowhere near what Brady might face if the case is upheld — roughly $2 million.
"Last year, (Colts owner) Jim Irsay got fined what, 500 grand? Owners can only be fined so much. There's a cap," Sherman told USA TODAY Sports. "And Brady gets fined ($1.88 million). Whether the crimes are the same or not, a suspension is a suspension, a fine is a fine. Game checks."
He added: "People are just so focused on, 'Oh, that's a huge fine for the organization,' It's not. A million dollars is peanuts to the Patriots, who will make (hundreds of) million dollars this year."
If there was a scheme to deflate the footballs, Sherman also believes Brady shouldn't get the brunt of the penalties.
"It wasn't just him," Sherman said to Bell. "There's no way nobody else knows about it. So, he shouldn't be punished so severely."
Maybe that handshake at the end of Super Bowl XLIX was a sign of things to come.
More from NESN.com:
---
---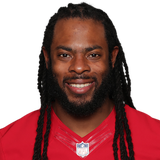 Get more from Richard Sherman
Follow your favorites to get information about games, news and more
---