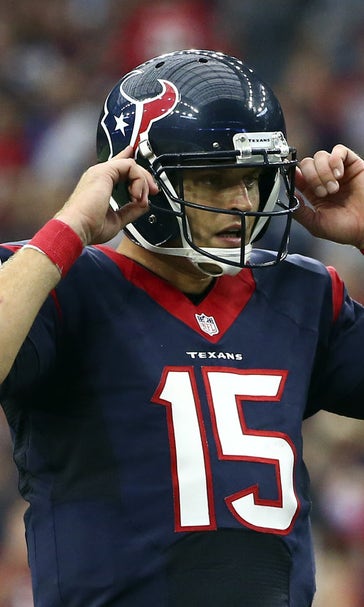 Report: Ryan Mallett was constantly late with Texans
October 28, 2015

By Larry Brown
Ryan Mallett was released by the Houston Texans on Tuesday, three days after he had to fly commercial to Miami because he missed the team flight on Saturday. It turns out that missing the team flight was the final straw for the Texans in what was an ongoing issue with the quarterback.
According to the Houston Chronicle's Aaron Wilson, Mallett was chronically tardy. Wilson reports that Mallett was late for a team bus in Virginia when the team was holding joint practices with the Washington Redskins. A team official had to go wake him up in his hotel room when that occurred during training camp. Then a day after being named the team's backup, Mallett notoriously overslept and missed practice -- an incident which played out on HBO's "Hard Knocks."
Oh, and it turns out that Mallett was late twice the day he missed the team flight to Miami; he also showed up late to the team facility earlier in the day.
"We don't have a lot of rules, but one rule we do have is we want guys to be on time," head coach Bill O'Brien said Wednesday.
Starting quarterback Brian Hoyer declined to comment on Mallett's release, saying his words about his ex-teammate would not be appropriate.
One anonymous player told Wilson that Mallett clearly "didn't get it," and called him immature.
In addition to chronically being late, the Texans had to talk to Mallett about his poor body language following a benching against the Indianapolis Colts (see examples of it here).
The issues surrounding Mallett's character have existed since college. He was taken in the third round of the NFL draft by the New England Patriots because of suspected issues. He even admitted to drug use during his pre-draft interviews. Several years later, it's clear the quarterback still hasn't grown up and matured.
More from Larry Brown Sports:
---
---