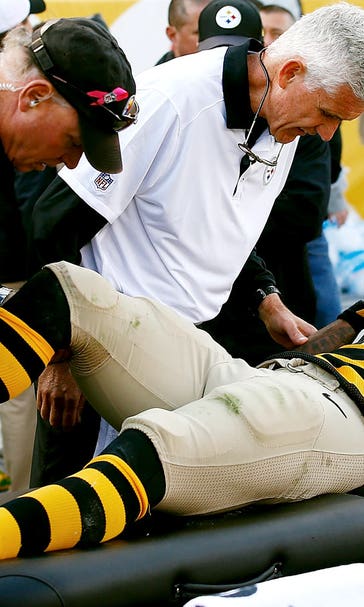 Quick Reads: Injuries, surging Bengals make it seem like this just isn't Steelers' year
November 1, 2015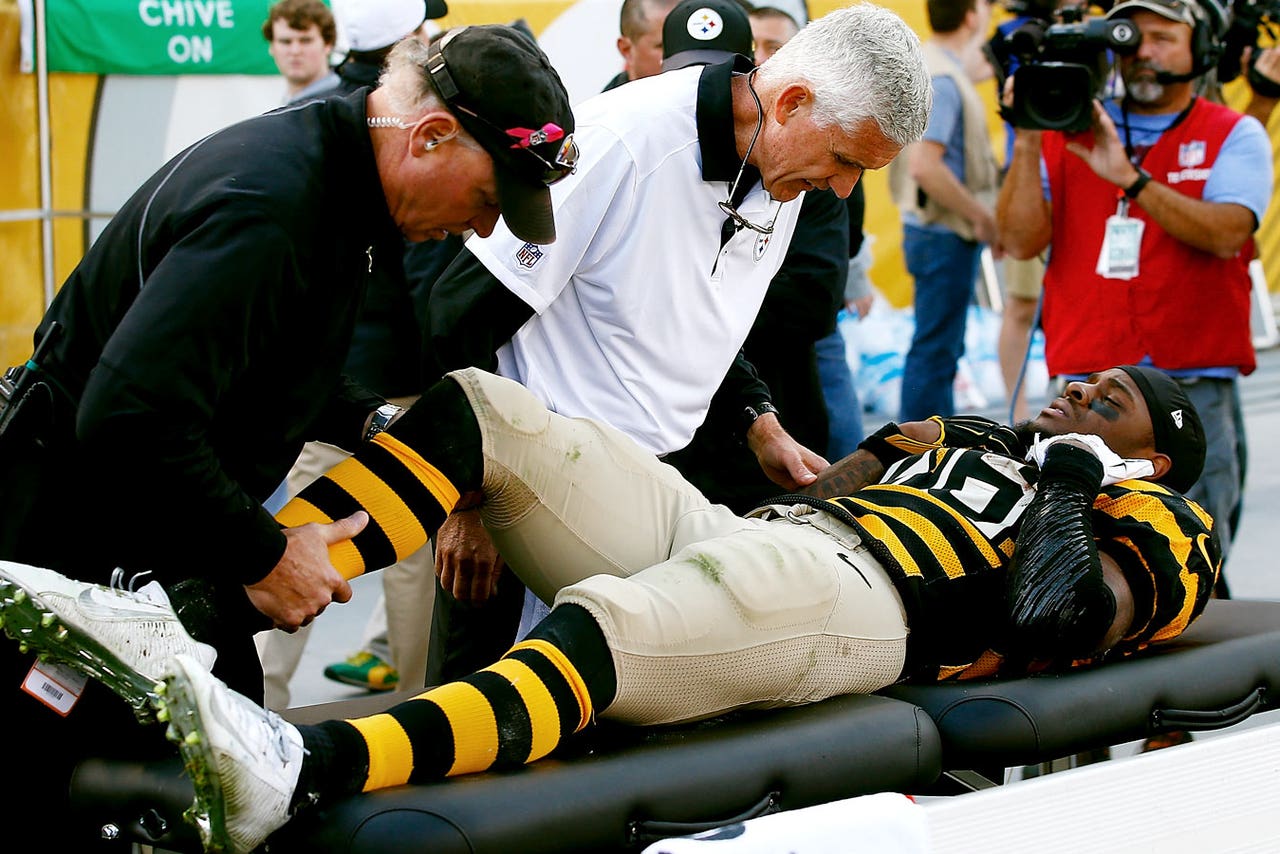 In about two months, I suspect we'll be reflecting upon a season of what could have been for the 2015 Pittsburgh Steelers.
The double-whammy suffered in Sunday's 16-10 home loss to Cincinnati looks like too much for the Steelers to overcome.
Barring a Bengals collapse, Pittsburgh (4-4) has little chance of winning the AFC North. Cincinnati (7-0) holds a 3½-game lead and gets to host the divisional rematch in Week 13.
The Steelers, though, now have bigger worries than catching the Bengals. A wild-card spot may not be in the offing either now that running back Le'Veon Bell has reportedly suffered a season-ending knee injury.
The Steelersdepot.com website was first to report that Bell was headed to injured reserve after spraining his right medical collateral ligament. The report was later confirmed by FS1 NFL Insider Mike Garafolo and CBS Sports.
For the first time this season, Pittsburgh offensive coordinator Todd Haley finally had all of his skill-position players at his disposal with quarterback Ben Roethlisberger returning to the starting lineup following a knee injury. That luxury lasted all of 21 plays.
Six minutes into the second quarter, Bell caught a Roethlisberger pass and turned up-field. Bengals linebacker Vontaze Burfict wrapped himself around Bell with a tackle and landed on his legs while dragging him down. Bell immediately grabbed his right knee – the one he injured in last year's Week 17 matchup against Cincinnati – and needed help leaving the field.
Bell didn't get to see the end of Sunday's game, which saw the Steelers squander a 10-6 lead after back-to-back Roethlisberger interceptions in the fourth quarter. Bell left at halftime for a local hospital to receive an MRI exam that would determine just how much damage he had sustained.
Thanks to the offseason addition of DeAngelo Williams, the Steelers are much better heeled to handle Bell's absence than when he was hurt last season. However, Bell is a far more dynamic rushing/receiving threat with the game-breaking speed that the 32-year-old Williams lacks at this point of his 10-year NFL career.
The Steelers can take some positives out of Sunday's game. The defense gave Cincinnati's offense fits for most of the game, especially in the trenches. The front four will get even stronger when Stephon Tuitt returns from a knee injury that has sidelined him the past two weeks.
It's also obvious that no other AFC team is running away with a wild-card berth at the midway point of the season.
That's what would make falling short of the postseason hurt just as much as the injuries for a club that was a legitimate Super Bowl contender entering the season.
Tampa Bay 23, Atlanta 20 (OT): After helping to develop Falcons quarterback Matt Ryan, Buccaneers offensive coordinator Dirk Koetter is working his magic again with rookie Jameis Winston. Even with an offense missing two of its top three receivers, Winston was efficient while throwing for one touchdown and rushing for another. Most importantly, Winston didn't commit any turnovers. That stood in stark contrast to the Falcons, which couldn't overcome four of them despite a fourth-quarter rally that sent the game into overtime. Koetter should be on the short list of NFL head coaching candidates for 2016.
Arizona 34, Cleveland 20: Mike Pettine landed Cleveland's head coaching job in 2014 largely because of the work he had done as a defensive coordinator. You would never know that watching the Browns. While head injuries that sidelined cornerback Joe Haden and safety Donte Whitner didn't help matters, Cleveland could only sack Carson Palmer once as the Cardinals quarterback butchered the Browns for 374 passing yards and four touchdowns. Chris Johnson also became the first Cardinals running back with back-to-back 100-yard rushing games since Edgerrin James in 2006. Johnson, who did lose two fumbles, gained 109 yards on 30 carries.
Houston 20, Tennessee 6: A damning fact about the sorry state of the AFC South -- the Texans (3-5) will be tied with Indianapolis for first place if the Colts (3-4) lose Monday night at Carolina. Tennessee's horrendous offensive line allowed seven sacks of quarterback Zach Metternberger, who is now 0-8 as an NFL starter. Ken Whisenhunt's record over the past 1½ seasons since becoming Titans head coach – 3-20 – is just as pathetic.
St. Louis 27, San Francisco 6: San Francisco's offense was as pathetic as expected with a meager 189-yard output. One mitigating factor (as first reported by FOX Sports NFL Insider Mike Garafolo): Running back Reggie Bush suffered a torn anterior cruciate ligament when slipping on the concrete walkway surrounding the playing field at the Edward Jones Dome. Bush's inexperienced backups Kendall Gaskins and Mike Davis gained 10 yards on 15 carries. The Rams have no such problems with their ground attack thanks to rookie Todd Gurley. No running back since the 1970 AFL-NFL merger has gained more yards than Gurley (566) in their first four career games.
Baltimore 29, San Diego 26: The Ravens (2-6) haven't had much to dance about this season but Justin Tucker got his groove on after kicking the game-winning field goal as time expired. Thanks largely to quarterback Philip Rivers, the Chargers (2-6) have stayed competitive but a ridiculous amount of injuries have ruined their season.
Minnesota 23, Chicago 20: Give the Vikings credit for sticking with Blair Walsh through his early-season kicking struggles. Walsh's game-winning field goal as time expired helped the Vikings end a seven-game losing streak in Chicago.
Kansas City 45, Detroit 10: The firing of Detroit's offensive coordinator and offensive line coach earlier this week made no difference. Head coach Jim Caldwell and general manager Martin Mayhew are likely the next one's out if the Lions (1-7) can't salvage the second half of their season.
New Orleans 52, New York Giants 49: In a game featuring epic performances by quarterbacks Drew Brees and Eli Manning, it was a sequence of special teams mistakes by the Giants that provided their undoing. A 24-yard Saints punt return combined with a 15-yard face mask penalty on punter Brad Wing put New Orleans in position for Kai Forbath's 50-yard field goal as time expired. Had the game gone to overtime, the NFL's all-time record for combined yardage (1,133) set in 1950 by the Los Angeles Rams and New York Yanks might have been broken. The Giants and Saints finished with a total of 1,030 yards. As it was, the 13 combined touchdown passes by Brees and Manning broke the NFL record of 12 set in 1969 by another Saints quarterback (Billy Kilmer) and Washington's Charley Johnson.
Seattle 13, Dallas 12: Matt Cassel or Brandon Weeden. It makes no difference. The Cowboys are doomed offensively until Tony Romo (clavicle) can return from injured reserve in Week 11 against Miami. Dallas must hope the rest of the NFC East continues to tread water until then. Seattle's offensive performance wasn't much better but the Seahawks (4-4) now appear poised to make a playoff run with three consecutive home games coming up after next week's bye.
Oakland 34, New York Jets 20: The injuries that have regularly derailed Ryan Fitzpatrick's career keep on happening. This time, a ligament ailment in his left thumb sent the Jets quarterback to the sideline on the game's first series. New York might not have been able to keep pace with Oakland even had Fitzpatrick played rather than overmatched backup Geno Smith. Quarterback Derek Carr (four touchdown passes) and running back Latavius Murray (113 rushing yards) helped stake Oakland to a huge fourth-quarter lead for the second straight game.
---
---