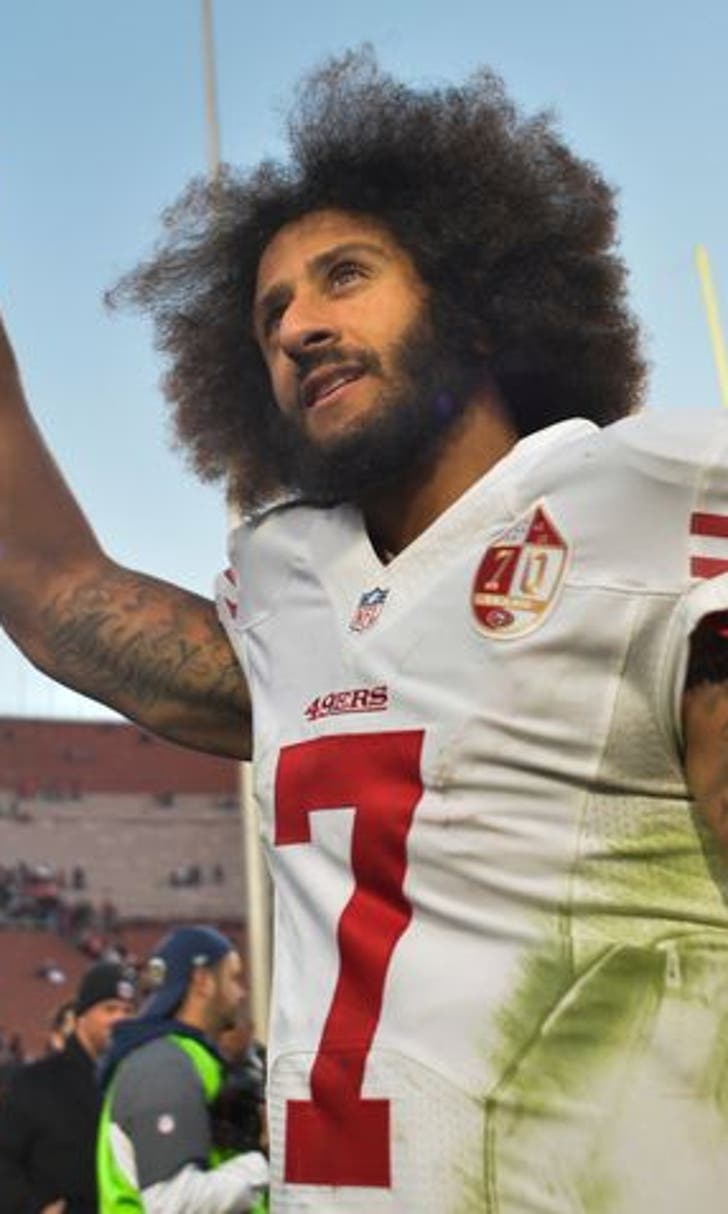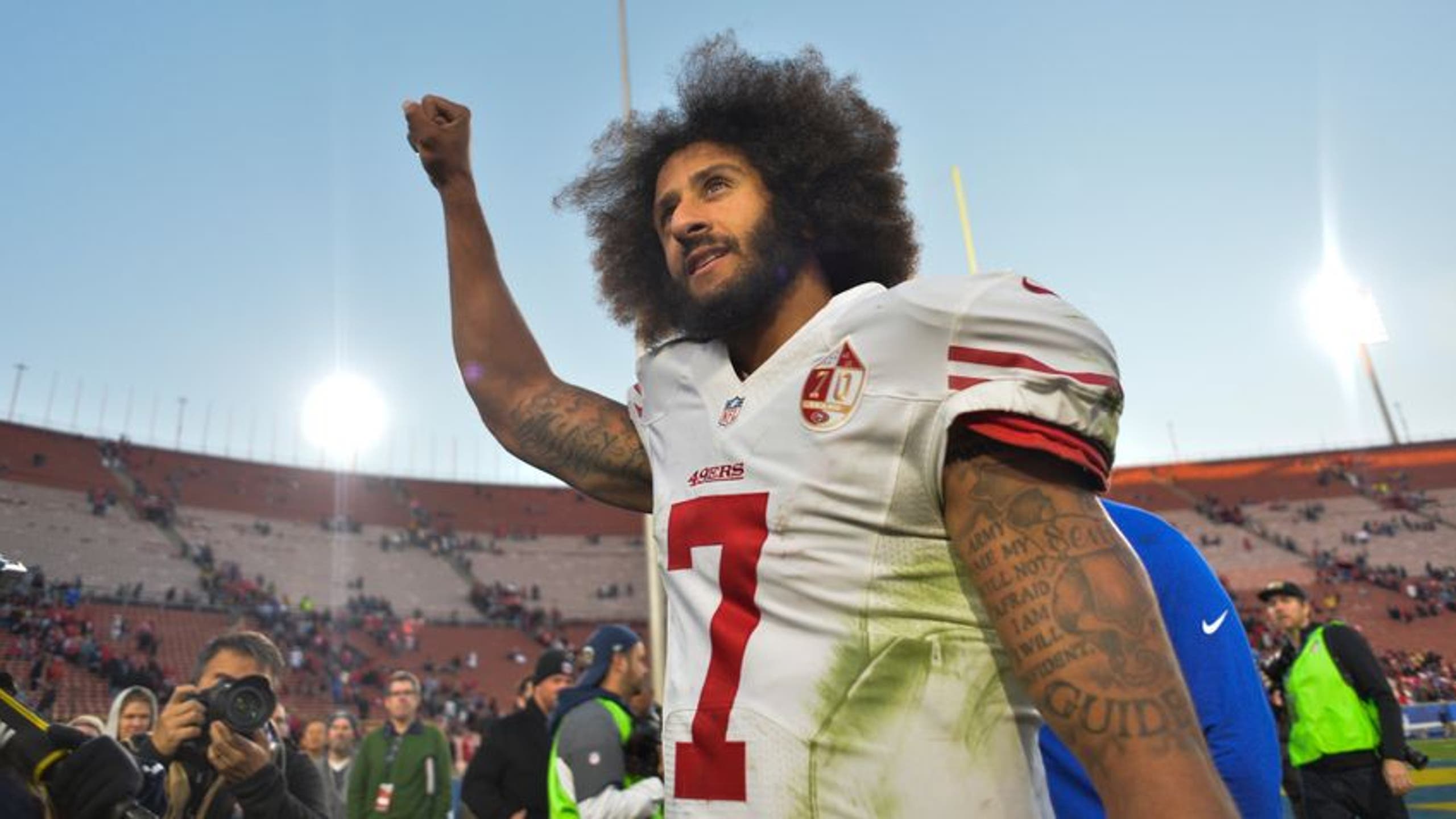 Quarterback Colin Kaepernick and the 49ers Coming to an End of an Era in Week 17?
BY Fansided and Peter Panacy/FanSided via Niner Noise • December 28, 2016
Week 17 marks the final game for the San Francisco 49ers and, quite likely, the final game for starting quarterback Colin Kaepernick.
A new era is on the horizon for the San Francisco 49ers beyond this season. And it's one that will likely not include quarterback Colin Kaepernick.
49ers
Niner Noise 14h49ers vs. Rams: The Good, Bad and Ugly from San Francisco in Week 16
More headlines around FanSided:
20h - NFL Power Rankings: Final Regular-Season Look for Week 171 d - Colin Kaepernick Helped Plenty of Fantasy Football Owners After Performance Against Rams1 d - 49ers : 5 Options for San Francisco's First-Round Pick2d - Carlos Hyde tears MCL in 49ers Week 16 Victory2d - 49ers Briefly Hold First Overall PickMore News at Niner Noise

The Niners have one final game in 2016 — hosting the Seattle Seahawks in Week 17 — and that contest will wrap up what has otherwise been a dreadful season in Santa Clara.
Kaepernick's road to this fitting finale against his nemesis seems appropriate. The Seahawks have long been the one team over which Kap couldn't ever "get over the hump." His 55.9 career passer rating against Seattle is a testament to it.
But the larger story is how the final game of Kaepernick's 49ers tenure may be happening this weekend.
2016 has been a controversial year for San Francisco's embattled signal-caller. He was coming off a 2015 campaign in which he was benched for Blaine Gabbert. Offseason surgeries hindered his development under head coach Chip Kelly. And he already had a strained relationship with the front office.
There's the whole national anthem protest too.
Kap wanted out as well, going as far as requesting a trade during the offseason. One nearly took place with the Denver Broncos, but the deal fell short.
Yes, Kaepernick regained the starting role as the season wore on. But his efforts have done anything but suggest he's a must-have player for the 49ers moving forward.
Will Colin Kaepernick Want to Stay?
Kap has repeatedly put off discussions of his plans for the offseason, often saying he'd be saving that decision once the year has concluded.
But the quarterback reworked a deal earlier this year allowing him to opt out of his current contract, thus becoming a free agent in 2017.
December 24, 2016; Los Angeles, CA, USA; San Francisco 49ers quarterback Colin Kaepernick (7) before playing against the Los Angeles Rams at Los Angeles Memorial Coliseum. Mandatory Credit: Gary A. Vasquez-USA TODAY Sports
Will he opt out though?
Financially, no. Kaepernick is guaranteed to make $14.5 million if he's on the Niners roster next year. He won't get that kind of free-agent money on the open market. And if Bleacher Report's Mike Freeman is correct, no other NFL team will be offering him a job either.
There is, of course, a thought Kaepernick wouldn't mind stepping away from the NFL altogether. He recently took the GRE exam for graduate school admission, and it wouldn't be too far-fetched to see the quarterback pursue more off-the-field endeavors, particularly in social activism.
Dec 18, 2016; Atlanta, GA, USA; San Francisco 49ers quarterback Colin Kaepernick (7) prepares to warm up prior to the game against the Atlanta Falcons at the Georgia Dome. Mandatory Credit: Dale Zanine-USA TODAY Sports
Do the 49ers Want to Keep Colin Kaepernick?
Even if Kaepernick wants to stay put, financially or otherwise, an even more important question is whether or not the 49ers want him back.
San Francisco can pull the plug on Kap's contract just as easily as he can opt out. Doing so would save the Niners $16.9 million in cap space next year and would open up the door for the franchise's next signal-caller in 2017 and beyond.
Additionally, the 49ers may feel as if Kaepernick's protests — and associated distractions, whatever they may be — have run their course. While the Niners have handled this situation as best as possible, admirably in many cases, the time might be coming where they want less of a controversial person at the game's most important position.
More from Niner Noise
A lot of this may likely hinge on whatever regime changes take place atop the organization. We already know current general manager Trent Baalke has been at odds with Kap for years. But he is likely gone after 2016.
And while Kelly could be back in 2017 — he's gone to bat for Kaepernick on multiple occasions — the uncertainly surrounding the head coach's fate also clouds Kap's future with the franchise.
Whatever the case may be, it's looking as if the Kaepernick-49ers era is coming to an end this weekend.
But it will likely be talked about for a very long time thereafter.
---
---