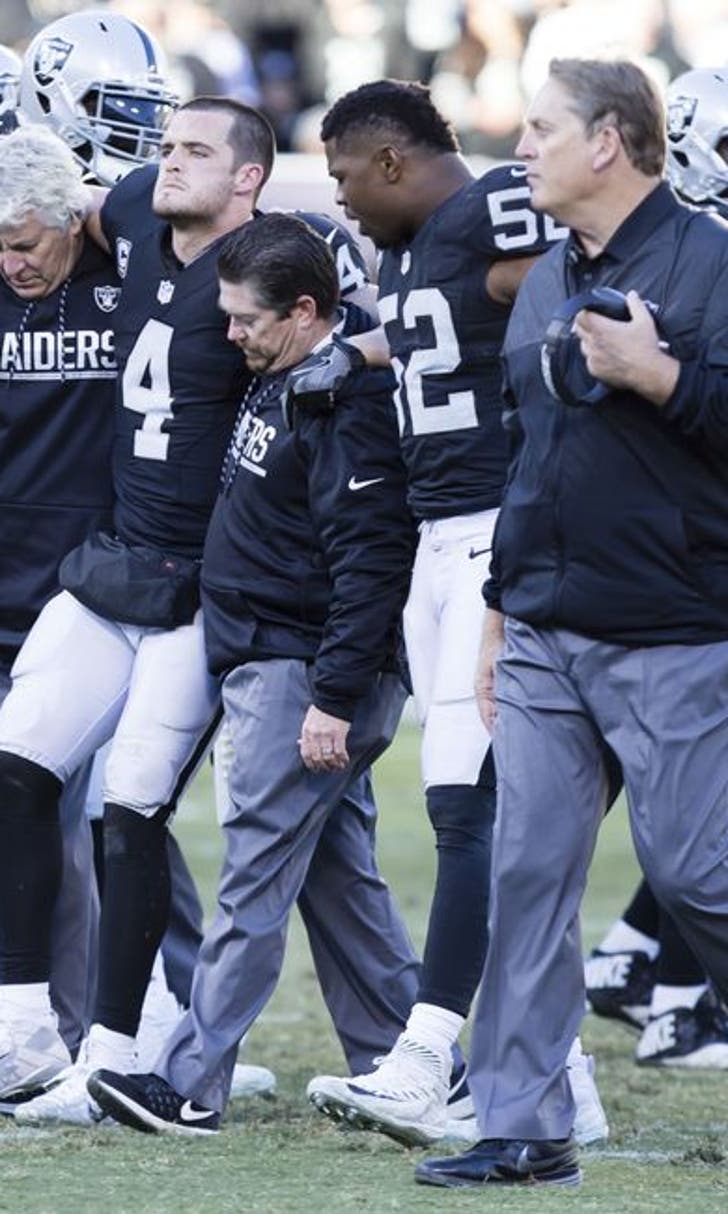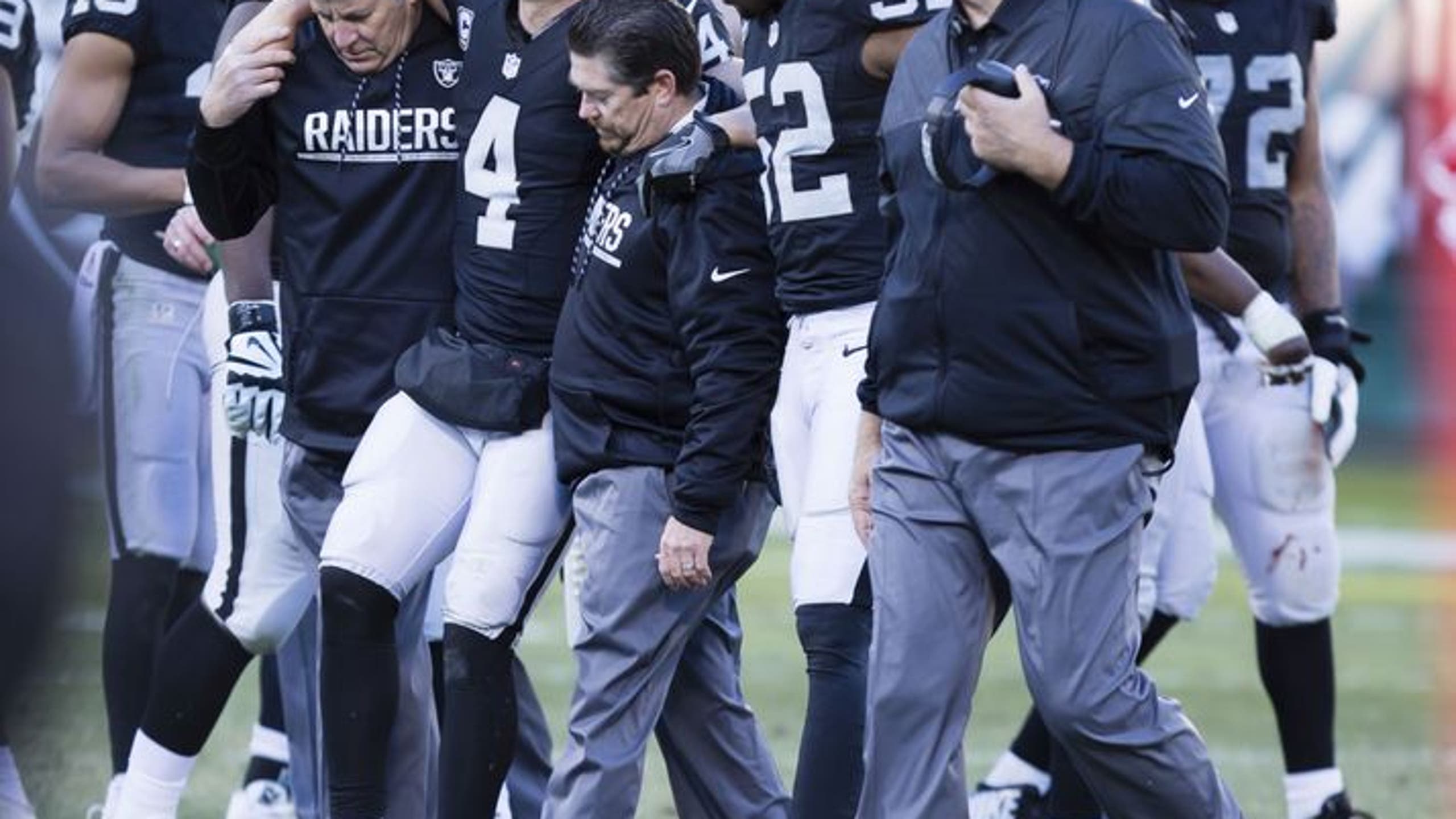 Oakland Raiders Notes, Observations: Carr Down and A Look Back
BY Fansided and Kemp Moyer/FanSided via Just Blog Baby • December 28, 2016
A twist on the weekly scouting notes and observations following the Oakland Raiders painful Week 16 home victory over Andrew Luck and the Indianapolis Colts.
The Oakland Raiders continued their march through a successful "return to greatness" season on Sunday vs. the Indianapolis Colts. Unfortunately, in the process their MVP candidate, two-time Pro Bowler, star-QB Derek Carr was sacked in the 4th quarter and — as he twisted to the ground — his fibula fractured and Raiders' enthusiasts' hearts broke along with the leg bone.
While the Raiders' 12-3 record stands as a pristine showing after more than a decade without a winning record and a playoff berth, the season now rests in the hands of backup QB Matt McGloin. If Carr cannot return for any playoff game, it will be the first time in NFL history that a QB with 12 winning starts in the regular season will not have started a playoff game. This is incredibly heart wrenching for a team who had put themselves in the Super Bowl conversation.
Despite the 12-3 record, the Kansas City Chiefs kept pace with a win of their own. The Raiders still have not clinched the AFC West and the now even more critical 1st round bye. The magic number to do so sits at 1. Either a Raiders win or Chiefs loss in week 17 secures the division and the bye. If the Raiders win and the Patriots stumble vs. Miami, Oakland will secure home-field advantage throughout the AFC playoffs. With the starting QB out, these achievements are even more critical to attain.
The Raiders will now head into Denver to take on the playoff-eliminated Broncos. Coming off a Super Bowl win, the Broncos season is certainly a disappointment, it will be interesting to see how hard they compete in their final game. McGloin will get his first taste of action this Sunday and it is both meaningful and vs. a very good defense. It will be a serious game to watch.
Rather than rehash a very painful win, this week's notes and observations will review some of the season long facts, figures and performance for Raiders' players in all three phases.
Oct 2, 2016; Baltimore, MD, USA; Oakland Raiders wide receiver Michael Crabtree (15) is congratulated by quarterback Derek Carr (4) after scoring a touchdown in the fourth quarter against the Baltimore Ravens at M&T Bank Stadium. Mandatory Credit: Evan Habeeb-USA TODAY Sports
Offense – 6th in the NFL in Yards, 3rd in Points
1. Derek Carr
Carr has been in the MVP conversation all year, and rightfully so.  For 15 games, he guided a top-flight NFL offense and led every aspect, from the passing game, to protections, to audibles and run checks. Carr showed mastery in his third season.
Before going down with the injury, Carr compiled 1,048 offensive snaps. He accrued 3,933 yards on the year, completing 63.7% of his passes and averaging a healthy 7.0 yards per attempt. He put up 28 touchdowns to a measly 6 interceptions and lost just one fumble (that of the dislocated pinky). Carr's ball security and sound decision making is a huge reason the Raiders are 1st in the NFL in the all-critical stat of turnover differential.
Although Carr ran for just 70 yards, he had several critical first downs with his feet and took just 16 sacks in 15 games. Unfortunately, the final one was a brutal one.
All-in-all, it was an MVP-caliber season from the third-year franchise QB. It was a performance that Raiders fans will never forget and that has catapulted Carr into the national consciousness. We will miss Carr as the playoff QB this year, but he will certainly bounce back quickly.
Matt McGloin, a fourth-year pro playing on a restricted free agent one year contract, now gets the chance to prove that he is a legitimate signal caller to give the Raiders a puncher's chance.  McGloin has game experience, but has played just 17 snaps this season. He does not lack in confidence or understanding of the offense. He is accurate and decisive. His limitations are more on the physical end as he lacks foot speed and arm strength. He will go out and compete and the Raiders must rally around him.
2. Passing Targets
Oakland's pair of WRs, Michael Crabtree and Amari Cooper, have carried the load in the passing game this season. Cooper was named a Pro Bowler for his exploits and Crabtree a Pro Bowl alternate.
Cooper leads the WRs in snaps with 955 on offense. Crabtree has logged an even 800. Cooper has seen 123 targets and caught 78 of them for 1110 yards (14.2 YPC) with 4 TDs and a very strong 20 plays of 20 yards or more. Crabtree leads the team with 137 targets and 84 passes caught, he has compiled 956 yards and a team-leading 8 TD receptions.
Slot WR Seth Roberts checks in 3rd with 717 offensive snaps while Andre Holmes has played 247 as the 4th WR. Roberts is also 3rd in production with 35 catches for 371 yards, although he is 2nd in receiving TDs with 5. Holmes has 126 yards and 2 TDs.
In the TE corps, Lee Smith's early broken leg led to the expanded role for second-year man Clive Walford, as well as more reps for 4th year man Mychal Rivera. Walford paces the TEs with 661 offensive snaps, 32 catches, 342 yards and 3 TDs. Rivera has seen 286 offensive snaps, and compiled 22 catches for 183 yards and 1 score. Before his injury, Smith played 127 offensive snaps.
Overall, Cooper and Crabtree have been the story of the pass catchers, but there is no shortage of solid complementary targets for McGloin find in the passing game in the coming weeks.
3. Offensive Line
The Raiders OL has been a top-flight unit this year, as they have probably been 2nd only to the Dallas OL in terms of dominance up front.
Donald Penn, Kelechi Osemele, Rodney Hudson, and Gabe Jackson have been near every-snap players for the group, with Hudson, Jackson and Penn all over 1,050 snaps and Osemele at 988 due to one game missed to a kidney stone. Penn, Hudson and Osemele earned Pro Bowl nods, while Gabe Jackson is an alternate.
At RT, there was somewhat of a rotation through the year. Austin Howard leads the RT snap count at 721, Menelik Watson has played 201 and rookie Vadal Alexander has played both tackle and guard and has accrued 285 snaps. If there has been a "weakness" on the Raiders' OL, it has to be the RT position.
The OL has yielded just 16 sacks this year, barely over one per game. The group has paved the way for a collection of RBs on the ground and helped them to a strong 4.5 yards per carry mark.
Despite the injury to Carr, the OL can carry this offense in the coming weeks if McGloin can stay within himself and manage the games, keeping mistakes to a minimum. The Raiders have assembled a top flight group up front and it is time for them to take it to the next level.
4. The Backfield
Latavius Murray (also a Pro Bowl alternate) has played the lead role in a platoon backfield this season. Murray leads the RBs with 509 snaps, and 777 yards on 190 carries (4.1 YPC). He also leads the entire team with 12 TDs. He has lost just one fumble on the year. He has added another 250 yards on 32 receptions, while also playing a large role in pass protection. Overall, it has been a solid year for the tall back as the lead of the platoon.
Rookies Jalen Richard and DeAndre Washington have played an eerily similar role as the primary complements on the ground. Richard has played 226 offensive snaps to Washington's 220. Richard has 80 carries for 488 yards and a TD, while Washington has 80 carries for 424 yards and two TDs. Richard has added more in the passing game, with 199 yards receiving and two more TDs to Washington's scoreless 101 yards through the air. Overall, the diminutive duo has proven to be a successful complement to Murray and the backfield is a strength.
FB Jamize Olawale has played 253 offensive snaps and saw his role reduced as the Raiders moved to primarily shotgun after the Carr pinky injury. Olawale has contributed over 260 yards from scrimmage, including the one long TD in Mexico vs. the Texans.
Overall, the offense has been a very good NFL unit. The question at this point is how sustainable is the production with McGloin at the helms? It will be very interesting to watch how the Raiders game plan with their 2nd string QB.
Dec 18, 2016; San Diego, CA, USA; Oakland Raiders cornerback David Amerson (29) celebrates with strong safety T.J. Carrie (38) outside linebacker Bruce Irvin (51) and defensive tackle Darius Latham (75) after stopping San Diego Chargers wide receiver Tyrell Williams (16) short of a first down during the fourth quarter at Qualcomm Stadium. Mandatory Credit: Jake Roth-USA TODAY Sports
Defense – 28th in the NFL in Yards Allowed, 19th in Points
1. Defensive Front
Khalil Mack has carried the defense much of the year and has been rewarded with another Pro Bowl nod and Defensive Player of the Year talk. He is the unquestioned leader of the defense.
Mack has played 883 defensive snaps and accrued some silly numbers. Through 15 games, he has 68 tackles, 11 sacks, 5 forced fumbles, 3 fumbles recovered, an interception for a TD, 6 TFLs and 3 passes batted. He has been a true All Pro caliber edge rusher.
Free agent acquisition Bruce Irvin has provided a strong counterpart on the other end from Mack. Irvin has played 862 snaps and compiled 52 tackles, 7 sacks, and 5 forced fumbles. He has been a strong complement to Mack and a disruptive force. The two edge rushers have played a large role in the Raiders being 2nd in the NFL in turnovers forced.
The defensive interior has been led by hybrid defenders Denico Autry and rookie Jihad Ward, who have played 629 and 620 snaps, respectively. Autry has been the most disruptive interior force and is tied with Stacy McGee for DT sacks at 2.5. Ward leads interior defenders with 29 tackles. Dan Williams, Justin Ellis and Darius Latham have contributed big bodies to slow the opposing run game, but have not stood out consistently.
On Sunday, the Raiders finally welcomed Mario Edwards Jr. back to the field after missing 14 games with a hip injury. MEJ could be a disruptive interior force this defense has been lacking, and is an X-Factor in the playoffs.
2. Secondary 
The Raiders DB corps started the season looking very poor, but have gradually figured things out and turned into more of a difficult unit to pass on. It is notable that no member of the starting DB corps was in the Raiders' Napa training camp in 2015. Only backups Nate Allen, D.J. Hayden and T.J. Carrie had opened 2015 in the Silver and Black. All the other players were new since that time.  It has predictably taken some time for communication to come together and the unit to gel.
Veteran FS Reggie Nelson, the Raiders' 7th Pro Bowler, has led the defense in snaps played at 976.  Nelson leads the Raiders with 5 interceptions and is 3rd on the team with 63 tackles.  He has also defended 11 passes.
The other safety position has been split by rookie Karl Joseph and veteran Nate Allen, along with an early-season cameo by Keith McGill. Joseph has logged the most snaps at 593, and was a tackling missile in his starts with 60 bone crunching tackles, but he has been out with a toe injury and it remains uncertain if/when he will return to the field. Allen has been solid in 217 snaps of backup play, including securing 2 interceptions.
At CB, Sean Smith and David Amerson have been the starters with 814 and 889 snaps, respectively. Amerson has been the better of the two players, but they have both had their ups and downs over the course of the season.   Amerson leads the team with 16 passes defended, while Smith has 11.  Each of the starting CBs has a pair of interceptions.
D.J. Hayden started off as a solid slot CB before going on IR with a torn hamstring. Hayden played 477 snaps prior to the injury. T.J. Carrie has taken over the slot since the injury, with 286 defensive snaps. The local product has done well with 4 passes defended, 1 interception, 2 forced fumbles and a fumble recovery.
The Raiders have continued to excel vs. the run, get after the QB, and force turnovers. The final element they need to become great is eliminate the big plays.
3. Inside Backers
Malcolm Smith has been the leader at ILB through the season, with 861 snaps, a team-leading 91 tackles, along with an interception, two forced fumbles and one fumble recovered. He has struggled in pass coverage at times, but overall has improved as the season has gone along.
Perry Riley Jr. was picked up early in the season off the street and the veteran has been a strong addition. In 555 snaps, he has been in on 44 tackles and forced two turnovers.  He helped settle the defense after rookie Cory James wobbled in place of the early injured Ben Heeney. Heeney played just 133 snaps and James has put together an up and down 375 defensive snaps in his patchwork of starts and bench appearances. Overall, the ILBs have been a weakness on the defense, but not a glaring problem, and they have shown improvement as the season has worn on.
Overall, the Raiders' defense has consistently improved to less and less of a liability and more and more of a winning force. They have excelled at forcing turnovers and closing out games. The unit, led by Khalil Mack, will really need to rise to the occasion in the coming weeks with Carr being out. I feel confident the defense can play their best ball of the year in this final stretch.
Nov 27, 2016; Oakland, CA, USA; Oakland Raiders placekicker Sebastian Janikowski (11) is congratulated by punter Marquette King (7) after kicking a 23-yard field goal with 1:45 to play against the Carolina Panthers during a NFL football game at Oakland-Alameda County Coliseum. The Raiders defeated the Panthers 45-42. Mandatory Credit: Kirby Lee-USA TODAY Sports
Special Teams
1. Punt Game
Marquette King has been one of the stronger punters in the game this year, and was selected as a Pro Bowl alternate. He has punted 73 times for a strong 47.7 yard average and has 29 punts inside the 20, as well as only 29 punts returned for positive yardage. Overall, it has been a strong year for the charismatic punter.
2. Seabass
Sebastian Janikowski is the lone player who has remained on the roster from the last playoff appearance after the 2002 season. He has had a solid year, knocking in 82.9% of his FGs (29 of 35) and making 37 of 39 PATs (94.9%). Both PAT misses came last week to the Colts. It will be exciting to see Seabass get a shot at the playoffs after all these years away from the tourney.
3. Coverage
The Raiders' coverage has been excellent all year, led by special teams aces Taiwan Jones, Daren Bates and Brynden Trawick. Overall, the special teams units have been a major strength in coverage.
4. Return Game
The Raiders have finally found a return man in Jalen Richard. Richard has put up 690 yards in returns and has been explosive and quick in both the kick and punt return duties. For a UDFA, he has been a special find and another Reggie McKenzie gem.
Oakland Raiders Week 16 Conclusion
The 2016 Oakland Raiders have been a wild ride all year and sit strongly with a 12-3 record and clinched playoff performance. However, the team MVP Derek Carr is now out.  It is such a hollow feeling to an otherwise epic year.
At this point, the season has been a success, but Carr's injury brings pain. Will Matt McGloin be able to play soundly in his stead? Will the defense play closer to a top 10 unit than a bottom 10 unit?  Will the OL and run game be able to take over winter games?
The Broncos represent another tough opponent and a test for McGloin and the reorganized team. Denver is out of the hunt; will they bring a strong fight?  The Raiders are mourning the loss of Carr, will they be able to rally with serious playoff stakes on the line? It is a very interesting Week 17 game to watch.
See you here next week for notes as we will analyze where the Oakland Raiders end up in the AFC West and the playoff picture. Hopefully, we are AFC West champs at that time.
More from Just Blog Baby
This article originally appeared on
---
---