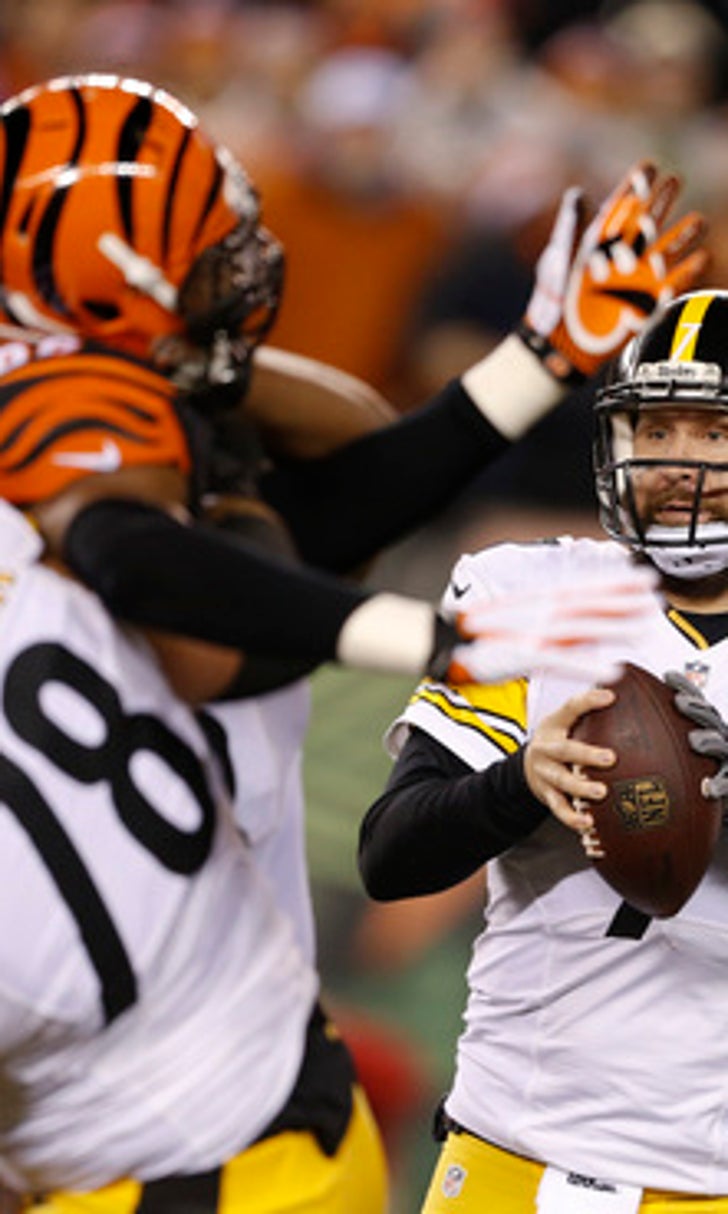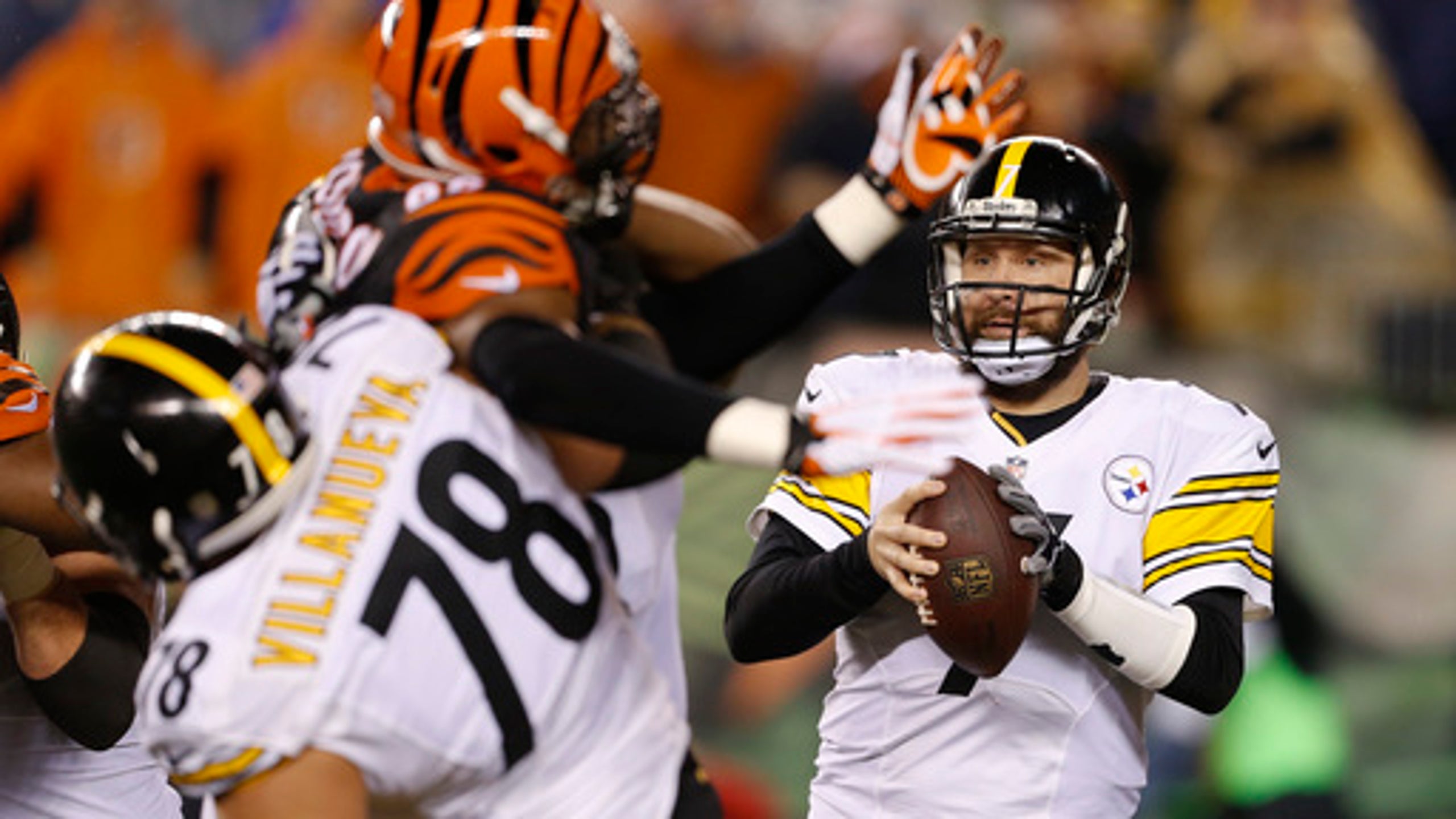 NFL Latest: Bengals struggling minus Andy Dalton
BY foxsports • January 9, 2016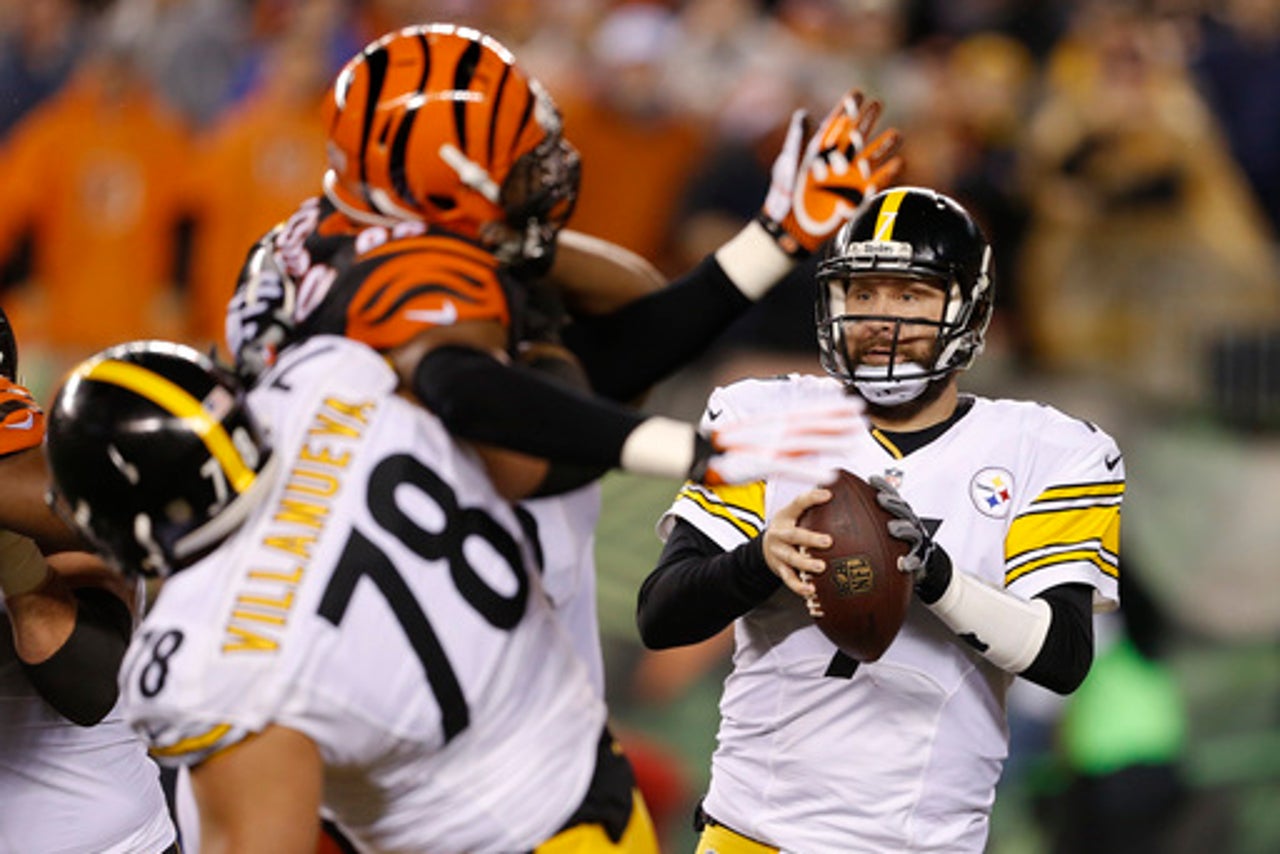 The latest from the NFL wild-card games Saturday (all times EST):
---
9:44 p.m.
The Cincinnati Bengals are looking like they miss Andy Dalton.
The Pittsburgh Steelers took a 6-0 halftime lead over the Bengals during a sloppy and soggy two quarters at Paul Brown Stadium thanks to a pair of Chris Boswell field goals. While the Bengals have kept Ben Roethlisberger and All-Pro wide receiver Antonio Brown in check, Cincinnati and quarterback AJ McCarron have done little against the league's 21st ranked defense.
The Bengals managed all of 56 yards in the first half. McCarron completed just 7 of 14 passes for 59 yards. His interception to Pittsburgh's Antwon Blake set up Boswell's first field goal.
Cincinnati's secondary is dealing with a pair of injuries. Safety Reggie Nelson is out with a busted left ankle and corner Dre Kirkpatrick is questionable with left quad injury.
Pittsburgh running back Fitzgerald Toussaint - who came in with 69 career yards of total offense - had 81 in the opening half on 38 yards rushing and 43 receiving.
---
8:46 p.m.
After keeping things cool in pre-game warmups, the Pittsburgh Steelers and Cincinnati Bengals got testy once the game started.
The Steelers were called for a couple of 15-yard penalties in the opening quarter, including one by Hall of Fame offensive line coach Mike Munchak, who was flagged for pushing Cincinnati safety Reggie Nelson after Nelson pushed Steelers running back Jordan Todman out of bounds.
Nelson left the game after tweaking his left ankle while sacking Pittsburgh quarterback Ben Roethlisberger.
Nelson tied for NFL lead with eight interceptions and has picked off Roethlisberger six times in the teams' last seven meetings.
Pittsburgh's running game is doing fine without injured starters Le'Veon Bell and DeAngelo Williams. Backups Fitzgerald Toussaint and Jordan Todman combined for 50 yards in the first 15 minutes, though the Steelers did lose fullback Will Johnson to a hamstring injury. He is doubtful to return.
The teams were scoreless after one quarter.
- Will Graves reporting from Cincinnati.
---
7:49 p.m.
The Pittsburgh Steelers and the Cincinnati Bengals played nice this time.
The two rivals went through their pregame workouts without incident on Saturday night in the run-up to their wild-card matchup, never coming within 10 yards of each other. Then again, they didn't really have much choice, as members of both coaching staffs provided a black-clad DMZ at the 50.
It was a stark contrast from Pittsburgh's last visit to Paul Brown Stadium, when Bengals linebacker Vontaze Burfict crossed over to the Steelers' side of the field before kickoff and exchanged words with Pittsburgh linebacker Vince Williams. The ensuing pushing and shoving set the tone for a testy three hours that culminated with a one-sided 33-20 Steelers' win.
---
7:35 p.m.
The Chiefs are on to New England or Denver.
Kansas City beat Houston 30-0 on the road for its 11th straight win to advance to the AFC divisional round. Andy Reid and the Chiefs now have to wait a few hours to find out their next opponent.
If the Bengals beat the Steelers in the night game, the Chiefs will play Denver for the third time this season. They beat the Broncos on the road 29-13 in Week 10. The Broncos won in Kansas City, 31-24, in Week Two.
If the Steelers win, the Chiefs will visit the Patriots.
The Chiefs last played New England in 2014. They beat up on Tom Brady in a 41-14 victory.
Kansas City overcame a 1-5 start and won the final 10 regular-season games.
---
6:40 p.m.
Chiefs wide receiver Jeremy Maclin left the field in tears on a cart after injuring his right knee in the third quarter and Texans All-Pro J.J. Watt is questionable to return because of a groin injury.
There was no immediate word on the extent of Maclin's injury. He missed the entire 2013 season because of a torn right ACL.
Maclin also suffered the same injury at Missouri four years before the Philadelphia Eagles drafted him in the first round in 2010. Maclin had 87 catches for 1,088 yards and eight TDs in his first season with the Chiefs.
Watt limped off the field earlier in the third quarter but returned. He came off again on the same play Maclin was injured, went to the locker room and was cheered when he came back to the sideline.
---
5:55 p.m.
Brian Hoyer has turned into a turnover machine in his first career playoff start.
Hoyer threw three interceptions and lost a fumble on Houston's first six possessions. The Chiefs led the Texans 13-0 at halftime.
Hoyer hadn't thrown more than one pick in any of his nine starts this season. He had 19 TDs and seven interceptions.
The three interceptions tied Hoyer's career-high. He did it twice with Cleveland, including in a 26-24 win at Atlanta in 2014.
---
5:42 p.m.
Down 13-0, the Houston Texans turned to J.J. Watt and Vince Wilfork on offense.
It didn't work.
Watt lined up at quarterback, took a snap out of shotgun formation and ran behind the 325-pound Wilfork, who was an extra blocker. The Chiefs weren't surprised and stuffed Watt for a 2-yard loss.
Brian Hoyer then threw an interception so the Texans didn't get anything after their best drive.
Watt has three career receptions and each was a touchdown. This was his first carry.
---
5:28 p.m.
Chiefs right guard Laurent Duvernay-Tardif is being evaluated for a concussion and has been replaced by Zach Fulton.
Duvernay-Tardif, a sixth-round pick in 2014, started 13 games this season. Fulton, a sixth-round pick in the same draft, started 22 games over his first two seasons.
---
4:40 p.m.
Knile Davis got the NFL playoffs started in style.
Davis took the opening kickoff 106 yards to give Kansas City a 7-0 lead over Houston in the first AFC wild-card game Saturday.
It was second-longest return in postseason history and the fifth time the opening kick was returned for a touchdown in a playoff game. Chicago's Devin Hester was the last to do it against Indianapolis in the Super Bowl on Feb. 4, 2007.
Davis had a team-record 108-yard return against Denver in 2013.
The Texans won the coin toss, but deferred. Davis found a hole, cut to the outside and sprinted down the left side untouched.
The Chiefs overcame a 1-5 start and have won 10 straight games entering the playoffs. The Texans bounced back from a 2-5 start to win the AFC South.
---
AP NFL website: www.pro32.ap.org and www.twitter.com/AP-NFL
---
---