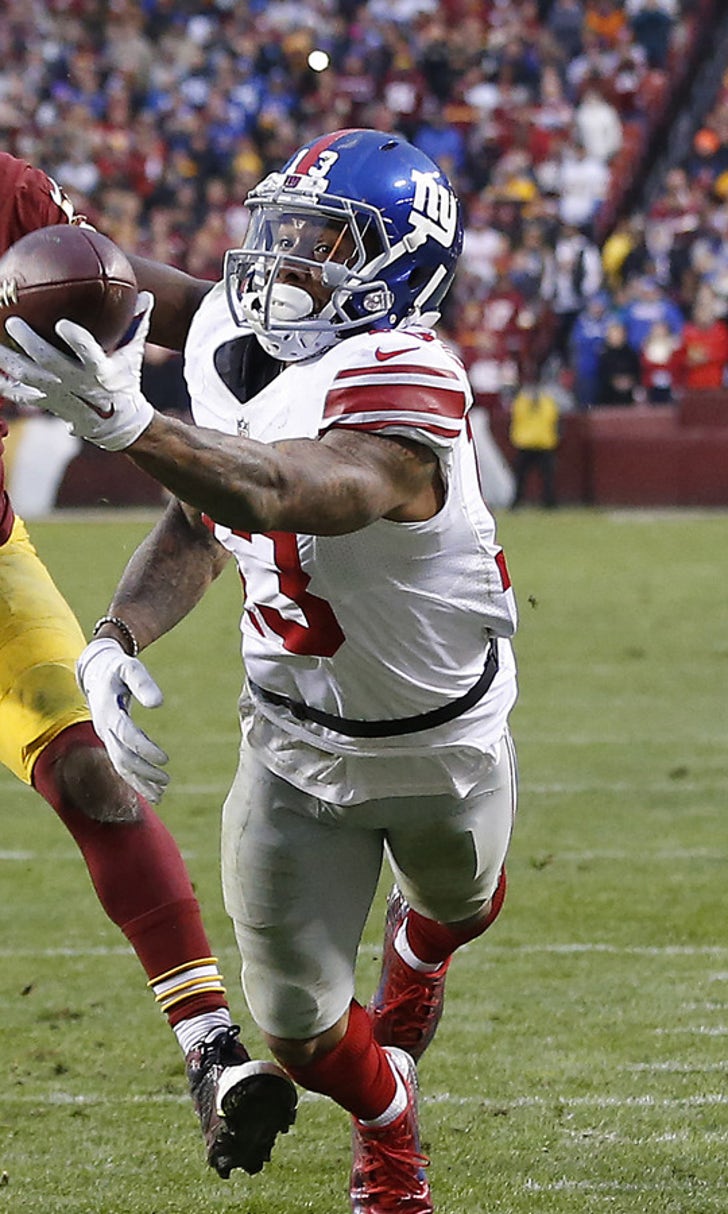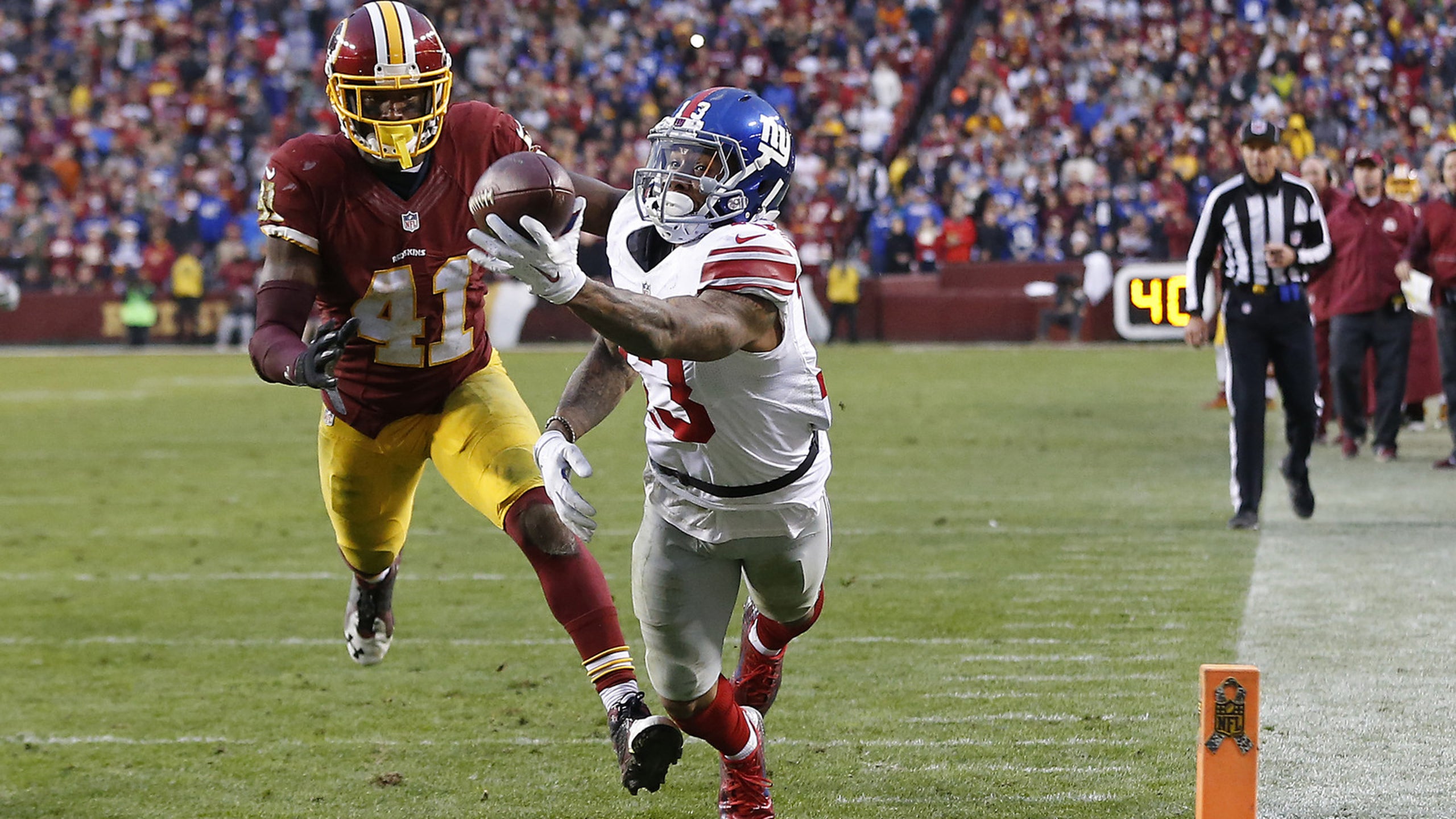 New York Giants: 10 building blocks for 2016
BY foxsports • January 13, 2016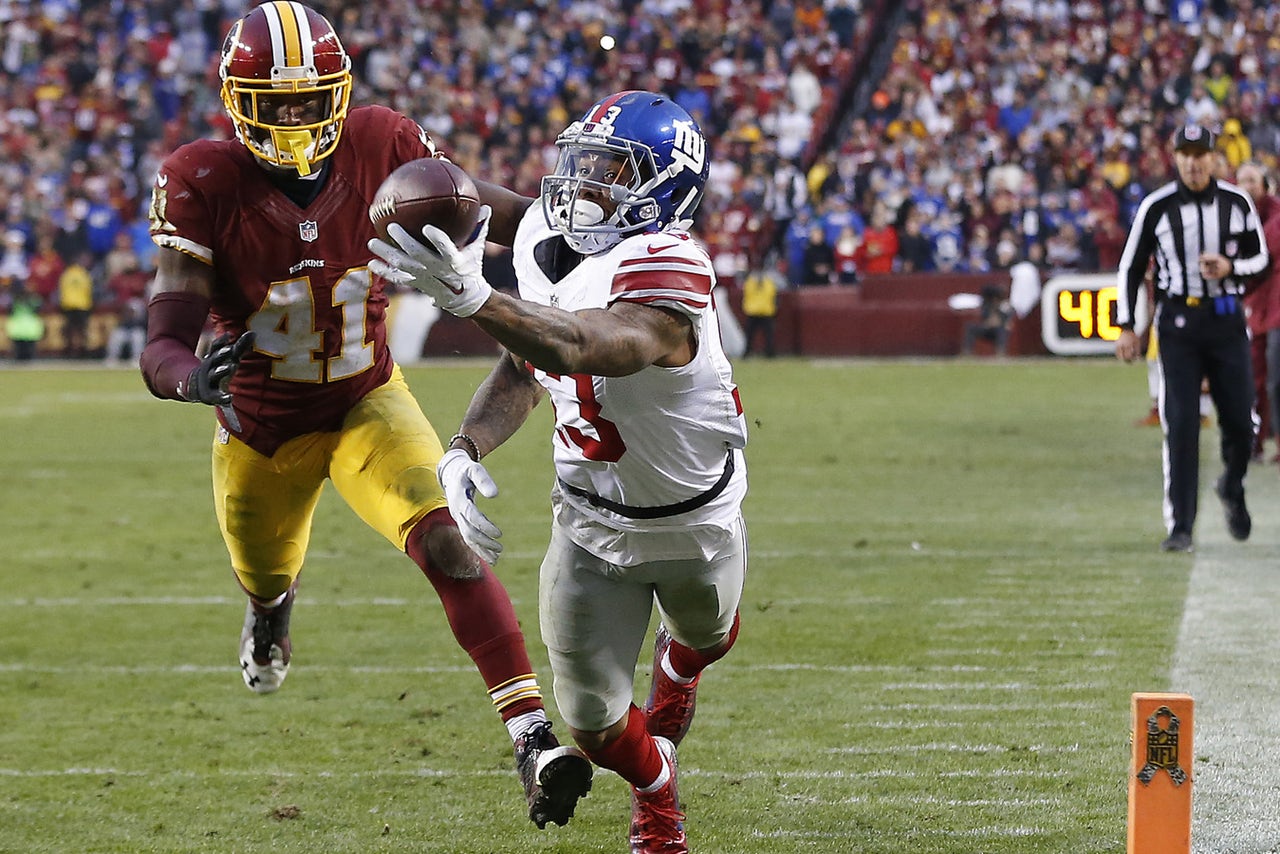 The Giants enter the 2016 offseason in need of a talent upgrade at multiple positions. Last week, we broke down the team's top five needs as we head into the offseason. Here, we take a look at the top 10 players who can be considered building blocks as the Giants look to build another winning team around quarterback Eli Manning.
1. Odell Beckham Jr.
Through 27 career games, Beckham Jr. has 187 receptions, 2,775 receiving yards, 25 touchdowns and 15 100-plus-yard receiving games. These are video game numbers, and they are rearranging the record books, but it's possible that we haven't seen his best. Throughout his 27 games, Beckham has played almost every one without a viable option to shift coverage -- Victor Cruz has been injured and Rueben Randle has proved to be just another guy. Despite the constant defensive attention, Beckham has been extremely efficient -- he had just four dropped passes in 2015. We all saw what happened to the Giants' offense in the one game Beckham was suspended for in 2015, and it wasn't pretty. If the Giants can find another consistent option at wide receiver or tight end, Beckham could emerge as the best building block on any team in the NFL.
2. Eli Manning
Entering his age-35 season, Manning has shown no signs of slowing down -- if anything he is playing better now that at any point in his career. Since switching over to an up-tempo and quick-passing offense in 2014, Manning has thrown for 8,846 yards, 65 touchdowns and just 28 interceptions. He is completing passes at a higher rate, his yards per attempt hasn't dipped and he's avoiding turnovers. Despite playing with a banged-up offensive line, no receiving threats outside of Beckham and a non-existent running game -- only Tom Brady had more passing touchdowns than Manning in 2015. Manning may have to learn a new offensive system in 2016, but as long it resembles the one we've seen him operate out of the last two seasons, his numbers are more likely to resemble the past 32 games than his career averages.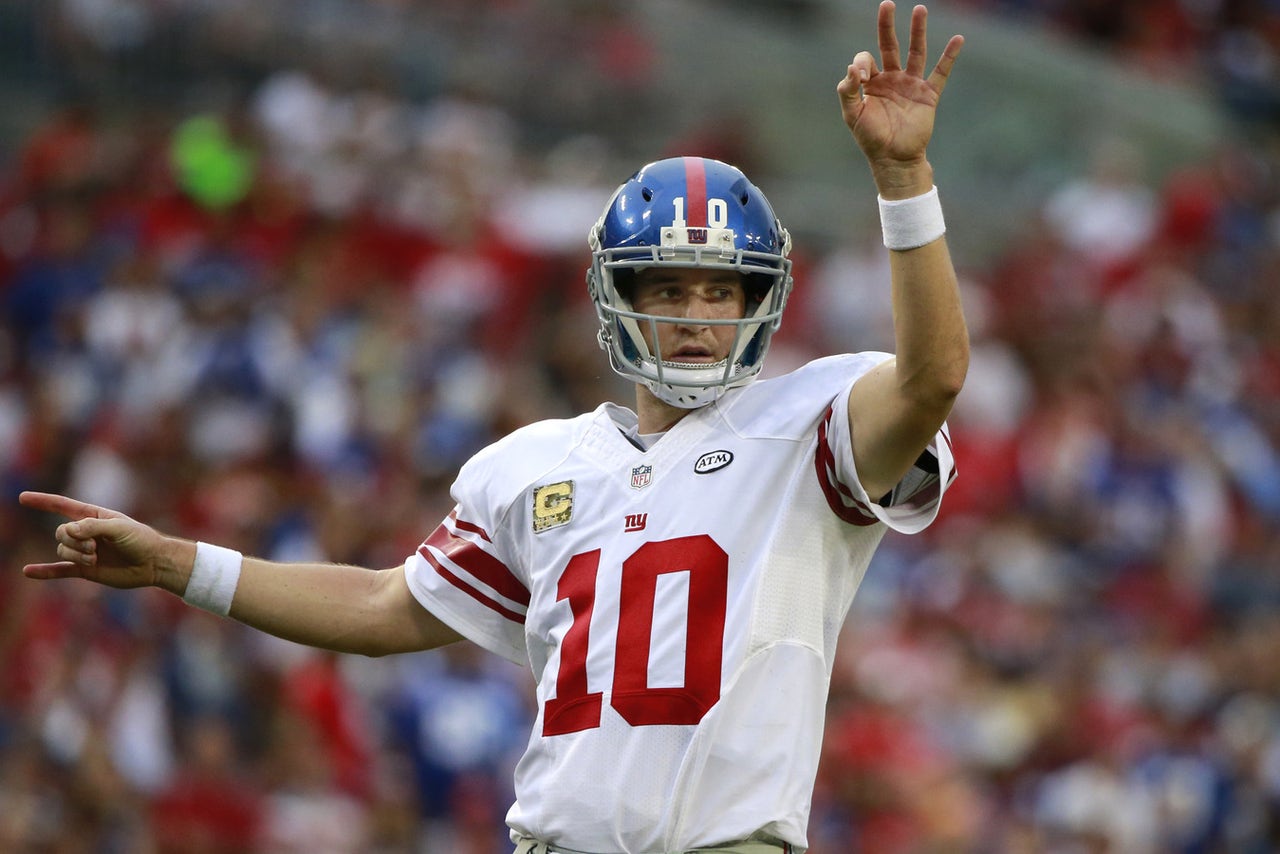 Over the past two seasons, Eli Manning has vastly improved in just about every statistical category.
3. Weston Richburg
Richburg's rookie season did not go as he expected. Out of necessity, he was moved to left guard after opening camp at his natural center position. His rookie struggles quickly became a thing of the past in his second NFL season once he made the transition back to center. He quickly emerged as one of the NFL's elite centers in pass protection -- allowing zero sacks and just 12 quarterback pressures all season. Richburg earned positive grades as a run blocker as well, per Pro Football Focus. Back in November, former Pro Bowl center LeCharles Bentley -- who watches more game tape than you or I -- claimed that Richburg had emerged as the NFL's best center. It might be a little early to claim that, but it's clear that Richburg has evolved into a core member of the Giants.
4. Justin Pugh
Another member of the offensive line made a major leap after changing positions. Through the first two years of his career, Pugh manned the right tackle spot for the Giants -- for the most part he held his own but never stood out. In his first year at left guard, Pugh emerged as one of the top left guards in the NFL. Only five left guards earned a better overall grade than Pugh, per Pro Football Focus. He was equally as effective in pass protection and as a run blocker. Through 12 games this season, Pugh allowed two sacks, one quarterback hit and just 12 hurries. The interior offensive line was one of the strongest aspects of the Giants' 2015 roster, and the next step will be for all five projected starters to stay healthy for 16 games.
5. Johnathan Hankins
A torn pectoral muscle resulted in Hankins playing in just eight complete games in 2015, but he was once again a force at the nose tackle spot in Steve Spagnuolo's 4-3 base defense. Hankins didn't generate as much pressure on a per-snap basis as he has in the past, but he was a dominant run defender. And can you really blame him for not getting to the quarterback as often with Cullen Jenkins, Jay Bromley and Markus Kuhn next to him at the 3-technique? Hankins will be back at full healthy for 2016, and hopefully, the Giants will add a pass-rushing tackle to play next to him.
6. Devon Kennard
The second-year linebacker was a potential breakout candidate in 2015, but a nagging hamstring injury rendered him ineffective for the majority of the season before the Giants placed him on injured reserve in Week 13. When he was healthy, Kennard showed improvement against the run and the ability to generate pressure when lined up as an edge rusher. He also made arguably the Giants' best defensive play of the season when he ripped the ball out of Buffalo Bills tight end Charles Clay's hands for an interception. Kennard offers the Giants scheme flexibility, and that's even more valuable now as the Giants get set to potentially welcome in a new defensive scheme. If he can stay healthy, Kennard will turn out to be one of the rare late-round draft gems during Jerry Reese's tenure as general manager.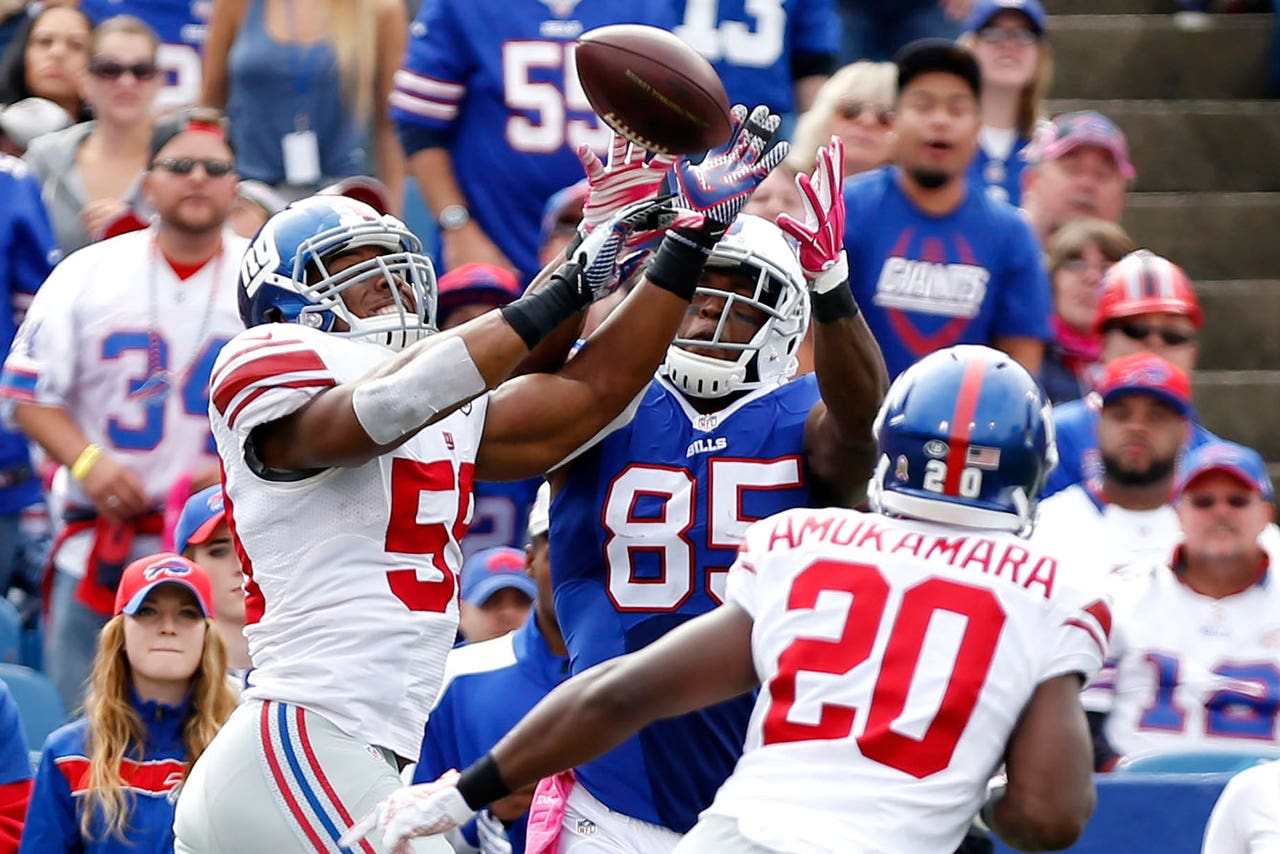 Devon Kennard has flashed as a pass rusher, run stopper and in pass coverage. If he can stay healthy, he can evolve into the first true three-down linebacker the Giants have had since Antonio Pierce.
7. Dominique Rodgers-Cromartie
Rodgers-Cromartie isn't often talked about among the NFL's elite cornerbacks, but maybe he's not as far off as the lack of buzz would make it seem. Through his first two seasons with the Giants, Rodgers-Cromartie has allowed just six touchdown passes in primary coverage -- he limited receivers to just one touchdown against in 2015.
He has held opposing passers to an under-60-percent completion percentage against in both seasons. He has also added six interceptions. So what's not to like? Injuries throughout the past two seasons have cost Rodgers-Cromartie full games and many times he has played at less than 100 percent. Also, opposing offenses have found success running at him. While Rodgers-Cromartie is not one of the NFL's truly elite cornerbacks, he is easily one of the 20 best players at his position.
8. Ereck Flowers
Flowers' rookie season didn't go according to plan -- a freak injury to incumbent left tackle Will Beatty forced Flowers into immediate action on Eli Manning's blindside. Beatty never returned and Flowers stuck at left tackle. Flowers' rookie season had its struggles -- he allowed a whopping five sacks, 17 quarterback hits and 69 total quarterback pressures. However, it's important to keep in mind that Flowers played through an ankle injury that he originally suffered in Week 2 before injuring it again in Week 9.
From Week 9 on, he had just one game where he graded out positively as a run blocker, per Pro Football Focus. He earned a positive run-blocking grade in four of the seven games before injuring himself again. Flowers obviously needs work when it comes to his technique, but he has the talent and drive necessary to improve. Don't be surprised to see Flowers move to right tackle if the Giants retain Beatty, who does not have the ideal build or skill set to play right tackle.
9. Will Tye
Tye first caught my attention back in May when Tom Coughlin had only positive things to say about the undrafted rookie out of Stony Brook. Injuries to Daniel Fells and Jerome Cunningham first got Tye on the field as the Giants' second tight end, and an injury to Larry Donnell later in the season resulted in Tye stepping into the No. 1 spot on the depth chart. Through just 554 snaps, Tye racked up 464 yards receiving and three touchdowns on 42 receptions. In the majority of games that he started, Tye operated as Manning's No. 2 option in the passing game.
Tye scored a touchdown in three of the Giants' final four games, showcasing his ability to develop into a legitimate option in the red zone. Tye is a bit undersized at just 6-foot-2, but he showed quickness and a lot of upside to develop into a "move" tight end in the mold of a Jordan Reed. There will be a role of Tye on offense in 2016. Did you know that Tye led all rookie tight ends in receptions, yards and touchdowns?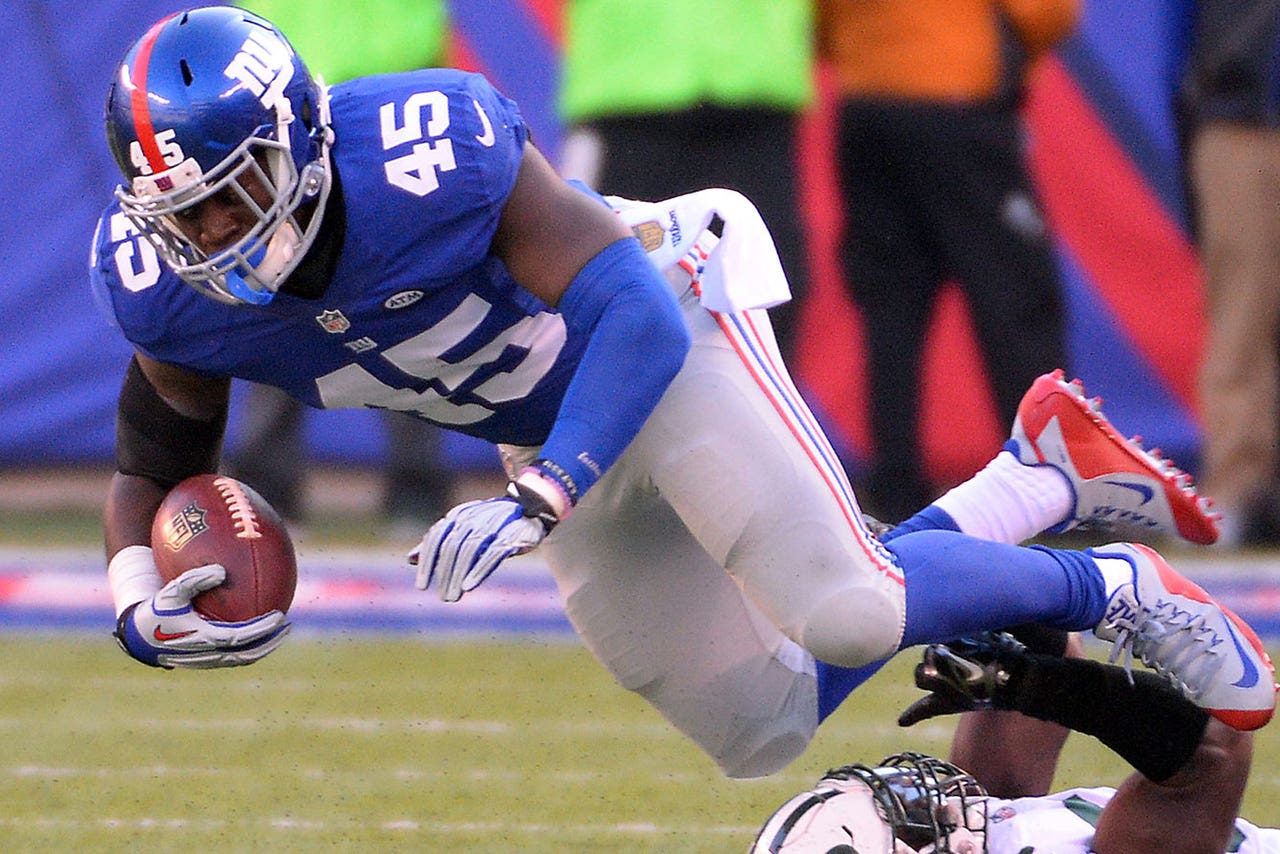 Giants GM Jerry Reese has taken a lot of heat recently, but snagging Will Tye as an undrafted free agent out of Stony Brook last offseason was one of his best moves.
10. Landon Collins
In his first season away from head coach Nick Saban's tutelage at Alabama, Collins struggled. The Giants asked him to play more of deep safety role at times, due to injuries and poor planning at the safety position, and he struggled in that role. However, Collins played much better football over the second half of the season, specifically against the run.
It's no coincidence that Collins' improved play down the final stretch coincided with the Giants' decision to use him more around the line of scrimmage. Collins had 10 quarterback pressures all season, and six of those came over the final five games of the season. The Giants need to make it a top priority to find a safety who can compliment Collins this offseason -- this will allow him to line up where he's comfortable and make plays.
*All stats on quarterback pressures and pass coverage come from Pro Football Focus.
Dan Schneier covers the NFL for FOX Sports. You can find him on Twitter@DanSchneierNFL.
---
---