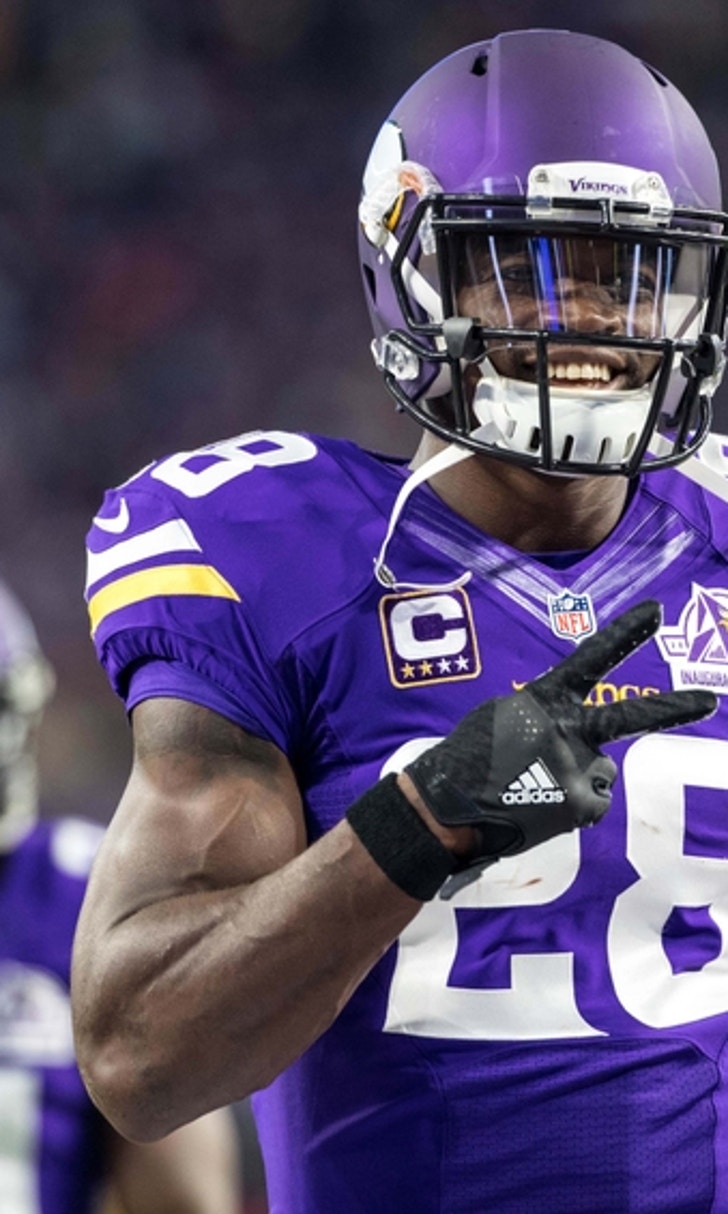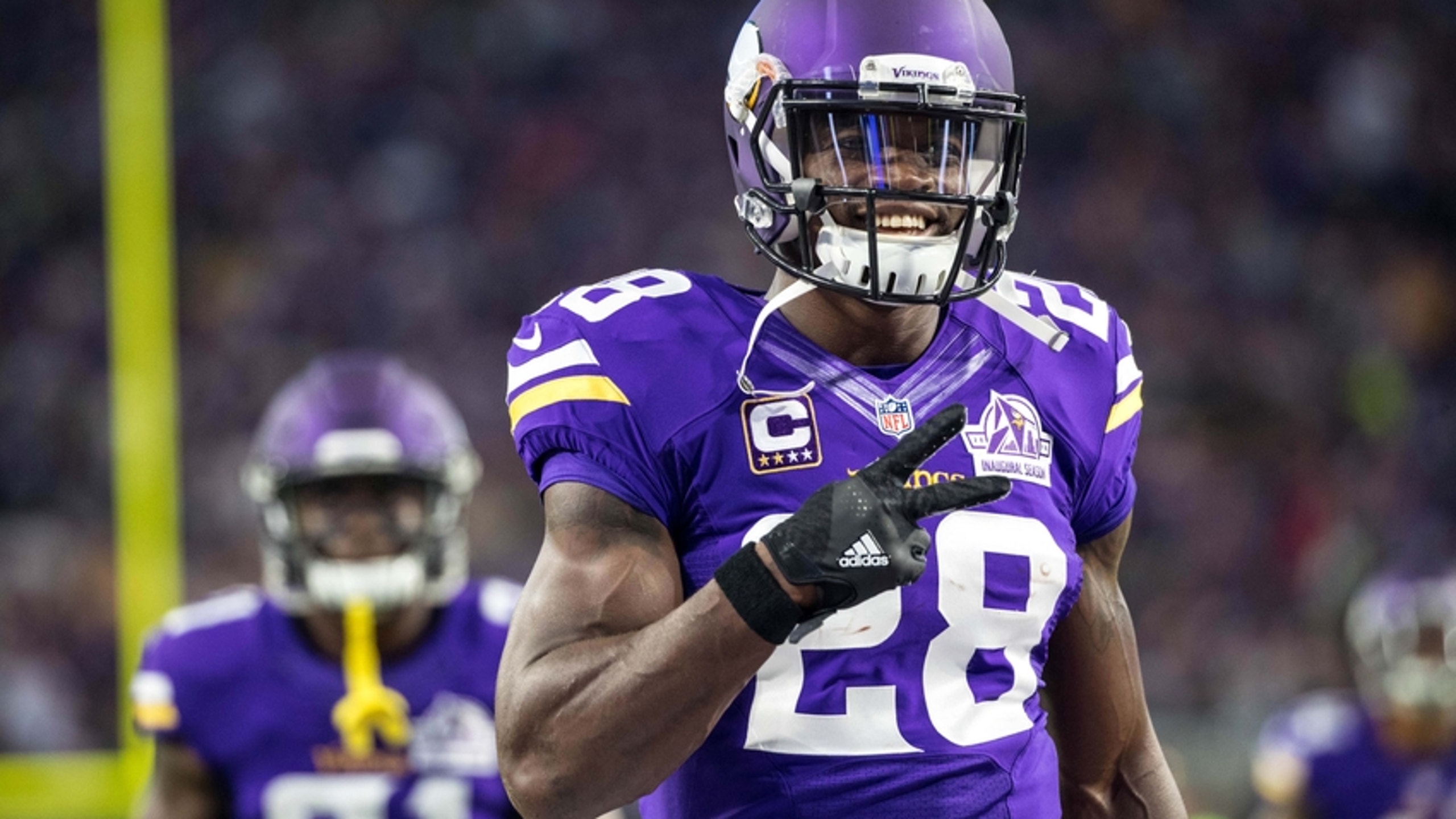 Minnesota Vikings: Perfect Timing For Adrian Peterson's Return
BY Fansided and Joe Soriano/FanSided via NFL Spin Zone • December 17, 2016
In Week 2, Minnesota Vikings running back Adrian Peterson tore his meniscus against the Green Bay Packers. Now he's returning just in time.
The Minnesota Vikings have a slim margin for error in the NFC North, but they are still tied with the Green Bay Packers at 7-6. Both teams are two games behind the division-leading Detroit Lions, and they have one last meeting with each other in Week 16.
Before then, the Vikings will take on the Indianapolis Colts in Week 15, and they will likely have running back Adrian Peterson at their disposal.
ESPN's Adam Schefter reports that, not only has Peterson been activated from the injured reserve, but the future Hall of Famer will play against the Colts.
The timing couldn't be better for the Vikings, and it isn't just because Peterson will be able to give Minnesota a final push for a playoff spot. Peterson's Week 15 matchup is a juicy one, which is important for him. Beyond the fact that he is coming back from a serious injury that cost him multiple months, he wasn't exactly playing well before the injury. Given two full workloads, Peterson struggled to just 1.6 yards per carry against the Tennessee Titans and Packers.
More from NFL Spin Zone
None of the other running backs on the Vikings have done any better this season. Minnesota is the NFL's worst team on the ground with an average of just three yards per carry. Some wondered if Peterson's injury could actually help the Vikings by showcasing the more electric Jerick McKinnon. While McKinnon has technically been more efficient (after all, he isn't averaging 1.6 yards per carry), he's been unhelpful as the team's lead back.
Peterson needs an easy matchup to get into the swing of things and the Colts run defense is something both he and the Vikings beat-up, maligned offensive line should be able to handle. Indianapolis surrenders 4.5 yards per carry and they are coming off of a poor performance against the Houston Texans in Week 14.
Last week, the Colts let Lamar Miller run for 107 yards on 21 carries. Alfred Blue chipped in 55 yards on 16 attempts, and Akeem Hunt had one carry for 19 yards. This came with Brock Osweiler at quarterback, so it's not like the Colts should have been surprised by the Texans run-heavy approach in Houston's 22-17 win.
This is a must-win game for the Vikings, because the Colts are a middling team that an aspiring playoff contender should be able to dispose of.
Dec 27, 2015; Minneapolis, MN, USA; Minnesota Vikings running back Adrian Peterson (28) reaches across the goal line for a touchdown against the New York Giants in the third quarter at TCF Bank Stadium. The Vikings win 49-17. Mandatory Credit: Bruce Kluckhohn-USA TODAY Sports
Throughout the season, the Vikings have been one of the NFL's most one-dimensional offenses. Not only have they lacked a running game, but they have not been able to throw the football down the field. Some of the team's wide receivers have actually stepped up, but Sam Bradford simply hasn't had the time to attack teams vertically. When he did earlier this year, he and the likes of Stefon Diggs did manage to open things up.
The Vikings offensive line isn't any better, so it will be interesting to see what sort of role Peterson can play in helping the offense. Even though he has put up just 1.6 yards per carry this season, he can only help. The Vikings season-high for rushing yards this season is 104, and that came all the way back in Week 4. They never even hit triple-digit rushing yards, which is why they are dead last in the NFL with 954 rushing yards.
Facing a defense that is 30th against the run in Football Outsider's DVOA is a good way for Peterson to shake off the rust and show that he has plenty to offer this team.
Some wondered if Peterson would sit out the rest of the season if the Vikings were no longer in a position to make the playoffs. Minnesota still has a shot, and Peterson is reportedly ready to help the team as soon as Week 15. This is a chance for him to add another memorable injury return to his career storyline and he gets a good matchup on paper to execute that narrative. The Colts run defense is the worst of the Vikings final three opponents (Packers and Chicago Bears being the other two), so we will see if he can take advantage.
---
---