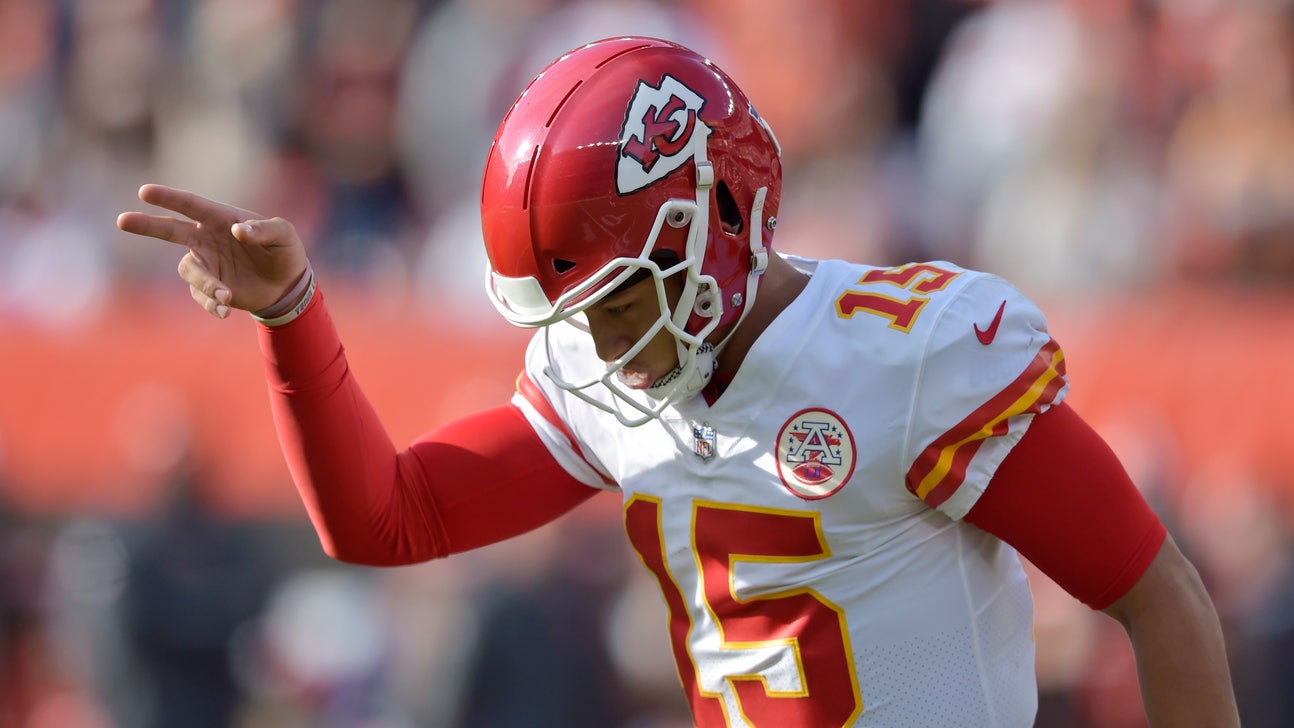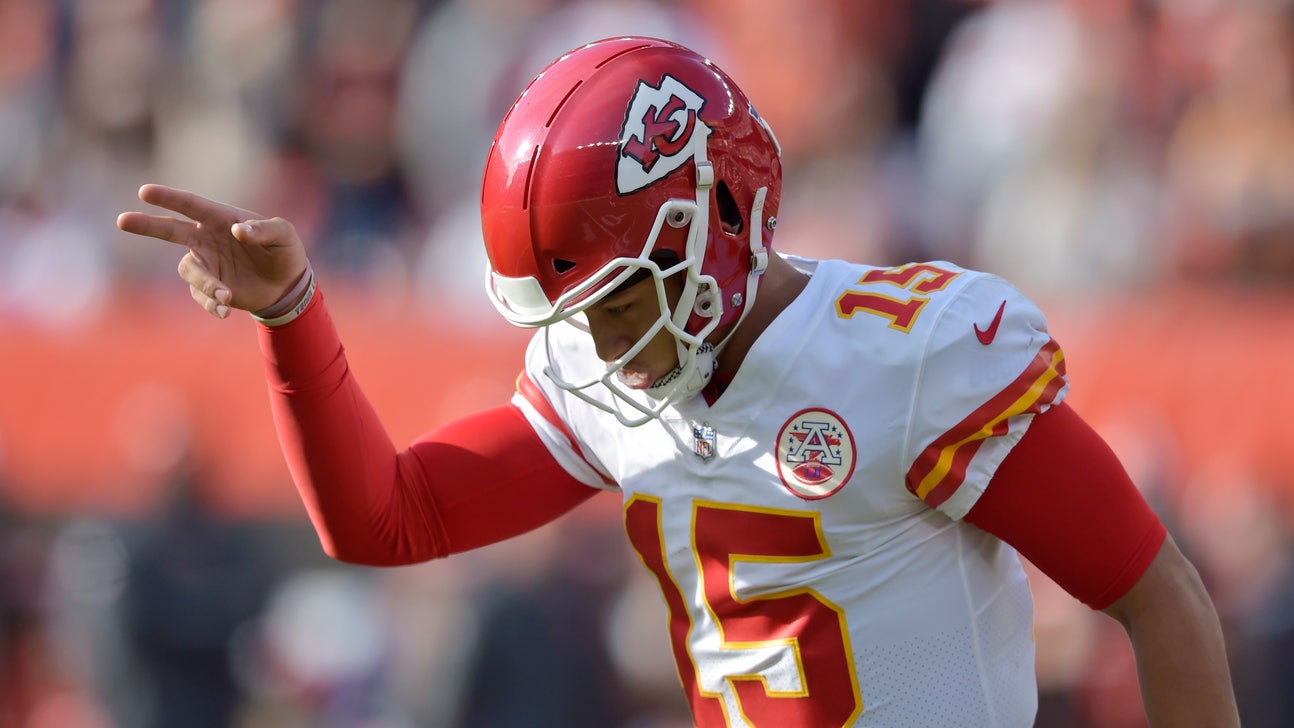 Mahomes passes for 375 yards as Chiefs down Browns 37-21
Updated
Mar. 5, 2020 2:19 a.m. ET
CLEVELAND (AP) — With almost every flick of his right wrist, the legend of Patrick Mahomes grows.
And he's just beginning.
Only 10 games into his NFL career, Kansas City's young quarterback is doing things that have never been done before.
Mahomes passed for 375 yards, threw three touchdown passes — two to Cleveland native Travis Kelce — and continued the best start by a QB in 68 years as Kansas City's impossible-to-handle offense kept rolling with a 37-21 win on Sunday over the Cleveland Browns, who played their first game since coach Hue Jackson's firing.
Kareem Hunt, who also has Cleveland connections, had two scoring runs and one receiving for the Chiefs (8-1), who came in averaging 36.3 points with an offense overloaded with weapons for Mahomes.
The 23-year-old used all of them in winning his first pro matchup against Baker Mayfield and the Browns (2-6-1).
"It's a lot of fun," said Mahomes, who was hurt by a couple drops. "It makes my job a lot easier knowing that I can trust these guys are going to be in the right spot. They're taking care of their business. They're running the routes and making route adjustments on the fly just because they've looked at the film and know how to do those things."
Mahomes and Mayfield didn't match their epic college meeting in 2016, when they combined for more than 1,700 yards in offense. But the Chiefs put on another impressive offensive show with 499 total yards, averaging 8.6 per snap.
Browns defensive end Myles Garrett said preparing for Mahomes and Kansas City's air-and-ground show is nothing like playing against it.
"Their offense has a nice tempo and he gets the ball out of his hand pretty quick, so it's hard to stop," he said. "He spreads the ball around really well and everybody is getting touches. You don't know who it's going to go to next."
In his second season, Mahomes, who made just one start as a rookie, already has 29 TD passes and 3,185 yards, the most by any QB through 10 games since 1950. He has passed for at least 300 yards in eight straight games.
"It's a weird deal — he just goes out there and plays," Chiefs coach Andy Reid said. "He works hard. He loves doing it. He just goes about his business the way that you're supposed to do it."
Cleveland lost its fourth straight, but it looked better under interim coach Gregg Williams than it did with Jackson, fired on Monday after going 3-36-1 in two-plus seasons.
Mayfield threw two TD passes to Duke Johnson and finished 29 of 42 for 297 yards with one interception.
The Browns came in facing a monumental task in trying to slow Mahomes and an offense with speed, depth and no noticeable weaknesses.
Things got much tougher for Cleveland when starting cornerback Damarious Randall (groin) was scratched and E.J. Gaines (concussion) and rookie Denzel Ward (hip) both got hurt in the first half.
Kansas City scored a touchdown on its first three possessions and the Chiefs only had the ball for 11:29 in the first half as the Browns were able to control the clock.
The Chiefs picked up where they left off in the third quarter with Mahomes firing a 13-yard TD pass to Kelce, giving Kansas City a 28-15 lead.
Kelce couldn't stop smiling as he talked about his QB.
"You mean Showtime Mahomes?" he said. "He came in with the understanding this thing could be very special. We added a few pieces to the puzzle and the offensive line is playing lights out. It's a combination of everything that's making him feel comfortable out there."
MAYFIELD HEAD SHOT
Mayfield was checked for a concussion and cleared after a questionable hit late in the third quarter.
Mayfield was backpedaling and being wrapped up by Chris Jones when the rookie QB was struck in the helmet by Chiefs defensive back Ron Parker, who came in late but was not penalized. The NFL's on-site medical spotter called down and Mayfield had to leave the game to be checked for a head injury.
"I think the rule is if they see me messing with my helmet, they are going to take precaution," Mayfield said. "When you get hit in the head, your helmet moves around so I am going to shift it so it fits correctly. It is just interesting how it works. I had to come out of the game and take the exam."
LUCKY STREAK
The Chiefs won the coin toss for the ninth consecutive week and elected to defer.
HOMETOWN HERO
A Cleveland native, Hunt bought more than 100 tickets for the game and had them given to the players and coaches at his high school alma mater.
"It's a dream come true that I'm able to do something like that," said Hunt, who rushed for 91 yards. "It's a stadium I used to drive by almost every day."
LINE SHIFT
Browns rookie left tackle Desmond Harrison sat out with an unspecified illness and was replaced by Greg Robinson, a former No. 2 overall pick who made his first start.
UP NEXT
Chiefs: Host Arizona on Nov. 11
Browns: Host Atlanta on Nov. 11.
---
---