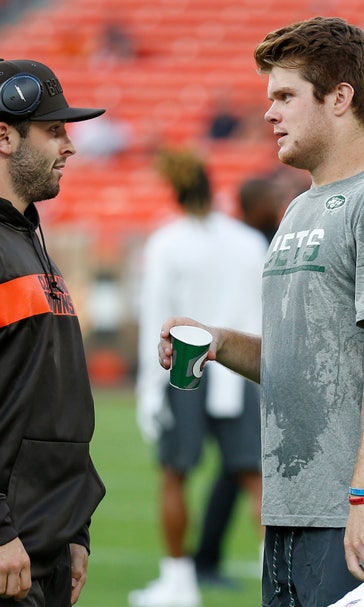 Jets' Darnold loses unexpected rookie duel with Mayfield
September 21, 2018
CLEVELAND (AP) — Just as in the NFL draft, Sam Darnold finished behind Baker Mayfield.
Darnold lost an unexpected duel with Mayfield on Thursday night as Cleveland's rookie quarterback came off the bench and rallied the Cleveland Browns to a 21-17 win over the New York Jets for their first win in 20 games.
The top story line heading into the game was Darnold getting a chance to showcase his skills for the Browns (1-1-1) in person and maybe make them regret not selecting him with the No. 1 overall pick in April.
However, when it ended, all eyes were on Mayfield as the Heisman Trophy winner led the Browns from a 14-point deficit and ended the league's second-longest winless streak since the 1970 AFL-NFL merger.
Darnold and Mayfield spoke on the field inside FirstEnergy Stadium before the game, and the young QBs met for a moment afterward.
Following a conservative game plan laid out by New York's coaching staff, Darnold completed 15 of 31 passes for 169 yards but threw two interceptions in the fourth quarter as he tried to bring the Jets (1-2) back.
"I felt really comfortable throughout the whole game," Darnold said. "I just made stupid mistakes in the fourth quarter and some missed opportunities throughout the whole game. I just have to play better and that's one me."
Isaiah Crowell had two rushing touchdowns for New York, but the former Browns running back angered some of his former teammates with an inappropriate celebration following his second score.
Crowell squatted and wiped the ball on his backside before firing it into the stands, drawing a 15-yard unsportsmanlike conduct penalty.
"That was inexcusable," Jets coach Todd Bowles said. "We addressed it and it will never happen again."
Crowell regretted his actions.
"It was just spur of the moment, but I need to control myself," said Crowell, who spent four seasons with Cleveland before signing a three-year, $12 million free agent contract with the Jets in March. "I don't think it had to do with the stadium I was at. I just felt like it was spur of the moment."
Darnold's career has already had some highs and lows. He threw two touchdown passes in a 31-point win over Detroit in his debut, and then became the youngest player to throw for at least 300 yards in a loss last week at Miami.
He was inconsistent against the Browns, showing some poise but also rushing some passes.
"I thought he battled," Bowles said. "Obviously, the two interceptions at the end of the ballgame when they knew we were going to pass and the game was on the line — I don't really look at that. I thought he battled. I thought he took care of the football for the most part. He gave us a chance and we have to help him out more."
Darnold was much tougher on himself.
"There were a couple plays, but for me I just have to play better. It's as simple as that. It's not acceptable the way I played. I know that, and I have to take it like a man. I feel like I'm responsible for the stagnant offense we had. I just have to play better, that's it. Find completions and continue to do what I'm doing."
Darnold may get another chance to play Mayfield and hopes they can develop a rivalry as pros.
"Hopefully," he said. "Baker is a great competitor. I loved playing against him. Obviously, you wish you could win those games, but he's a great competitor and is going to play in this league for a while. I'm looking forward to every single week."
---
---