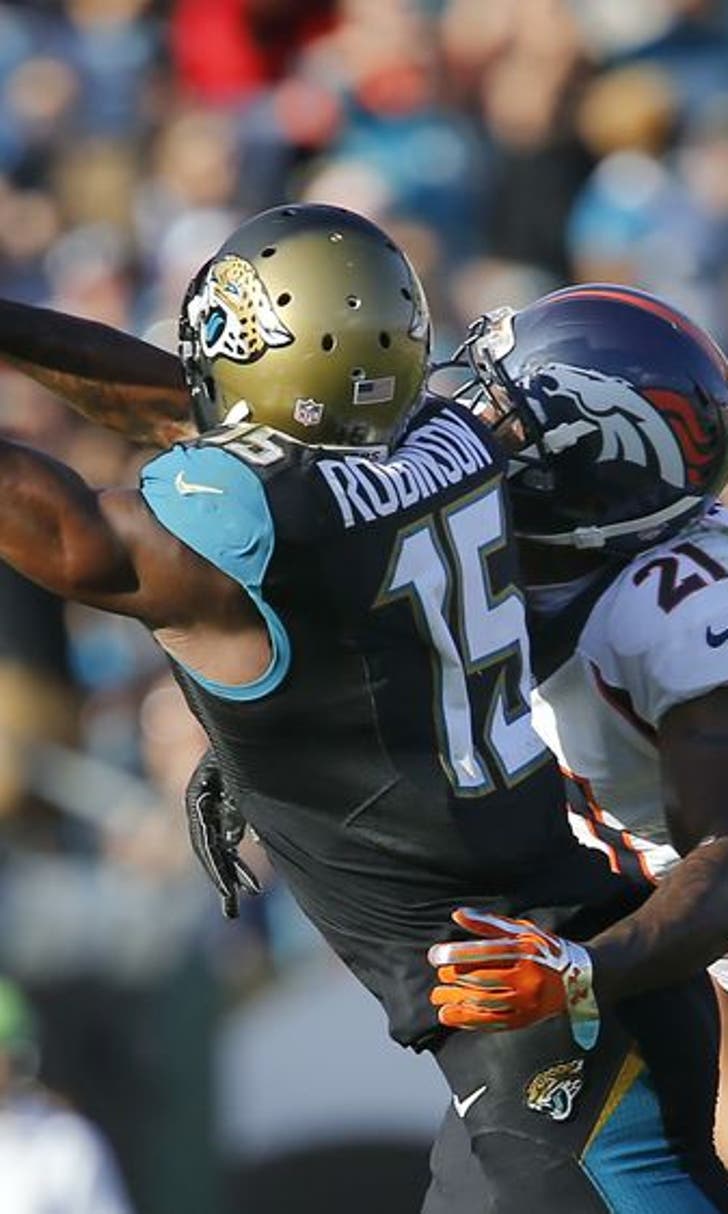 Is Blake Bortles 'killing' Allen Robinson?
BY Fansided and Daniel Lago/FanSided via Black and Teal • December 14, 2016
After a Pro Bowl breakout season, Allen Robinson has struggled to reproduce his numbers from 2015 – is it all because of Blake Bortles?
Thanks to 1400 yards receiving and 14 touchdowns last season, Allen Robinson received the first really legitimate Pro Bowl bid for a Jacksonville Jaguar since Maurice Jones-Drew. The second year wide receiver out of Penn State became a dominant pass catcher, particularly in regards to snatching contested balls out of the air against tight coverage.
Robinson's struggles this year are a microcosm of the unprecedented regression made by the entire team on offense. Blake Bortles has devolved into arguably the worst starting quarterback in the NFL, the offensive line can't run block, the running backs can't break tackles, and the tight ends have been non-existent in the passing game.
While most of the buck stops with the quarterback (and rightfully so because he's been terrible), there's plenty of blame to go around and that extends to Allen Robinson. He's made numerous key drops, has failed to get separation, and hasn't adjusted to the extra-physical play he's seen.
Still, some folks think a majority of his struggles are thanks to Bortles. That's what Mike Renner of Pro Football Focus recently discussed with the Washington Post:
2. Allen Robinson, Jacksonville Jaguars

A season ago, Robinson had a breakout 1,400-yard year with 14 touchdowns, and the arrow only looked to be pointing up heading into 2016. Through 13 games though he's not even halfway to either of those totals as the Jaguars offense has done a complete 180. On one hand, Robinson hasn't helped himself out with eight drops (fourth most in the NFL) totaling 104 yards lost through the air. On the other hand, Blake Bortles has aided in Robinson's down year as well with a league-high 15 missed completions. Those missed completions have totaled 319 yards through the air, the second-most lost yards of any receiver. Those extra 423 yards – not to mention the yards he'd again after the catch — would go a long way towards living up to his preseason expectations.
Robinson has had to deal with a quarterback completely breaking down mentally, but he still hasn't done enough on his own end. His drops have a doubly negative effect – they kill a positive play and he also fails to help out his struggling quarterback. Whatever happens at the quarterback position next year, Robinson needs to improve in his own right.
More from Black and Teal
This article originally appeared on
---
---