Hall of Fame president Baker honored by March of Dimes
November 3, 2017

Pro Football Hall of Fame President David Baker has won the March of Dimes Sports Leadership Award for 2017.
Baker will be honored by the March of Dimes Greater New York Market at its 34th annual sports luncheon on Nov. 28.
''I am deeply humbled to be recognized with such a distinguished award,'' Baker said. ''I accept this on behalf of all our Hall of Famers, the hall's Board of Trustees, a dedicated staff, and our valued partners who, together, are using the values learned from this great game to make a difference in the lives of others.''
Through its 33-year history, the sports luncheon has raised more than $14 million to support the March of Dimes.
Past recipients include Peyton Manning, Cal Ripken Jr., Mariano Rivera, Mark Messier, Mickey Mantle, Andre Agassi, Venus Williams, Patrick Ewing, and the U.S. women's soccer team.
The March of Dimes cited Baker, who has been in charge at the Hall of Fame since 2014, for ''transforming the institution.'' The hall has expanded programming across the country; experienced increased television ratings for its induction ceremony in August; received broader exposure of its mission, values and vision; and seen its net assets grow 161 percent.
By the NFL's 100-year anniversary in 2020, Baker projects that the Johnson Controls Hall of Fame Village in Canton, Ohio , a nearly $800 million mixed-use project, will result in the first sports and entertainment ''smart city.'' The Hall of Fame is hoping to host the NFL draft that year.
Also being recognized by the March of Dimes will be former pitcher Ron Darling, Olympic gold medal-winning gymnast Simone Biles, and Dawn Hudson, the NFL's executive vice president and chief marketing officer.
---
WOMEN CHANGING THE WORLD: Sam Rapoport, the NFL's director of football development, has been honored as one of People Magazine's ''25 Women Changing the World.''
A former professional player who began playing football at age 12, Rapoport was cited for breaking down barriers in gender diversity and inclusion. Since joining the league in 2016, she has helped create innovative programming designed to identify, develop and promote qualified female candidates into football operations positions, with a focus on coaching, scouting, and training.
''At the NFL, we have an incredible platform to affect change, and supportive leadership committed to diversity and inclusion,'' she says. ''I truly believe there's a new openness to considering female candidates for football operations positions by NFL teams, and the league is shifting the culture. I'm excited to see our impact growing across all levels of football and around the country.''
Several women were hired in coaching and scouting positions with NFL teams at training camps this season, and the San Francisco 49ers hired their first full-time female coach, Katie Sowers, for the 2017 season.
---
DON'T JUMP: Bengals defensive end Carlos Dunlap has an uncanny knack for timing passes and knocking them down at the line. He batted down 15 last season, seven more than any other NFL lineman.
Last Sunday, he batted one up in the air, caught it and ran 16 yards for the decisive touchdown in a 24-23 win over the Colts. The next morning, the coaching staff reminded him to do more pass rushing and less jumping at the line to try to tip a pass.
''You get paid to rush,'' said Dunlap, who was the AFC's Defensive Player of the Week. ''I'm better at rushing than I am at tipping balls. Like any coach, you want to play to your players' strengths. I'd rather rush as well. It's just that I saw the opportunity to get a hand on the ball and tipped it to myself.''
Dunlap had a career-high 13 1/2 sacks in 2015, which dropped to eight last season. The coaching staff has a tricky balancing act with Dunlap: getting him to keep going for the quarterback while giving him the freedom to pull up at times and try to bat down a ball.
''I don't know, it's a good question,'' defensive coordinator Paul Guenther said. ''He made a play like (Sunday) and you're like, `No, no, no ... yes!'''
---
HONORING THE MILITARY: The Pro Football Hall of Fame in Canton, Ohio, has a mission statement to ''Honor the heroes of the game, preserve its history, promote its values and celebrate excellence everywhere.''
With that in mind, the hall will salute the military throughout the month of November.
Through the support of Goodyear Tire & Rubber, the hall will provide free museum admission to all veterans and active military plus one guest throughout the month.
On Saturday, the hall was to hold its annual Veterans Day event titled ''Honor the Heroes: Women in the Military.'' Scheduled to participate in the program: Lt. Commander Kim Mitchell; PGA Hall of Famer and Hall of Fame Board of Trustee member Renee Powell; Army Staff Sgt. Hollis Burkes; and several Medal of Honor recipients.
The Hall of Fame store is featuring a 2017 Salute to Service collection of items including knit hats, sideline hats and sideline therma pullover hoodies featuring a variety of NFL team logos. Proceeds and charitable contributions are donated to the NFL's military nonprofit partners, including the USO, Wounded Warrior Project, Pat Tillman Foundation and TAPS.
''The Pro Football Hall of Fame focuses on values learned from the game such as commitment, integrity, courage, respect and excellence,'' says David Baker, the hall's president. ''These are values that not only make someone a great football player but also make them a great member of our military. We are pleased to shine the spotlight on these true heroes of country during a month-long tribute at the Hall of Fame to all veterans and active members of the military.''
---
Pro Football Writer Barry Wilner and Sports Writer Joe Kay contributed.
---
For more NFL coverage: http://www.pro32.ap.org and http://www.twitter.com/AP-NFL
---
---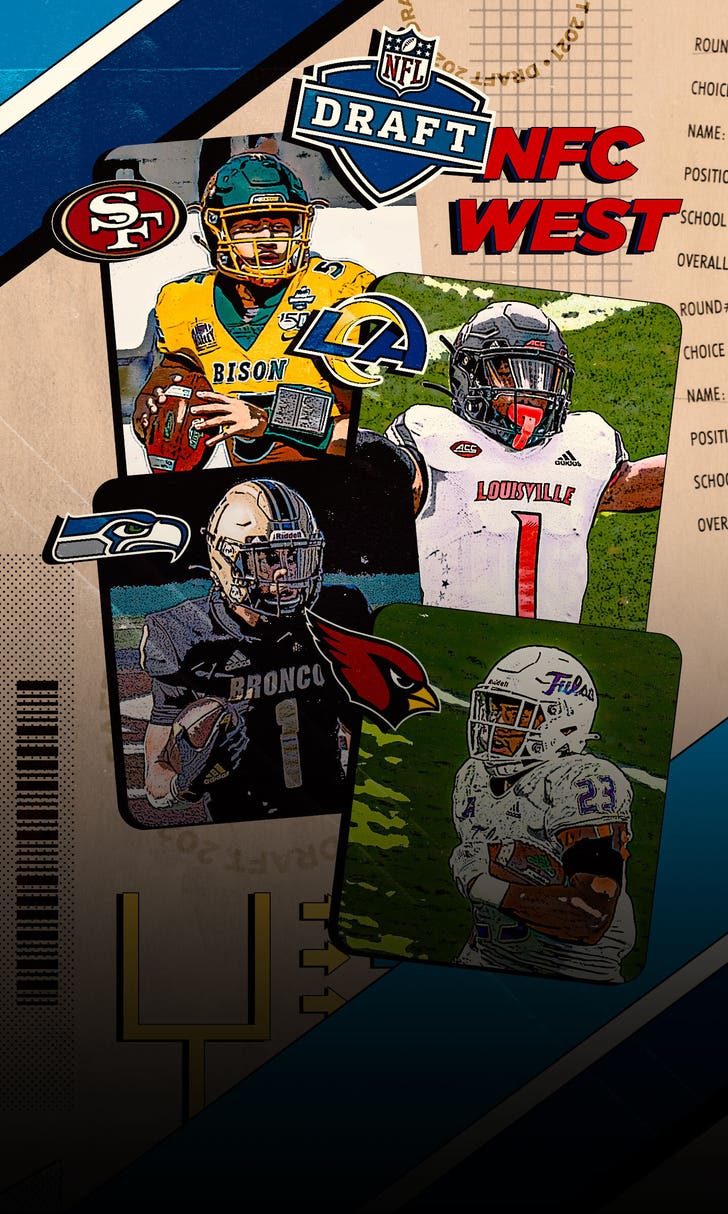 Grading the 2021 NFL Draft: NFC West report cards