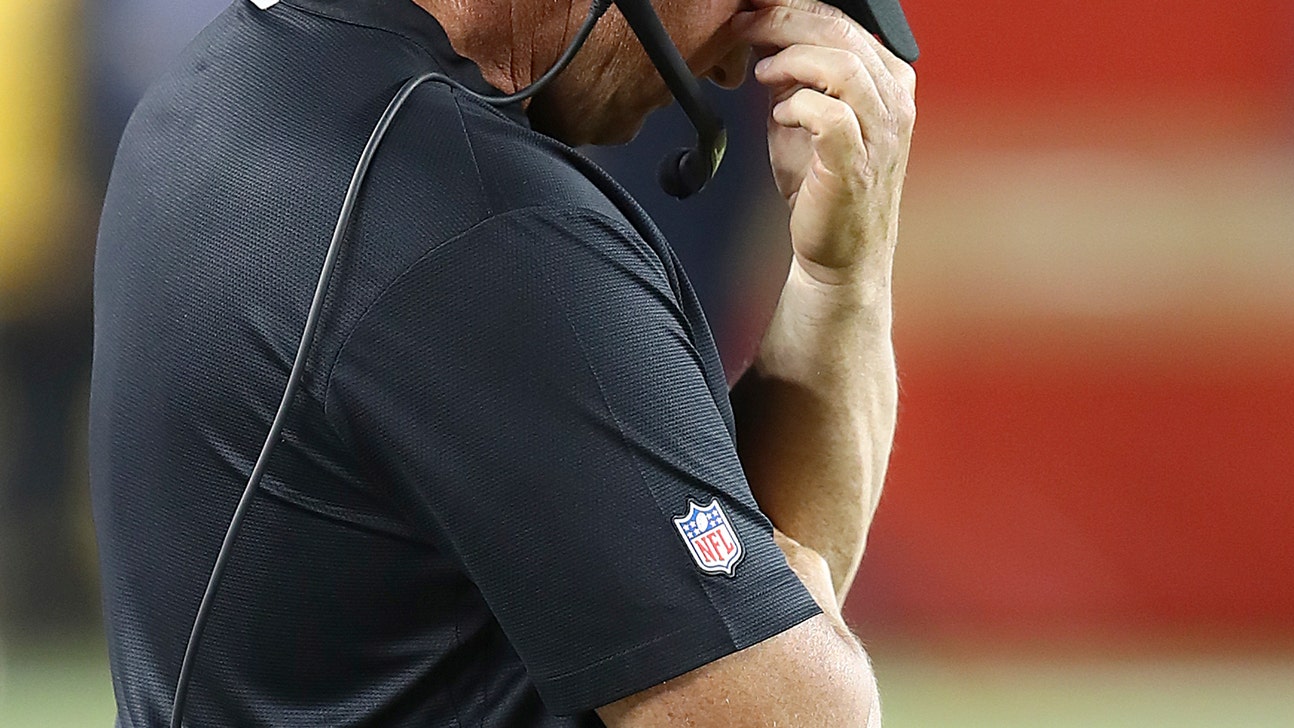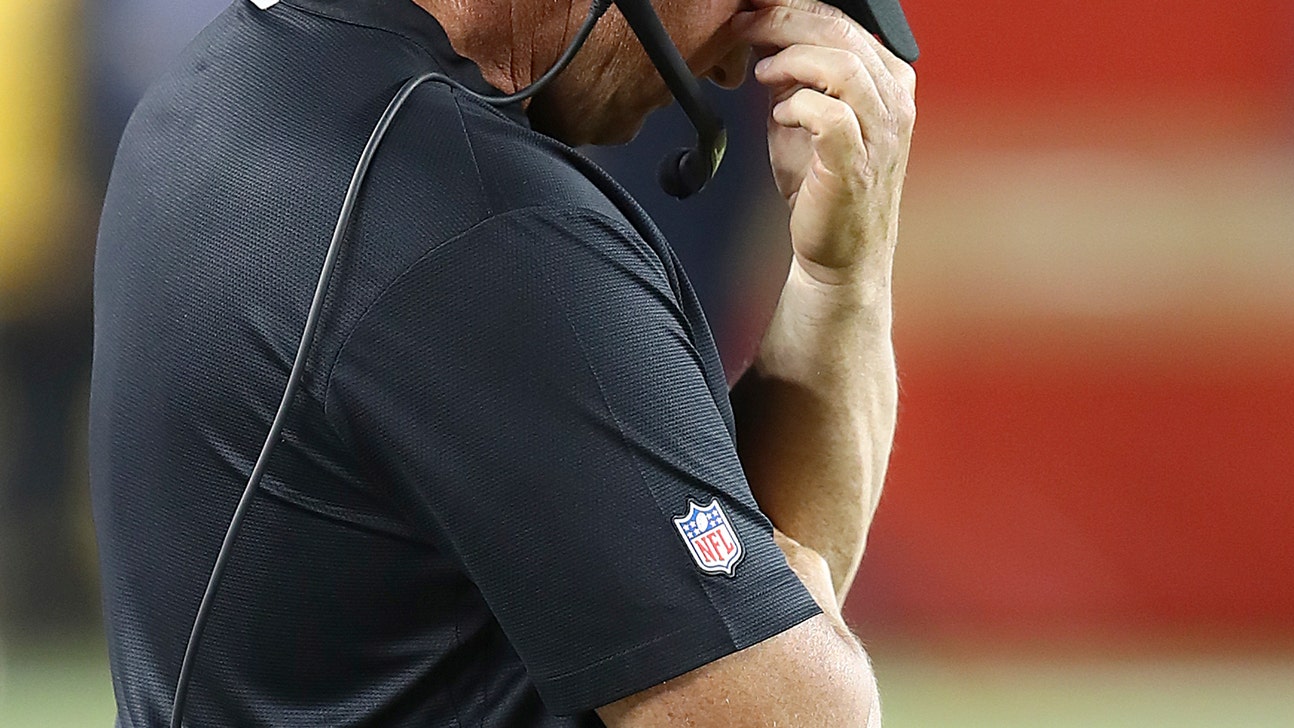 Gruden seeks answers after most lopsided loss of his career
Updated
Mar. 4, 2020 9:22 p.m. ET
ALAMEDA, Calif. (AP) — The defense can't stop anybody, even a third-string, undrafted free agent quarterback making his NFL debut.
The banged-up offensive line is providing no protection for Derek Carr, leaving coach Jon Gruden so concerned about his quarterback's health that he was unwilling to call any down-field passes.
The rookie punter is in a major rut, unable to flip the field with his kicks.
The problems for the Oakland Raiders right now run deep and they were all exposed in a 34-3 loss to the San Francisco 49ers that was the most lopsided of Gruden's 12 years as an NFL head coach.
The play that revealed the most issues might have been a 52-yard touchdown run by Raheem Mostert that made it 31-3 in the third quarter on Thursday night that featured several players appearing to play at less than top speed.
"I didn't have any problem at all with the effort," Gruden said. "I think what I had a big problem with is we had two guys in the same gap and we got outflanked immediately and their back was faster than I think we anticipated. That was my big problem with the long run. Once again, defensively I think we gave up six plays for 240 yards. Six plays yielded 240 yards. That cannot happen and it continues to be a big part of our problem. We have to fix it."
Right now, the Raiders (1-7) haven't been able to fix much of anything and are getting worse by the week. Oakland has lost four straight games, getting outscored by 85 points in the span.
The defense is allowing 6.76 yards per play, the worst by any team through eight games since the 1970 merger. The Raiders have allowed the second-most points as a franchise through eight games (252), are tied for the second-fewest takeaways (6) and have the fewest sacks (7). Oakland has also allowed opponents to have a 113.9 passer rating, a mark that only one team has ever been worse than over a full season.
Even Nick Mullens managed to pick apart the defense in his NFL debut, joining Hall of Famers Fran Tarkenton and Jim Kelly as the only quarterbacks to throw for at least 250 yards and three TDs with no interceptions in their first career game.
Those struggles have led to some heated sideline conversations between Gruden and defensive coordinator Paul Guenther, who still has the confidence of his head coach.
"I'm sure emotions get caught on tape sometimes but, there's not a better coach I know than Paul Guenther," Gruden said. "There's not a better friend that I have than Paul Guenther. We're going to argue and jaw, probably tonight, deep into the night over a lot of things. I'll see if we can video footage for you."
The offense is dealing with its own woes as rookie left tackle Kolton Miller has been in and out of the lineup with a knee injury, left guard Kelechi Osemele re-injured his knee Thursday after missing the previous three games, backup left guard Jon Feliciano is dealing with a rib injury and rookie right tackle Brandon Parker has struggled since taking over for the injured Donald Penn.
The situation got so bad Thursday when Miller was forced to leave that Osemele had to move to left tackle after not practicing there all season.
Osemele and Miller are being evaluated and could miss some time so the Raiders brought back former draft pick David Sharpe on Friday to take the place of tackle T.J. Clemmings, who is on injured reserve.
Oakland allowed eight sacks against San Francisco and Gruden pulled Carr to protect his health.
"Last night I was concerned," he said. "Last night we didn't just have a couple of injuries, we were decimated and had guys playing positions that they had never really practiced. That was uncommon for any game I've ever called and I've called a lot of games. I've broadcast some games and I haven't seen that."
Even the rookie punter is struggling. Oakland used a fifth-round pick on Johnny Townsend, who has struggled all season. His 25-yard punt two weeks ago set up Indianapolis' go-ahead score and he had a 23-yarder against San Francisco.
Townsend is last in the NFL in gross punting average (41.9 yards) and has the second-lowest percentage of punts downed inside the 20 (18.8 percent).
"I think he's overthinking some things a little bit," Gruden said. "Directional punting, putting the ball between the numbers to the side line to the right, to the left, getting it off quicker, whatever it may be. I make no excuses for Townsend, but I will say this, I have seen him bomb it. I have seen him be a difference maker and I am confident it's in our near future."
---
---