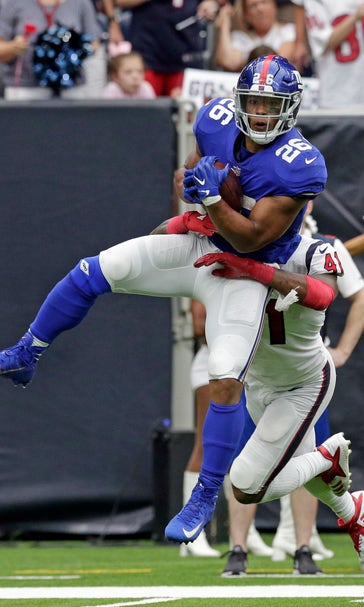 Giants finally finish a game to get 27-22 win over Texans
September 24, 2018
HOUSTON (AP) — After coming up just short in their first two games, the New York Giants figured out a way to finish a game on Sunday against the Houston Texans and get their first win.
"We've become an almost team," quarterback Eli Manning said. "We've been close on a few things and (Sunday) we put it together."
Manning threw for 297 yards and two touchdowns and rookie Saquon Barkley added a score as the Giants (1-2) got a 27-22 victory over the struggling Houston Texans.
New York had lost its first two games by 12 points combined before building a 20-6 lead by halftime and adding a touchdown late on Sunday to outlast the winless Texans.
"This was just a different ride," Barkley said. "Coach challenged us to come out with a great start and that's something we really focused on. Obviously, we've got to play a little better in the second half. But it's the NFL, and they're not just going to let you run up the score on them."
The Giants got another good game from Barkley, who was the second overall pick in this year's draft. The Texans led 3-0 after a 23-yard field goal by Ka'imi Fairbairn on their first drive. The Giants took their first lead this season when Barkley shed multiple tackles on a 15-yard run that made it 7-3.
Barkley has 46 carries for 216 yards and two touchdowns and 21 catches for 137 yards this season. His presence has given the Giants another explosive playmaker to pair with star receiver Odell Beckham Jr.
The Giants were certainly happy to get in the win column on Sunday, but know they have a lot of work to do if they hope to have a successful season.
"We can't get too far ahead of ourselves because it's just one game," Beckham said. "Now we have to start tacking it on, build off this and keep improving."
Some things to know about New York's win over Houston.
RUNNING GAME WOES
After leading the NFL in yards rushing through the first three games, the Texans couldn't get anything going on the ground. They finished with 59 yards rushing, and Lamar Miller managed just 10 yards on as many carries.
"They loaded up the box," coach Bill O'Brien said. "They did a good job. We tried a bunch of different schemes — basically abandoned it in the second half ... tried to do other things. Just never could get it going."
MISUNDERSTANDING?
Giants receiver Sterling Shepard received a taunting penalty in the second quarter after jawing with Houston cornerback Aaron Colvin. But Shepard insists it wasn't malicious and that he and Colvin are friends and were simply messing with each other.
"That's one of my boys from college," Shepard said. "We go way back. He was at my wedding, I was at his wedding. We had been talking a little mess before the game ... we were just going back and forth. It was all in love, but the officials don't know that."
The two played in college together at Oklahoma.
STRONG CONNECTION
Houston receiver Will Fuller had five receptions for 101 yards and a touchdown. He's played in six career games with Watson and has nine touchdowns in those games. He's had at least one TD grab in each game he's played with Watson.
He had 113 yards and a score last week to make him the first Texan to have consecutive 100-yard receiving games since he did it in the first two weeks of the 2016 season.
INJURY UPDATE
New York tight end Evan Engram (knee) left in the second quarter. ... Giants CB Antonio Hamilton injured his groin in the first quarter and didn't return. ... Houston WR Bruce Ellington injured his hamstring in the first quarter and didn't return. ... Texans G Senio Kelemete (knee) left in the second quarter.
---
---