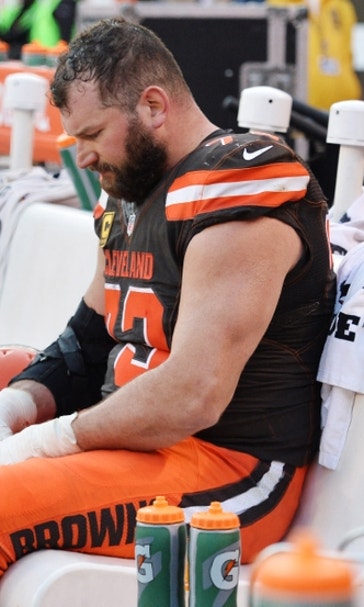 Franchise Building Blocks: Cleveland Browns
December 28, 2016

Fansided, Jon Dove/FanSided via With the First Pick
The Cleveland Browns have suffered through a horrible season, but they still have some franchise building blocks on the roster.
Even teams like the Cleveland Browns need to find some positives and think towards the future. In fact, it's especially important for losing teams to evaluate their current roster and find potential building blocks.
Cleveland's roster has plenty of holes, but they also have a few pieces in place that can help the team rebuild. The top building block is left tackle Joe Thomas. He's still an important player to the franchise based on his strong play, leadership ability and the fact he has stayed loyal to the team through tough times.
His ability to protect the quarterback will be counted on heavily as the Browns continue their search for a franchise signal caller.
More from With the First Pick
The offense also has talent at the wide receiver position with Terrelle Pryor and Corey Coleman. Both players have shown a lot of upside this season. However, Cleveland needs to find a way to sign Pryor to a new contract during the offseason.
Guard Joel Bitonio is someone that could be a part of the future if he's able to stay healthy. He's has shown the ability to dominate in the trenches.
Defensively, the Browns appear on the verge of going through some major changes. They have a few nice veteran pieces in place but the future of someone like Joe Haden is in question. The main building blocks on this side of the ball are Danny Shelton and Emmanuel Ogbah.
Shelton has rebounded nicely from what was a tough rookie season. He's playing with more confidence and doing his part to stuff the run. The Browns can move forward knowing that Shelton is more than capable of manning the middle of the defensive line.
Ogbah is coming on strong and has already established himself as a solid pass-rush threat. He's still a work in progress, but his upside is obvious.
Jamie Collins should be considered a building block for the future, but the Browns will need to find a way resign him in the offseason. It's possible that they look to use the franchise tag to keep him in place, but that doesn't solve the long-term contract issue.
Overall, the Browns are a roster that needs a lot of help. They have several solid players to build around but not enough to say they're ready to compete any time soon.
---
---