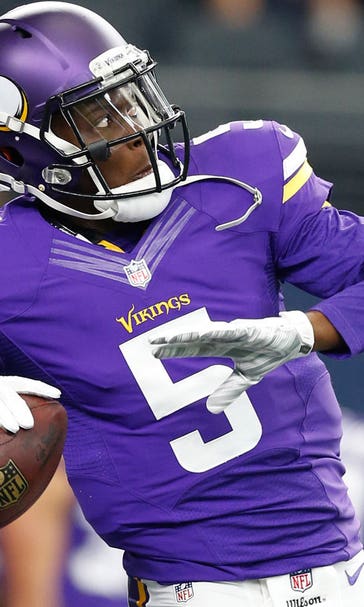 Five things we learned about the Vikings this preseason
BY foxsports • September 8, 2015
The Minnesota Vikings are a team that appears to be on the rise after the preseason. A foundation for success has been built in Minnesota, but now it's time for the team to take the next step. If they're able to improve upon last year's 7-9 record, the Vikings should make a legitimate push for the NFC North crown and the playoff bid that comes with it.
With the regular season set to kick off on Thursday, here are the five most important things we learned from the Vikings' preseason.
1. Minnesota's offense will be efficient
Vikings quarterback Teddy Bridgewater picked up right where he left off as a rookie. His accuracy was on point this preseason, as the second-year quarterback completed 29 of his 35 pass attempts (82.9 percent) through the first four exhibitions. It should be a smooth ride for the Vikings' offense once running back Adrian Peterson is unleashed for the regular season.
2. Trae Waynes is not ready to start
The Vikings may have spent the 11th overall pick in this year's draft on Waynes, but the rookie cornerback did not earn a starting job this summer. He took his time to develop, so 13th-year veteran Terence Newman held onto the starting job opposite Xavier Rhodes. Waynes did improve as the preseason progressed, so he may still overtake Newman for first-team duties before the season is over.
3. Eric Kendricks will play in the nickel package
The Vikings' second-round pick has also experienced trouble while trying to crack the starting lineup. While Kendricks' athleticism makes him particularly valuable on passing downs, both Audie Cole and Gerald Hodges Jr. have better chances to start at middle linebacker in the Vikings' base defense. Easing Kendricks into the action in favorable situations could make for a smooth transition to the NFL.
4. Cordarrelle Patterson has a lot left to prove
There's no denying Patterson's expertise as a return specialist, but he's running out of time to make an impact on offense. The former first-round draft pick (2013, 29th overall) did little to boost optimism this preseason with only one reception of more than 10 yards through five games. Charles Johnson, trade acquisition Mike Wallace, Jairus Wright and even fifth-round rookie Stefon Diggs could all be bigger factors at wide receiver for the Vikings in 2015.
5. Mike Zimmer has earned his players' respect
The Vikings are headed in a new direction under Zimmer, as the second-year head coach has both the offense and defense trending upward. Last month, when Zimmer's father died, several players were impressed with his focus and resolve in the midst of such a trying time. The more experience he gains, the more respect Zimmer commands from the Vikings.
---
---