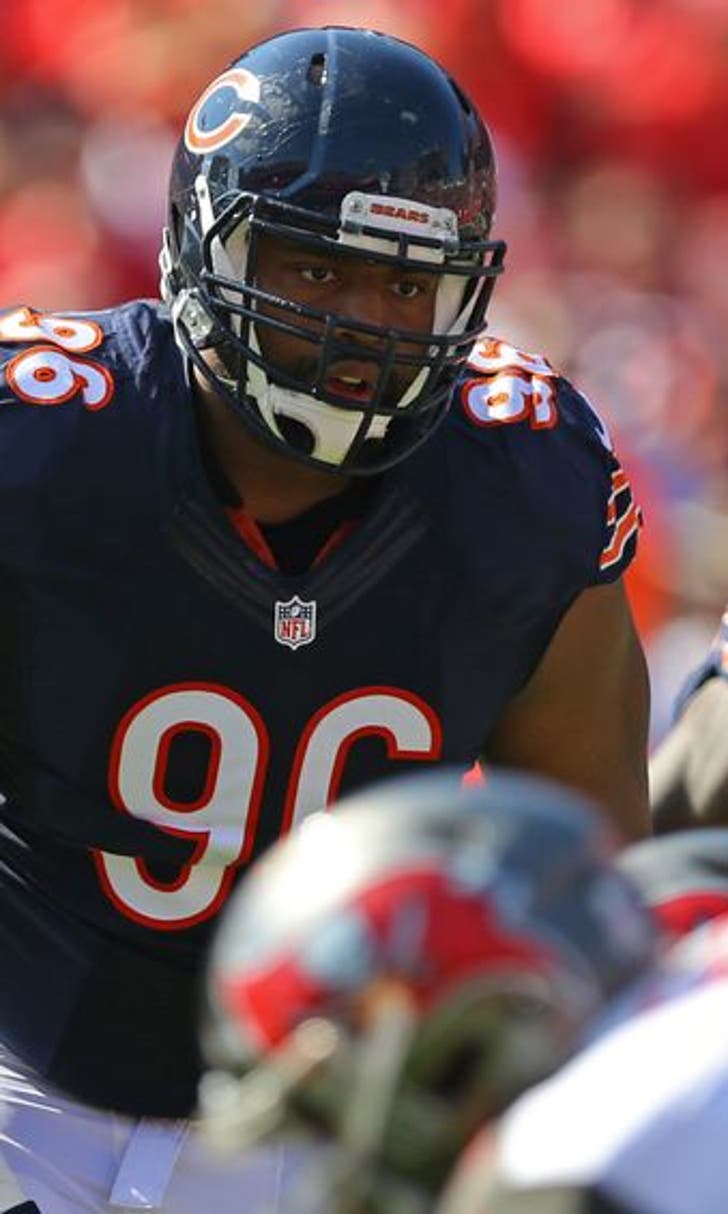 Eddie Goldman and Akiem Hicks: Chicago's Dynamic Duo
BY Fansided and Bryan Dietzler/FanSided via Bear Goggles On • December 16, 2016
Eddie Goldman and Akiem Hicks are next in a long line of great Chicago Bears' defensive linemen.
For years, the Chicago Bears have had great success with defensive lineman.  You had the stars of the pre-Super Bowl era such as Doug Atkins, Bill Hewitt and Fred Williams.  Then, in the modern era, Chicago had such defensive line stars as Richard Dent, Dan Hampton and the venerable Steve McMichael.  All three of them contributed to the Bears' lone Super Bowl victory.
Since the greats born out of Chicago's Super Bowl run, there haven't been many star defensive linemen in Chicago.  You had some players that flashed but weren't long term Pro-Bowlers and won't be getting into the Hall of Fame.  Some of those guys include Tommie Harris, Ted Washington and Henry Melton.  They had their moments but didn't do their thing on a consistent basis.
Now, it appears as if we are starting to see a return to the ways of old on the defensive line.  It hasn't been happening that long,  but there is a "budding" of sorts developing with two of the team's defensive players.  Who are they you might ask?
Let's find out.
Dec 6, 2015; Chicago, IL, USA; San Francisco 49ers quarterback Blaine Gabbert (2) gets sacked by Chicago Bears nose tackle Eddie Goldman (91) at Soldier Field. Mandatory Credit: Matt Marton-USA TODAY Sports
Eddie Goldman
The first of the two Bears that we will look at is Eddie Goldman.  Goldman came to Chicago last year as a second-round draft pick (selected 39th overall).  He went to college at Florida State.  He was a member of that first draft by current General Manager Ryan Pace and would eventually prove that he was a very valuable pick.
Goldman had a strong training camp and held firm in the regular season.  During the 2015 campaign, Goldman played in 15 games with 12 starts.  He recorded 22 total tackles with 16 solo and six assisted.  He tallied 4.5 sacks.  His season was cut short when he suffered an injury at just about the close of his rookie year.  The injury was to his ankle and he would miss the remainder of the year.
The strong showing in his rookie year made many think that he would have an even bigger season in his year two.  Training camp, again, looked promising for Goldman and it appeared as if he might be able to play on a Pro Bowl level in 2016.  The coaching staff was hopeful and the fans were eager for the Bears to have yet another All-Pro defensive lineman.
But, as has happened so often to the Bears roster this season, Goldman went out with an injury.  Not only did he go out once, missing several games, but he went out again, missing a couple more.  The absence of Goldman put a huge damper on the development of the Bears' defensive line and defense overall.
Without Goldman in the middle being a big bodied force that can do several things Chicago's defense has suffered.  He can force teams to not take their runs up the middle.  Goldman was also able to get good pass pressure straight up the middle on opposing quarterbacks.  He could absorb double teams and still make plays.  When he is in the lineup, he is a real difference maker.
You can see that in the games he has played, he is one of the best defenders on the team.  Team's game plan around him.  He's always in the play and gets up and down the field well.
At the time of this writing, Goldman was on the Bears' injury report and listed as doubtful for this Sunday's game against the Packers.
Next season will be the tell-tale one for Goldman.  If he can consistently stay in the lineup, consider it a success.  If he is injured more than he is out on the field, the Goldman experiment may be over.  But hopefully it works out.  Goldman is too talented and too valuable to not have in the lineup.
Or not on the team at all.
Nov 13, 2016; Tampa, FL, USA; Chicago Bears defensive end Akiem Hicks (96) against the Tampa Bay Buccaneers at Raymond James Stadium. The Buccaneers won 36-10. Mandatory Credit: Aaron Doster-USA TODAY Sports
Akiem Hicks
The second player from the defensive line that we will focus on is Akiem Hicks.  Unlike Goldman, Hicks did not come through the draft but came in as a free agent this past offseason.  Hicks entered the league in 2012 via the New Orleans Saints who drafted him in the third round.  Hicks played his college ball (following some transfer difficulty) in Regina which is in Saskatchewan, Canada.
bears
With the First Pick 4dDeshone Kizer Officially Declares For 2017 NFL Draft
More headlines around FanSided:
6d - 2017 NFL Draft: California Chad Hansen Scouting Report1 w - Baylor Makes Incredible Hire with Temple Coach Matt Rhule6w - Minnesota Vikings at Chicago Bears: How to watch live or stream online6w - Chicago Bears vs Minnesota Vikings: 5 questions behind enemy lines7w - NFL Week 8: Who Plays on Monday Night Football?More News at Bear Goggles On

Hicks was traded from the Saints to the New England Patriots in 2015.  He played well in his time with New England but the Patriots decided not to retain him beyond last season.  As a result, he became a free agent and signed with the Bears last March.
His start in Chicago was a little rough.  He was fined just over eighteen thousand dollars for a helmet to helmet hit on Philadelphia Eagles rookie quarterback Carson Wentz.  But after that miscue, his arrow would always point up and he would rise to be a force on that defensive line.
With each game, Hicks has repeatedly gotten better and more productive.  His most productive game as a Bears, to date, was against the San Francisco 49ers.  Against the 49ers, he recorded 10 tackles, two sacks and forced a fumble.  For that effort, he was named NFC Defensive Player of the Week.
With another sack against the Lions last Sunday, Hicks brought his season total seven. Not only is Hicks a productive player but he's also a leader and an inspiration to his teammates.  If you have seen him play in person, you will notice that he is constantly chatting up his teammates and patting them on the back.  When defensive players require a little extra help from the crowd, he swings his arms and motions for the crowd to get louder. He is a nearly well-rounded player.
Health has been kind to Hicks this season and he has been spot on in almost every game he has played.  He has been a welcome addition to the Bears and one of the better performers. It's not out of the question to think that he could even get a Pro Bowl nod for what he has done in 2016.
Pace has done well by Hicks.  Now if he can just bring a few more players to the Bears like that, this team could become very good.  Maybe someday soon, this defensive line will be back to being "scary" again.
More from Bear Goggles On
This article originally appeared on
---
---