Adrian Peterson
Adrian Peterson
Doug Martin Drama Far From Over
Updated
Mar. 4, 2020 2:16 p.m. ET

Fansided, James Yarcho/FanSided via The Pewter Plank
The fact that Doug Martin was a healthy scratch against the Saints was puzzling. The announcement it will happen again in the final game means there will be an off-season filled with questions.
Rick Stroud of the Tampa Bay Times reported Tuesday that Doug Martin would indeed be inactive for the final game of the season. The move was a head-scratcher in the Buccaneers/Saints game on Christmas Eve in New Orleans and now there are far more questions than answers.
Dirk Koetter was adamant when he was named head coach that Doug Martin was a vital part of this team's success offensively in 2015 and he needed Jason Licht to re-sign him for the team to continue to improve moving forward. Now it seems Koetter is completely off the Martin bandwagon, having made the decision himself to deactivate Martin the final two weeks.
Jacquizz Rodgers – who was walking the street during week one of the season – is the Buccaneers' leading rusher with 485 yards, 64 ahead of Martin. However, there is more to it than some people would like you to believe. Yes, Martin's yards per carry is the worst among qualifying running backs, but did anyone pointing to that specific statistic take into account the teams Rodgers ran against compared to Martin? Did they take into account the missed blocks by the offensive line and the four and five yard losses Martin fought to turn into one or two yard gains? No. They point out a stat that fits their narrative without any context.
It's frustrating to see the hate spewed at players that don't deserve it. Gerald McCoy has been the poster child for Buccaneer fans' misguided hatred for years, despite him being one of the best defensive tackles in the league. Now, it's Martin. There is plenty of video evidence to show people exactly what these players are doing if they really want to put in the time and work.
The questions looming now are what does the future hold for Doug Martin and how does this affect the Bucs' off-season? It seems like the writing is on the wall and Martin will either be dealt or cut after the season. There are plenty of teams that would love to have a back like Martin – Minnesota (who is likely going to be without Adrian Peterson next season), Indianapolis (Frank Gore could retire at any moment despite still playing at a high level), Baltimore, Philadelphia, Seattle, New York Jets, Washington – all are without feature backs and would greatly benefit from the NFL's second leading rusher from last season.
As for the Bucs themselves, they had enough holes on this team to fill in order to take the next step. The fact that Martin could be on the way out only creates another one. Peyton Barber is not a feature back. Jacquizz Rodgers isn't either, and he's a free agent after the season. If he was a feature back, then he wouldn't have been on the street to start the year. Now, the Buccaneers would be in a position to have to draft a running back or sign another free agent back, creating the problem of what position to ignore in order to do so.
Dec 4, 2016; San Diego, CA, USA; Tampa Bay Buccaneers running back Doug Martin (22) runs the ball during the second half against the San Diego Chargers at Qualcomm Stadium. Tampa Bay won 28-21. Mandatory Credit: Orlando Ramirez-USA TODAY Sports
There is still help needed at safety and offensive line. They still need depth at defensive line. And arguably the most important, they need another receiving threat opposite Mike Evans to take some of the pressure off of him and Winston. Cameron Brate has solidified himself as the Bucs' tight end moving forward and will likely get a solid deal in the off-season when he becomes a restricted free agent.
All this is doing is creating more unnecessary drama that shouldn't be there to begin with. Martin is a solid running back despite the injury history. It's unfortunate that he's had to deal with so many injuries, but it's part of the game. It isn't like he's going out there and deliberately getting hurt or that he's slacking because he got paid – despite what some people want you to believe. That's not how the NFL works and that's not the mentality of men who busted their butts their entire lives to get to this point.
Obviously there will be more and more information about this in the coming weeks – and months – but for now, it just appears to be a crappy situation all around. Unless it comes out that Martin was a distraction and problem in the locker room, this decision could – and should – be a very unpopular one.
More from The Pewter Plank
This article originally appeared on
---
---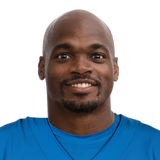 Get more from Adrian Peterson
Follow your favorites to get information about games, news and more
---