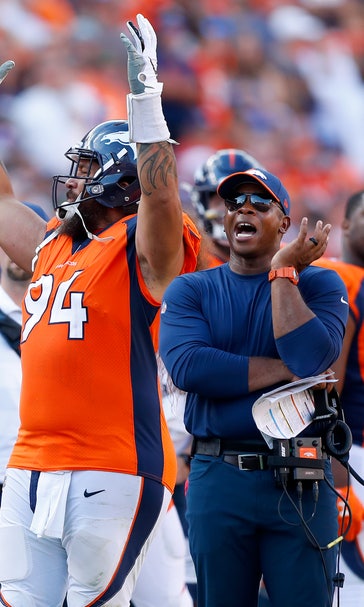 Domata Peko renews his rivalry with the Ravens
September 19, 2018
ENGLEWOOD, Colo. (AP) — Denver Broncos 13th-year nose tackle Domata Peko always has the ears of his young teammates, especially this week with a trip to Baltimore coming up.
The Ravens (1-1) are a team Peko faced 22 times while anchoring the Cincinnati Bengals defensive line from 2006-16.
"Baltimore is a tough place to play," said Peko, who's coming off a spectacular game against the Raiders on Sunday. "I played there 11 years in a row in the AFC North and it's a tough division. The crowd is going to be loud as heck."
Which makes it imperative for the Broncos (2-0) to get off to a fast start, Peko said.
That's something they didn't do either on offense or defense in squeaking past the Raiders 20-19 .
"You have to get after them early, show them you mean business, get that run stopped and you definitely have to get pressure on (Joe) Flacco because he can sit back there and he can throw the deep ball like the best of them," Peko said.
Broncos fans need no reminder of that.
Seared in their collective memory is Flacco heaving a 70-yard touchdown throw to Jacoby Jones with 31 seconds left in a divisional playoff game in 2013 that led to Baltimore's double-overtime upset of the top-seeded Broncos in Peyton Manning's first season in Denver.
"You definitely have to start fast against those guys," Peko said.
Last week, the Broncos trailed 12-0 at halftime and 19-7 in the third quarter before rallying behind Case Keenum 's second straight fourth-quarter comeback.
Coach Vance Joseph said this week that his cornerbacks played too soft in the first half, allowing Derek Carr to get too comfortable in completing 29 of 32 passes for a franchise-record 90.6 completion percentage.
The Broncos also sputtered from the start on offense, going three-and-out on their first three drives while their most explosive player thus far — rookie running back Phillip Lindsay — cooled his cleats on the sideline.
When Lindsay got into the game, he reeled off a 53-yard run on his first carry and finished as the first undrafted player in NFL history to eclipse 100 yards from scrimmage in his first two NFL games.
At halftime, Joseph ordered defensive adjustments, taking away the huge cushions they were giving Oakland's receivers, and the offense make its own corrections. Following six fruitless first-half possessions, the Broncos scored on all four of their second-half drives.
In studying the Broncos, Harbaugh sees a familiar sight in Peko, who looks to him like every bit the thorn he was for the Ravens during his time with the Bengals.
"He's the same guy, just he's a hard-edge football player. Just lots and lots of respect for that guy," Harbaugh said. "I mean, he's physical, he's tough, plays super hard. I don't know how he's built but he's got a sixth sense for screens. He sniffs those things out like nobody's business. He always has.
"He's a screen wrecker. Just a very physical, very tough, very smart player and we've got a lot of respect for him."
Joseph, who was on Marvin Lewis' staff in Cincinnati from 2014-15, agreed with Harbaugh's assessment that Peko hasn't lost a step at age 33.
"Being around Domata in Cincinnati, he's always been a guy that played with great energy — for a big guy, to move like he does and to hold double-teams like he does, and obviously read screens like he does? He's a screen killer and he's been that way since I've known Domata," Joseph said. "He's a great locker room guy, a great team leader and he played really well last week."
---
---