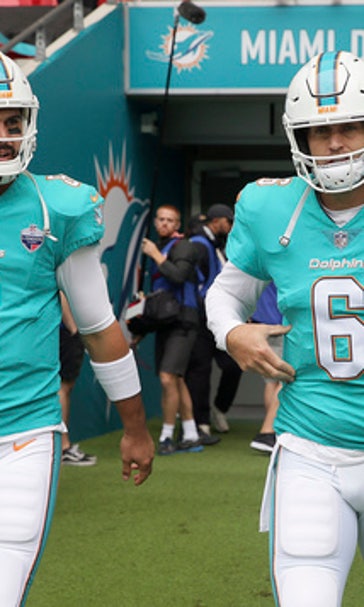 Dolphins looking for more from backup QB Matt Moore
October 25, 2017

On a short week, having a backup quarterback start usually means trouble.
Not so for the Miami Dolphins, who saw Matt Moore come on for the injured Jay Cutler - to cheers at Hard Rock Stadium - and rally the troops past the Jets.
Right now, the Ravens aren't as good as the Jets, either, which isn't saying much.
For Miami, no deficit seems to be intimidating. The Dolphins came back from a 17-point hole at Atlanta to win. Then they overcame a 14-point Jets lead in the fourth quarter for a victory last Sunday.
''A lot of it has to do with the personality of the players,'' coach Adam Gase says.
''Guys around here seem to embrace it more than worrying about failing. They enjoy being in that moment, and when they get opportunities, somebody seems to step up and make the play.''
That's been true for a while now: Miami is 13-4 under Gase since starting out 1-4 with him in 2016.
The Ravens have a terrific coach in John Harbaugh. What they don't have is anything near a healthy roster, with receiver a particularly thin unit now.
''I don't know how many other teams have had this many injuries on offense,'' Harbaugh says.
''We'll just see how it plays out. We have a lot of tough guys. It's about mental toughness. You have to put everything aside, ignore the noise and go out there and fight. We have a bunch of guys I know who will do that.''
Miami, tied for 15th in the AP Pro 32, is a 3+-point underdog at No. 25 Baltimore. We don't see that.
UPSET SPECIAL: DOLPHINS, 20-10
KNOCKOUT LEAGUE TIP
Rams were a very solid choice last week. This choice is so obvious: MINNESOTA in game at London.
No. 6 (tie) Minnesota (minus 8) vs. No. 32 Cleveland at London
It's gotten so ugly in Cleveland we're surprised Browns were allowed to leave U.S.
BEST BET: VIKINGS, 24-9
No. 11 Dallas (minus 2 1-2) at No. 15 (tie) Washington
One of the NFL's great rivalries. Go with home side.
REDSKINS, 30-28
No. 20 Denver (plus 6) at No. 4 Kansas City, Monday night
One of the NFL's great rivalries. Go with home side.
CHIEFS, 24-16
No. 10 Houston (plus 5) at No. 6 (tie) Seattle
Tough matchup for Seahawks, whose offense remains sporadic.
SEAHAWKS, 20-17
No. 4 Pittsburgh (minus 3) at No. 18 (tie) Detroit
Rested Lions will give Steelers plenty of trouble.
LIONS, 28-27
No. 23 Chicago (plus 8) at No. 8 New Orleans
Somehow, this game has lots of meaning in Week 8.
SAINTS, 23-9
No. 14 Atlanta (minus 7) at No. 24 New York Jets
Time to worry in the ATL if Falcons fall here.
FALCONS, 24-20
No. 13 Carolina (plus 2) at No. 28 Tampa Bay
Really disliked what we saw from Panthers at Chicago.
BUCCANEERS, 23-19
No. 21 (tie) Los Angeles Chargers (plus 7) at No. 2 New England
Really liked what we saw from both teams on three-game winning streaks.
PATRIOTS, 26-17
No. 31 San Francisco (plus 11) at No. 1 Philadelphia
Niners got exposed by Dallas last week. More of same ...
EAGLES, 30-10
No. 21 Oakland (plus 2 1-2) at No. 9 Buffalo
Raiders haven't won here since 2002.
BILLS, 22-20
No. 30 Indianapolis (plus 10) at No. 26 Cincinnati
When Bengals are this big a favorite, we know how bad Colts are.
BENGALS, 23-14
---
2017 RECORD:
Last week: Against spread (5-9). Straight up (12-3)
Season Totals: Against spread (48-52-1). Straight up: (65-41)
Best Bet: 3-4 against spread, 5-2 straight up.
Upset special: 6-1 against spread, 6-1 straight up
---
For more NFL coverage: http://www.pro32.ap.org and http://www.twitter.com/AP-NFL
---
---