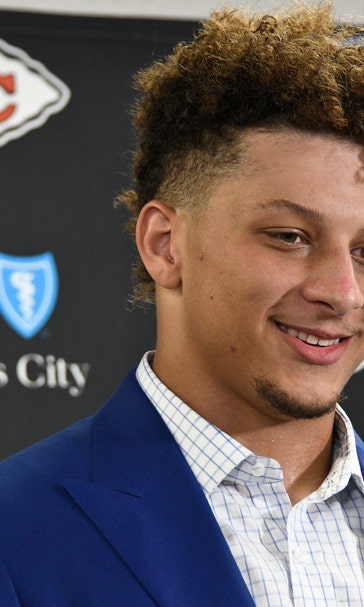 Chiefs celebrating Mahomes' big day _ on his birthday
September 17, 2018
KANSAS CITY, Mo. (AP) — Patrick Mahomes had just thrown six touchdown passes in a record-setting performance against the Steelers, one that gave the Chiefs a big road win and may have stamped them as the AFC's top team, when someone asked him how he planned to celebrate his birthday.
Mahomes said he planned to watch film of the San Francisco 49ers.
If that was merely the politically correct answer, though, and the 23-year-old first-year starter planned to hit the town, he should have no shortage of Chiefs fans willing to buy him drinks.
They'll probably still be celebrating St. Patrick's big day.
"I don't think that you could expect more from anyone," said Chris Conley, one of five different receivers to catch a TD pass.
"He's handled the times where he's made the plays really well. He's handled the times where he hasn't. That speaks volumes."
To be frank, there haven't been many times where he hasn't made the plays.
Mahomes was so dynamic in a Week 17 win at Denver last season that the Chiefs traded away Pro Bowl quarterback Alex Smith and gave Mahomes the starting job.
Then he threw four TD passes without a pick in a near-flawless performance in a road win over the AFC West-rival Chargers to open the season.
But his performance in Pittsburgh, where the Chiefs hadn't won a game since 1986, was the kind of transcendent display that Chiefs fans have been pining for since Len Dawson was taking snaps.
Mahomes was 23 of 28 for 326 yards, which means he threw more touchdown passes than incompletions. He made all the right checks, scrambled when the opportunity presented itself, and kept his poise when the Chiefs squandered a 21-point first-quarter lead by engineering a near-flawless second half.
"Everybody knew how strong of an arm he has," Steelers cornerback Mike Hilton said, "and he was making some decent throws, and his playmakers made plays."
Yes, it helps to have a dizzying array of talent surrounding him.
Kareem Hunt ran for 75 yards to provide just enough offensive balance. Travis Kelce had seven catches for 109 yards and two scores, and Sammy Watkins had six catches for 100 yards, lest anybody worry after their quiet openers against the Chargers.
Tyreek Hill added five catches for 90 yards, all in the second half, with another touchdown to punctuate his typically stellar outing.
Still, it takes the quarterback to deliver them the ball.
"There'll be games where teams try and take away one or two guys and that's the good thing about this team is that no one really cares about who is getting the shine," Mahomes said, after spending a hefty amount of time praising his teammates. "Everybody just wants to win."
Nobody more so than Mahomes, whose 10 touchdown passes through the first two weeks of the season broke the NFL record of nine shared by Peyton Manning, Drew Brees and Charley Johnson.
Those touchdown passes have gone to seven different receivers, including fullback Anthony Sherman, which matches the number of guys that caught TD passes all last season.
And those six TD tosses against the Steelers matched Dawson's 54-year-old franchise record for a single game.
"It just speaks to the weapons that we have on offense. They can't stop everybody," Mahomes said, "so for me, it's just about getting it to the guy that has the man-to-man coverage or has the open area. Those guys were getting open. The offensive line was blocking great. It was making my job easy."
Perhaps the only downside to so much success is that the expectations surrounding Mahomes, which were already soaring in training camp, have soared to an almost impossible level.
One sports talk radio host wondered Monday whether Mahomes will break Manning's record for TD passes in a single season. He's on pace for an absurd 80 of them, and while nobody expects him to maintain such a pace, the reality is he needs to average just 3.2 per game to top the record of 55.
Then there are the expectations for the Chiefs. They've already beaten two teams that were thought to be playoff contenders, on the road no less, and done so in fairly convincing fashion.
It's hardly surprising that Chiefs coach Andy Reid tried to keep everything in perspective when he met with reporters on Monday. But that job is becoming more difficult each week.
"The key to this thing is that you're growing, that you keep growing. The more that these defensive coordinators have to study it, you keep answering that bell, so that's his challenge right now," Reid said. "Is everything going to be roses? No. But he's seeing things right now and doing a nice job."
---
---