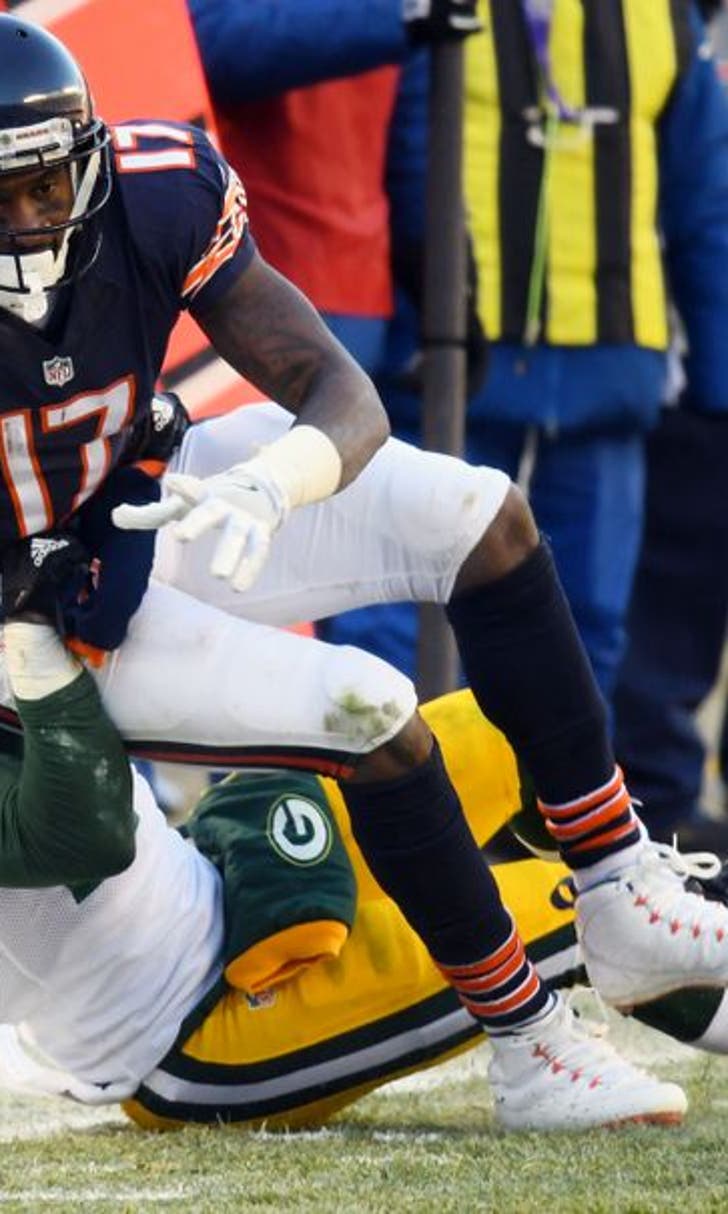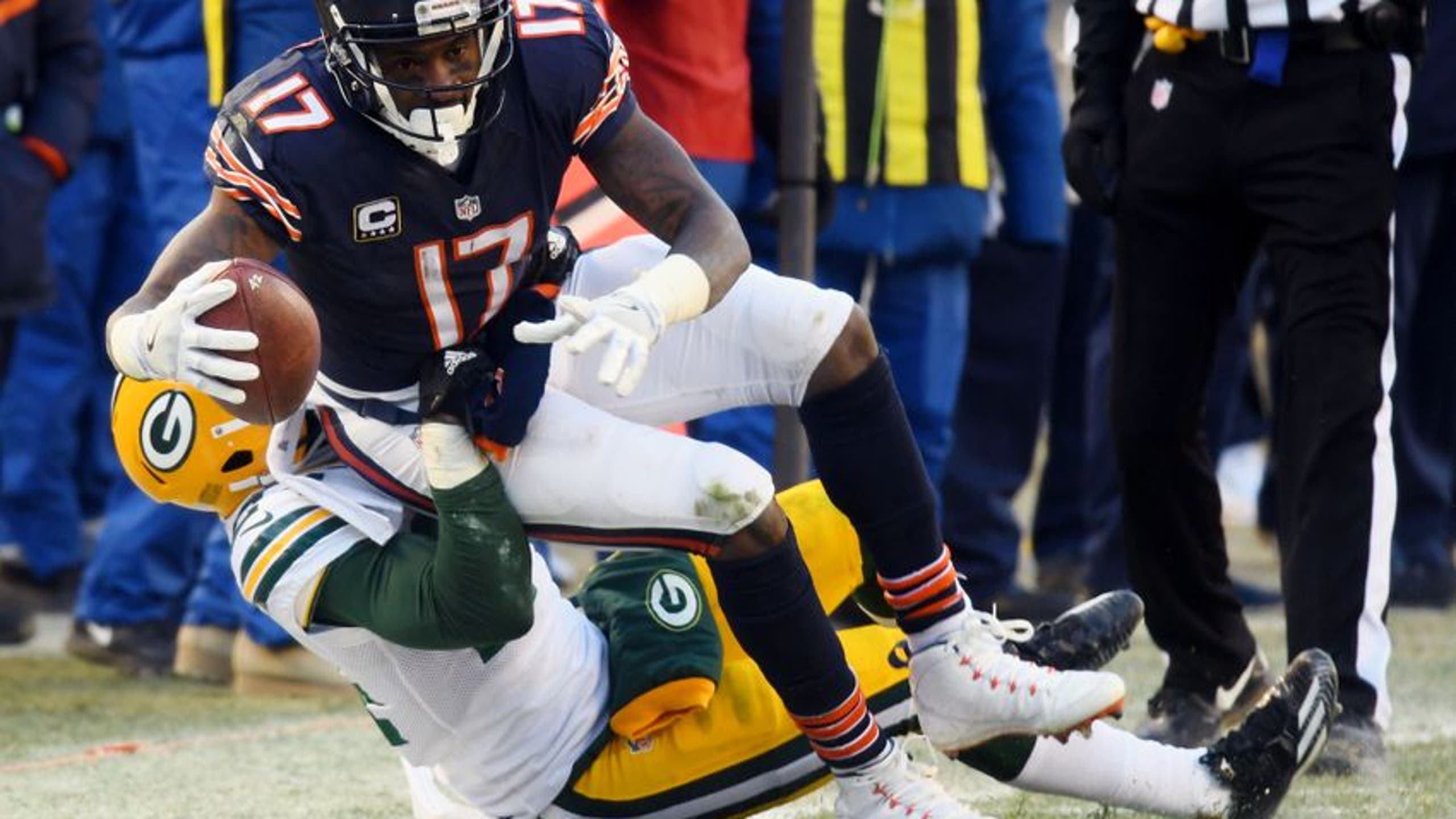 Chicago Bears Free Agency Preview Part I: 2017 Offensive Free Agents
BY Fansided and Bryan Dietzler/FanSided via Bear Goggles On • December 23, 2016
Dec 18, 2016; Chicago, IL, USA; Chicago Bears wide receiver Alshon Jeffery (17) makes a catch against Green Bay Packers cornerback Quinten Rollins (24) during the second half at Soldier Field. Green Bay defeats Chicago 30-27. Mandatory Credit: Mike DiNovo-USA TODAY Sports
 The 2016 season is coming to an end for the Chicago Bears and it has been an interesting season.  The 2017 Free Agency period will see some well-known Bears up for new contracts.  Who will be a free agent and should they be re-signed?
The 2016 season has been a tough one for the Chicago Bears.  Injuries have been the biggest issue and this has stretched their depth been beyond its limits.  They have gotten to the point the roster is nearly unrecognizable from opening day.  Is this unusual?  Yes, it is.  It's also tough for a team to overcome this kind of loss.
Some say give the Bears' coaching staff another year to put things together while others are calling for both John Fox and Ryan Pace to be let go.  There is no consensus on what Bears' management should do.
But one thing that this for certain is the Bears must make some personnel decisions this off-season to improve this club.  And they will have many decisions to make.
We are going to look at the players on the Bear's roster, on offense, who will become free agents this off-season.  We will look at their value, what they could do for the Bears in the future and finally, whether the Bears should bring them back or let them go.
If you have opinions about the Bears' potential free agents on offense, please say something in the comments.
NOTE: An exclusive rights free agent is a player that has no more than two accrued seasons in the league.  This player can only sign with their previous team if that team extended a minimum qualifying offer to that player.
Dec 18, 2016; Chicago, IL, USA; Chicago Bears quarterback Matt Barkley (12) drops back to pass against the Green Bay Packers during the first quarter at Soldier Field. Mandatory Credit: Mike DiNovo-USA TODAY Sports
The Bears should have quite a bit of concern with their backup quarterbacks and their contracts this off-season.  Every single quarterback on the Bear's current roster, except for Jay Cutler, will be out of their contract in 2017.  The caveat to this is that Connor Shaw is an exclusive rights free agent and the Bears will have the first shot at him.
Otherwise, current starter Matt Barkley, former starter Brian Hoyer and backup David Fales will either need to be re-signed or allowed to walk.
One of the decisions here could be easy.  It's unlikely that the Bears will retain Fales unless they want an additional "arm" in training camp.  It's likely that Chicago would bring four quarterbacks into camp but maybe that could even be a stretch.  I would consider Fales to be the odd man out.
Now let's throw a wrench into this.  Let's say that the team allows Cutler to walk.  Some interesting possibilities could grow out of that.  One possibility is that the Bears could draft a quarterback to be the starter either right away or a little further down the road (let him compete in training camp).  If the Bears choose to start the rookie, then there will be a need for a high-quality backup.  They could pull that backup out of the group of second tier quarterbacks they have now.
Another scenario is that the Bears may feel that they have someone who could start among the three remaining quarterbacks they have.  Perhaps they could have one of these guys start while they develop a rookie?  Could Hoyer, Barkley or Shaw fill the bill as a starter?
You have a promising talent in Shaw but he is somewhat of an unknown.  He will be fully healed and ready to go so no worries there.  The Bears could easily bring him back and give him a shot.
bears
With the First Pick 1 wDeshone Kizer Officially Declares For 2017 NFL Draft
More headlines around FanSided:
1 w - 2017 NFL Draft: California Chad Hansen Scouting Report2w - Baylor Makes Incredible Hire with Temple Coach Matt Rhule7w - Minnesota Vikings at Chicago Bears: How to watch live or stream online7w - Chicago Bears vs Minnesota Vikings: 5 questions behind enemy lines8w - NFL Week 8: Who Plays on Monday Night Football?More News at Bear Goggles On

Hoyer proved himself to be fine game manager who didn't make a lot of mistakes.  But Hoyer wasn't the type of quarterback that would bring you back from a big deficit and he isn't a gunslinger.  Some of this can be blamed on the coaching staff putting the reigns on him.  Another issue may have been his not being familiar with the receivers or the offense overall.
It would have been interesting seeing how he could have progressed through the season but the injury bug swept in and took him away.  There will be no question that he will be ready for training camp this coming summer.  But will the Bears bring him back?
Finally, there is Barkley who has been playing well since taking over a few weeks ago.  Unless he completely collapses over the last two games of the season, it is nearly a sure thing that the Bears would bring him back.  He's done a lot to prove he could be an asset at the quarterback position and you can bet the Bears have liked what they have seen out of him so far.  We will see more of Barkley in training camp.
So, who re-signs with the Bears and who doesn't?  Fales will go while Shaw, Hoyer and Barkley stay.  It will be an interesting training camp next season at the quarterback position.
Dec 4, 2016; Chicago, IL, USA; Chicago Bears running back Jordan Howard (24) celebrates with Chicago Bears wide receiver Deonte Thompson (14) after scoring a touchdown during third quarter of the game against the San Francisco 49ers the at Soldier Field. Mandatory Credit: Caylor Arnold-USA TODAY Sports
There is so much to say about Alshon Jeffery he could have his own story about whether the Bears should re-sign him or let him walk.  On its face, it would appear as if bringing Jeffery back on the franchise tag was a big mistake but his poor season is not entirely his fault.  The injuries at the quarterback position was a big part of his struggles this season.  Yes, the suspension for PED's didn't help either but the quarterback carousel was something that cannot be blamed on Jeffery.
What should the Bears do with Jeffery?  They can use someone with his talents, there is no doubt about that, but he is not worth the kind of money that he garnered last year.  The Bears should make every effort to re-sign him but at a fair price that's not too far above his actual value.  If they can't bring him back at a decent price, they should let him walk.
And no, they shouldn't use a tag on Jeffery either.
In addition to Jeffery, the Bears have two more receivers who will be completely off their contracts at the end of this season.  They are Deonte Thompson and Marquess Wilson.  The Bears have a bit of a dilemma here.  If they let them both walk, they should bring in new talent and get the new guys up to speed on the offense (but who knows the offense could be changing).
Thompson is not, nor will he ever be, a number one wide receiver but he's a good two or three.
Wilson, admittedly, has been a bit of disappointment with all the injuries he has suffered.  And, he has been hurt again.  It seemingly never ends.
Then there is Joshua Bellamy, a Bears' fan's favorite punching bag.  Bellamy is going to be an exclusive rights free agent so the Bears have the first shot at re-signing him.  Should they take that shot?  While Bellamy is a solid special team's player he is not a consistent wide receiver (drops anyone?).  Even if fans wanted him back, the coaching staff probably wouldn't because of his inconsistency.
What should the final word be?  Chicago should attempt to re-sign Jeffery but not for an astronomical amount of money.  They should get Thompson back on a one-year deal but Wilson's career in Chicago should be over.  It's not his fault he is injured so often but he can not take up a roster spot and wait for something that may never happen.  Bellamy will almost assuredly not be back in 2017.
Aug 27, 2016; Chicago, IL, USA; Chicago Bears running back Jeremy Langford (33) gets past Kansas City Chiefs inside linebacker Derrick Johnson (56) next to Chicago Bears tackle Charles Leno Jr. (72) during the first half at Soldier Field. Mandatory Credit: Patrick Gorski-USA TODAY Sports
There will be quite a few offensive linemen with expiring contracts as free agency approaches this off-season.  The biggest name on that list in left tackle Charles Leno Jr.  Leno Jr., has been a quietly steady force at the left tackle spot but he is "unspectacular" and is not a "franchise" left tackle.  But he is serviceable until someone else comes along that can take over.  That will happen when the Bears swing their attention to the position and make some changes.  But this is probably not on their priority list.
Tackle Mike Adams will become a free agent.  He played a little this season but landed on injured reserve just a few weeks ago.  Adams is immensely talented but has struggled with execution (see his career in Pittsburgh) as well as injuries.  He might be a fine backup with potential to start a game here or there but is not a full-time starter.
Nick Becton was another player Chicago stashed on injured reserve near the start of the season.  He is another talent that hasn't gotten a lot of exposure.  Chicago could sign him to a one year deal and have another training camp body.
More from Bear Goggles On
Eric Kush has seen some action this year, including four starts and has proven himself to be an asset as a backup.  He can step in and start as needed and the offensive line doesn't have that much of a dip in talent when he hits the field.  Kush is another player to re-sign and bring back next year.
Ted Larsen has seen considerable time in the lineup this season playing in 14 games with six starts.  He's another serviceable backup that can step in and play as needed. Having him back another year would be a great idea.  He provides nice depth and capability as a starter.
Matt McCants was claimed off waivers and hasn't seen any action yet this season.  With just two games left, it's doubtful he will make his way into the lineup in 2016 in any large capacity.  This was likely something Chicago did to grab him and get him signed to possibly bring back to compete in training camp next season.
Listed as an offensive lineman, Patrick Scales will be an exclusive rights free agent at the end of the year.  The Bear's long snapper does his job without mistakes but the Bears could be looking for new blood here, it's hard to tell.  Long snappers come and go (unless you are Patrick Mannelly).
The smart thing for Chicago to do would be to lock him down another two to three seasons and worry about other positions.  But in the ever-shifting space that is the Bears' roster, he may become a roster casualty.
That's quite a list of free agent offensive linemen.  What should the Bears do with each of these guys?  Leno Jr., should be offered a contract no questions asked.  Larsen and Kush need to be re-signed to be back for another year.  You can't beat the depth they provide.  Becton, Adams and McCants deserve the chance to try to make the roster in training camp next season and the Bears may like all three well enough to bring all three back.  One year deals for them would be fair.
Finally, they should keep Scales and not have to go through the "pain" of finding another long snapper.  There is nothing wrong with him so why not keep him.
Dec 11, 2016; Detroit, MI, USA; Chicago Bears kicker Connor Barth (4) kicks a field goal during the first quarter against the Detroit Lions at Ford Field. Mandatory Credit: Tim Fuller-USA TODAY Sports
There are just a few additional offensive players left that will be coming out of their contracts.  Let's also throw a key special teamer in this group as well and see what the Bears should do with him.
Tight end Daniel Brown was signed when Zach Miller went out for the year with an injury.  Brown has performed well in limited action.  It's possible the Bears have seen enough of him to bring him back for one more year.  He's been effective and could be a decent backup behind Miller.  He's easily worth another look next year.
Logan Paulsen has been a bit of a problem.  He has had some issues blocking and has made some mistakes at key moments that leave fans and coaches scratching their heads.  Seeing what they have seen out of him, management may decide that they can find someone more competent as their third or fourth tight end and let him walk.  That would be the wise thing to do.
Fullback Paul Lasike has been on and off the Bears' roster this season so it's hard to get a read on what they want to do with him.  They have shown that they want him to be a blocker in the running game but then pull him out and don't utilize.  He has become a victim of what has been a very inconsistent and confusing rushing attack in Chicago, despite its production.  Would the Bears decide to keep him and re-sign him?  Is a fullback a part of their future?
Bears fans will recall the "coup" of sorts to start the season when long time kicker Robbie Gould was released and Connor Barth signed.  The move was based on money and Barth ended up being a cheaper but  not as effective an option.  Barth is a going to be a free agent this off-season so the Bears have a decision to make.  It might be better for the Bears to look at other options at kicker and sign someone else to a longer-term contract.
The Bears have some decisions to make with this group.  What should those decisions be?  Brown should be re-signed to a one year deal. Lasike should only be retained if the Bears plan to use a fullback in the future.  Otherwise it's a waste of a roster spot and cash they can't get back.  Paulsen needs to go as he's a detriment to the team.  Barth caught on better as the year rolled on so perhaps the Bears may want to have him in the back of their mind when they look for a kicking prospect for 2017.  But he's not a great option.
---
---