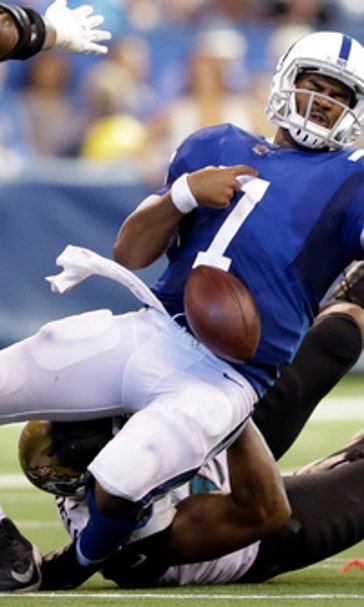 Carr's heroics necessary after Lynch loses it
October 23, 2017

Derek Carr's third-time's-the-charm dart to Michael Crabtree was a season saver for Oakland and quite possibly a career definer for the Raiders' fourth-year quarterback.
While Carr was shaking off two overturned touchdown passes in the final seconds to connect with Crabtree, Marshawn Lynch was in a hoodie watching from the stands following his ejection for shoving line judge Julian Mapp after running onto the field during a scuffle earlier in the game.
The NFL suspended Lynch for one game, so the Raiders will also be without their power back Sunday at Buffalo.
Had Lynch not snapped, he likely would have had the chance to be the hero Thursday night after Jared Cook's apparent go-ahead TD catch with 18 seconds left was overturned. Replay officials ruled he was down just shy of the goal line.
These were the kinds of situations the Raiders were relishing when Lynch came out of retirement to play for his hometown team.
Instead of being able to hand it to his power back, though, Carr threw three passes, from the K.C. 1, 2 and 5-yard line in a wild sequence in which another TD catch was nullified by an offensive penalty; a misfire was negated by a Chiefs infraction; and finally, Crabtree hauled in Carr's winning pass on an untimed play.
Giorgio Tavecchio won it 31-30 with the extra point, sending the Chiefs (5-2) to consecutive losses for the first time in two years and snapping a four-game skid for the Raiders (3-4), who are back in it in the muddled AFC West.
''If there's one thing about Crab, it doesn't matter what happens throughout the rest of the game, he always shows up,'' Carr said.
Not so Lynch, who showed up in the stands and then the locker room to congratulate his teammates.
Other crucial calls in Week 7 included:
-The Jets' and Josh McCown's bad decision in the final minute that allowed the Miami Dolphins to pull off another improbable win.
-Vontaze Burfict's kick of Steelers fullback Roosevelt Nix that went unflagged but may not go unpunished.
-Cowboys star Ezekiel Elliott receiving another legal reprieve in his fight to avoid a six-game suspension over domestic violence allegations.
-Receiver T.Y. Hilton criticizing the Indianapolis Colts' offensive line after Jacoby Brissett was sacked 10 times and hit 20 times in a 27-0 loss to Jacksonville.
Hilton apologized Monday after criticizing the O-line following the Colts' first shutout since 1993 which ended a scoring streak of 375 games on the same day Denver's 394-game streak came to a halt with a 21-0 loss to the Chargers.
Hilton said he ''100 percent messed up'' and that he intended to talk to the offensive linemen individually.
Elliott's reprieve - and he got another one Monday - allowed him to play against the 49ers, whom he walloped for three touchdowns, a season-high 147 yards rushing and a career-best 219 yards from scrimmage in Dallas' 40-10 win in San Francisco. Elliott will play at least one more game before he might be forced from the lineup. U.S. District Judge Katherine Polk Failla in an order posted Monday turned down the NFL's request for an expedited hearing on a preliminary injunction. She set one for Oct. 30, a day after the Cowboys visit Washington.
Burfict could be facing his second suspension this season and third of his career when the league takes a look at his two-footed kick of Nix while on his back Sunday. Line judge Mark Perlman was right there and didn't throw the flag.
Burfict missed the Bengals' first three games for the second straight season, this time for leveling Chiefs fullback Anthony Sherman in the preseason. The Bengals insisted, however, that Burfict had gotten away from his penchant for illegal hits when they gave him a three-year contract extension during his latest suspension for egregious conduct on the field.
After his latest incident, Steelers star running back Le'Veon Bell , tweeted, ''man dude gotta go man...that's not football AT ALL!!''
In 2015, Burfict's twisting, sideline tackle on Bell tore up the running back's right knee and ratcheted up the ill will between the AFC North rivals.
In Miami, McCown threw three touchdown passes and ran for another for the Jets, but his interception in the final minute set up the Dolphins' winning field goal for their second straight double-digit comeback.
With the score tied at 28, Bobby McCain stepped in front of a pass intended for Jermaine Kearse on the sideline to give Miami the ball at the Jets 27 with 39 seconds left. That led to Cody Parkey's winning field goal.
---
For more NFL coverage: http://www.pro32.ap.org and http://www.twitter.com/AP-NFL
---
Follow Arnie Melendrez Stapleton on Twitter: http://twitter.com/arniestapleton
---
---