Cam Newton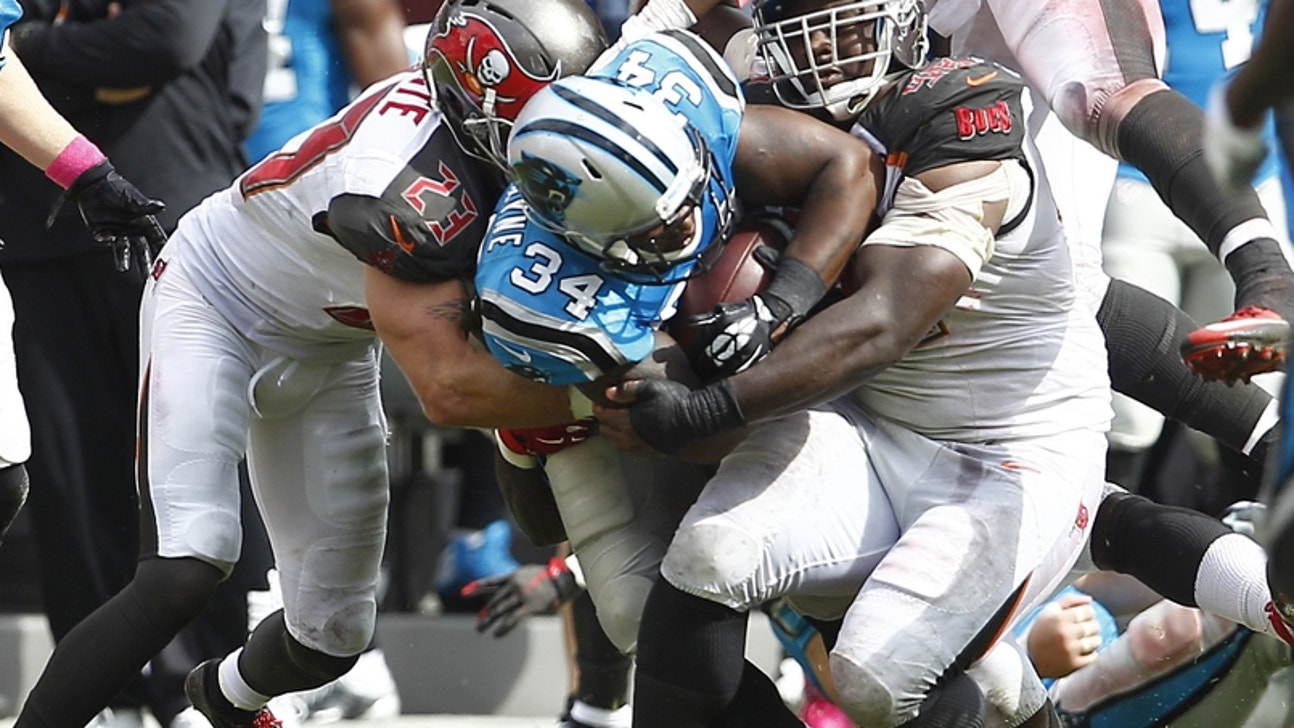 Cam Newton
Buccaneers vs Panthers: Five Game-Changing Players
Updated
Mar. 5, 2020 12:54 a.m. ET

Fansided, Bailey Adams/FanSided via The Pewter Plank
Oct 4, 2015; Tampa, FL, USA; Carolina Panthers running back Cameron Artis-Payne (34) is tackled by Tampa Bay Buccaneers strong safety Chris Conte (23) and defensive tackle Clinton McDonald (98) during the fourth quarter of an NFL football game at Raymond James Stadium. Carolina won 37-23. Mandatory Credit: Reinhold Matay-USA TODAY Sports
The Buccaneers (8-7) look to finish their season strong on New Year's Day with a victory against the division rival Panthers (6-9). Here, we break down five players that can change the outcome of Sunday's game.
More from The Pewter Plank
The Buccaneers won five straight from November 13 to December 11 to firmly insert themselves into the NFC playoff picture. But, back-to-back losses took them out of it very quickly. They need about 9,000 things to go their way in week 17, and it's just not realistic to expect them to grab a playoff spot at this point. Either way, Tampa Bay will want to put a strong finish on its season this Sunday against the Panthers.
Last Saturday, the Bucs saw their postseason hopes taken away with a 31-24 loss to the Saints in New Orleans. Jameis Winston was off, getting intercepted twice, while the defense struggled. Drew Brees was solid, as was Mark Ingram. The Saints played spoiler to perfection, sending the Bucs into week 17 with little to play for.
The defending NFC champion Panthers saw their disappointing season continue on Christmas Eve as they were beaten 33-16 by the division champion Falcons. A year after going 15-1, Carolina will be sitting out the postseason. Cam Newton struggled last week, completing just 41.9 percent of his passes and getting picked off twice.
Both teams are eyeing strong finishes to the 2016 season this Sunday. Which five players can change the game?
Oct 10, 2016; Charlotte, NC, USA; Tampa Bay Buccaneers running back Jacquizz Rodgers (32) runs as Carolina Panthers defensive back Robert McClain (27) defends in the first quarter at Bank of America Stadium. Mandatory Credit: Bob Donnan-USA TODAY Sports
Jacquizz Rodgers
The Buccaneer backfield is a mess right now. Doug Martin was inactive last week, drawing a lot of question marks. What was first described as a "coaching decision" was revealed on Wednesday to be a four-game suspension for violation of the NFL's drug policy. On the same day, Charles Sims was once again placed on injured reserve. That means Jacquizz Rodgers will likely be the featured back in week 17.
Tampa Bay has had trouble with the run this year, while Carolina has had no trouble stopping it. The Panthers are among the top five run defenses in the NFL, despite the issues they had with stopping Rodgers back in October (101 yards on 30 carries). The Bucs will need to establish the run early on, but it won't be easy. If they can't find success with Rodgers, things will be much more difficult for quarterback Jameis Winston.
While Carolina is efficient in stopping the run, it still has allowed five 100-yard rushing games. Last week, the Falcons ran for 143 yards against Ron Rivera's defense. If Tampa Bay can open things up with the ground game, its offense will have a much better chance of lighting up the scoreboard on Sunday afternoon. That makes Rodgers a highly important player on Sunday. If he can come through with a big day, it'll lead to big things for the Bucs.
Oct 10, 2016; Charlotte, NC, USA; Carolina Panthers tight end Greg Olsen (88) with the ball in the third quarter. The Buccaneers defeated the Panthers 17-14 at Bank of America Stadium. Mandatory Credit: Bob Donnan-USA TODAY Sports
Greg Olsen
Has there been anything more frustrating over the last couple of years than watching the Bucs try to cover tight ends? One of the tight ends that has had the most success against Tampa Bay is veteran Greg Olsen. All the proof needed comes from the week five matchup between the Bucs and Panthers. Olsen hauled in nine catches on 13 targets for a career-high 181 yards. He averaged 20.1 yards per catch, tearing through the Tampa Bay defense.
Tampa Bay has been considerably better against tight ends since Olsen's career game earlier this season. The defense has only given up one 100-yard game to a tight end since, and that was to a top tight end in Travis Kelce. In six of the last 10 games, the Bucs have held tight ends to under 60 receiving yards. Olsen will look to push that trend aside this Sunday when Carolina rolls into Raymond James Stadium.
The Buccaneer defense had turned around in a major way over the team's five-game winning streak. However, it hasn't been nearly as strong during this current two-game slide. The Panthers are struggling heavily as of late, but they will likely go Olsen's way plenty of times this week. If it's worked so well in the past, why change it? If no. 88 goes off again on Sunday, Tampa Bay may not be able to walk away with a second straight win over Carolina.
Dec 11, 2016; Tampa, FL, USA;Tampa Bay Buccaneers middle linebacker Kwon Alexander (58) runs out onto the field as he is introduced before the game against the New Orleans Saints at Raymond James Stadium. Mandatory Credit: Kim Klement-USA TODAY Sports
Kwon Alexander
One Buccaneer that has continued to emerge as a team leader this season is second-year linebacker Kwon Alexander. There hasn't been a better player on the Tampa Bay defense this year. He has struggled at times, but has still managed to play with some impressive consistency. His rookie year was a good one, and if he can come through with another solid day on Sunday, he'll cement his second NFL season as a great one. To this point, he has 135 tackles (102 solo), three sacks, a fumble recovery, a forced fumble and an interception.
Carolina's run game has been in the middle of the league in terms of production. The backfield is led by Jonathan Stewart, who has rushed for 759 yards and eight touchdowns this season despite missing three games. With the recent struggles of quarterback Cam Newton, the Panthers may look to set the tone on the ground this Sunday. Alexander will have to lead the linebacking corps as it looks to shut down the run.
No. 58 won't just play a role in stopping the run. He has to be a major part of the pressure put on Newton by the Tampa Bay front seven. If the front seven can get some push on Carolina's offensive line, things will look much better for the secondary. If Kwon can come up with a couple of key tackles for loss or maybe even a turnover, the Bucs' chances will improve greatly. He has been a difference-maker all year long, and the final game of the season should be no different.
Oct 4, 2015; Tampa, FL, USA; Carolina Panthers defensive tackle Kawann Short (99) chases Tampa Bay Buccaneers quarterback Jameis Winston (3) during the fourth quarter of an NFL football game at Raymond James Stadium. Carolina won 37-23. Mandatory Credit: Reinhold Matay-USA TODAY Sports
Kawann Short
The Panthers have allowed 25.7 points per game this season, with some hit or miss performances mixed in. There have been games that Carolina has allowed 10, 15 and 16 points. But, there have also been days that opponents have put up 40, 41 and 48 points. Despite the inconsistency of the unit as a whole, defensive tackle Kawann Short has been solid. He has 53 tackles (28 solo) this season, while adding six sacks, which is second-best on the team.
The Tampa Bay offensive line has been very bad as of late. It hasn't been able to protect Jameis Winston, open up holes for the running backs or stay penalty-free. All of those things could hurt a lot this Sunday, especially against a talent like Short. His ability to shed blocks and wreak havoc in the backfield could be a major difference in this Sunday's game.
The Bucs' running game is very important to their potential success in this game. If they can't open holes to run through, they'll have some major problems against this Carolina defense. At the forefront of the defensive line will be Short, who will undoubtedly be looking to finish his fourth NFL season with a bang.
Oct 10, 2016; Charlotte, NC, USA; Tampa Bay Buccaneers kicker Roberto Aguayo (19) after kicking the game winning field goal in the fourth quarter. The Buccaneers defeated the Panthers 17-14 at Bank of America Stadium. Mandatory Credit: Bob Donnan-USA TODAY Sports
Roberto Aguayo
Who is more fitting to be a game-changer against the Panthers this week than Roberto Aguayo, who was a huge difference-maker (almost for the worse) in Tampa Bay's week five win over Carolina? The rookie kicker made three field goals in the victory, including the game-winner from 38 yards out as time expired. Since the Bucs won, however, a lot of fans may forget that the second-rounder also missed from 33 and 46 yards in that game. He could change this game for better or for worse.
Any matchup can come down to the kicking game, but it seems like divisional games do more often than not. That's why Aguayo will need to be at his best. He's had a rocky rookie season, but has seemingly figured things out as of late. No. 19 has connected on eight field goals in a row, which has brought his mark to 21-for-28 on the season. There's no denying that fans are still holding their breath any time he goes out to kick, though.
If the 22-year-old can connect on all of his field goal and extra point attempts on Sunday, won't that look pretty good to close out his first NFL campaign? Say he goes three-for-three on Sunday. That leaves him at 24-for-31 on the season, with a streak of 11 straight successful attempts. Sure, that wouldn't take away the struggles he experienced early on in the season, but it would leave a much better impression on everyone heading into the 2017 season. And, not only would a strong performance benefit Aguayo himself, but also the Bucs, who are eyeing their ninth win of the season.
So, I'll ask for what will likely be the final time this season: who do you think will most impact the outcome of this week's game, Bucs fans? As always, you can let us know in the comments, on Facebook or on Twitter.
---
---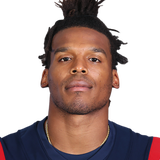 Get more from Cam Newton
Follow your favorites to get information about games, news and more
---