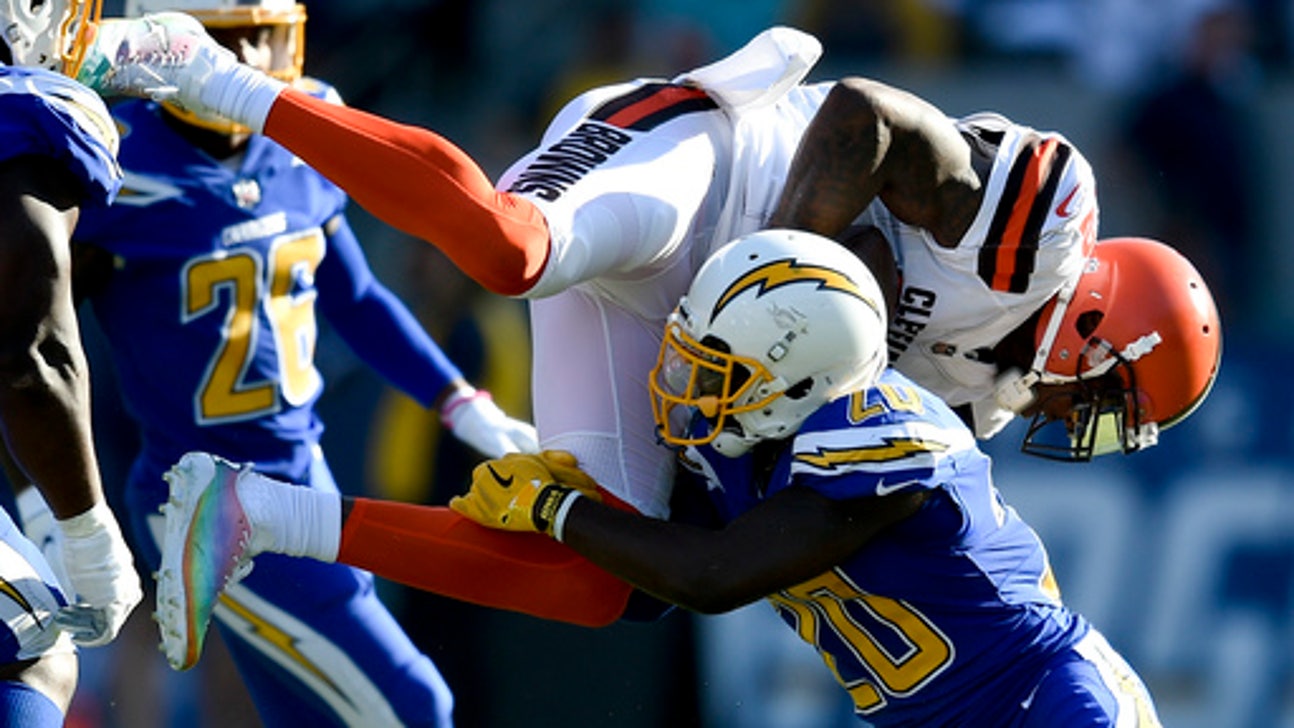 Browns WR Josh Gordon shows speed in return from suspension
Updated
Mar. 4, 2020 7:52 p.m. ET

CARSON, Calif. (AP) It felt like just another game for Cleveland Browns wide receiver Josh Gordon.
''It was real familiar, man,'' Gordon said. ''Football is something I have been doing my whole life. New stadium, that's about it, you know?''
However, playing in his first game since Dec. 21, 2014 after substance abuse issues nearly ended his promising NFL career, Gordon's return in the Browns' 19-10 loss to the Los Angeles Chargers was anything but routine.
Gordon had four receptions for 85 yards in his first game back since being suspended indefinitely in February 2015 for violating the league's substance abuse policy, causing him to miss the 2015 and 2016 seasons.
''Looked like he belonged,'' Browns coach Hue Jackson said. ''He's got some rust he's still got to knock off, but I thought he competed.''
NFL Commissioner Roger Goodell conditionally reinstated Gordon on Nov. 1 and he started practicing with the Browns two weeks ago. That return to the routine of the game allowed Gordon to process his emotions before stepping on the field at StubHub Center.
If there were any lingering nerves, Jackson got rid of them by going to Gordon immediately.
On the Browns' first play from scrimmage, Gordon lined up inside of second-year receiver Corey Coleman on the right side of the formation. He caught a slant from quarterback DeShone Kizer, stretching the ball out at the end of the 9-yard reception. Safety Tre Boston made the tackle, giving Gordon a moment of realization he was back.
''You know what, yeah, I guess just matching up against some corners in some opposite colors basically,'' Gordon said. ''That's probably the first thing I really noticed: `OK, this is not practice. This is game time.' "
Gordon showed he still had speed outside and across the middle of the field, adding a 39-yard catch-and-run in the fourth quarter. He got behind Chargers defensive backs on a fairly regular basis, finishing with a team-high 11 targets. With slightly better timing between Kizer and Gordon, a strong performance could have turned into a game-changing outing.
Kizer admitted he still needs to refine his connection with Gordon.
''It takes precision, it takes timing, it takes accurate,'' said Kizer, who was 15 of 32 passing for 215 yards, one touchdown and one interception. ''It takes guys going up there and making big plays when you need to, and in order to get to that you need to be able to spend time with these guys.''
Gordon spent much of the afternoon facing off against cornerback Casey Hayward, who made second-team All-Pro and led the league in interceptions last season. It was a largely even duel. Gordon broke through Hayward's press man coverage late in the second quarter and caught a fade route for 28 yards, setting up a 28-yard touchdown pass from Kizer to tight end David Njoku two plays later.
''He's an athlete, man,'' Hayward said. ''He can do that with his eyes closed. He's a specimen. He's 6-foot-4, I don't know how big he is, and can still run. I'm pretty sure he didn't sit on his butt the last six months or so.''
Hayward played despite the death of his younger brother, Jecaives, in an automobile accident in Georgia on Monday. Hayward, who spent the week with his family and attended the funeral Friday before returning to Los Angeles for the team's walk-through Saturday, had three tackles and two passes defended.
''It's huge of him to persevere and come back out here and play,'' Gordon said. ''That takes a lot of guts, a lot of heart, and I respect him just for coming out more than anything.''
If there was any reciprocal respect, Hayward showed it by being determined to shut down Gordon.
''I don't want nobody to say, `Oh, he just came back for the first week.' No, you come in, nobody don't care what you've got going on. You get on that field, everybody expects you to play and be full speed,'' Hayward said.
Other than a bit of fatigue as the game went on, some miscommunication with Kizer on a handful of routes, and Gordon being slow to get off the field with the clock running during a late two-minute drive in the fourth quarter, he looked like a player still capable of making an impact in spite of his prolonged absence.
''I felt fine, man. I really do. I feel real good,'' Gordon said. ''More than anything, I was just happy and excited to be back out there with the guys in that environment. Great weather. I couldn't ask for a better weekend.''
--
For more NFL coverage: http://www.pro32.ap.org and http://www.twitter.com/AP-NFL
---
---