Ben Roethlisberger
Ben Roethlisberger
Browns-Steelers Preview
Published
Nov. 13, 2015 5:12 p.m. ET

Confident that they'll still be able to score behind Landry Jones and DeAngelo Williams, the Pittsburgh Steelers have turned their focus to shoring up the defense.
It's uncertain which Cleveland quarterback they'll face, though Browns coach Mike Pettine has said he has made a decision on who it will be.
With Ben Roethlisberger possibly missing his fifth game, the Steelers hope to solidify their footing in the wild-card hunt Sunday with their 12th straight home win over the Browns.
Coach Mike Tomlin said earlier in the week the team would leave the door "slightly ajar" for Roethlisberger to play, and he was listed as questionable on Friday's injury report. The three-time Pro Bowler has been limited in practice since not participating Wednesday, though he's refused to rule himself out after suffering a left foot injury in the fourth quarter of last Sunday's 38-35 victory over Oakland.
As it stands, Pittsburgh (5-4) is preparing to start Jones as it attempts to tighten its hold on the AFC's second wild-card spot. Jones, who completed 4 of 6 passes for 79 yards and a touchdown against the Raiders, went 16 of 29 for 209 with one score and two interceptions in a 23-13 loss at Kansas City on Oct. 25 in his only other start.
''We've got to rally around Landry,'' defensive end Cam Heyward said. ''We expect there not to be a drop-off and we're praying for Ben to get back healthy.''
It will certainly help if Jones can find Antonio Brown, who set club marks with 17 catches for 284 yards against the Raiders. His 57-yard reception from Jones on the final drive set up Chris Boswell's field goal with two seconds remaining.
The star receiver, second in the NFL in both receptions (69) and yards (1,002), has hauled in 32 catches for 564 yards and three scores in five career starts against the Browns. Now he's facing a secondary that will likely be missing Joe Haden and Donte Whitner due to concussions.
The Steelers, however, would be wise to put an emphasis on the ground game. Williams totaled 204 yards and three touchdowns when Le'Veon Bell was suspended the first two weeks and had 170 yards and two scores with Bell out following knee surgery last weekend.
The veteran running back should be able to find the holes in a Cleveland defense that is allowing a league-high 147.6 yards per game on the ground.
"It's all about production," Williams said. "I go in and try not to let people out work me.''
The Steelers are tied for seventh in the league in sacks (22), rank eighth in the league in defensive scoring (20.2) and 12th against the run (101.7 yards allowed per game). However, they weren't happy after finishing without a sack while allowing 440 total yards - 139 on the ground - and letting Oakland rally from a 14-point fourth-quarter deficit.
''We've got to stay even and got to be consistent in this league," Heyward said. "If you're not, you're bound to get beat.''
In the most recent meeting with Cleveland (2-7), the Steelers had no answers defensively in a 31-10 road loss Oct. 12, 2014. Things have been much different in Pittsburgh, where the Browns haven't won since 2003 and have dropped 36 of their last 42 visits.
Pettine said he picked a starting QB after Friday's practice but hasn't told Josh McCown or Johnny Manziel. Pettine said he's keeping his decision under wraps for strategic reasons.
McCown returned to practice this week after missing last week's game with injured ribs sustained on Nov. 1. Pettine has said McCown will start if he's healthy.
McCown has averaged 308.0 passing yards over his last six games but Pettine is facing pressure to turn things over to Manziel with his team out of the playoff chase.
Manziel completed 15 of 33 passes for 168 yards and a touchdown while filling in for McCown in a 31-10 loss at Cincinnati on Nov. 5 that extended the team's losing streak to four games. He was 11 of 18 attempts for 128 yards in the first half but 4 of 15 for 40 in the last two quarters.
Manziel is also still under review by the NFL, which is investigating whether he violated its personal conduct policy during a fight with girlfriend Colleen Crowley on Oct. 12.
---
---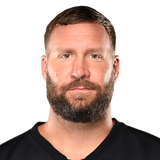 Get more from Ben Roethlisberger
Follow your favorites to get information about games, news and more
---