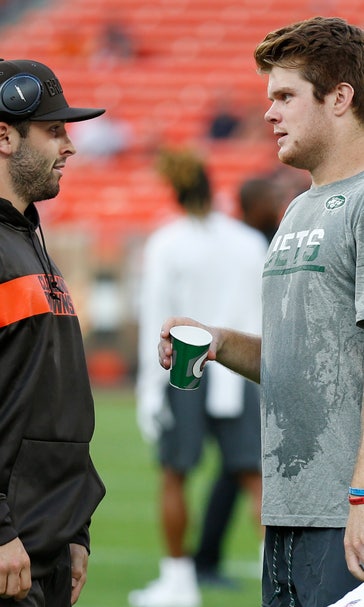 Browns rookie Baker Mayfield replaces Taylor in first half
September 20, 2018
CLEVELAND (AP) — Baker Mayfield's been thrown into the mix for the Browns.
The No. 1 overall pick in this year's draft replaced Tyrod Taylor after Cleveland's starting quarterback sustained a concussion in the first half of Thursday night's game against the New York Jets. Taylor was slow getting up after being sacked for the third time and after being evaluated in the medical tent, was taken to the locker room for treatment.
At halftime, the Browns said Taylor has a head injury and will not return.
Mayfield, who was supposed to spend his first season learning behind Taylor, completed a 14-yard pass on his first throw and then fired 17-yarder on his second as Browns fans roared for the Heisman Trophy winner.
Mayfield went 3 of 4 for 47 yards on his first drive, which ended with newly signed rookie Greg Joseph kicking a 45-yard field goal to pull with the Browns within 14-3.
Cleveland's plan was to have Mayfield watch and learn behind Taylor, but the injury could change things dramatically.
Taylor was ineffective during his time on the field, going 4 of 14 for 19 yards. The Browns traded for Taylor in March to serve as a mentor for their young quarterback.
Mayfield's debut is giving fans a chance to see the top two QBs taken in the draft. The Browns opened to take Mayfield over Darnold, who was considered the most complete QB in this year's class.
---
---