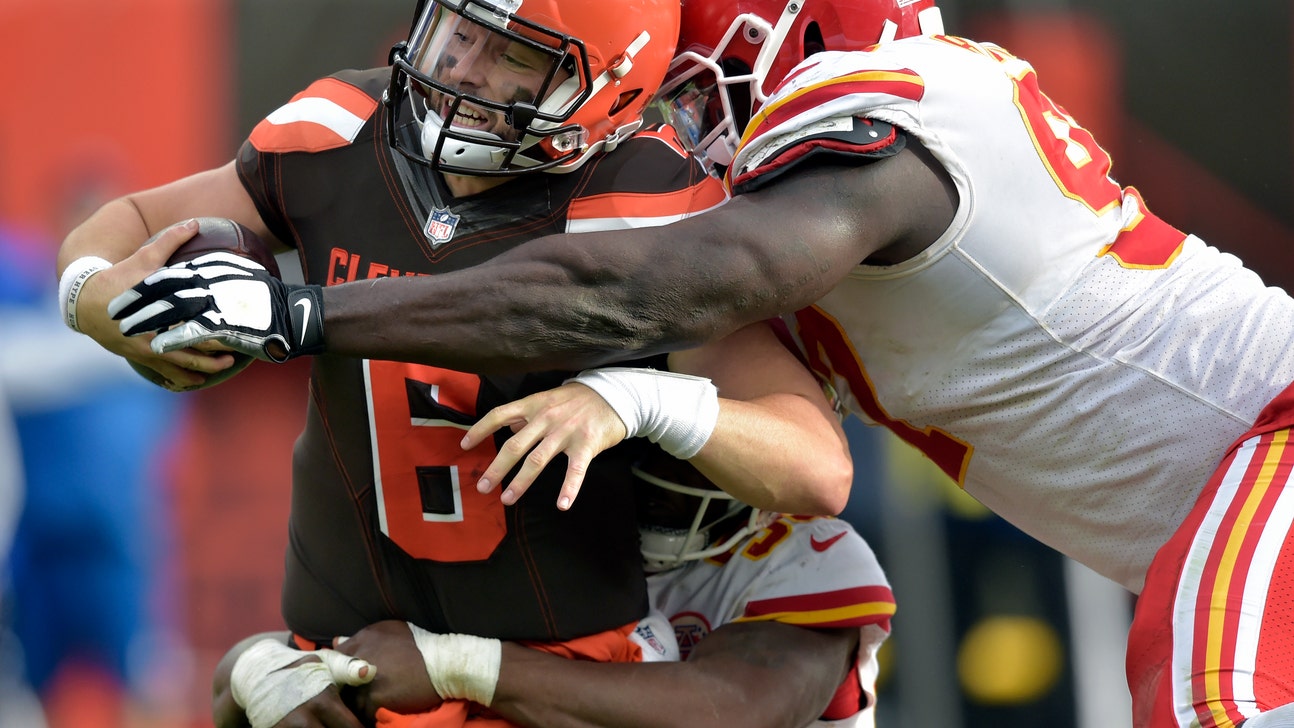 Browns lose defenders, drop fourth in row to end rough week
Updated
Mar. 4, 2020 5:07 p.m. ET
CLEVELAND (AP) — The coach changed. Everything else with the Cleveland Browns stayed the same.
Unable to slow Patrick Mahomes and Kansas City's thrill-a-minute offense, the Browns were soundly beaten — and beaten up — in a 37-21 loss on Sunday in Cleveland's first game under interim coach Gregg Williams.
Mahomes threw two touchdown passes to Cleveland native Travis Kelce and Kareem Hunt, another local kid who drove past FirstEnergy Stadium almost every day, scored three TDs as the Chiefs (8-1) overpowered the banged-up Browns (2-6-1) while sending them to their fourth straight loss.
It doesn't figure to get better anytime soon for Cleveland, which had three more defensive starters get injured.
The pain isn't going away.
"We have to keep going — next man up," defensive end Myles Garrett said. "We have to do the best with what we have."
The loss ended another tumultuous few days for the Browns, whose promising 2-2-1 start has dissolved into more disarray.
Still, rookie quarterback Baker Mayfield managed to extract some positives. He passed for 297 yards and two touchdowns.
"Offensively, I think there was a lot more good in this game than we had in the past," said Mayfield, who twice connected with running back Duke Johnson on scores. "There is a lot to build on, but there is obviously so much more room for improvement. When you are playing a team like that, you have to stay in the game.
"You have to give yourself chances. You have to do the little things right. You have to chip away, take time off of the clock just because of the offense that they have. There was a lot of good on offense, but we just have to keep getting better."
Cleveland's hopes of staying with the Chiefs took a major hit when defensive backs Damarious Randall (groin), E.J. Gaines (concussion) and Denzel Ward (hip) were sidelined by injuries. Randall was scratched before the kickoff, and after Gaines and Ward went down in the first quarter, linebacker Christian Kirksey (hamstring) got hurt.
Stopping the Chiefs with a full roster is tough.
Short-handed, it's impossible.
The Browns were already missing Pro Bowl linebacker Joe Schobert, who sat out his third game in a row with a hamstring injury.
"The biggest thing that really affected us was that we lost two of our starting corners in the first drive," cornerback T.J. Carrie said. "That definitely put us in a different situation. We practice with those guys throughout the week, and when those guys go down, it changes the game plan. They are a high-powered offense, and I don't think we did a good job at all stopping their momentum."
The injuries put more pressure on Williams, who did not relinquish his duties as defensive coordinator after being asked to replace Hue Jackson, who was fired on Monday along with offensive coordinator Todd Haley.
The Browns may have been outmanned by the more talented Chiefs, but Williams liked how his players fought through a week full of adversity.
"I never saw any flinch," he said. "Never saw a flinch today. Never saw body language poor today. You have to build on that. This is the National Football League. There are no excuses. You have to continue to get better. You have to. We all have to."
Williams set an early tone for his shell-shocked team with a fourth-down gamble on Cleveland's first possession. The Browns converted then, but Williams' choice to go for a 2-point conversion in the second quarter resulted in the Browns chasing points all afternoon.
Cleveland went 0 for 3 on conversion tries.
Following the game, Mayfield and Mahomes met at mid-field and shared a hug and some words of encouragement. They've been friends for years, college rivals and part of the NFL's next wave of young quarterbacks.
While Mahomes appears to have it all — more talented teammates, a stable franchise — right now, Mayfield doesn't think the Browns have to try to replicate Kansas City's offense.
"What we do is perfectly fine," he said. "We just have to be better at it. They have guys who are making their plays. Their quarterback is putting it in the right spot. He is giving them a chance to win. We just have to be better. We are not going to abandon ship with what we are doing and try to do the Chiefs offense. We just have to trust our guys, trust our playmakers and do our job."
---
---