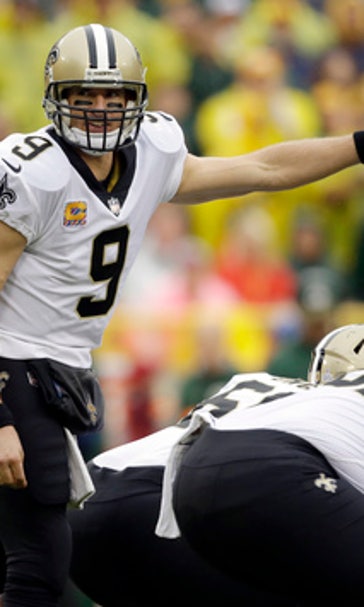 Brees gratified by help from Saints' running game, defense
October 26, 2017

METAIRIE, La. (AP) Lately, the New Orleans Saints haven't needed record-setting quarterback Drew Brees to carry them on his 38-year-old shoulders.
During their current four-game winning streak, there have been none of the desperate, pass-heavy outings that were needed just to give the Saints a chance for much of the previous three seasons.
The veteran quarterback hasn't been under pressure to play perfect, turnover-free games, either. Indeed, he has thrown two interceptions in each of the past two games; the Saints won both contests comfortably anyway, thanks in no small part to a productive running game and vastly improved, play-making defense.
''It is a good feeling to know that you can run the ball effectively,'' Brees said. ''It just gives us a ton of flexibility. It gives us the opportunity to do a lot. The receivers can block, catch and make big plays and the defense is playing outstanding, getting takeaways that have resulted in points for us offensively.
''If you can do those things consistently, you can win a lot of football games.''
The Saints (4-2) will try to keep it going on Sunday against the Chicago Bears (3-4).
Brees is among the most prolific passers in NFL history, having passed for 5,000-plus yards in a season five times, along with two other seasons with at least 4,870 yards. Yet his lone Super Bowl victory came at the conclusion of a season in which his yards passing were his fewest in a single campaign with New Orleans, at 4,388. Meanwhile, the Saints' the running game ranked sixth in the NFL during that championship season and the defense produced 39 turnovers, second most in the league.
New Orleans' current winning streak has been fueled by a similar formula.
Brees, who has averaged better than 300 yards per game passing in seven of the past nine seasons, passed for 220 yards, 268 and 186 in the Saints' first three victories this season. The Saints again were running well last week at Green Bay, when Mark Ingram gained 105 yards rushing and rookie Alvin Kamara added 57. But the Saints trailed much of the first three quarters, so Brees threw more and finished with 331 yards. Meanwhile, the Saints' defense, which had made rookie and backup QBs look stellar in previous seasons, held Packers backup Brett Hundley to 87 yards passing and intercepted him in the fourth quarter to help lock down the win .
''We had great balance throughout the game,'' Brees said. ''The defense came up with some big stops. It's just a great team win.''
Ingram, now on pace for a 1,000-yard season, has been gratified by the role the running game has had in New Orleans' success.
''We've been committed to it. We've been scheming it up well,'' Ingram said. ''The offensive line, they're thriving in the running game. ... We've just got to keep at it.''
Ingram and Kamara are different stylistically but interchangeable in New Orleans' offense because both have been proficient as runners or receivers out of the backfield. They've worked so well in tandem that New Orleans wound up trading free-agent acquisition Adrian Peterson to Arizona only four games into the season.
''Obviously their skillsets are different, yet they're very effective,'' Bears coach John Fox said this week. ''This game is about matchups and you're trying to create those in your favor. Both of those guys' skillsets are very good.''
Then there's the stunning turnaround of New Orleans' defense, which was allowing 512.5 yards per game and had forced no turnovers during losses in Weeks 1 and 2. In the past four games, the Saints have allowed an average of 270.3 yards and produced 10 turnovers, including eight interceptions.
''If you look at the statistics through the years, any time Drew has a good defense playing with him, he takes us to the playoffs,'' said safety Kenny Vaccaro, who has three interceptions and a fumble recovery for a touchdown this season.
Vaccaro added that it feels good to finally see the Saints' defense giving Brees some support, at least recently, after three seasons of ranking no better than 31st.
''It's almost like you're waiting, you're waiting, you're waiting - is this going to be the year I can stop having to answer these negative questions after every game?'' Vaccaro said. ''We've still got a lot of football left, so I'm cautious about being super optimistic about it. But at the same time, you have to respect what we've done.''
Notes: G Larry Warford (abdomen) was the only active Saints player not participating in Thursday's practice. ... WR Michael Thomas (knee) and LT Terron Armstead (shoulder) were limited in practice. ... WR Willie Snead (hamstring), who was inactive last week, has practiced fully so far this week.
---
For more NFL coverage: http://www.pro32.ap.org and http://www.twitter.com/AP-NFL
---
---