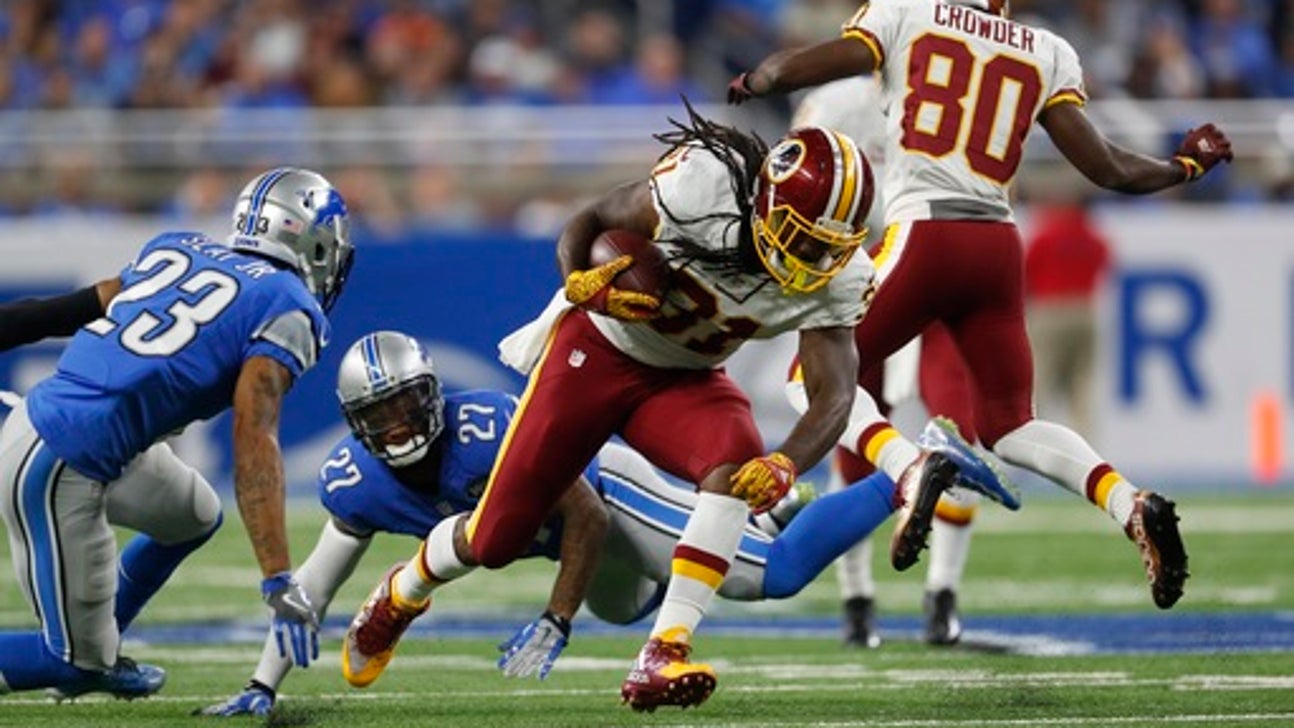 Agent for RB Matt Jones wants Redskins to release him
Updated
Mar. 4, 2020 6:01 p.m. ET

ASHBURN, Va. (AP) Only a year removed from being the Redskins' starting running back, Matt Jones is now waiting for Washington to release him.
Agent Hadley Engelhard told The Associated Press on Wednesday that Jones' camp ''asked very politely'' for him to be released because ''he has no future there.'' Jones skipped recent voluntary offseason workouts and showed up for mandatory minicamp this week.
Engelhard said it baffles him that team president Bruce Allen has insisted on keeping Jones on the roster despite being shuffled down the depth chart.
''Let's move on,'' Engelhard said. ''We're hoping Bruce sees the light and does the gentleman thing and release Matt.''
Jones was the starter going into the 2016 season but fumbled three times in seven games and was inactive the final nine games. Undrafted rookie Robert Kelley took over the starting job, and Washington drafted Oklahoma running back Samaje Perine in the fourth round.
Redskins coach Jay Gruden said Wednesday that he hadn't heard that Jones asked to be released.
''I'm sure he's a little bit frustrated,'' Gruden said. ''He had a starting job, he lost it and now it's his job to regain it if he's (with the Redskins). So we intend for him to come in to camp and compete for a starting job.''
Engelhard said the Redskins wanted to pick a running back before trading Jones. That never happened.
The 24-year-old Jones said Tuesday that he followed the plan he and his agent formulated to skip organized team activities but added there was no doubt he'd be on the field for minicamp. Jones is close with new Redskins senior vice president of player personnel Doug Williams, who told him to put his head down and compete.
''As far as now I'm on the team, I'm going to work like I'm on the team and play like I'm on the team,'' Jones said. ''As far as my career goes, I still don't know, but as far as I'm on the Redskins' roster, that's what I'm going to do is come and compete.''
Jones said he would work hard to earn back his starting spot. Gruden acknowledged that would be difficult but not impossible for Jones to beat out Kelley.
''It's going to be hard to move a guy who has been here working very hard and done such a good job, but it's not impossible,'' Gruden said Tuesday. ''It's really a tough position to crack, but I wouldn't put anything past Matt.''
Citing Jones' limited work during Washington's minicamp practice on Tuesday, Engelhard said, ''You can't win the job back when you take two snaps.'' Jones worked with the second- and third teams, and asked if he'd be OK with that role replied ''not at all.''
''I'm going to make the best up out of it and I'm going to show people that I am back capable of being that guy because I didn't have (any) game reps since Game 7,'' Jones said. ''I just got to get back into it. Wherever I start at, I'm not going to end there.''
Running backs coach Randy Jordan, who played nine NFL seasons, told Jones to control the things he can and is happy to offer advice and give him opportunity if he earns it.
''I'm an equal-opportunity employer,'' Jordan said. ''It doesn't matter where you come from, if you protect the ball and you produce, you'll find your way on the field.''
In 20 NFL games, Jones has six touchdowns and 950 yards on 243 carries with seven fumbles. Engelhard pointed to the early career fumbling problems of former New York Giants running back Tiki Barber and said Jones could follow a similar path of fixing that part of his game.
A third-round pick in 2015, Jones worked on his grip at training camp a year ago and said he learned a valuable lesson from being benched last season.
''It's about ball security,'' Jones said. ''Ball security's job security and that's something I got to correct and that's something that must be corrected if I want to play for a long time and stay in this league.''
Engelhard said with confidence that Jones ''will be a starter in the NFL'' again and just wants him to get that chance.
''He's a healthy scratch,'' Engelhard said. ''All the writing's on the wall that he's going to be released. Is Bruce waiting for a team to have a devastating injury that's in dire straits to make a trade? I guess you can do that. But you're messing with someone's mind, for lack of a better term.''
---
For more NFL coverage: www.pro32.ap.org and www.twitter.com/AP-NFL .
---
---