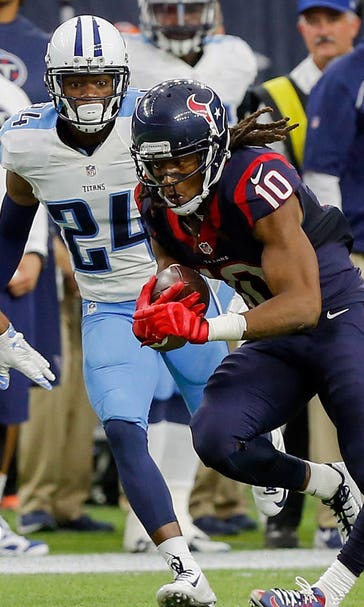 AFC South Division Notebook: Midseason Awards
November 3, 2015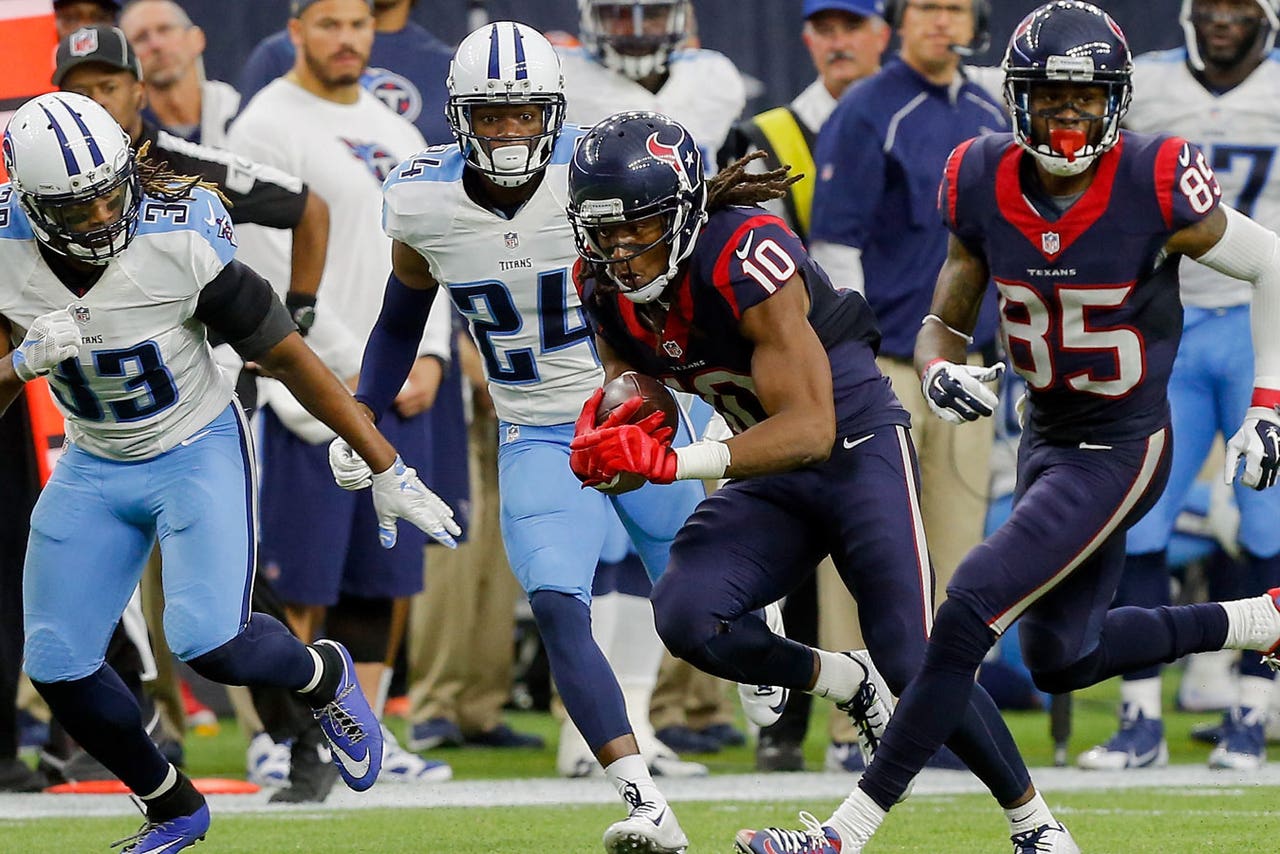 As the 2015 NFL season reaches the halfway point, the AFC South can be considered either the weakest division in football, or incredibly competitive, depending on your point of view.
Optimists can point to the fact the Colts and Texans both enter Week 9 tied for the division lead, with the Jaguars just a game back.
Pessimists will note Houston and Indianapolis sit atop the standings with less-than-stellar 3-5 records.
Either way, one thing is clear: A Colts team that began the season with Super Bowl aspirations has performed far below expectations.
With things still very much up for grabs in the second half, let's take a look back at the best and worst the AFC South had to offer over the first eight games.
Midseason MVP: DeAndre Hopkins, wide receiver, Houston Texans
Hopkins' dominant start to the season has earned him a place in the discussion when it comes to the NFL's top receivers. The three-year veteran is second the in league in receiving yards (870) and third in receptions (66). He's also caught six touchdowns. Hopkins' fast start has more than eased any questions about Houston's decision to let Andre Johnson go in the offseason and is even more impressive when considering the Texans' back-and-forth situation at quarterback between Brian Hoyer and the now-released Ryan Mallett.
Unsung Hero: Allen Hurns, wide receiver, Jacksonville Jaguars
In his second season, Hurns has emerged as a playmaking complement to fellow second-year player Allen Robinson. A former undrafted free agent, Hurns is on pace for over 1,000 yards receiving and 10 touchdowns this year. He doesn't get a lot of attention playing in Jacksonville, but Hurns and Robinson combine to form an intriguing young offensive core with quarterback Blake Bortles. 
Best Offseason Acquisition: Brian Orakpo, linebacker, Tennessee Titans
Orakpo, who signed a four-year, $31 million deal with the Titans in March, has been everything the team hoped, providing pass-rushing ability, along with invaluable veteran leadership. Orakpo's arrival has helped transform the Titans into the NFL's fifth-best defense, yielding 316.6 yards per game.  Tennessee's difficulties scoring on offense contributed to the dismissal of head coach Ken Whisenhunt Tuesday, but the Orakpo-led defense has kept the team competitive in games.
Best Rookie: Marcus Mariota, quarterback, Tennessee Titans
Despite missing two games with a sprained MCL, Mariota has demonstrated the ability that prompted the Titans to select him No. 2 overall last April. Although he's cooled off some since tossing four touchdown passes in the first half of the team's season-opening win over Tampa Bay, Mariota has given the Titans reason for future optimism, even amid their current six-game losing streak. Mariota, who has thrown nine touchdowns against five interceptions, has shown every sign of being a franchise quarterback the team can build around, even while playing behind an inconsistent offensive line that has allowed him to be sacked 19 times.
Biggest Disappointment (team): Indianapolis Colts
The Colts entered this season as a Super Bowl favorite, but eight games into the year this team is anything but elite, having struggled in every facet of the game. Indianapolis is 29th in total defense, surrendering 404.9 yards per game. An offense that was supposed to be among the league's best has struggled, as well. Losers of three straight, the Colts rank 20th in points per game and 29th in rushing, despite the offseason addition of Frank Gore. At 3-5 with a game against the undefeated Denver Broncos coming up on Sunday, it may be a couple weeks before things improve. Luckily for the Colts, they remain tied for the division lead despite their poor record. As bad as things have been, the AFC South has afforded the team time to get things figured out. Whether they can do it, remains to be seen.
Biggest Disappointment (player): Andrew Luck, quarterback, Indianapolis Colts
Luck's regression in his fourth year has been one of the biggest surprises of the season. The three-time Pro Bowler has thrown an NFL-high 12 interceptions, and the Colts are just 1-5 in games he's started. Luck missed two games with a shoulder injury and has reportedly been dealing with cracked ribs for several weeks. Injuries may well be playing a large factor in his struggles this season. If that's the case, the Colts owe it to Luck and the team to sit him until he's healthy. With the AFC South what it is, Matt Hasselbeck should be able to guide the team to the playoffs. Luck struggled once again in Monday night's loss against the Panthers before helping spark a comeback that forced overtime. Clearly, though, something is off with the 26-year-old Luck. This season has demonstrated that if Luck can't play up to his usual standards, the Colts are a below-average team.
Player To Watch Out For In The Second Half: T.J. Yeldon, running back, Jacksonville Jaguars
The rookie from Alabama has run for over 100 yards in two of his last three games and is developing into the three-down back the Jaguars envisioned when drafting him in the second round out of Alabama. Yeldon has proved he's capable of handling a heavy workload, carrying the ball at least 20 times in three of the six games he's played thus far. Look for him to continue to emerge as a dangerous offensive player in the second half.
Final Standings Prediction
Indianapolis Colts 9-7
Houston Texans 6-10
Jacksonville Jaguars 4-12
Tennessee Titans 2-14
---
---