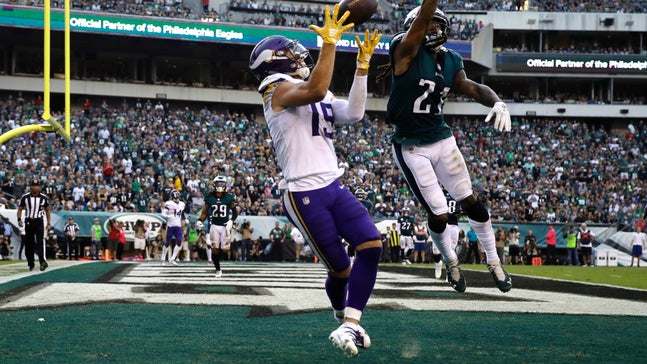 Adam Thielen on pace to challenge receiving records
Updated
Mar. 5, 2020 12:33 a.m. ET
Adam Thielen is doing things even Hall of Famers Cris Carter and Randy Moss didn't accomplish in Minnesota.
The former undrafted wide receiver from NCAA Division II Minnesota State is the first player in NFL history with at least 100 yards receiving in eight straight games to start the season. Calvin Johnson also had an eight-game streak in 2012.
Thielen already has 74 catches, putting him on pace to break Marvin Harrison's single-season record of 143. Carter holds the Vikings record with 122 catches in 1994 and 1995. Thielen has 952 yards receiving. At this rate, he'd break Moss' team record in 14 games. Moss had 1,632 in 2003. Johnson holds the NFL record with 1,964 yards receiving.
Thielen also has a touchdown catch in five consecutive games. No players since 1970 has 100 yards receiving and a TD catch in six straight games.
Thielen is closing in on becoming the sixth undrafted player with back-to-back seasons of 80 catches and 1,000 yards.
Here's a look inside more numbers going into Week 9:
KING ADAM: Colts kicker Adam Vinatieri became the NFL's all-time scoring leader, surpassing Hall of Famer Morten Anderson. Vinatieri has scored 2,550 total points during his 23-year NFL career.
AGELESS AP: Adrian Peterson became the oldest player, at 33 years and 221 days old, to rush for more than 100 yards and also have a rushing and receiving touchdown in Washington's win over the Giants. Peterson is also only the fourth player age 33 or older to have 140-plus yards rushing in a game.
MAHOMES MASTERY: Patrick Mahomes has thrown four touchdown passes in three consecutive games for Kansas City, joining Drew Brees (2011), Dan Marino (1984) and Peyton Manning (2004) as the only quarterbacks to do that. Marino's streak was four games. Manning's was five. Mahomes also has passed for 300 yards in seven straight games. Only Andrew Luck (2014) and Brees (2011) have done that. Luck reached eight games.
ELITE COMPANY: Carson Wentz is the second quarterback in NFL history with at least 30 pass attempts and a passer rating of at least 115 in four consecutive games, joining Peyton Manning, who did it with Denver in 2012.
PERFECTION: Russell Wilson was 14 of 17 for 248 yards with three touchdowns and zero interceptions in Seattle's win at Detroit, becoming the first quarterback in franchise history to post a perfect 158.3 passer rating. Rams QB Jared Goff also had a perfect rating in Week 4 this season.
---
---