Jimmy Garoppolo
Jimmy Garoppolo
49ers let Garoppolo take over vs. Bears (Dec 03, 2017)
Published
Nov. 30, 2017 4:51 a.m. ET

CHICAGO -- San Francisco 49ers quarterback Jimmy Garoppolo felt pressure in the pocket this week as he prepared to make his first start with his new team.
Make that pressure in the pants pocket.
"I had to put my phone away for a little while the last couple days," Garoppolo said with a grin. "I'm trying to focus."
The 26-year-old will make his first start for the 49ers and the third of his career when he and his teammates visit the Chicago Bears on Sunday afternoon at Soldier Field. It is familiar territory for Garoppolo, who grew up in the Chicago suburb of Arlington Heights, Ill., and played at Rolling Meadows High School before earning a scholarship to play at Eastern Illinois.
Major college programs likely feel foolish by now for overlooking the pinpoint passer with a lightning-quick release.
The promotion of Garoppolo generated a surge of excitement during an otherwise dreary season for San Francisco (1-10). The 49ers acquired him from the New England Patriots in exchange for a 2018 second-round pick on Halloween, and Garoppolo spent the past month on the sideline learning the offense under first-year coach Kyle Shanahan.
An injury to fellow signal-caller C.J. Beathard last week opened the door for Shanahan to make the change at starter. Garoppolo came off the bench after Beathard got hurt, and he completed both of his pass attempts for 18 yards and a touchdown.
Including his time in New England behind future Hall of Famer Tom Brady, Garoppolo has thrown 96 NFL passes without an interception. The NFL record belongs to Dallas Cowboys quarterback Dak Prescott, who threw his first 176 passes before he finally was intercepted during his rookie season in 2016.
Chicago (3-8) also has pinned its future hopes on a young quarterback with a big arm and little experience. Mitchell Trubisky will make his eighth start as he looks to rebound from a career-worst 38.3 passer rating in a 31-3 loss to the Philadelphia Eagles.
Trubisky, 23, has passed for 1,135 yards, four touchdowns and four interceptions since the Bears selected him No. 2 overall in the 2017 draft. San Francisco initially owned the No. 2 pick but accepted a generous package of additional draft picks from Chicago in exchange for moving one spot down to No. 3.
Is Trubisky peeved that the 49ers traded out of the No. 2 spot rather than draft him as the future franchise leader?
"I'm exactly where I'm supposed to be," Trubisky said. "I'm happy to be here in Chicago. This is where I was supposed to be."
Yet the North Carolina product is not happy with his recent performance. He blamed poor footwork for his ugly performance against Philadelphia and vowed to improve against the 49ers. He said the Bears' current four-game losing streak was the longest that he can remember enduring on any of his teams at any level of football.
Chicago needs a victory to avoid, at least for the moment, its fourth consecutive losing season.
"We're just going to have to find a way to get a win this week," Trubisky said. "There's no getting used to it. There's no being content. We've just got to work harder, stick together and find a way to win this Sunday."
Bears running back Jordan Howard, who has 847 rushing yards and five touchdowns in his second year, can help to stabilize the offense. During a 26-6 victory over the 49ers last season, Howard shined with 32 carries for 117 yards and three touchdowns.
Chicago ranks No. 29 in total offense and No. 12 in total defense. Defensive end Akiem Hicks leads the club with seven sacks but has not registered one in the past three games.
San Francisco ranks No. 21 in total offense and No. 29 in total defense. Veteran pass rusher Elvis Dumervil has provided a rare bright spot with a team-leading 4 1/2 sacks, and rookie first-round pick Solomon Thomas is tied for second with two sacks.
Running back Carlos Hyde leads the 49ers on the ground with 639 yards and four touchdowns. The team's top receiver is Marquise Goodwin, who comes into this weekend with 27 catches for 578 yards and a score.
However, all eyes will be on Garoppolo as he takes command of the huddle. A strong finish to the season could only improve the likelihood that he will sign a long-term deal or receive a high-price franchise tag to stay with San Francisco beyond this season.
"I'm trying not to think about the future too much," Garoppolo said. "I've learned in the past that when your mind wanders like that -- quarterbacking in this league is hard enough, so when you start thinking about other things, you're going to have a tough time. I'm staying focused on the Bears this week.
"I hold myself to a high level. I've been doing that my whole life. That won't stop."
---
---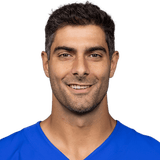 Get more from Jimmy Garoppolo
Follow your favorites to get information about games, news and more
---