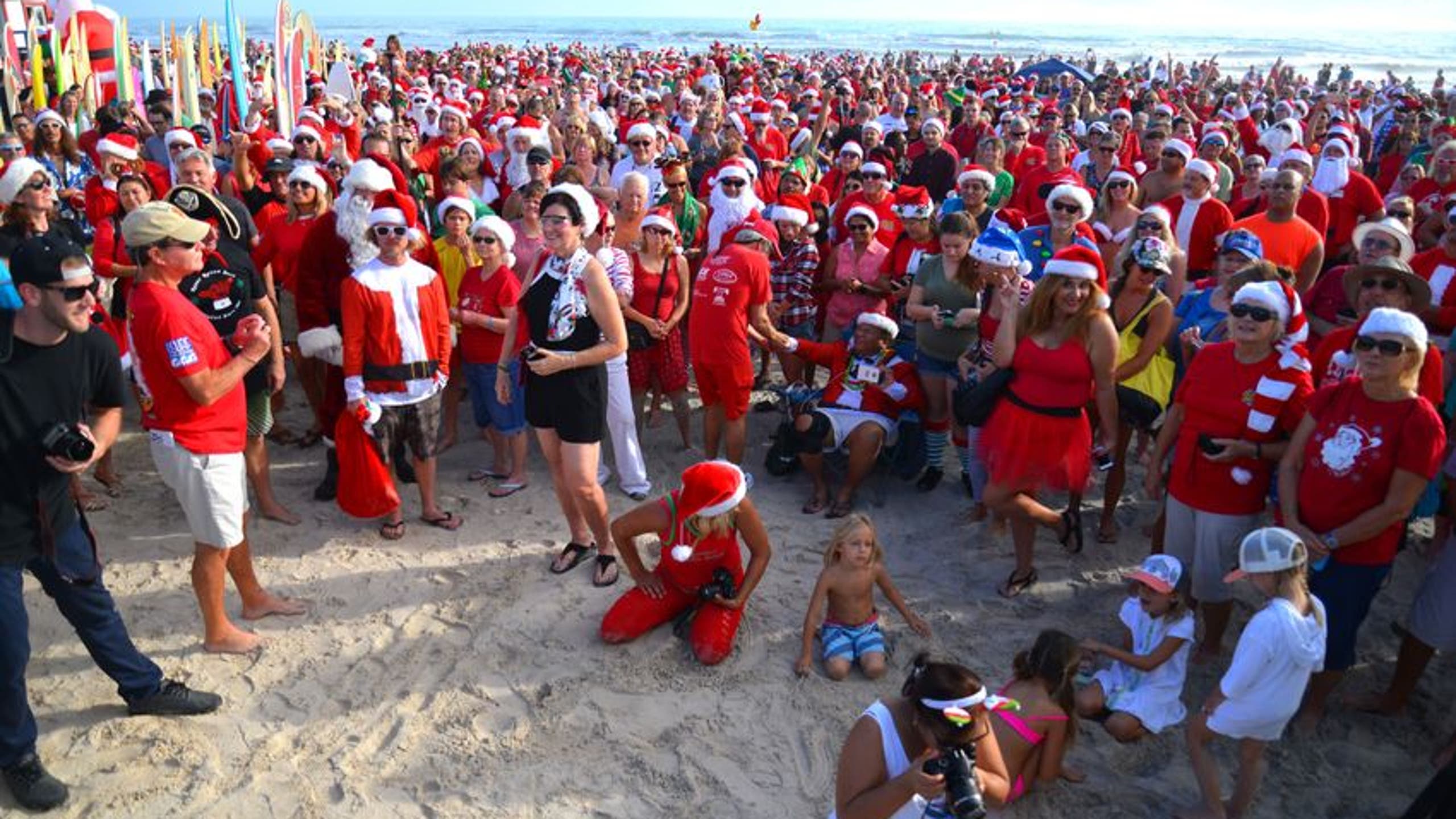 OKC Thunder Christmas Day Round Table - memories, gifts and resolutions
BY Fansided and Tamberlyn Richardson/FanSided via Thunderous Intentions • December 25, 2016
November 3, 2016; Oakland, CA, USA; Oklahoma City Thunder guard Russell Westbrook (0) shoots a technical foul shot as Golden State Warriors forward Kevin Durant (35) looks on during the second quarter at Oracle Arena. Mandatory Credit: Kyle Terada-USA TODAY Sports
Well the big day is finally here as the OKC Thunder host the Wolves as part of the NBA Christmas Day extravaganza. A third of the way into the season the team at Thunderous Intentions decided it was perfect timing for a Holiday Round Table session.
In this three part series the Thunderous Intentions Team offers thoughts on all things OKC Thunder.   Expect to find answers on what cyborg Russell Westbrook will accomplish, gifts we'd give the the team, trade suggestions and copious Christmas themed questions. In the final part of the series you'll learn a lot about our scribes as they offer opinions on:
With that, I give you the final segment of the series:
Merry Christmas!
When the NBA released the Christmas Day schedule many hoped for an opponent featuring a certain small forward. Instead fans will have to wait until Feb.11th. Is that the most anticipated OKC game in your memory?
The team was split about 50-50 here:
Heather Koontz: Here's the thing: I've never been a Kevin Durant fan. I just couldn't convince myself to like him. I was always a Westbrook fan, and will be to the end. So for me, I was actually hoping the Christmas day game wouldn't be against Golden State. The Timberwolves may not be as exciting for the rest of OKC's fans, but I'll be happy.
Rich Condon: No, to me it's not. Even though KD burned us all by leaving, having a chance to play for it all in 2011 still means more than a "revenge game." Barely.
RELATED CONTENT: Opinions Vary, but who does Westbrook think he is?
Joshua Lea:  Yes, I would say so. It's somewhat reminiscent of when the Los Angeles Lakers came to town back in 2011. This is a much bigger deal because of what "he who should not be named" did for this city. However, the city and the Thunder will likely attempt to view this as just another game.
Cole Hixon: No I don't think so. I'll say Game 6 of the Western Conference Finals last year. There was only a couple days of anticipation to build up, but it was a chance to close out the best regular season team of all time, on your home court, go to the finals and give Kevin Durant a reason to stay.
Yaman Khabbaz: This is easily the most anticipated regular season game on the OKC Thunder schedule. The tension in it is going to be immense. I expect a hostile crowd directing plenty of abuse towards a certain DC born small forward. The arena will be shaking from the noise inside of it during the game. 100% of the fanbase is certainly waiting impatiently for that game.
Eric Snyder: Game 7 against the Warriors in the 15-16 Playoffs is the most anticipated Thunder game in history to me. With a Thunder win they would have been a match-up nightmare for the Cavs. The game this year means very little in the long run. Yet, if the Thunder would have won the West last year, Durant is probably still on this team.
Tony Heim: Not even close, it's honestly the least anticipated matchup in recent memory for me. I don't want to watch KD play in the Peake in a different uniform. If they played on Christmas it would honestly ruin the day for me. That game is going to be excruciating to watch.
Chris Hughes: I think so. Especially for me as a OKC Thunder fan only two or three years, I don't think there's been a game THAT anticipated in my time following the team. I expect some hostility for sure, but I'm hoping the team can remain professional else it wouldn't surprise me if the Warriors thumped us again.
Casimir Cuffy: I think the Warriors vs Thunder game in OKC will definitely be the most anticipated in OKC's short history. I fully expect a lop sided game though, unless Presti makes a big move before that game, which is actually two weeks before the trade deadline.
Jeremy Lambert: Yes, but I think it's going to end badly. We already saw the Warriors destroy OKC once. The Warriors have gotten better since that point. Durant is going to score a lot, he's going to yuck it up with Draymond, and it's just going to be painful to watch.
Tamberlyn Richardson: Historically, I think May 31st, 2012 was the most anticipated game ever. Perhaps because the Thunder trailed 0-2 in the Western Conference Finals and then went on to sweep the next 4 games versus the Spurs to earn their first finals berth. There have been other games such as last post season's game 6  when OKC's failure to capitalize on an early  3-1 series lead inevitably resulted in long term side effects. With that I'd term the February 11th game as more significant from an emotional standpoint since Oklahomans and Thunder fans felt the angst of rejection and will no doubt voice that displeasure.
Dec 23, 2016; Salt Lake City, UT, USA; Toronto Raptors guard Kyle Lowry (7) is congratulated by teammate guard DeMar DeRozan (10) after a basket in the fourth quarter against the Utah Jazz at Vivint Smart Home Arena. The Toronto Raptors defeated the Utah Jazz 104-98. Mandatory Credit: Jeff Swinger-USA TODAY Sports
If you could add two teams to the Christmas Day schedule who would they be?
Surprisingly there wasn't much variety among the scribes on which teams should be playing with the Raptors, Rockets, and Bucks getting the most love. As you'll note at the end, this Canadian had a fairly strong opinion on the matter!
Casimir Cuffy: I would add the Houston Rockets and the Toronto Raptors to the Christmas day schedule. Those two teams tote two of the best shooting guards in the game. I also believe the Rockets got snubbed from a Christmas day game this year and should definitely be in over the Timberwolves, but I digress.
Tony Heim: Bucks vs. Sixers. I'm an NBA nerd and I choose to watch the young up-and-comers over the established teams every time. Giannis vs. Embiid? Sign me up 365 days of the year.
Cole Hixon: Rockets and Raptors because those are the 2 best teams not already playing and I just like watching good match ups.
Jeremy Lambert: Utah vs. Milwaukee. It's not a marquee match-up, but it's two well-rounded teams with a lot of young talent.
Eric Snyder: Pelicans vs T-Wolves because the world needs to see more of Anthony Davis and Karl Anthony-Towns. Both teams are struggling but over the next decade, Towns and Davis are going to rule the NBA.
RELATED: Shocking similarities between 2016-17 Thunder and 1988-89 Bulls
Joshua Lea: Probably Houston versus Portland or something along that vibe. I like watching Portland this year, I feel like their one or two players away from contending for a ring. Houston is fun to watch if you enjoy lots of offense.
Heather Koontz: I'd love to see a Rockets/Hawks match-up. I actually used to like the Rockets, and it was mainly because of Dwight Howard. I once met the entire team at an OKC Blue game, and Howard was seriously the nicest celebrity I've ever encountered. The entire team was great (excluding James Harden, of course). Now that Howard is gone and Harden remains, I have no reason to like the Rockets. Santa, please bring them back together.
Chris Hughes: Probably the Houston Rockets for starters, because my favorite player outside of Oklahoma City is James Harden. And probably the Milwaukee Bucks because I like Antetokounmpo!
Rich Condon: Utah vs. Toronto. Both teams play beautiful basketball, Utah is on the rise, and the fact that Toronto as a top-5 team in the league has yet to play on Christmas is egregious to me.
Yaman Khabbaz: The Raptors and the Rockets, surely. I picked the Raptors because they are a pretty great team this year, and the rockets because they've finally found their way of play and have excelled at it thus far.
Tamberlyn Richardson:

In the history of Christmas games only 3 teams haven't appeared: Minnesota Timberwolves (who'll clear that hump today), Charlotte Hornets, and Memphis Grizzlies. Right behind them are the Toronto Raptors with one appearance back in 2001 no doubt due to Vince Carter's popularity.
Here's the thing, of last year's Conference Finalists the Toronto Raptors are the only team not playing today.  They've improved every season for the past 5 years, have the top ranked offense (ahead of last years finalists), the third best NBA road record, and 2 All-Star, Olympic guards who provide ample highlights worthy of National T.V.
Instead they had to fly to Utah for one game, return home and return back to the road for dates in Portland, Golden State, Phoenix, L.A. (Lakers) and Spurs. Then they return home to face the Jazz again. That's 15,000 kilometers and leaves them with only 4 road games remaining out West. Meanwhile the Cavaliers have played one (yes ONE road game in the West – the infamous Grizzlies game where Cleveland's big 3 stayed home).  So, I'm just not sure exactly what the Raptors have to do to garner the Association's respect.
Instead today features 4 teams who didn't make the 2015-16 playoffs and of course the typical Lakers, Knicks games featuring their 42nd and 50th Christmas appearances respectively.
Don't get me wrong I completely understand why Cleveland, Golden State, San Antonio, the Clippers and OKC Thunder make the cut.  And, I'm thrilled Minnesota is in the line-up. But, would it hurt the powers that be to change the rules so that a Conference Finals berth earns you a Christmas appearance the following season?
Suffice to say I was hoping for a Raptors appearance against a team featuring one of the many Canadian talents in the league: Andrew Wiggins (Wolves), Trey Lyles (Jazz), Jamal Murray (Nuggets), Kelly Olynyk (Celtics), Tristan Thompson (Cavaliers), Tyler Ennis (Rockets) etc.  Okay, rant over.
Mar 18, 2016; Philadelphia, PA, USA; Oklahoma City Thunder guard Russell Westbrook (0) reacts to his dunk against the Philadelphia 76ers during the third quarter at Wells Fargo Center. The Oklahoma City Thunder won 111-97.Mandatory Credit: Bill Streicher-USA TODAY Sports
What's your favorite memory from an NBA Christmas Day game?
Joshua Lea: Watching the Lakers with Kobe Bryant on Christmas Day (before I worked for the Thunder Radio Network). I used to be able to spend Christmas at home with the family. Now, I have to work as the executive producer for the Thunder Radio Network on the Sports Animal. It's a dream job, but I do miss my holidays.
Jeremy Lambert: Russ going HAM against the Spurs two seasons ago.
Tony Heim: I'm young so I don't have a huge memory bank, so it's gotta be the 2013 game when the Thunder beat the Knicks 123-94 in Madison Square Garden. KD dropped 29 on 16 shots, the Thunder were 23-5 afterwards. They were just so good back than ????
Eric Snyder: Overall, seeing Kobe Bryant on Christmas Day was always a highlight to me. He took every game serious and seemed to always have an extra edge in Nationally televised games.
Cole Hixon: Shaq returning to LA to face Kobe for the 1st time. It was so memorable because that meeting was the antithesis to everything Christmas is supposed to be and it turned out to be a good game!
Heather Koontz: This will be my first year to be inside the Chesapeake Energy Arena for a Christmas Day game, so I'm likely to have a better answer to this question next year. However, you just can't beat the sentimental aspect of watching a basketball game on television with family, hot chocolate, and crumpled wrapping paper on the floor.
RELATED CONTENT: The smooth serenades of Victor Oladipo
Chris Hughes: Well I've only really followed the NBA for a couple of years, and on only one of those occasions have the Thunder won on Christmas Day! That was 2014, a win over the Spurs.
Casimir Cuffy: I think I just have a memorable game. That's when OKC Thunder went to San Antonio in 2014 and beat the Spurs without (He who must not be named). We also got a sneak peek at how dominate Steven Adams could be in that game.
Rich Condon: That time Steph said he hoped the Cleveland locker room still smelt like champagne. Even though it came back to bite Golden State, it was still a pretty boss comment.
Yaman Khabbaz: The Thunder obliterating the Knicks three years ago in the worst loss on Christmas day in NBA history has to be mine.
Tamberlyn Richardson: Ditto to Jeremy's memory. And, the fight between Blake Griffin and Draymond Green, Andrew Bogut and basically the entire Warriors team.
Dec 11, 2016; Oklahoma City, OK, USA; Boston Celtics center Kelly Olynyk (41) drives to the basket while surrounded by Oklahoma City Thunder forward Kyle Singler (15) Oklahoma City Thunder center Enes Kanter (11) and Oklahoma City Thunder guard Semaj Christon (6) during the fourth quarter at Chesapeake Energy Arena. Mandatory Credit: Mark D. Smith-USA TODAY Sports
Boxing Day offers excellent sales – and also is when people make returns. Which gift should the OKC Thunder be returning and why?
Tony Heim: Going off my last answer, let's return all the memories with Kevin Durant in a Thunder jersey. I can't deal with the pain, I need it erased from my memory.
Heather Koontz: I'm almost positive he came with a giant sticker reading 'ABSOLUTELY NO RETURNS', but I hope there's a way to give Kyle Singler back to Detroit. I'm tired of watching him swoop his hair back as he runs across the court.
Cole Hixon: Is it too late to return the 2014 draft? How about an exchange; Mitch McGary and Josh Huestis for Rodney Hood and Kyle Anderson? Well if not then can we return Kyle Singler to Detroit? If it has to be this year I'll return Semaj Christon shooting outside the paint. He is 9-33 (27.3%) on mid range shots and 5-23 (21.7%) from 3.
Casimir Cuffy: The Thunder should return this Sabonis as a starter notion. I love Sabonis. I think he will be great in this league. But not right now, not if they want to contend for a championship. His replacement is NOT on the roster, that much is clear. I just think they shouldn't be content with him starting.
Jeremy Lambert: Semaj Christon. With Cam Payne returning, Christon should be out of the rotation, which is great, because he doesn't do anything well.
RELATED STORY:  A trade is coming
Rich Condon: I'm sure Yaman said Semaj, but I'd return the Ibaka trade, despite how much I love Oladipo and Sabonis. Ultimately, I think Serge would've helped OKC more post-Durant than Dipo and Domas.
Yaman Khabbaz: The player has to be Kyle Singler. He's the worst, and most obsolete, player on the roster right now, and he surely is not worth 25M over 5 years. Singler gets money to sit on the bench and be unproductive when off it. Cutting/trading him is the only way out.
Dec 19, 2016; Oklahoma City, OK, USA; Oklahoma City Thunder guard Russell Westbrook (0) is announced in the opening lineup prior to action against the Atlanta Hawks at Chesapeake Energy Arena. Mandatory Credit: Mark D. Smith-USA TODAY Sports
Next up is New Years Eve – what should the Thunder's resolution be?
Eric Snyder: This New Year the Thunder need to resolve to get off of the NBA Fence. Are they going to go young and rebuild or are they going to chase a title around Westbrook? This team doesn't have enough young talent to do both things at once. So, its time for Presti to make a decision one way or the other. Otherwise, the Thunder will become stuck inside the "Grizzlies/Clippers Cycle": Promising Roster, Flashy Players and Postseason Disappointment.
Cole Hixon: It's a cliche they say often, but "just get better everyday." They are the second youngest team in the NBA and have a lot of room for internal growth. As for a resolution for Billy Donovan, stop playing 5 bench players all together. It doesn't work even a little bit.
 Joshua Lea:  Close out tight games, they can't lose close games. It hurts them in the standings and it will haunt them in the playoffs. The Thunder must starting winning the crunch-time games.
Heather Koontz: Presti needs to resolve to finding the loophole in the previously mentioned 'no returns for Singler' clause. But as a whole, I think the team needs to make the collective resolution to move on from the KD nightmare of July 4, 2016. True fans understand that this is a building block year. We don't expect a championship. And our support won't waver.
Tony Heim: Unpopular opinion alert…let's stop trying to contend this year. After watching the Warriors this year, I've given up hope for the next three seasons. It's time to look towards 2020, when the cap is going to be huge and Steven Adams/Victor Oladipo will be on tiny contracts. I'm not saying trade Russ, but…
RELATED CONTENT: Round Table P1 – Create  Westbrook's next T-shirt/bib
Chris Hughes: I think the a New Year's resolution would be to make sure we don't have a repeat of the KD saga from the summer. I think it's probably OKC's defining memory now as a franchise since the move from Seattle, and it'd kill to see us lose another one of our top players for nothing over the next seasons.
Casimir Cuffy: My New Years resolution has to go to Russ. Before the season started he was on record saying that he shot too many three pointers last year, but yet so far this season he is on pace to shatter his pace from last year. He has to stop shooting so many for real.
Rich Condon: GETTING HELP FOR RUSS. Seriously, the dude is at almost 50 percent usage rate and has around 50 percent of the team's assists. If this keeps up, even Russ is going to crash.
Yaman Khabbaz: The Thunder's resolution should be to improve their free throw and three-point shooting. They've been pretty bad on both levels compared to the rest of the NBA (27th in both FT% and 3P%) and surely they would have a better record if their shooting from the FT line and from beyond the arc improves.
Jeremy Lambert: Shoot better. And like all resolution's, they'll begin to shoot better for a game or two before breaking it.
Tamberlyn Richardson: Though I believe Payne and Oladipo's return will greatly enhance the ball movement, I also believe Sam Presti needs to be proactive. With a top 10 defense and the potential to improve on offense are the Thunder one small forward away from moving up the ladder? If the answer to that question is yes, than resolve to make the move now, so the team benefits and Westbrook isn't broken by March.  And, for Donovan, resolve to give Alex Abrines consistent playing time.
Well that completes the Christmas Day Round Table Series. The TI Team hope you enjoyed it and encourage you to enter your own thoughts in the comments section.
As you process the tryptophan here's our Christmas Day Preview to get you set for tip-off.
For those of you who are new to Thunderous Intentions make sure you visit daily as TI offers pre and post game analysis, daily features, player articles, plus the very best coverage on all things OKC Thunder. To our returning visitors, thank you for your support, it's greatly appreciated.
And, to everyone, the Thunderous Intentions Team wish you Happy Holidays and hope you enjoy the Christmas Day games.
More from Thunderous Intentions
This article originally appeared on
---
---