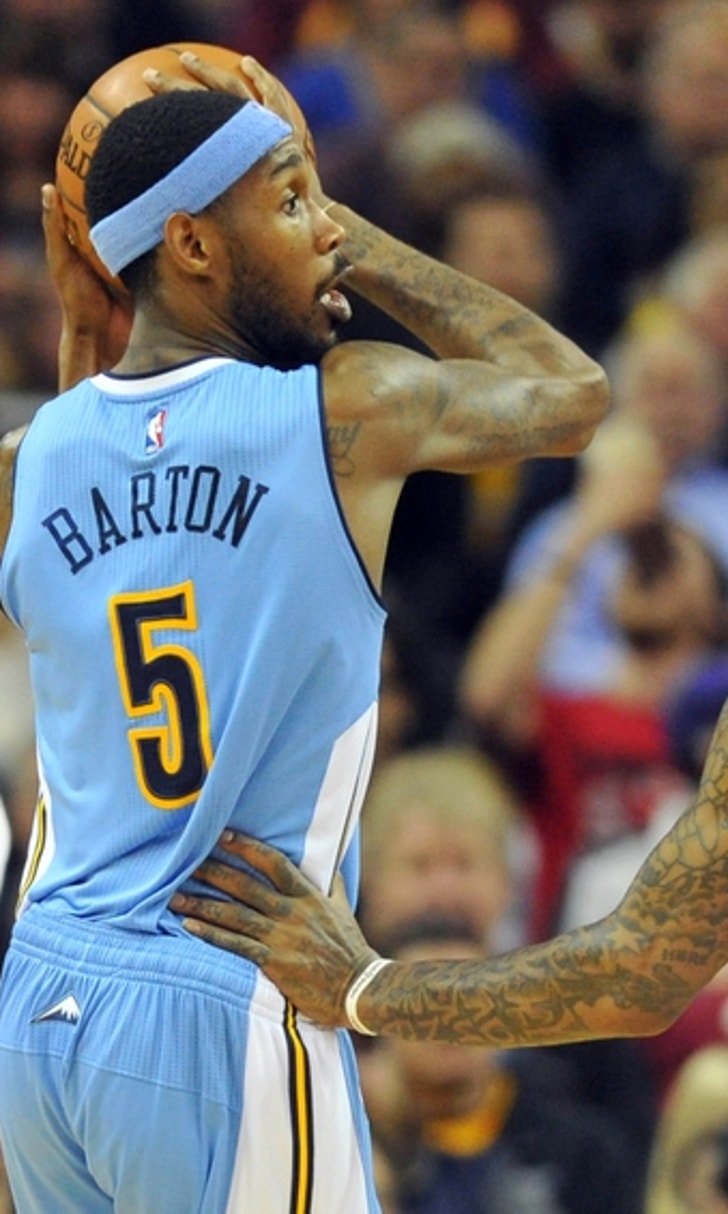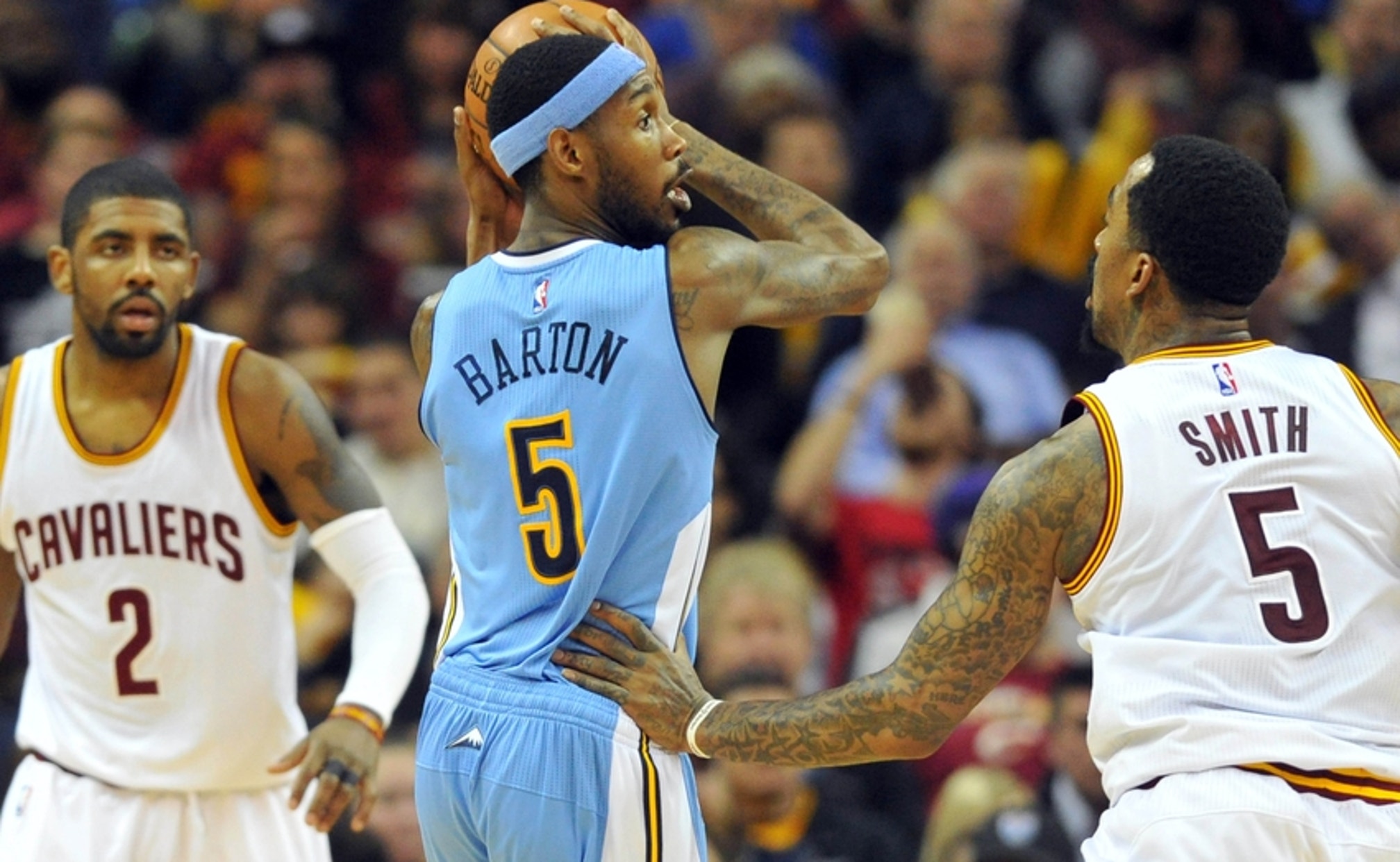 Cleveland Cavaliers: 7 Possible Trade Candidates
BY Fansided and Nathan Beighle/FanSided via King James Gospel • December 23, 2016
Mar 21, 2016; Cleveland, OH, USA; Denver Nuggets forward Will Barton (5) looks to pass as Cleveland Cavaliers guard J.R. Smith (5) defends during the third quarter at Quicken Loans Arena. The Cavs won 124-91. Mandatory Credit: Ken Blaze-USA TODAY Sports
The Cleveland Cavaliers have several holes in their depth chart, and a trade could be on the horizon, so here are seven possible trade candidates for them.
Chris "Birdman" Andersen, he's done from he season. J.R. Smith, he's out for the foreseeable future. Mo Williams, he's not coming back. Several key members of this Cleveland Cavaliers team have gone down, and they may need to salvage their championship hopes with a trade. Here's a perfect example of a brilliant trade for Ricky Rubio that the Cavaliers may venture to look into.
A team with LeBron James, Kyrie Irving, and Kevin Love will always, barring some superhuman acts, make the Finals among the Eastern Conference teams, but it will be one of these player that fills a much needed gap that pushes Cleveland to the next level against the Golden State in the Finals trilogy that is expected.
Cleveland has several needs right now. They need a backup point guard to help Kyrie Irving. They have Kay Felder on the roster, but his 5'9″ frame has made it hard for him to produce as a constant back up point guard. At the same time, the loss of Chris Andersen opens up a need for a backup center and rim protector, and J.R. Smith's injury could beg the Cavaliers to bring in a combo guard.
Want your voice heard? Join the King James Gospel team!
The Cavaliers management has never been shy of bringing in big name players to help them in their championship quest. With that said, here are seven players that could be cheaply bought for the Cleveland Cavaliers.
Dec 10, 2016; Orlando, FL, USA; Denver Nuggets guard Will Barton (5) shoots the ball past Orlando Magic forward Serge Ibaka (7) during the first quarter of an NBA basketball game at Amway Center. Mandatory Credit: Reinhold Matay-USA TODAY Sports
Candidate #1- Will Barton: Combo Guard
Just coming from a Nugg Love, FanSided's Denver Nuggets site, I know the importance of Will Barton to the Denver Nuggets. Several rumors have gone around about his trade availability, and it seems that he could be on the move, but it would not be cheap.
More from King James Gospel
Barton has quickly found a home in Denver after being traded their a couple of seasons ago. Last season Barton averaged 28.7 minutes per game, and that has gone up to 30.7 minutes per game as Denver has seen several key injuries.
With a healthy and youthful Denver team, Will Barton may go back to averaging just 20-25 minutes per game. His production and versatility are key factors that would make Cleveland crave him. The 6'6″, 25 year old small forward averaged 14.4 points per game off of the Nuggets bench and received several votes for Sixth Man of the Year.
The problem with obtaining Barton is that he would be a more expensive option. The Nuggets may ask for several picks along with the Cavaliers youth such as McRae or Felder. The Cavaliers have been know to trade picks in the past couple seasons, but they may have better places to look before settling on a big trade for Barton.
Probability: 5-15%
Dec 14, 2016; Philadelphia, PA, USA; Philadelphia 76ers center Jahlil Okafor (8) controls the ball against Toronto Raptors center Jonas Valanciunas (17) during the second half at Wells Fargo Center. The Toronto Raptors won 123.114. Mandatory Credit: Bill Streicher-USA TODAY Sports
Candidate #2- Jahlil Okafor: Center
In recent days, the 76ers dilemma has been unfolding in a way many would not have guessed. Nerlens Noel may be the safe one and Jahlil Okafor could be on his way out after Joel Embiid called Noel his "best friend."
The struggle for Cleveland is that they do not need another scoring big, but for the right price, they may take one. If a poor quality first rounder and a player like Jordan McRae or DeAndre Liggins would be enough for Okafor, why wouldn't Cleveland make that happen.
Besides Love and James, the Cleveland Cavaliers do not have a true post scorer. Okafor would be a solid, not perfect, fit in Cleveland. He would be put in the second unit. With the like of Shumpert, Jefferson, and Frye in that unit, he may be able to post up at will.
His scoring could be used in the second unit. His defensive incapablity are what would drive the Cavaliers away from him. Noel would be the perfect target if available.
Possibility: 0%-10%
Dec 20, 2016; Philadelphia, PA, USA; Philadelphia 76ers guard Sergio Rodriguez (14) controls the ball against New Orleans Pelicans guard Tim Frazier (2) during the second half at Wells Fargo Center. The Pelicans won 108-93. Mandatory Credit: Bill Streicher-USA TODAY Sports
Candidate #3- Sergio Rodriguez: Point Guard
In a recent article by Quenton Albertie, he wrote this regarding what Rodriguez could bring to the Cavaliers.
"If the Cleveland Cavaliers want a veteran point guard that can get a bench full of specialists involved, they need to look no further than Sergio Rodriguez."
That description of Rodriguez is exactly what Cleveland needs. They need a steady, consistent backup point guard that they could get cheap. Cheap is a relative term, and it is hard to gauge what Philly would want for him especially with Ben Simmons return on the horizon.
Rodriguez has averaged 8.8 points per game and 6.1 assist per game in his 27 games as a 76er. Sergio has proved his worth this season after being out of the NBA for two season. Although he is relatively inefficient, Sergio has shown he can hit from deep. He has shot the three ball at 35.1%, and if Ben Simmons return moves him back to the bench, the 76ers may entertain an offer.
This trade would happen later in the season, and it would be quite a solid move for this Cavaliers team.
Possibility: 5%-15%
Dec 6, 2016; Minneapolis, MN, USA; Minnesota Timberwolves guard Ricky Rubio (9) dribbles in the second quarter against the San Antonio Spurs at Target Center. Mandatory Credit: Brad Rempel-USA TODAY Sports
Candidate #4- Ricky Rubio: Point Guard
Ricky Rubio is almost the same type of player as Sergio Rodriguez just with a bit better playmaking and a bit less shooting ability.
With the Timberwolves noticeably moving towards the future with three key starters under 22, it seems that the time with 26 year-old Rubio may quickly be coming to an end. But that is not to say that Rubio is not still a skilled player.
More from King James Gospel
This season, in his current role, Rubio has yet to be his usual self. He has averaged a career-low 7.1 points per game and a career-low 6.9 turnovers per game. With both Tyus Jones (20) and Kris Dunn (22) available to take his minutes, there is no more need for him in the tundra of Minnesota.
For that reason, Cleveland may be able to buy-low on a position that they will eventually need, and the always pass-first Rubio may be the fix. Ever since the Mo Williams situation, the Cleveland backup point guard position has not been the same, but could a youthful McRae and a first change that.
Because McRae and a first would honestly be all it should take to take Rubio off of the hands of the Minnesota Timberwolves. Honestly, I find a trade like that to be beneficial for both sides. Even potentially add Shumpert in there to entice the Wolves, and now there is a good trade.
Possibility: 15%-25%
Feb 8, 2016; Cleveland, OH, USA; Sacramento Kings center Kosta Koufos (41) rebounds in the fourth quarter against the Cleveland Cavaliers at Quicken Loans Arena. Mandatory Credit: David Richard-USA TODAY Sports
Candidate #5- Kosta Koufos: Center
At this point, it is a mix of the Sacramento Kings wanting to unjam their front court, and the Cavaliers need for another front court presence.
After Chris Andersen went down, the position opened for Tristan Thompson's backup. With TT playing 29.0 minutes per game, his highest since the 2013-2014 season, he will eventually need more break time, and Andersen was the one to give him that.
Now the Cavaliers, instead of just marching through, would attempt to find a cheap replacement, and Kosta Koufos, while a solid player, is certainly not the future for the Sacramento Kings. Koufos has averaged 10.5 points and 10.6 rebounds per 36 minutes this season, but due to the overloaded Kings front court, he has only played 19.9 minutes per game.
The only perk that is seriously enticing about Koufos is his cost. While several of these players have been high quality places, Koufos maintains a low-rep and could easily be shipped.
Possibility: 10%-20%
Dec 21, 2016; Portland, OR, USA; Dallas Mavericks guard Deron Williams (8) drives to the basket past Portland Trail Blazers guard Allen Crabbe (23) during the second quarter at the Moda Center. Mandatory Credit: Craig Mitchelldyer-USA TODAY Sports
Candidate #6- Deron Williams: Point Guard
This is another situation of an aging point guard that can still contribute, and a team that could use his services. Deron Williams, while he has not been the same for quite some time, could still prove vital as a member of the Cavaliers.
More from King James Gospel
The Dallas Mavericks are currently sitting at 8-21 and tied for last in the Western Conference. Sooner or later, they will look to empty some of their veterans in search of the future. While the Cavaliers are not loaded with extravagant picks or young alluring pieces, they do have enough to get this aging point guard.
Williams is also a free agent next season, so he would most likely be a player to stay in Cleveland and continue to help bring in championships. The asking price for Williams should not be much. Jordan McRae, who has been a nonessential part of the Cavaliers team this far in the season, could be the bargaining chip.
A second rounder and McRae could lure the Mavericks into this offer. It is unclear if the Cavaliers would be this certain to fill this backup point guard role immediately, but if they are, Deron could be the main to target.
Possibility: 15%-20%
Nov 18, 2016; Indianapolis, IN, USA; Indiana Pacers guard Monta Ellis (11) dribbles the ball as Phoenix Suns guard Devin Booker (1) defends in the first quarter of the game at Bankers Life Fieldhouse. Mandatory Credit: Trevor Ruszkowski-USA TODAY Sports
Candidate #7- Monta Ellis: Combo Guard
Monta Ellis and the Indiana Pacers have not clicked like Larry Bird and the upper management had hoped for. With the Pacers currently under .500 at 15-16, movement among this team could happen sooner rather than later.
With Monta being a much bigger name than the aforementioned players, it would take more for the Cavaliers to bait the Pacers into a trade. Players like Iman Shumpert, Jordan McRae, Channing Frye, and possible a couple other name could circle around trades for Ellis if provoked.
Outside of his rookie season, Monta Ellis is averaging a career-low in points and assists. It is not slump, and it is not a coincidence. Monta Ellis has underperformed alongside Paul George, Jeff Teague, and Myles Turner, therefore it may be time to cut ties.
This would be a big time trade that the Cavaliers could pull off that would certainly impact their Finals chances even after J.R. Smith returns.
Possibility: 10%-15%
Is it time for the Cavaliers to make a move and if so, for who? Tell us who you think the Cavaliers should target in wake of all these recent injuries.
---
---