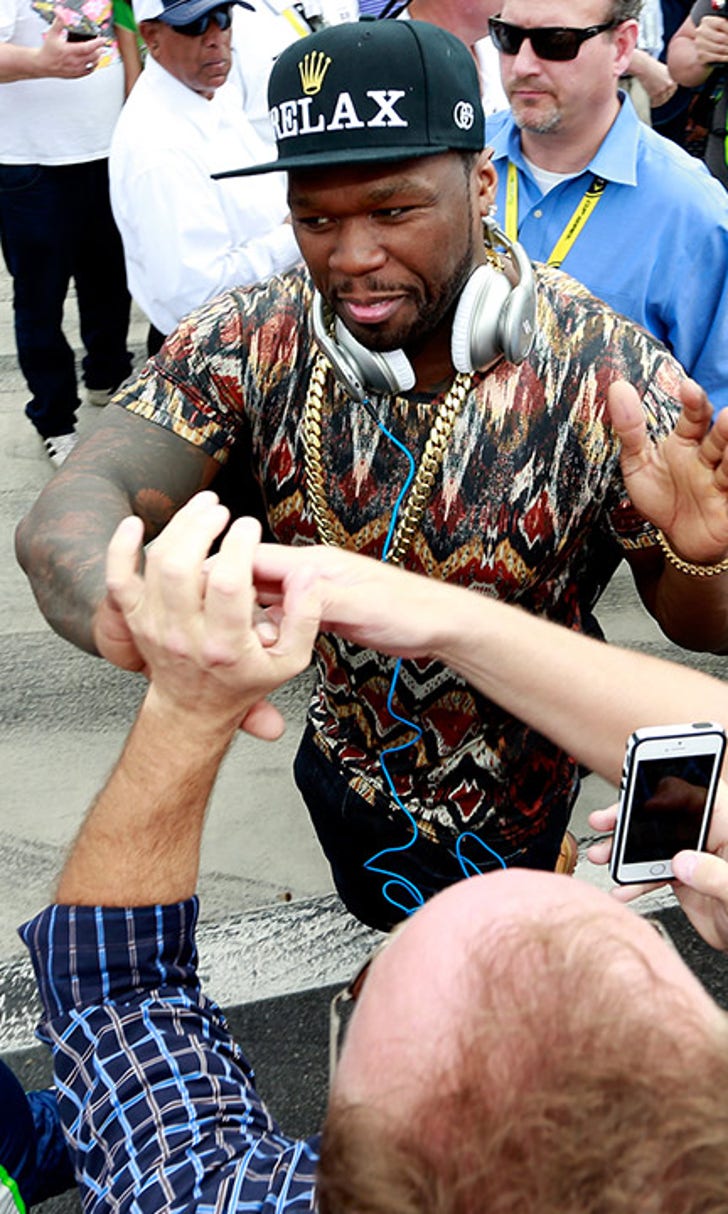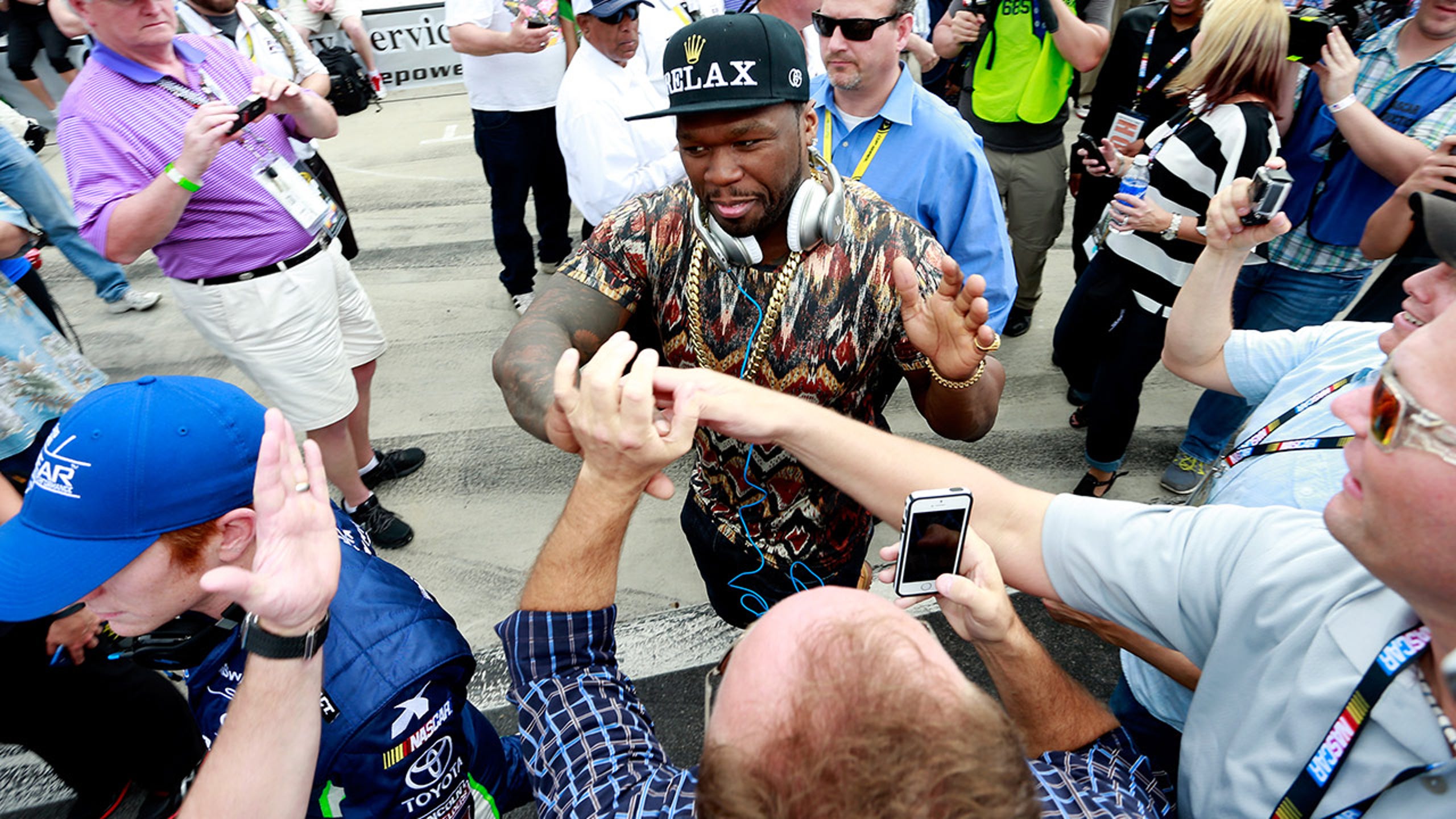 Is 50 Cent the next brand ambassador for NASCAR?
BY foxsports • February 26, 2014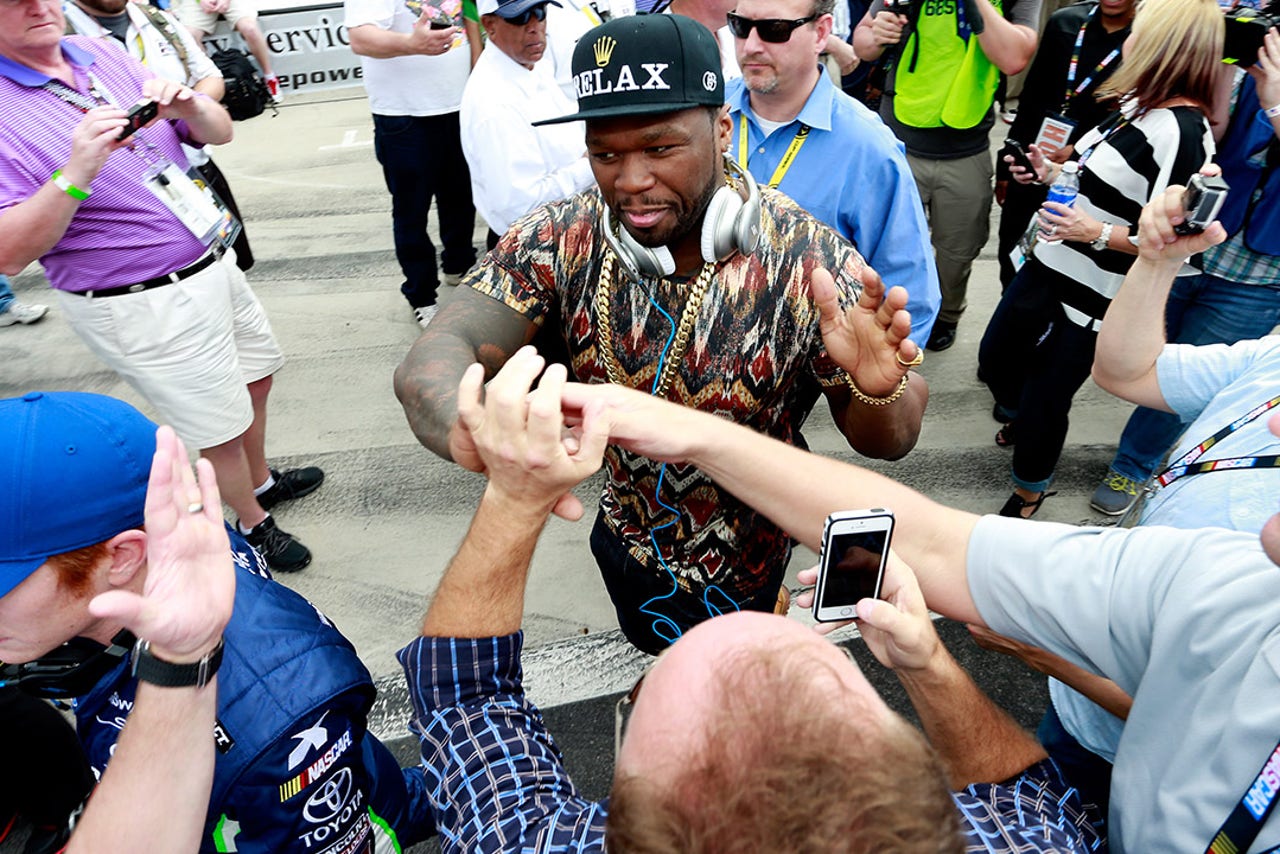 When hip-hop artist, actor, philanthropist and entrepreneur 50 Cent visited Daytona International Speedway for the 2014 Daytona 500, he was mostly questioned about last year's awkward encounter with reporter Erin Andrews during the Daytona 500 pre-race show on FOX.
Yet, the rapper's second consecutive year of attending The Great American Race entailed more than reflections on his 2013 experience.
Last year, 50 Cent -- whose real name is Curtis Jackson -- was at Daytona as a guest, taking in the sights and sounds of NASCAR's biggest race. He sat on Mark Martin's pit box, nearly kissed Andrews on the live FOX broadcast, and then went back to his world of hip-hop, SMS Audio and being an overall badass.
But here's the thing: 50 Cent did what other celebrities from outside the NASCAR world often don't do: He came back. And he also got more involved.
Jackson's company, SMS Audio, signed an exclusive partnership with Swan Racing, and drivers Cole Whitt and Parker Kligerman, to serve as an associate sponsor for the next two seasons.
In the world of NASCAR, that's a huge commitment, and it shows 50 Cent is here for more than just a free trip to the Daytona 500.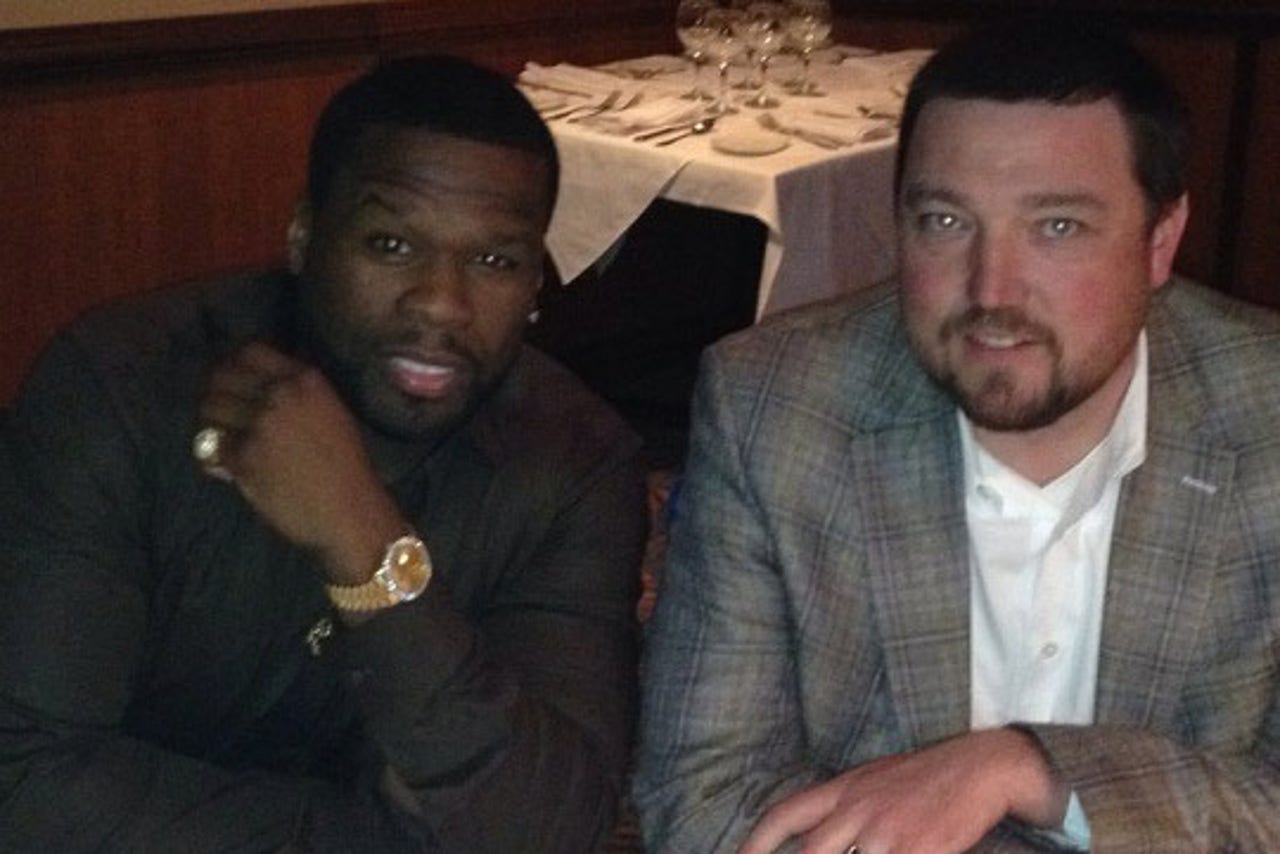 50 Cent and Swan Racing owner Brandon Davis at the team's dinner Friday night in Daytona. 
"When we have a sport big enough to for someone like 50 (Cent) to take knowledge of what we have here and what we have to showcase, it says a lot about our sport," Whitt said. "At the end of the day, I'm here for my sport and what's best for it. Attracting these kinds of sponsors -- SMS Audio, Speed Stick Gear on our car -- that's the kind of stuff that can make this industry go to the next level."
"I've already won (by) being here. Do you see anyone from my genre of music?" the rapper asked rhetorically during his latest Daytona visit. "It creates a separation and allows me to have the 70 million loyal fans that watch NASCAR to take notice of SMS Audio and 50 Cent and recognize my vision.
"It's a great cross for me," he added. "I feel like I'm in the right place."
And 50 Cent spent plenty of time in Daytona this past weekend. He first arrived on Friday for FOX's Bash at the Beach, followed by a team dinner with Swan Racing.
He hit the Sprint Cup Series garage bright and early Saturday morning, touring the No. 26 team's garage with Kligerman, asking many questions about the cars, before strapping in for a 'hot lap' around Daytona for three laps, including a simulated pit stop.
On the day of the race, he was formally recognized at the drivers meeting, accompanied Whitt and Kligerman to driver introductions, mingled with drivers such as Clint Bowyer, Denny Hamlin, Brad Keselowski, Danica Patrick and Kurt Busch, and was interviewed with the Miss Sprint Cup girls by Michael Waltrip during the FOX pre-race show.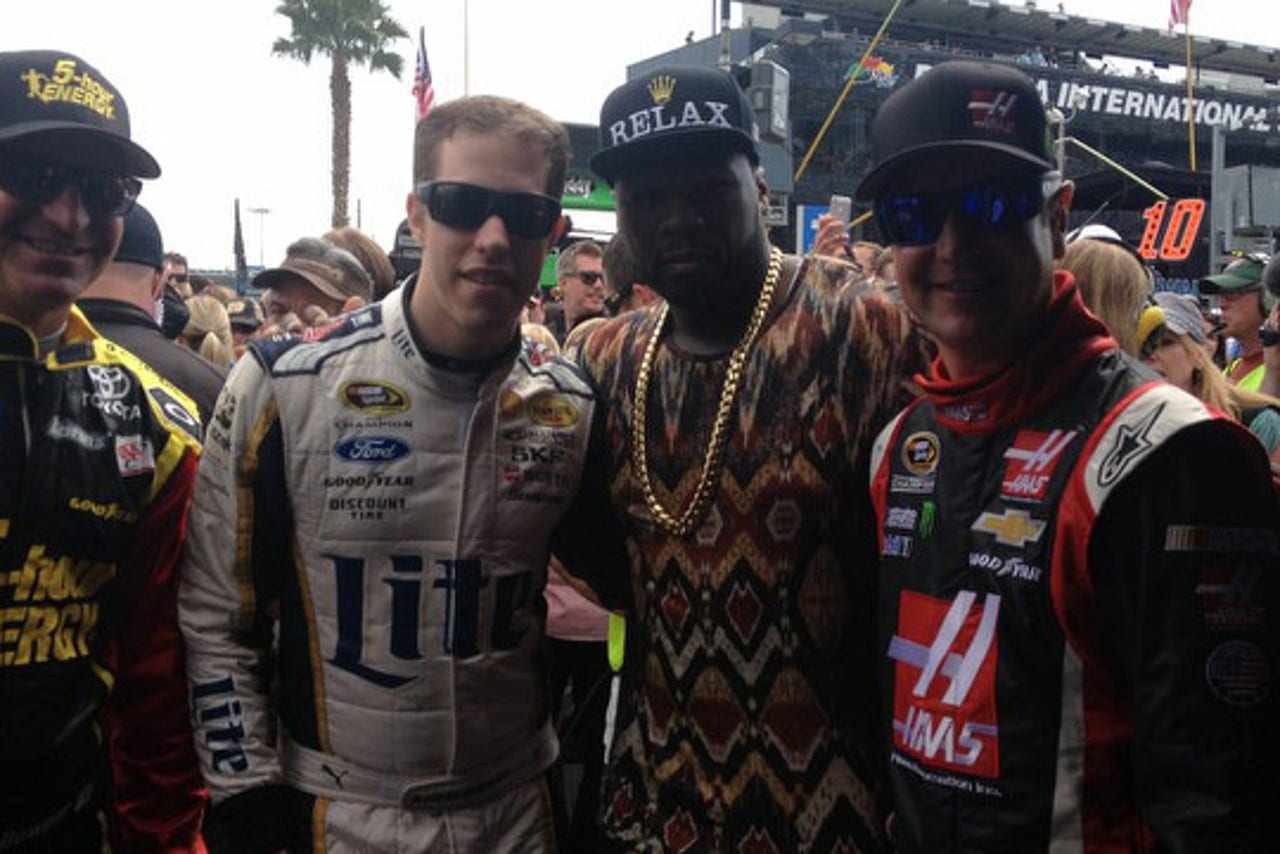 50 Cent stands with NASCAR Sprint Cup Series drivers Clint Bowyer, Brad Keselowski and Kurt Busch on pit road before Sunday's Daytona 500. 
He then watched the start of the race from the No. 26 team's pit box, before switching to the No. 30 pit box after about 30 laps.
Although he had to leave the race during the rain delay, he closely followed developments and let his Twitter followers know the action was back on FOX when the track drying efforts were complete.
This all sounds like a great celebrity visit, but how can 50 Cent help grow NASCAR in ways other celebrities may not?
By attending his second Daytona 500 this past weekend, he may have helped bring NASCAR to an entirely fresh, young and diverse group of people.
Just consider 50 Cent's social media reach. He currently has 7.39 million Twitter followers. Remember, NASCAR just celebrated the fact Danica Patrick reached the one million mark and that Dale Earnhardt Jr.'s following has grown to from 230,000 followers to more than 500,000 in just two days.
An Instagram video of a Swan Racing pit stop posted by 50 Cent received more than 15,300 likes. An image of him and Whitt received more than 23,800 likes. Another picture of him in the garage garnered over 35,7000 likes. You get the picture.
The key market demographic that NASCAR often targets with specific marketing campaigns and the Drive for Diversity program are listening to 50 Cent, and following his moves on social media.
To put it another way: If 50 Cent sends a NASCAR-related tweet, he reaches more people than anyone inside the sport. And, ultimately, he's reaching the right people -- a very diverse non-NASCAR fan base.
"As I get more chances to speak more about the actual (NASCAR) experience, the more interested people will be about coming out. You just have to lead by example," Jackson told FOXSports.com. "People don't understand (NASCAR), and people usually go against what they don't understand. They haven'€™t experienced it. When they get a chance to come out, it'd be different. The other half of the stands would be full."
Jackson's first exposure to NASCAR came long before he knew anything about the sport. As a child, he already had an attachment to racing, through the cars he was given as toys.
"I've always had a chance to watch on television, but when I experienced my last trip on my first visit here last year, it's an entirely different experience," he said. "I think those at home need to get out and see an actual race at some point, because it's a whole different energy and feeling connected to hearing the cars go by, and feeling the actual cars go by."
And if that doesn't work out, 50 Cent offered this tidbit of knowledge to his friends and counterparts after last year's trip to the Daytona 500.
"Honestly, I told them the women are extremely hot, and ... outside of going to church, maybe, you can find good women in NASCAR," he said.
While you might not be seeing NASCAR logos on the next 50 Cent album to drop (Animal Ambition), and it's unlikely 50 Cent will be featured in the next NASCAR commercial, him talking about the sport and attending races can potentially go a long way toward bringing NASCAR to a whole new generation of fans. 
---
---