NASCAR Xfinity Series
NASCAR Xfinity Series
Hammond: Jeff Gordon's last Martinsville win about more than a grandfather clock
Published
Nov. 4, 2015 1:05 p.m. ET

Probably the second most-asked question I've been getting all week from the fans has been about Jeff Gordon. Obviously, the biggest topic coming out of Sunday at Martinsville is the Kenseth/Logano feud. On the heels of that, though, everyone is asking if Jeff Gordon has a legitimate chance to win it all and go out on top in his final year of driving the No. 24 car.
My answer to that is absolutely yes. All he's ever needed is a chance, and now he's put himself in the catbird's seat by locking up one of the final four spots for the championship race at Homestead. Jeff's is a four-time champion in our sport, so he has the experience.
Even more than that, though, I see a fire and desire in Jeff that makes him very, very dangerous to whomever the other three drivers might be at Homestead. Let's face it: He can swing for the fences at Homestead because he has nothing to lose. Sunday's win at Martinsville was probably the culmination of his driving bucket list by winning at least once in his final season behind the wheel. That goes hand in hand with the desire to at least make it into the Chase, which he did.
It's been 14 years since Jeff won his last championship, but now he's on the verge with a real possibility to end his NASCAR-Hall-of-Fame-career by winning his fifth championship in the last race of his career. Folks, Hollywood can't script this stuff any better.
I promise you that car owner Rick Hendrick has made it clear to everyone at Hendrick Motorsports that Jeff has the pick of any and all assets at their disposal. From car, to engineering, to personnel on pit road, I don't think Hendrick Motorsports is going to leave anything on the table when it comes to helping Jeff go out in a blaze of glory.
We've all wondered when it was going to happen. We all wondered if the distractions of retiring and being honored at every track he visits would play a role. What I've seen of Jeff Gordon in the Chase vs. Jeff Gordon in our regular season of 26 races is a completely different Jeff Gordon.
I found myself late Sunday afternoon up on the edge of my seat and shaking like a leaf on a tree watching those final laps at Martinsville unfold. I'll be honest, I felt like I was back up on that box watching Darrell Waltrip go for a win. I know how much Jeff wanted to go out at the end of the season with his head held high.
I'll tell you something else: I think his kids being there and seeing dear ol' Dad win a race meant more to Jeff than winning his ninth Martinsville grandfather clock. I know that's probably pretty hard to believe, but I saw the sheer joy from that man that went beyond his four championships and all the wins that have made him the third winningest driver in NASCAR history.
Seeing Jeff enjoying this with his family is just one of those moments why we keep saying why NASCAR is so important. We are one of the very few sports, unless it's the final game of the World Series or the Super Bowl, where you get to see the personal side of the driver. You get to see he and his family celebrate together. NASCAR is a family sport, from the families that buy the tickets to sit in the grandstands, to the families that watch at home every Sunday, to the drivers and crew members who are able to have their families with them in Victory Lane.
I know it's probably hard to believe, but like I said earlier about Jeff and the grandfather clock, our drivers today having the opportunity to share their success with the families greatly outweighs the trophy or the big payday. Everyone needs to remember something: There was a time in our sport when women weren't allowed in the garage area or on pit road. If you don't believe me, go ask Stevie Waltrip, DW's wife, as she was a pioneer in getting that rule changed by NASCAR.
I'm just so proud of what Jeff and everyone on the No. 24 was able to do Sunday. Up until then, their 2015 season had been pretty lackluster. It's when the Chase started that it seemed to me that group found another gear. They've definitely upped their game, and Sunday was a huge payoff for all that hard work.
If I'm the other three drivers -- whoever they end up being -- in that Homestead race against Jeff, well, it's going to be a sleepless Saturday night on Nov. 21because they are going to be worried about that No. 24 car. We've seen teams and organizations that have already peaked in 2015, but I'm just telling you, I think the No. 24 has come to life and is peaking at just the right time.
Come Sunday Nov. 22, that race in Homestead, Florida, could be one for the ages.
---
---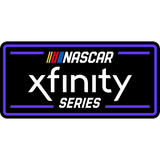 Get more from NASCAR Xfinity Series
Follow your favorites to get information about games, news and more
---