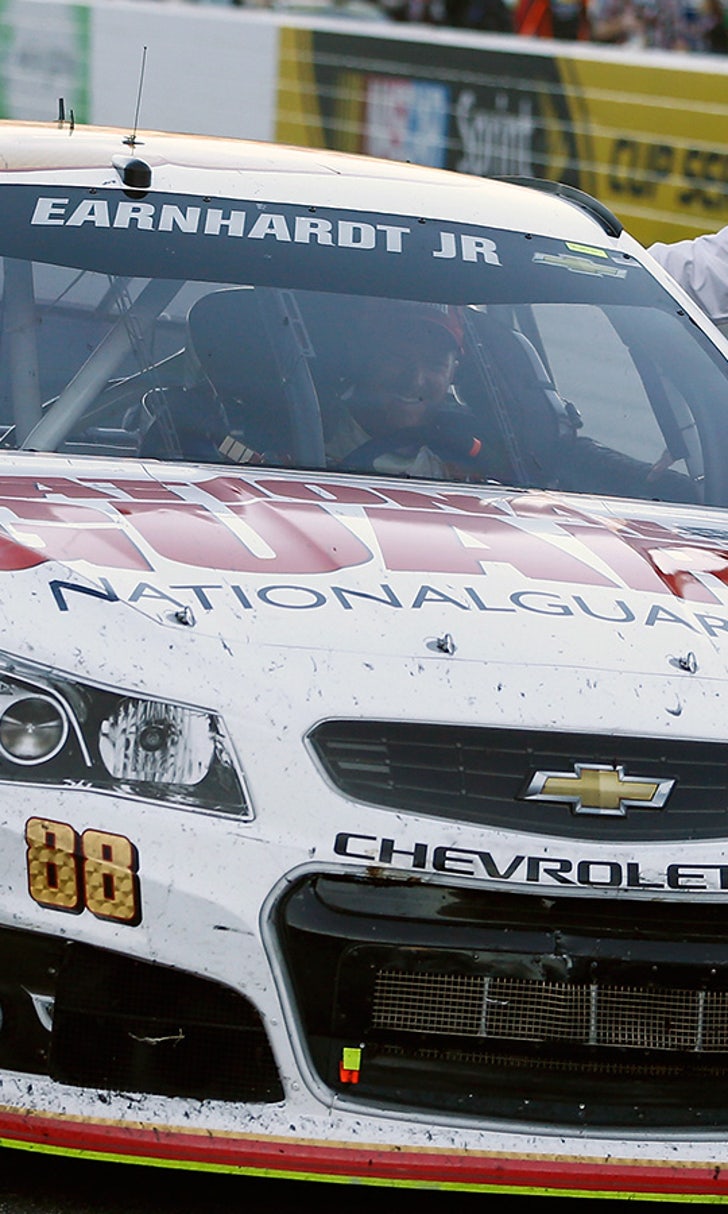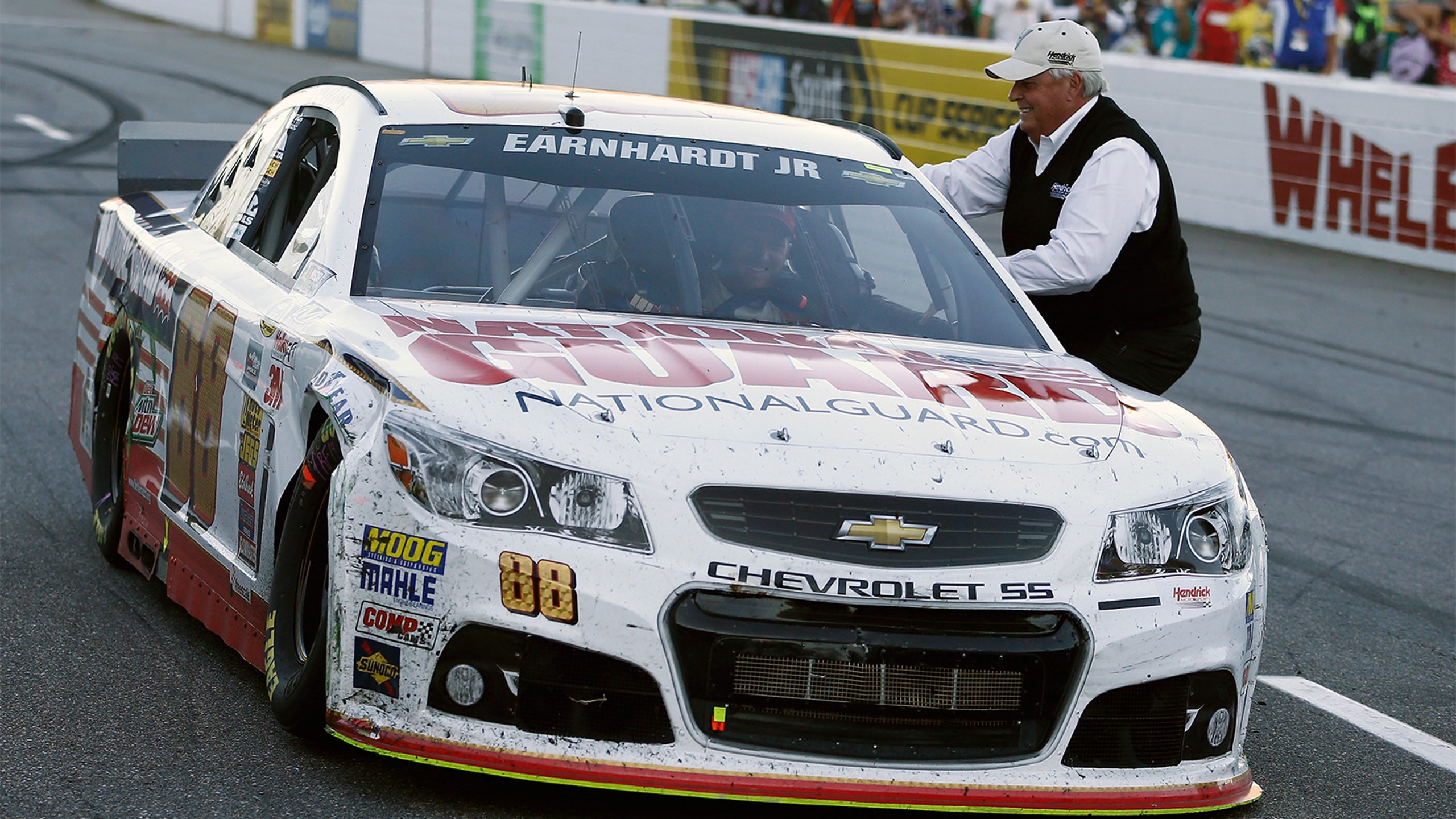 Earnhardt Jr.'s win allows special light to shine on boss Rick Hendrick
BY Tom Jensen • October 27, 2014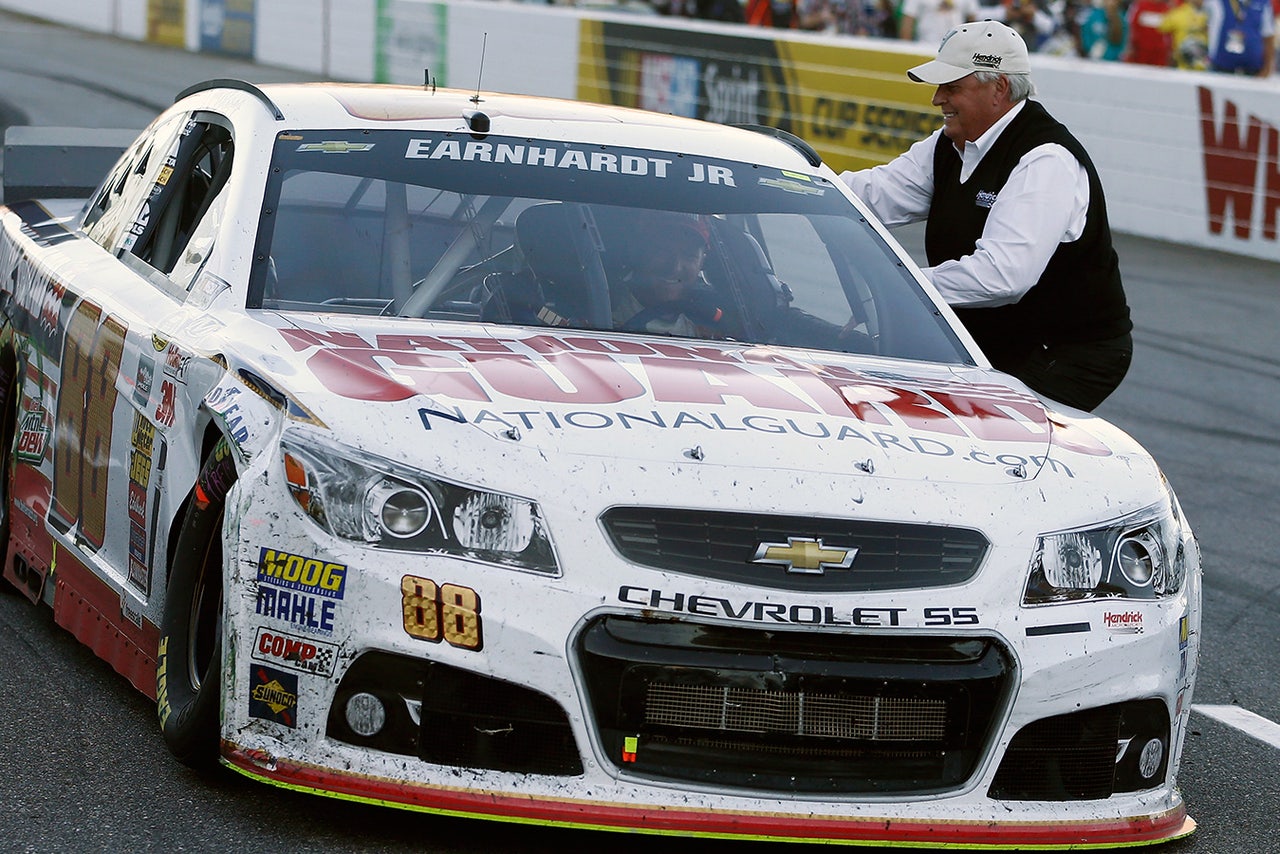 Most times sporting events are measured in the won-loss column and with statistics that quantify and explain objective performance criteria.
Sometimes they are about things much larger.
Every once in a great while, they are about life and death, about feelings and emotions that can't be readily and objectively measured or even explained. Sometimes what happens in competition is bigger than the game, at least to those select who are closest to it.
And that's exactly what happened Sunday afternoon at Martinsville Speedway, NASCAR's oldest and smallest track.
Under the most perfect weather imaginable, Dale Earnhardt Jr. and Jeff Gordon delivered a 1-2 finish at Martinsville for team owner Rick Hendrick. It was near this very track 10 years ago that Hendrick suffered a loss of unimaginable consequence when his only son, Ricky; his brother, John; John's twin daughters, Kimberly and Jennifer; and six others close to Hendrick perished in a plane crash on a foggy October morning.
Eight days after the crash, Hendrick assembled his entire motorsports operation at the team's headquarters in Concord, N.C., and promised them that the team would continue, that they would heal together and somehow work through the tragedy that shook them to the core.
And so coming to Martinsville twice a year is something that Hendrick does, in part to honor the memory of those who died and in part because he leads by example, no matter how painful it is to do so.
Winning any race at Martinsville is something special for the team, but winning a milestone race like this one is somehow that much bigger.
In the spring of 2012, Hendrick Motorsports was sitting on 199 team victories in the NASCAR Sprint Cup Series. Jeff Gordon and Jimmie Johnson were running 1-2 during a green-white-checkered restart when Clint Bowyer dive-bombed the bottom of the track, wrecking both Hendrick cars and allowing Ryan Newman to win. It's little wonder that later that year the normally mild-mannered Gordon drilled Bowyer into the wall at Phoenix, kicking off a scrum between crews on pit road.
But through the tragedies and setbacks, Hendrick still comes back to Martinsville, the track where his team, then known as All-Star Racing was just days away from shutting its doors when Geoff Bodine won the team's first race in its inaugural season of 1984.
And when Rick Hendrick comes back to Martinsville, his guys find a little extra something. Everybody works just a little harder because they know what Martinsville means to the man many of them simply call "Mr. H."
Earnhardt's crew chief, Steve Letarte, said the boss has taught him a lot of life lessons.
"Those are the lessons that people that work for Rick learn," Letarte said Sunday. "It's not about managing money, budgets, hiring people. Those are all good things he does. But the great things he does very few people write about because they're hard to write about, they're hard to understand. I can say after 20 years, I'm a way better person for knowing Rick Hendrick than when I started employment there."
For his part, Earnhardt knew how much this meant to his boss.
"I could feel how important it was to him and his embrace, when he would hug me," said Earnhardt. "You just know there's a genuine hug and there's a hug. His was the real deal."
Earnhardt said he knew it was an emotionally challenging weekend, given the milestone.
"This is the 10th anniversary," said Earnhardt. "It's more difficult. The 10th anniversary sort of has you reflecting and remembering. On other anniversaries, you really don't have to remember as much or reflect as much. But when it sort of hits these particular anniversaries, like the 10th, you feel like you need to stand up and recognize and acknowledge. You do. You want to. There's a part of you that loves to celebrate those people's lives.  But there's the other half of you that can't forget the loss."
And that made this weekend all the more special.
"Losing my dad was difficult," Earnhardt said of his father's passing in a last-lap accident in the 2001 Daytona 500. "I can't imagine that loss that he (Hendrick) went through, his family went through, the whole organization. All those people at one time. It just has to be unbelievable to have to deal with that. I think I've paralleled my loss and his loss until I started working with him, then I started understanding it's quite a bit larger void that it created.
"They do a lot to recognize and remember and celebrate those people's lives," he said. "I think the more years, the more time I spend around the organization, the more I started to understand what that weekend means to the company."
Asked if he was surprised that the boss still shows up here, Gordon said he wasn't.
"Under normal circumstances I would have said that I would be surprised," said Gordon. "But he's not normal. I mean, this is an extraordinary man that when all that went down, (eight) days later he was at Hendrick Motorsports speaking to all the employees. I mean, I was shocked then. I'm not shocked that he comes here now.
"It's just the kind of person that he is. I know it's not easy on him. I really do. I know that it puts extra pressure on us at Hendrick Motorsports when he's here to get that win because it's a way to really pay tribute. It's the ultimate way you can do it."
VIDEO: Jimmie Johnson looks back on the 10-year anniversary of the plane crash that rocked Hendrick Motorsports
---
---