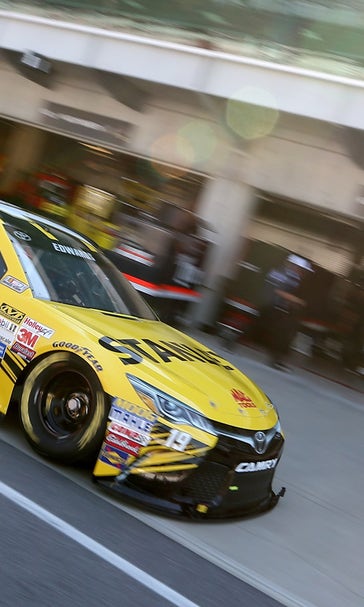 Carl Edwards grabs the pole for Brickyard 400 at Indianapolis
July 25, 2015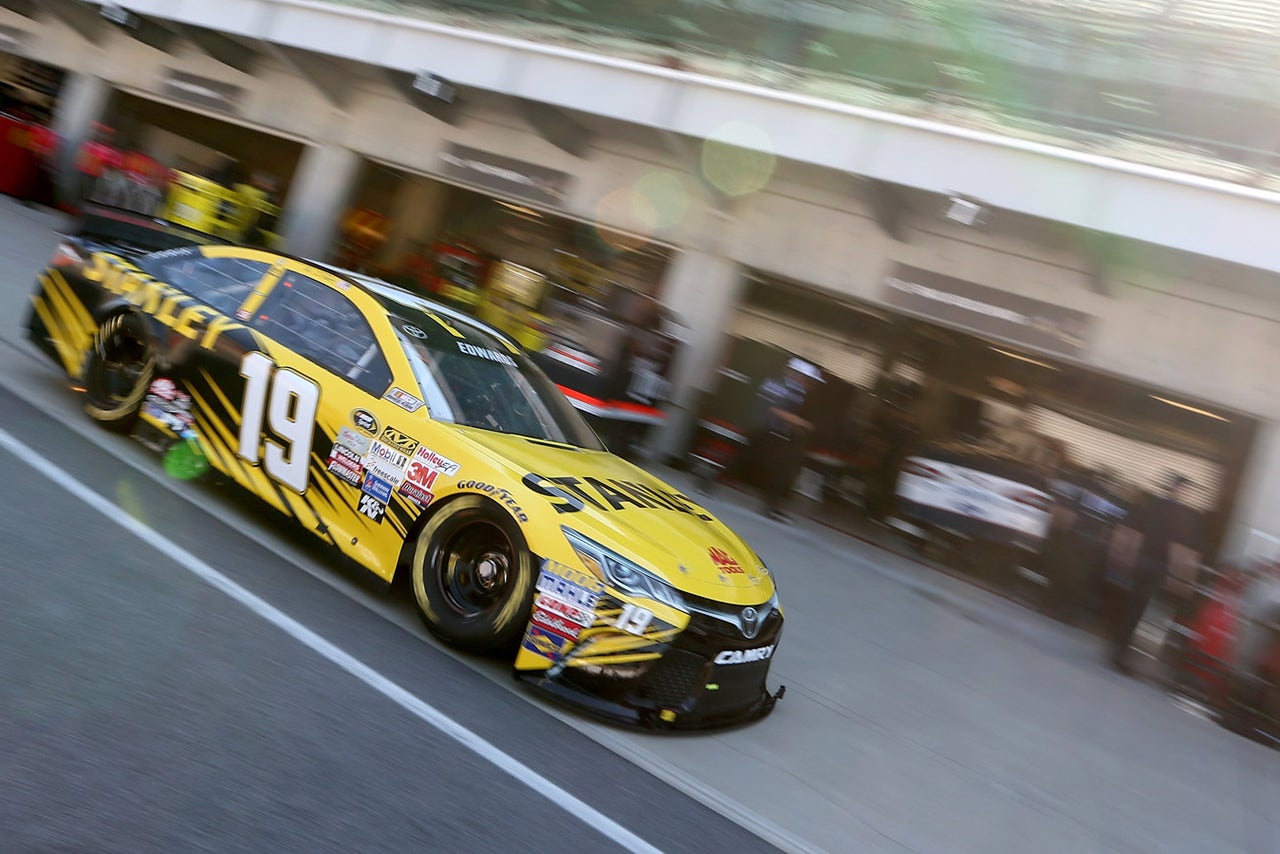 With the new high-drag rules package in mind, NASCAR tweaked Sprint Cup Series qualifying for Sunday's Brickyard 400 at Indianapolis Motor Speedway to feature single-car runs, as opposed to group qualifying.
Under the new format, each of the 46 cars took qualifying laps by themselves on the track in Round 1. The top 12 drivers from the first round then advanced to Round 2, which set the pole and the top 12 spots in the field.
In the end, it was Joe Gibbs Racing's Carl Edwards that was able to post the fastest lap of Round 2, earning his first pole at IMS and second in two weeks. Edwards laid down a lap at 183.464 miles per hour to earn the top spot.
"After yesterday, this is amazing," Edwards said. "We started so slow yesterday and we struggled. I think at one point Darian (Grubb, crew chief) and I were looking at each other going, 'What are we going to do here?' It was a struggle and everybody buckled down, worked hard -- I'm so proud of my guys. TRD and Toyota have been putting so much effort into this whole program. Stanley has been behind us 100 percent -- not just me, but Matt Kenseth and our whole team. This is big. It will be neat to start up front."
Daytona 500 champion Joey Logano was second fastest with a 183.139 mph, with David Ragan third. This marked the second straight week Edwards won the pole with Logano and Ragan earning the second and third starting spots.
"David (Ragan) and I were just laughing up here that these are the same three race cars that started up front at Loudon," Logano said. "A completely different race track, different package and the same cars are fast. It is good for us. We are close. Second always hurts but it is nice to be up toward the front, especially here. It will be a tough race for sure."
Tony Stewart, Kyle Larson, Kevin Harvick, Clint Bowyer, Dale Earnhardt Jr., Kyle Busch, Jamie McMurray, Paul Menard and Jimmie Johnson rounded out the top 12.
During the first round of qualifying, Stewart ran the best lap of the weekend, putting the No. 14 Stewart-Haas Racing Chevrolet atop the leaderboard with a lap of 185.548 mph. When Stewart climbed from his car, the fans rose to their feet to cheer him on, with Stewart delivering a fist-bump in return.
While Stewart was celebrating, Jeff Gordon was wondering what happened. Making his final start at IMS, Gordon posted the 19th fastest time of the session and did not advance to the final round of qualifying.
Ryan Newman, the 2013 Brickyard 400 champion, had high hopes for his qualifying lap, but one of his Richard Childress Racing crew members failed to put the right-side window in the car. As a result, Newman's lap suffered and he posted the 36th fastest lap of the session. However, NASCAR disallowed Newman's lap for not having the right side window in, meaning he will start 43rd for Sunday's race.
With 46 cars on the entry list, three drivers failed to qualify for the race: Josh Wise, Jeb Burton and Reed Sorenson.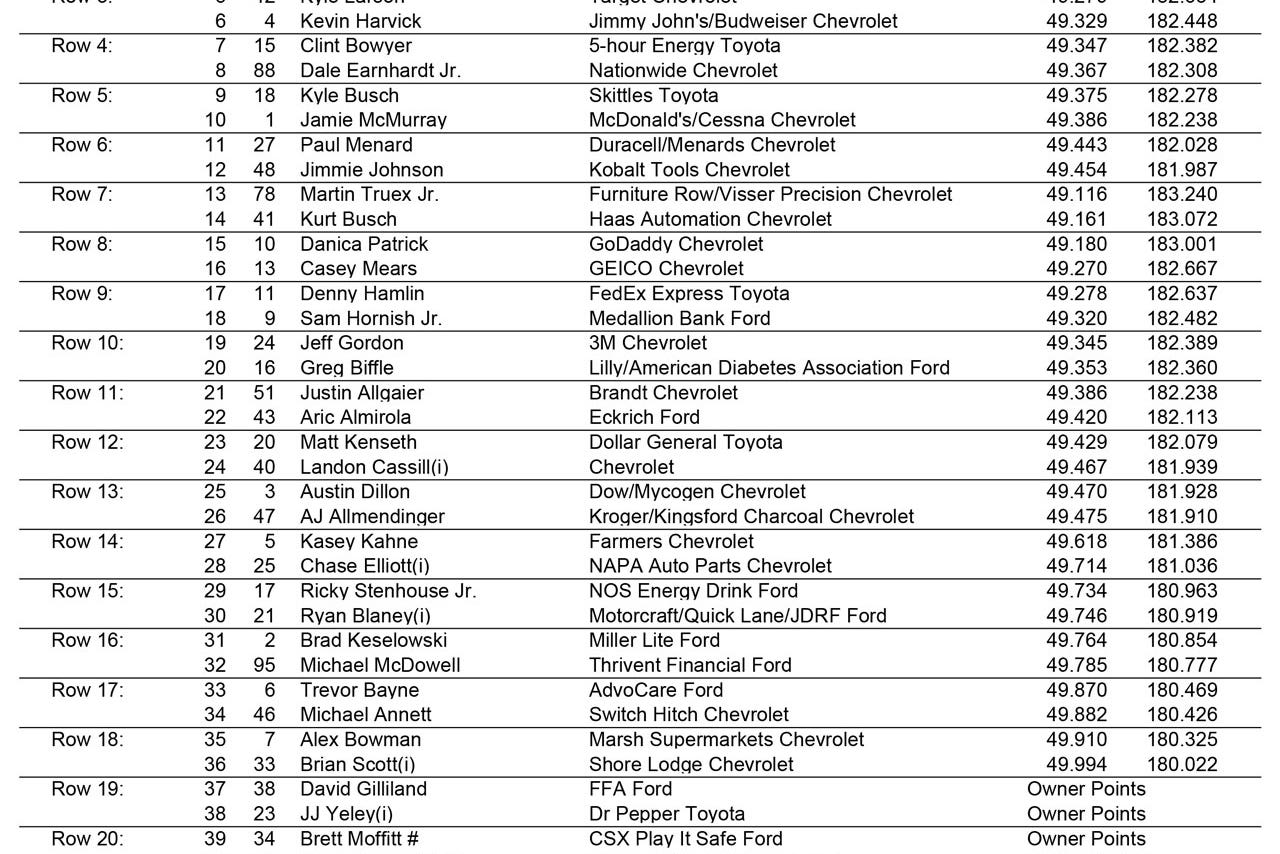 ---
---